Featured Testimonial About Creighton University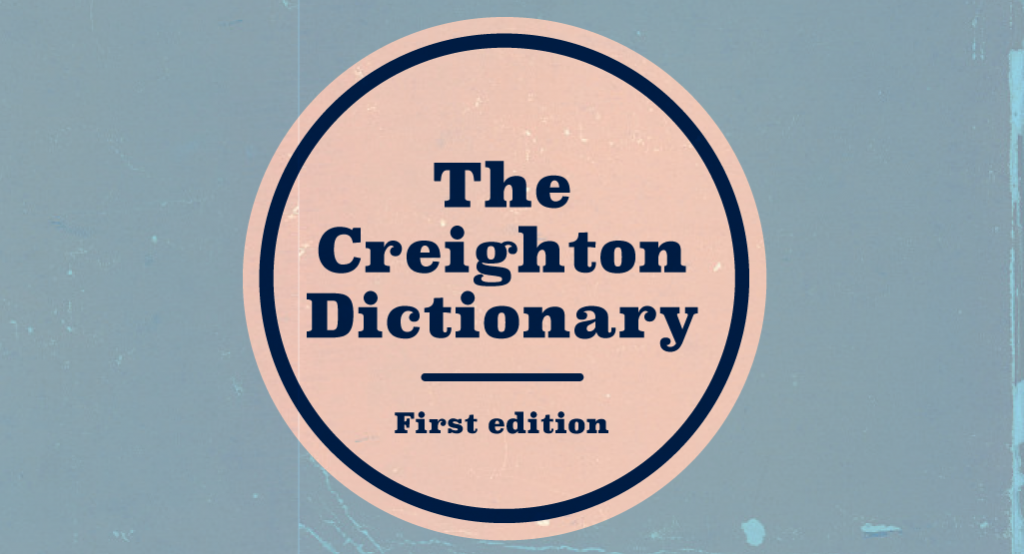 Creighton (CRAY-tuhn). A Jesuit, Catholic university in Omaha, Nebraska; name is of Scottish and Irish origin, meaning 'rock settlement.
By Micah Mertes
Our efforts to define Creighton continue ...
We're making a Creighton dictionary. In the end, we believe, it will serve as the definitive guide to the ins and outs of the University and its long, rich history. Entries will include people, places, things, groups, phrases and ideas related to Creighton University. (Read more about our parameters for entries here.)
We'll be releasing the dictionary entries a letter at a time, collecting them into a single master file as the project progresses. (After we reach Z, we might just turn this into an actual book. Working title: The Creighton Dictionary.)
Today, we continue … with the letter C.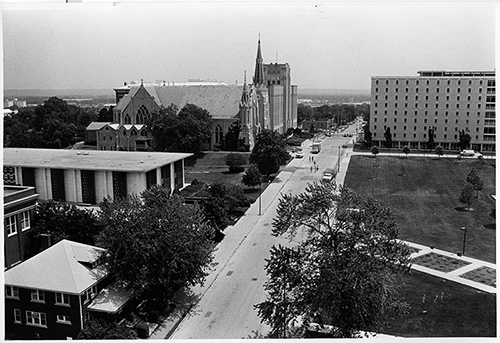 Did we miss anything or anyone essential? Do you have suggested entries for future letters? Contact micahmertes@creighton.edu.
* * *
California. The street that used to run through our Omaha campus. Forty-five years ago this fall semester, the University closed California to vehicle traffic, paving the way for the construction of the central campus Mall, completed in 1980. Creighton's Omaha address is 2500 California Plaza.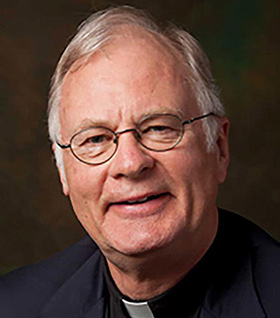 Gregory Carlson, SJ. One of Creighton's longest-serving Jesuits and the associate director of the Deglman Center for Ignatian Spirituality.
Campus. We have three of them, in fact. One in Omaha. One in Phoenix (see more below). One in Grand Island (the nursing campus formerly in Hastings). The original Omaha campus was founded in 1878 with a single building, a few faculty and 120 students. Nearly 150 years later, campus has grown to more than 130 acres and thousands of students, faculty and staff.
Campus Ministry. A campus organization that offers prayer and support, formation and community. Through retreats, faith-sharing groups and Ignatian leadership development, Campus Ministry offers spiritual companionship for students, faculty and staff of all faith traditions.
Carnegie classifications. The leading framework for recognizing institutions in U.S. higher education and key determiner for U.S. News and World Report's annual rankings. For 16 consecutive years, Creighton ranked as the No. 1 master's college/university in the Midwest. In 2019, the University was elevated in the Carnegie Classification of Institutions of Higher Education from the category "master's colleges/universities" to the newly created "doctoral/professional universities" category.
Willa Cather, HON'28. In 1928 — to coincide with the University's 50th anniversary — Creighton awarded the honorary degree of Doctor of Laws to the Pulitzer Prize-winning Nebraska novelist of such works as My Antonia and O Pioneers.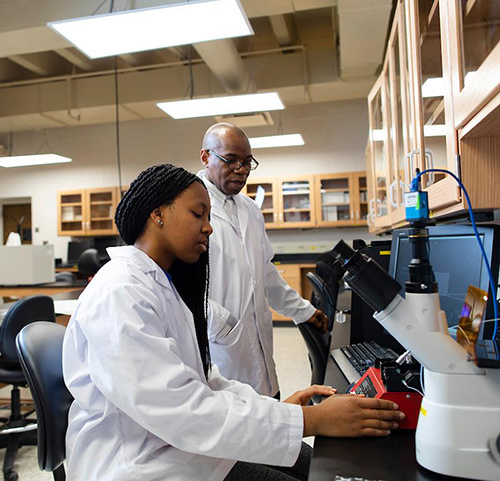 Catholic. Creighton is a Jesuit, Catholic university. (Read about how our faith guides our mission.)
John Cavanaugh III, JD'72. Former member of the U.S. House of Representatives, from 1977 to 1981. Before that, he served in the Nebraska Legislature.
Center for Undergraduate Research and Scholarship (CURAS). A Creighton organization that fosters and promotes opportunities for undergraduate research. Creighton's excellence in this area is recognized across all schools and colleges, with 1 in 3 undergraduate students participating in research.
Chairs. Endowed chairs (and professorships) are a donor investment in our amazing faculty and staff. (See a full list of endowed chairs here.)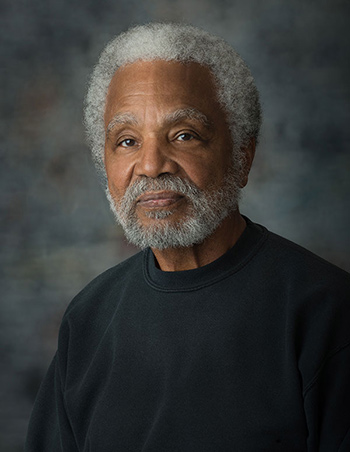 Ernie Chambers, BA'59, JD'78. Civil rights activist and former state senator in the Nebraska Legislature. Chambers represented North Omaha's 11th District for 46 years, making him the longest-serving senator in the state's history.
Championship Center. Athletic practice, training and academic support facility that opened in 2014. A key player along the east campus's athletic and fitness corridor, the donor-funded facility includes two practice courts, a locker room, players' lounge, athletic performance center, athletic training center, academic resource center and offices for men's basketball coaches and staff.
Change. One of Creighton's core Jesuit values is to form and educate agents of change, helping to transform students' goals and plans into making a meaningful difference in the world.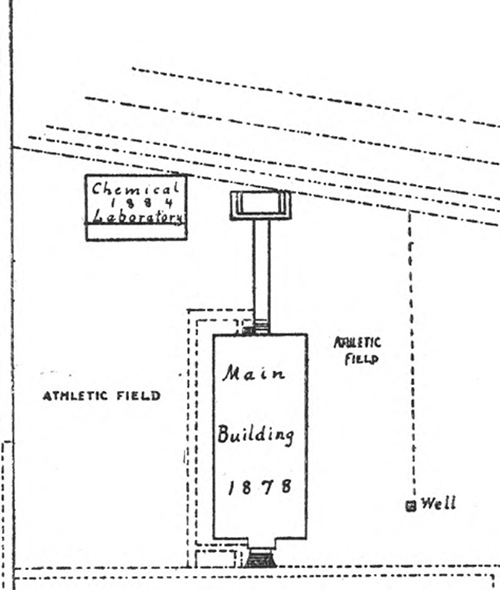 The Chemistry Lab. Here's a deep cut for our Creighton history heads out there. The Chemistry Lab was the second building in our Omaha campus' history. Built in 1884 — after Creighton Hall/the Admin Building but before St. John's Church — the one-frame, 30 x 60-foot Chem Lab was erected on the spot now occupied by the church. The building would serve as both lab and lecture room, a place to store chemicals and a dark room and workshop for photographers. The building was moved slightly north with the construction of St. John's in 1888. Then, in the early 1900s, the chemistry department's operations were moved from the Chemistry Lab to the newly expanded Creighton Hall. The second building in Creighton's history was removed, its frame sold for $100.
CHI Health Center Omaha. Arena, convention center and home of Creighton men's basketball. Formerly known as Qwest Center Omaha and CenturyLink Center Omaha before CHI Health bought the naming rights in 2018.
CHI Health Creighton University Medical Center — Bergan Mercy. Its origins date back to 1892, when St. Joseph's Hospital was built at 10th and Castelar Streets, serving as Creighton's primary teaching hospital for a long time after. In 1978, the hospital moved to 30th and California Streets. In 2002, the hospital was renamed Creighton University Medical Center. And in 2017, after a location change to 7500 Mercy Road, the hospital became the CHI Health Creighton University Medical Center — Bergan Mercy.
CHI Health Creighton University Medical Center — University Campus. Also in 2017, the Creighton University Medical Center — University Campus opened at 24th and Cuming Streets.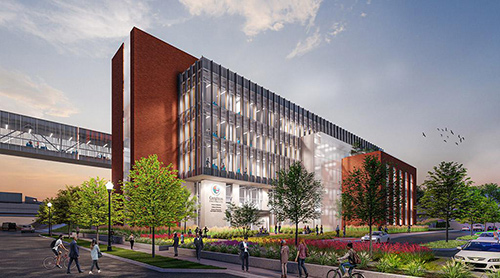 The Rev. James Clifton, SJ. Longtime Creighton Jesuit and associate dean of Mission and Identity in the School of Medicine. Fr. Clifton started his Creighton journey nearly 50 years ago, as a business freshman. "As an alumnus and now a Jesuit," Clifton said, "I believe that Creighton does as remarkable a job as any Jesuit university in the nation at inviting everyone into our world."
The CL and Rachel Werner Center for Health Sciences Education. The cutting-edge facility and new home to the School of Medicine coming to Creighton's Omaha campus in 2023. (Read about what this facility will mean for the Creighton health sciences.)
Collaborative Care. The interprofessional model of health sciences education Creighton embraces. The team-based approach to care draws on all disciplines to squash silos, streamline systems and provide lower costs and better outcomes for patients and providers alike.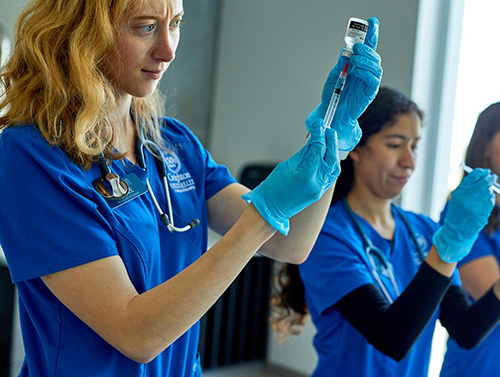 College of Arts and Sciences. Creighton's largest and oldest school or college, with a history that dates back to our founding in 1878. Through more than 60 degrees and pre-professional programs, the College of Arts and Sciences stresses critical thinking, problem-solving and the liberal arts at the heart of our Jesuit tradition. Through a College of Arts and Sciences education, our students achieve a deeper insight, gaining a more profound sense of themselves and the world around them.
College of Nursing. Creighton's nursing education dates back to 1928, when our students became affiliated with the St. Joseph's Hospital of Nursing. Creighton continued to grow its nursing program until it finally launched a freestanding College of Nursing in 1971. Today, it ranks in the top 8% of American nursing programs (out of 681 institutions).
College of Professional and Continuing Education (Previously the College of Professional Studies). One of Creighton's nine schools and colleges, the College of Professional and Continuing Education offers programs and schedules that meet the needs of busy adult learners. Students range in age from their 20s to 70s and come from all walks of life.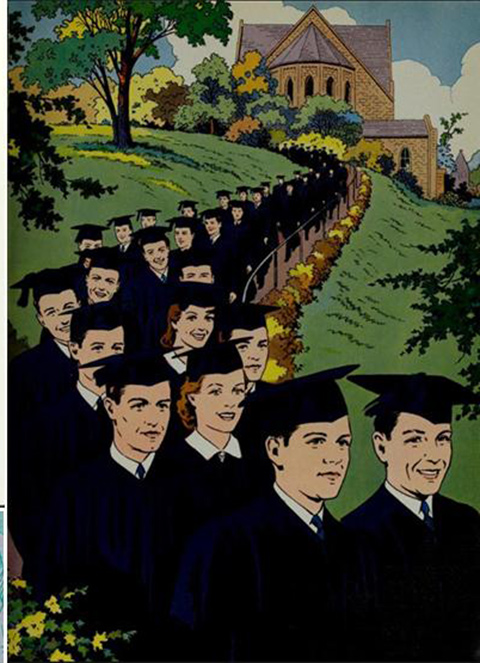 College World Series. Many Creighton baseball fans know all about the 1991 College World Series team, the triumphs, the heartbreak … But fewer know just how integral Creighton is every year as the CWS host institution. Each June, dozens of Creighton Athletics staff dedicate nearly every waking hour to the CWS, providing the resources and expertise needed to keep the Greatest Show on Dirt running strong. (Read about the essential role Creighton plays in the CWS.)
Commencement. Every year, Creighton sends thousands more graduates out into the world. In 2021, Creighton hit a milestone: 100,000. According to Registrar's Office records, from 1891 to December of 2021, Creighton conferred more than 100,000 degrees. (Read more about the history of our commencements here.)
Community. So many commencements and conferred degrees have made for a large and ever-expanding community. Today, there are more than 80,000 alumni living all over the world, plus thousands of students, faculty and staff studying and/or working on our three campuses. And that's to say nothing of the countless Creighton friends, fans, parents and partners making up our community, as well.
The Honorable William M. Connolly, JD'63. Former justice of the Nebraska Supreme Court, appointed by Gov. Ben Nelson in 1994 and serving until 2016.
Continuing Education. Creighton offers many continuing education opportunities, with events, workshops, courses and degrees that help lifelong learners pursue their passions and level up at work.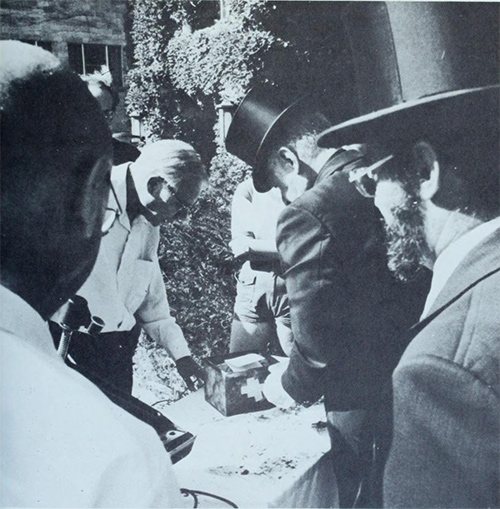 Cornerstones. Spot all the cornerstones of Creighton's buildings, and you'll get a construction timeline of how our campus evolved. One funny side story about a cornerstone: In 1978, Creighton Hall's (a.k.a., the Admin Building) cornerstone was reported missing. The stone was still a part of the building, but no one could find it, as the etched lettering had been lost when the building was sandblasted. For the 100-year anniversary, Creighton leadership wanted to get a time capsule that had been placed in the cornerstone. Records indicated that the time capsule was in a small copper box, so Creighton hired an Omaha electrical contractor to scan the building with a metal detector. He eventually found the time capsule-containing cornerstone, which Creighton then drilled a whole into to remove the copper box. Soon after, the University held a special ceremony of the opening of the time capsule. Unfortunately, most of the materials — including a copy of Mary Lucretia Creighton's will — had been destroyed by moisture and time, as the box had not been properly sealed.
Creighton (CRAY-tuhn). A Jesuit, Catholic university in Omaha, Nebraska; name is of Scottish and Irish origin, meaning "rock settlement." (There are many Creightons with no known relation to our own. Read about them here.)
Creighton Alumni Day. An officially decreed holiday in Waterbury, Connecticut, taking place every Oct. 13. It started in 1995, when alumnus Robert Ferraro, MD'63, obtained a proclamation from the office of the mayor declaring Friday, Oct. 13, "Creighton University Alumni Day."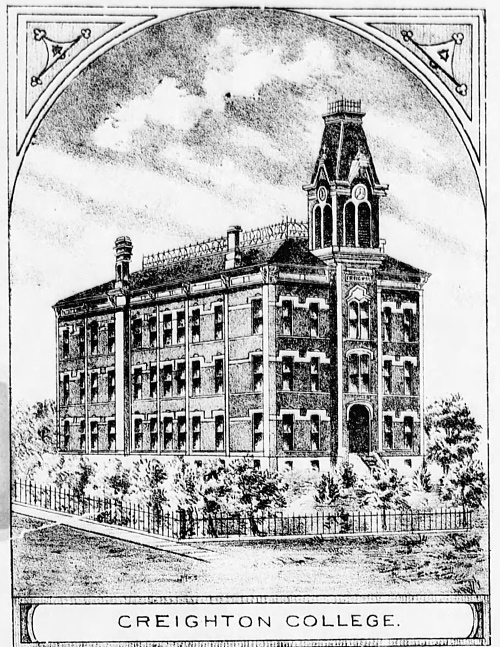 Creighton College. The original name of Creighton University when it opened as a single-building college back in 1878. Creighton started class with five Jesuits, two lay teachers and 120 students. It's grown a bit since then.
Creighton Cupboard. Creighton opened the Cupboard in 2019 to make sure no student goes hungry. Since then, students living on and off campus, from freshmen to graduate students, have made use of the campus food pantry. (You can make a gift to support the Cupboard here.)
The Creighton Dictionary. An in-development dictionary defining Creighton, of which you are currently reading (and hopefully enjoying?) the latest entry.
Creighton.edu. Our website.
Edward C. Creighton. The man whose dream and fortune founded Creighton University. Husband to Mary Lucretia Creighton and brother to John Creighton. (Read about Edward Creighton's extraordinary — and history-making — life here.)
Edward A. Creighton, BA'1905. The great-great-nephew of University founders Edward C. and John A. Creighton, Edward A. Creighton was the first person with the last name of Creighton to attend and graduate from Creighton. He would go on to become the quintessential alum, staying extremely active while serving on the Athletics board and as the chairman of the reception committee for Creighton's first alumni homecoming event in 1922.
The Creighton Fund. A gift to the Creighton Fund means a gift to the general fund of the University, supporting Creighton's greatest and most immediate areas of need for students, faculty and staff. The fund supports scholarships, research, academic excellence, innovation and more. (Read more or make a gift here.)
Creighton Hall. (Previously known as the Administration Building and, before that, the Main Building). In 1878, Creighton's first building opened as its only building. Over the next few decades, the building's size more than doubled, with expansions to the north and south. In 1930, the south wing was given the iconic art deco limestone façade that we see today. Creighton Hall has since seen countless changes and upgrades, ensuring that the core of the college remains. (Learn more about Creighton Hall's origins here.)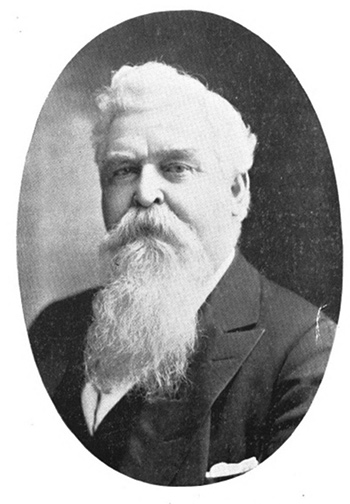 The Creightonian. On Oct. 4, 1922, a group of Creighton students launched the Creightonian, a student paper still circulating more than a century later. The Creightonian's first issue was a four-page, five-column tabloid that cost five cents a copy. Beneath the masthead, it read, "Devoted to the interests of Creighton University students." (Read more about that first issue here.)
John Creighton. Younger brother to Edward Creighton and husband to Sarah Emily Creighton, John was a prominent Omaha figure with national influence. (One of the pallbearers at his funeral was none other than William Jennings Bryan.) John was also often the sole source of philanthropy driving Creighton University's growth and success in those early years. John gave millions to the University up to (and beyond) his death in 1907. At his 75th birthday party, instead of receiving gifts, he gave one — $400,000 in real estate — to the University. He was reported to have once said, "I have one child, and that is Creighton University." (Learn more about John Creighton here.)
Creighton magazine. The University's premier publication. Launched in 1999 — replacing Alumnews and WINDOW magazine — Creighton magazine is a comprehensive account of University news and features covering a variety of topics. (Read the latest edition here.)
Mary Lucretia Creighton. Wife of Edward Creighton and sister to Sarah Emily Creighton. Known for her charitable work, Mary Lucretia would often go to the poorest parts of Omaha to give money, food and other items to those most in need. Her horse (named "Billy") was known throughout the city. After her death in 1876, Mary's will provided $100,000 as a memorial to her late husband, a gift that led to the founding of Creighton University.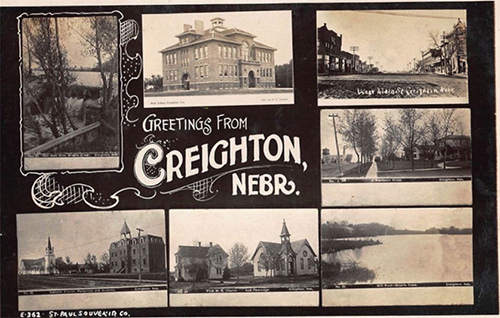 Matthew E. Creighton, SJ. The 21st president of Creighton University. (He had, by the way, no known relation to the founding family.) Fr. Creighton was the University's "centennial president," taking office in July 1978 and serving until 1981. After leaving his post at the University, Fr. Creighton served as the director of programs at the Association of Jesuit College and University before returning to his alma mater of Loyola University Chicago, where he served in various roles for the next 37 years. Fr. Creighton died in 2018.
Creighton, Nebraska. A town in Knox County, Nebraska, with a population of about 1,050 people. The town, founded in 1885, was named in honor of John Creighton, one of the University's founders. Though the town's name is sometimes erroneously attributed to his brother Edward.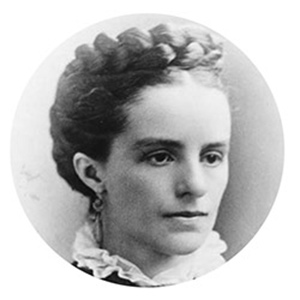 Creighton Prep. The private Jesuit high school for boys Creighton Preparatory School (or Creighton Prep) was originally part of Creighton University until the two separated in 1958.
Sarah Emily Creighton. Wife of John Creighton and sister of Mary Lucretia Creighton. Like the rest of her family, Sarah Emily was a champion of Omaha and the University. One story goes that, while visiting the University, Sarah Emily was distressed by the Jesuits' poor living accommodations. She and her husband made a gift to build them a new residence, erecting a south wing to the main building. She was also the driving force behind the construction of St. John's Church and St. Joseph's Hospital.
Creighton, South Dakota. An unincorporated community in Pennington County, South Dakota. It was founded in 1909 by a Henry Goettsch after he and his family moved there from Creighton, Nebraska, making that two U.S. towns named after John Creighton. (You can also find towns of Creighton — no known relation — in Florida, Missouri, Pennsylvania and Saskatchewan.)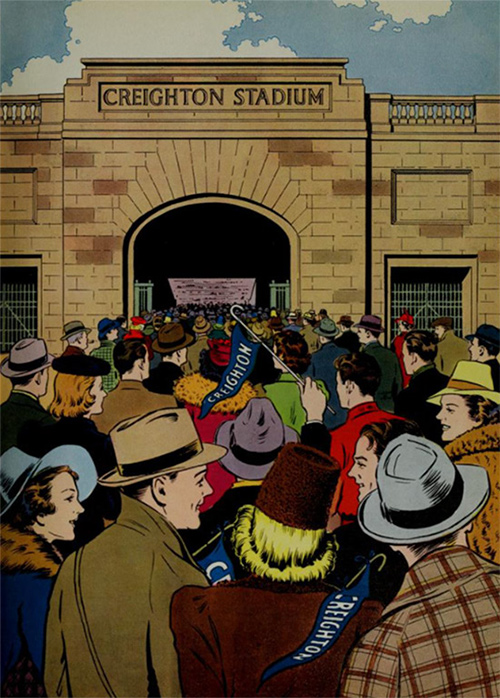 The Creighton Society (a.k.a., the Edward and Mary Lucretia Creighton Society). This donor recognition society honors those who support the most essential needs of the University and its nine schools and colleges. (Learn how you can become a member today.)
Creighton Stadium. Former home of Bluejays football and track & field. With a seating capacity of 15,000, the stadium was, at one time, the largest structure in Omaha. (Read more about the stadium — and Creighton's old football team — here.)
Creighton Theater. The original name of Omaha's Orpheum Theatre, named after our John Creighton. The Creighton Theater opened in 1895 with "a gala social event, with a full house, especially in the saloon." In 1898, the theater was sold to the Orpheum Vaudeville Circuit, becoming the Creighton Orpheum, soon after shortened to just the Orpheum.
Creighton University. You probably know what this is.
Creighton University Health Sciences Campus – Phoenix. In 2021, Creighton opened the nearly $100 million Virginia G. Piper Charitable Trust Health Sciences Building, home of the Creighton Health Sciences Campus – Phoenix, a campus accommodating nearly 900 students. (See photos of or make a gift to the Phoenix campus.)
Criss Complex I-III. Three buildings, the first built in 1963, serving as a hub of Creighton health sciences education. Recently, a skybridge was erected connecting Criss to the CL Werner Center for Health Sciences Education, currently in construction and set to open in 2023. (Read more about the changes coming to Criss here.)
Cross Country. One of Creighton's BIG EAST athletics programs, a team that has made huge gains over the past few years. To name a few — 147 all-time marks, 20 school records, the first-ever regional ranking in the men's program's history, the fourth all-BIG EAST Performance ever and six BIG EAST academic titles. (Read more about the Cross Country team and the many donors who are supporting its success.)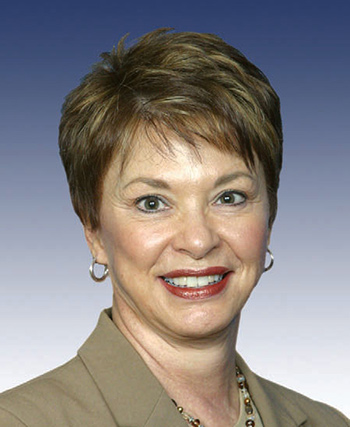 CU. Our not-often-used acronym.
Barbara Cubin, BS'69. Former member of the U.S. House of Representatives, serving as Wyoming's sole member of the body from 1995 to 2009. She was the first woman elected to Congress from Wyoming.
Cura Personalis. One of Creighton's core Ignatian principles, meaning "care for the person" or "personal care." Cura Personalis means having concern for the personal development of the "whole person." It means living lives for and with others. (Learn more about our Ignatian values here.)
* * *
Help us make The Creighton Dictionary
Did we miss anything or anyone essential? Do you have suggested entries for future letters? Help us define Creighton. Contact micahmertes@creighton.edu.