Host a NCAA Tournament Game Watch in your area!
Calling all Jays fans! Do you want to cheer on the Bluejays in the NCAA Tournament with Creighton alumni, parents, friends, and fans in your area? If you do, consider hosting a game watch. What are the requirements for hosting a game watch?
Contact Rachel Mabrey in the Alumni Relations office at RachelMabrey@creighton.edu.

Find a bar or restaurant in your area willing to host a group of Creighton fans and reserve a space.

Send Game Watch details to Rachel.

The Creighton Alumni office will promote your watch party to alumni in your area through email and social media.

Share a photo of your group during the Game Watch on social media. Don't forget to tag Creighton Alumni.

Have fun!
NCAA Tournament Details:
Find all the information you'll need for Creighton NCAA Sweet16 events and game watches at our NCAA landing page.
Do you own a bar or restaurant?
If you own a bar or restaurant and plan on showing the Creighton games, let us know, and we'll post your location on our March Madness game watch page. Please contact Rachel Mabrey with details about your location.
Go Jays!
Cheer on the Bluejays wherever you are!
Put on your white and blue, grab your gear and join fellow alumni, friends and fans at events in your area. Or come back to campus and watch your favorite Creighton teams live.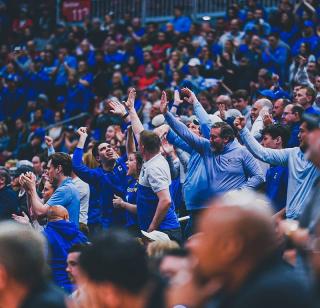 Creighton Athletics
Our move to the BIG EAST is more than an honor for our athletics program. It's a testament to the level of our academics and reputation throughout the country.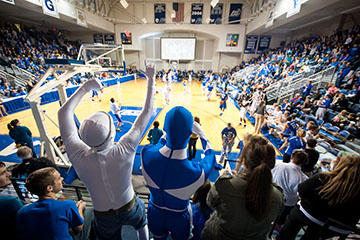 Watch the game
You can also watch games in your area. Find your local game viewing location below.
Don't see your city and want to set up a game viewing event? Email alumninetworks@creighton.edu, and a member of our team will be in touch.
Note: Due to the pandemic, locations might not be hosting game watch parties. Please check with your local venue to learn more.
ARIZONA
Phoenix Alumni Network
Clancy's Pub Pizza and Grill
4432 N Miller Rd
Scottsdale, AZ 85251
CALIFORNIA
Bay Area
The Final Final Sports Bar
2990 Baker St.
San Francisco, CA 94123
COLORADO
Denver Alumni Network
Blake Street Tavern
2301 Blake St.
Denver, CO 80205
DISTRICT OF COLUMBIA
Washington, D.C., Alumni Network
Penn Quarter Sports Tavern
639 Indiana Ave NW
Washington, DC 20004
For NCAA Tournament games, fans can also go to Penn Quarter Sports. Games with sound will be on a first-come, first-served basis.
ILLINOIS
Chicago Alumni Network
Sully's House
1501 N. Dayton St.
Chicago, IL 60642
IOWA
Des Moines Alumni Network
Wellman's Pub and Rooftop
597 Market St.
West Des Moines, IA 50266
MISSOURI
Kansas City Alumni Network
The GranFalloon
608 Ward Pky.
Kansas City 64112
St. Louis Alumni Network
Helen Fitzgerald's
3650 S Lindbergh Blvd
St. Louis, MO 63127
MONTANA
Red Lodge
Foster & Logan's Pub and Grill
17 South Broadway Ave.
Red Lodge, MT 59068
NEBRASKA
Omaha Metro
DJ's Dugout Bellevue
10308 S 23rd St.
Bellevue, NE 68123
DJ's Dugout West
777 N 114th St.
Omaha, NE 68154
DJ's Dugout Downtown
1003 Capitol Ave.
Omaha, NE 68102
DJ's Dugout Aksarben
2102 S 67th St.
Omaha, NE 68106
DJ's Dugout Millard
17666 Welch Plz.
Omaha, NE 68135
DJ's Dugout Plattsmouth
2405 Oak Hills Rd.
Plattsmouth, NE 68048
NEW YORK
New York City Alumni Network
Slattery's Midtown Pub
8 East 36th St.
New York, NY 10016
NORTH CAROLINA
Charlotte
VBGB Beer Hall and Garden
920 Hamilton St.
Charlotte, NC 28206
OREGON
Portland Alumni Network
Civic Taproom and Bottle Shop
621 SW 19th Ave.
Portland, OR 97205
TEXAS
Dallas–Ft. Worth Alumni Network
Nodding Donkey
2900 Thomas Ave
Dallas, TX 75204