Redefining campus
Thousands of students call Creighton home, and we prioritize their needs above all others. That's why each new campus building and renovation — every brick, block of limestone, beam of steel — serves our students' education first.
We fortify our foundations by transforming our campus. We ensure our future by building upon our history.
Throughout the Forward Blue fundraising campaign, we will continue to maintain and improve the places that define the Creighton experience, while also supporting construction of the top-tier facilities essential to recruiting the next generation of Bluejays.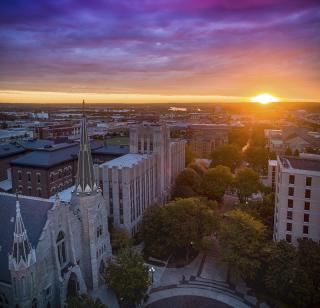 Forward Blue
Forward Blue is the largest and most comprehensive fundraising campaign in Creighton's history. The campaign is a massive, concentrated effort over an extended period of time to celebrate Creighton's mission, while raising funds to ensure that mission endures.
A campus transformed
Here are some of the exciting ways Creighton is changing the face of multiple campuses as we embark on a bold new era for the University, our students and our amazing community.
School of Dentistry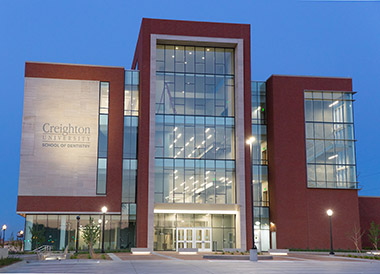 In 2018, the school started a bold new chapter with the construction of a 200,000-square-foot clinic and facility, which has already driven significant growth in educational opportunities and the amount of care we provide our patients.
CL and Rachel Werner Center for Health Sciences Education
The cutting-edge facility and new home to the School of Medicine is set to open in 2023 on Creighton's Omaha campus. The facility will serve as a beacon of our commitment to the health sciences and the interprofessional model we use to teach them.
Creighton University Health Sciences Campus – Phoenix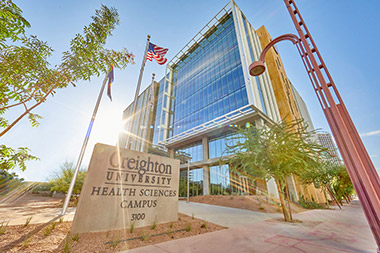 In 2021, Creighton welcomed the first group of health sciences students to its new Phoenix campus, the $100 million Virginia G. Piper Charitable Trust Health Sciences Building. The campus will accommodate nearly 900 students and bring future health care professionals to an area direly in need of them.
Athletics Facilities
Our move to the BIG EAST Conference brought an unprecedented level of national attention—to Creighton and Omaha. It also created countless opportunities for our nearly 300 student-athletes, who have access to some of the best coaches, faculty and facilities in the nation.
24th Street Corridor Beautification
In 2020, Creighton debuted a gorgeous new front door to campus, transforming a nondescript stretch of 24th Street into an elegant boulevard, complete with a roundabout at Cass Street, as well as bicycle lanes, bus stops and monument signs declaring the presence of Creighton University.
Harper Center Renovations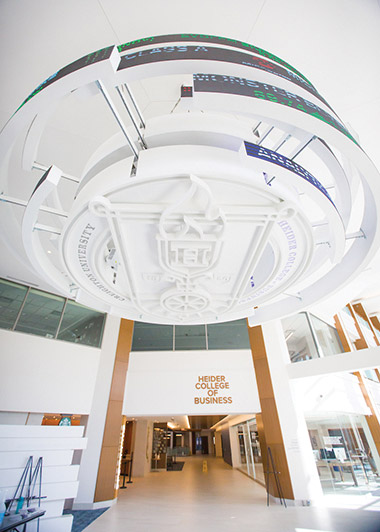 In 2021, Creighton debuted the renovated Harper Center, home to the Heider College of Business. Since 2011, Creighton's first named school or college has seen enrollment surge 75%, with four out of five students coming from outside Omaha. The renovations show Creighton's commitment to a transformative business education and ensure that campus's east anchor shines brighter than ever.
Lab and Classroom Renewal
Creighton is modernizing its labs and classrooms to maintain the University's national reputation and to give our faculty and students the dynamic learning environments they need to thrive.
Learning Commons
The Learning Commons will be a next-generation library serving as the new home of innovation and technology for students and faculty— a place of partnership and learning for the Omaha community.
Jesuit Residence
A new residence will support an active and accessible Jesuit presence in the daily life of our community and contribute to St. Ignatius' vision for a transformative education grounded in spirituality.
New Residence Hall
The $37-million hall for first-year students will be built on 23rd Street, south of Burt Street and will house 400 students. Completion is expected in time to welcome freshman students in the fall of 2023. It will be the first Creighton residence hall built exclusively for first-year students since the 1960s. Read more about the hall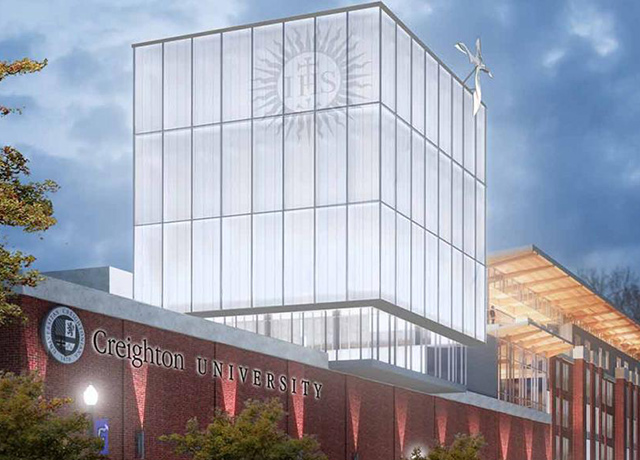 'A second founding for Creighton's Jesuits'
Amid bold moves and historic change, Creighton is investing in the Jesuit community, whose values and vision have guided the University's mission-driven approach to education for nearly 150 years.
Read the story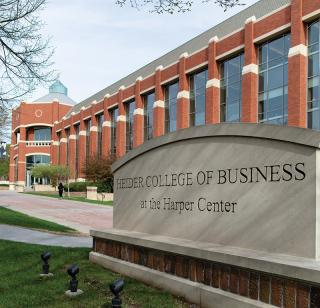 Naming opportunities
For some gifts, Creighton offers naming opportunities to programs or physical spaces on campus — ranging from mall benches to classrooms to bridges, buildings and even entire schools or colleges.
A naming gift is more than a label on a physical space; it's a sign of your commitment to the University's success and an enduring legacy for generations to come.
Learn more about naming opportunities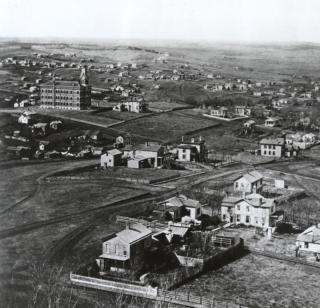 Building on our history
Many of the campus buildings still standing today were constructed during campaigns like Forward Blue. To name a few: Deglman, Gallagher, Kiewit and Swanson residence halls, Becker dining hall, the Reinert-Alumni Memorial Library, the Rigge Science Building, along with the Criss, Kiewit Fitness and Skutt Student centers.
Image: A shot of Creighton's one-building campus in 1878. Creighton (and Omaha) have grown a bit since then.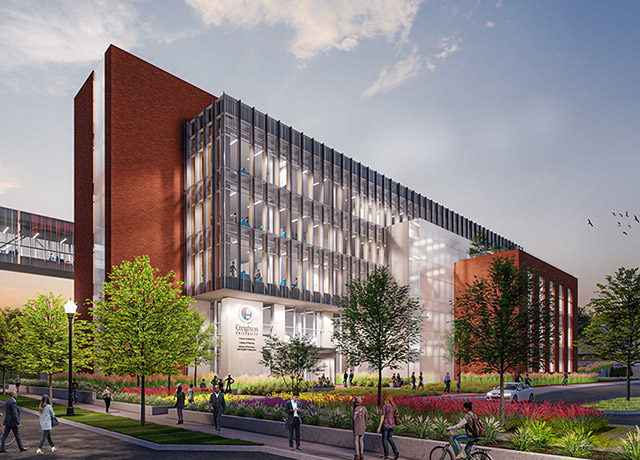 How a new health sciences facility will build on Creighton's strengths
As Creighton continues to expand its reach in Phoenix and globally, the CL and Rachel Werner Center for Health Sciences Education will serve as a modern connection between the health sciences on the Omaha campus.
Read the story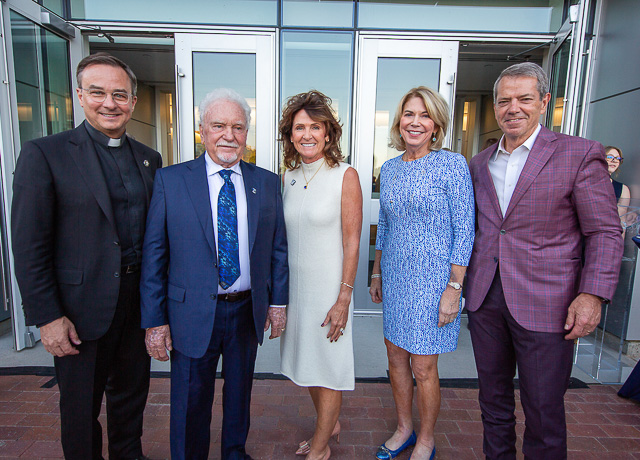 In September, about 100 Creighton alumni, friends, faculty, staff and community leaders — including Nebraska Gov. Jim Pillen and Omaha Mayor Jean Stothert — celebrated the opening of the CL and Rachel Werner Center.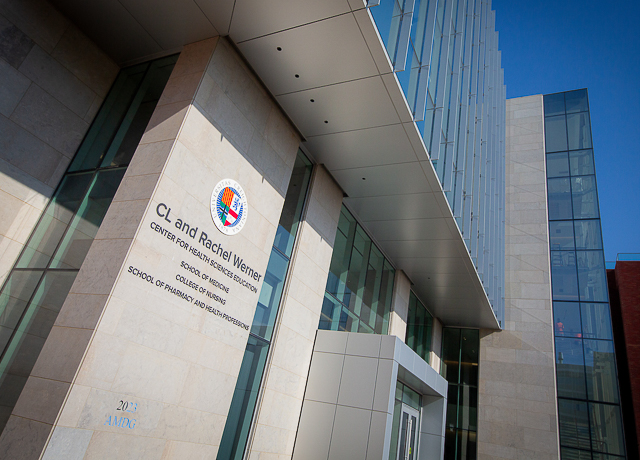 The donor-driven CL and Rachel Werner Center for Health Sciences Education — which broke ground in 2021 — is student focused, with nearly every square foot of the facility dedicated to classrooms, collaboration and hands-on learning.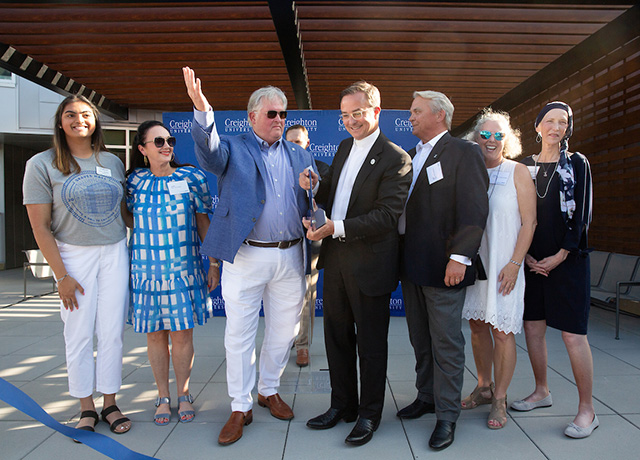 A few days before 400 freshman students moved into Graves Hall, a few hundred alumni, faculty, staff and friends joined Creighton leadership and the families of the project's lead donors for a grand opening.