At Creighton, you don't have to look far to see the impact of our donors.
From the thousands of student experiences funded by collective donor support to major endeavors like the Heider College of Business — named after Creighton alumnus Charles "Charlie" Heider, BSC'49, HON'10, and his wife, Mary — gifts of all sizes make the Creighton experience possible.

Donor stories
Share your story. Have you or someone you know made a difference through a gift to Creighton? Are you a student or alumnus who's benefited from another's generosity? We'd love to hear your story. Contact micahmertes@creighton.edu.
***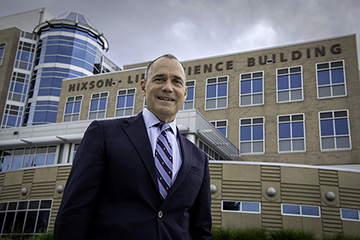 Here are a few donors who are making a difference at Creighton ...
Iowa oncologist Richard Deming, MD'80 (pictured right), made a significant gift to the recently formed Department of Medical Humanities in Creighton's School of Medicine. His gift will support faculty as they form well-rounded and empathetic physicians with an education rooted in the liberal arts and a mission driven by Jesuit values. Read more about Dr. Deming.
***
Creighton University named its highway-spanning pedestrian bridge after two brothers who helped transform the University and the city of Omaha. The bridge was dedicated to Robert P. "Bob" Heaney, BS'47, MD'51, who passed away in 2016; and his brother C.E. "Carr" Heaney Jr., BS'50, JD'57, after the Heritage Services' board of directors, along with the Sunderland Foundation and friends, made a significant gift in their name.
Read more the Heaneys.
***
In the spring of 2020, more than 900 alumni, friends, faculty, staff and students raised more than $440,000 for the University's inaugural A Day for Jays. The funds are supporting scholarships and emergency assistance for students facing financial hardships amidst COVID-19. Read more about A Day for Jays.
***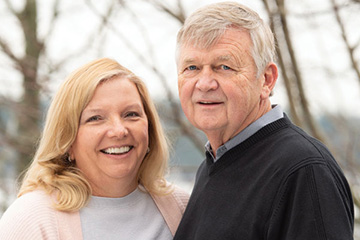 Creighton dentist Arne Ness, DDS'77, and his partner, Anne Christensen, funded the atrium and grand staircase in the new School of Dentistry building, also making the lead gift to the dental school's digital technology center. Read more about Dr. Ness.
***
Dentist Kay O'Leary, DDS'88, funded an operatory in the School of Dentistry. Giving back is one of the ways she keeps her ties to Creighton strong, she says, "because when you find a place that has so much to give, you do what you can to keep it working. Creighton has given me so much, many great experiences." Read more about Dr. O'Leary.
***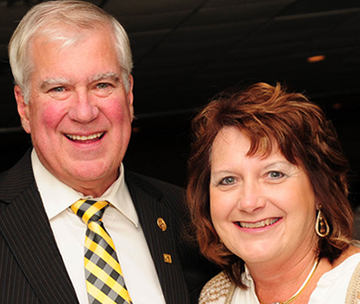 Iowa pharmacist Bob Greenwood, BSPHA'77, and Cheryl "Chery" Greenwood, made a significant gift to the Creighton School of Pharmacy and Health Professions, and the University has renamed the newly renovated pharmacy skills lab in their family's honor. "Creighton will always be a special place for our family," Chery says. "We've been very blessed, and Creighton is a big part of our success." Read more about the Greenwoods.
Giving Societies
We're so grateful to those who support our mission. To show our appreciation, we honor our donors through various giving societies.
2
Creighton University giving societies
905
Heritage Society members
1,236
Creighton Society members
Ignatian Merit Scholars
The Ignatian Merit Scholars program is one powerful way we open the door to high-achieving undergraduate students, especially those from diverse backgrounds and low- and middle-income families. These students typically have achieved a GPA of 3.8 or above, an ACT score of 30 or above and an SAT score of 1360 or above.
Learn more about the program
Giving opportunities
You can make a difference at Creighton today!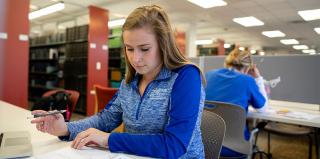 Our No. 1 fundraising priority.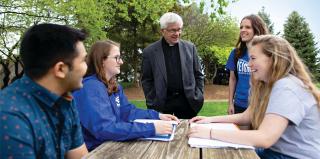 Helping us help our students as quickly as possible.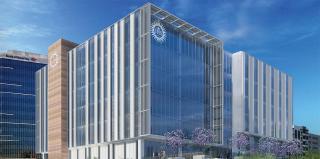 Support one of the most ambitious projects in Creighton's history.