Featured Testimonial About Creighton University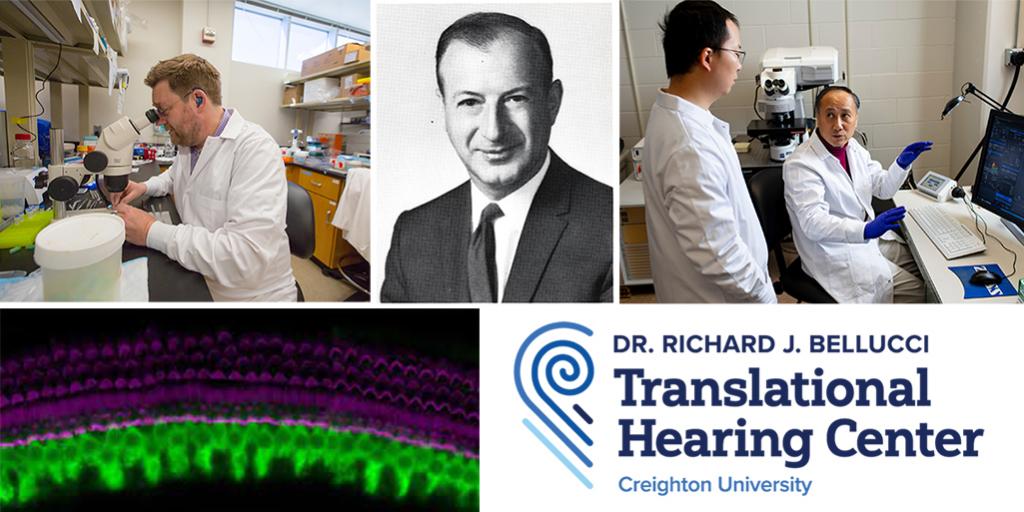 There's a synergy between Dr. Bellucci as a surgeon, Dr. Bellucci as a research scientist and what the Bellucci Center is setting out to become.
Peter Steyger, PhD
Director of the Bellucci Translational Hearing Center

At a special event this month, the four-year-old Translational Hearing Center became the Dr. Richard J. Bellucci Translational Hearing Center, named for the Class of 1942 alumnus who led the field of hearing loss research for much of the 20th century. Read the official announcement here.
You can also watch a video celebrating the naming of the Bellucci Center here.
* * *
By Micah Mertes
When Creighton biology student Izzy Shehan was a baby, her parents banged pots and pans just a few feet behind her. She didn't jump or cry. No response. That was the day they learned she had profound hearing loss.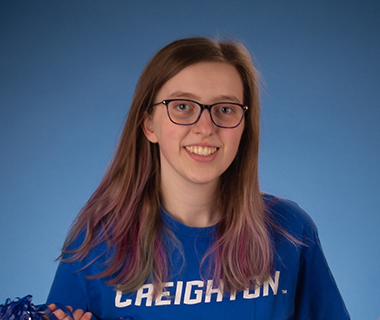 Shehan — who uses cochlear implant devices to hear — was born with bilateral sensorineural hearing loss, though it possibly worsened during her infancy. The causes are unknown, which has remained a point of curiosity all her life. She has theories, of course, but the data has always been insufficient.
When Shehan arrived at Creighton two years ago, her plans were flexible, but she knew she wanted to do three things:
1. Pursue undergraduate research.
2. Learn more about and from the deaf and hearing-impaired community.
3. Help people with hearing loss.
Fortunately, Creighton has a center dedicated to all three: the Translational Hearing Center.
Ahead of her junior year, Shehan is working in the lab of Peter Steyger, PhD — professor of biomedical sciences and the hearing center's director. With Steyger's team of researchers, Shehan is helping to identify interventions that will allow clinicians to treat patients with aminoglycosides (a type of antibiotics) without the side effects that can come with them: inner ear dysfunction, hearing loss and ultimately, profound deafness. In the U.S., about 100,000 people are treated with multiple doses of aminoglycosides every year.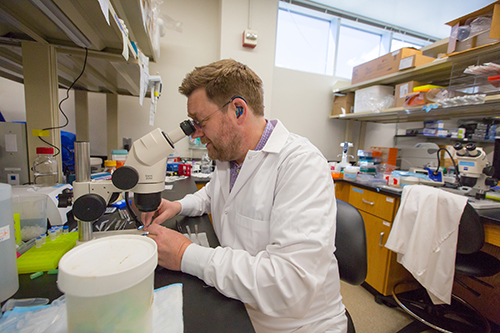 (Steyger's relationship to the research is highly personal. When he was 14 months old, he contracted bacterial meningitis. A course of aminoglycoside antibiotics saved his life but took his hearing in the process. Like Shehan, Steyger hears with the aid of a cochlear implant.)
"Through this work," Shehan says, "I'm discovering what kind of physician I want to be before I'm in medical school. I'm already thinking I want to be an Ear, Nose and Throat physician who specializes in cochlear implants."
Shehan, Steyger and dozens of other Creighton students and professors (across several labs in multiple schools and colleges) are profoundly aware of the stakes of this research and the life-changing practical applications it could bring.
Through what is perhaps the premier center for translational hearing loss research in the nation, they continue the work and legacy of a Creighton alumnus who never stopped asking …
Why do people lose hearing? How can we preserve it? How can we restore it?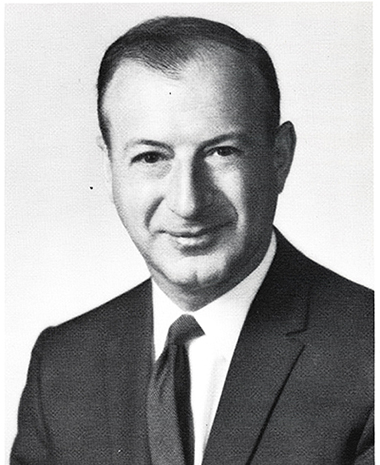 * * *
"There's a synergy between Dr. Bellucci as a surgeon, Dr. Bellucci as a research scientist and what the Bellucci Center is setting out to become." — Peter Steyger, PhD, director of the Bellucci Translational Hearing Center
* * *
In May, the four-year-old Translational Hearing Center became the Bellucci Translational Hearing Center, named for Richard J. Bellucci, MD'42, who died in 2005.
Bellucci was, simply put, one of the most influential conductive hearing loss clinicians and researchers of the 20th century.
As the chair of otolaryngology at the Manhattan Eye, Ear and Throat Hospital in his native New York City, Bellucci was renowned for his work in stapedectomy, a surgery in which a prothesis is inserted into the middle ear to improve hearing.
He also expanded the use of microscopes in surgery, invented the Bellucci Micro Ear Scissors (a standard instrument still used by ear surgeons today), volunteered his expertise in Haiti, worked with World War II veterans with hearing loss and conducted research alongside Helen Keller. (Read a letter he wrote to her here.)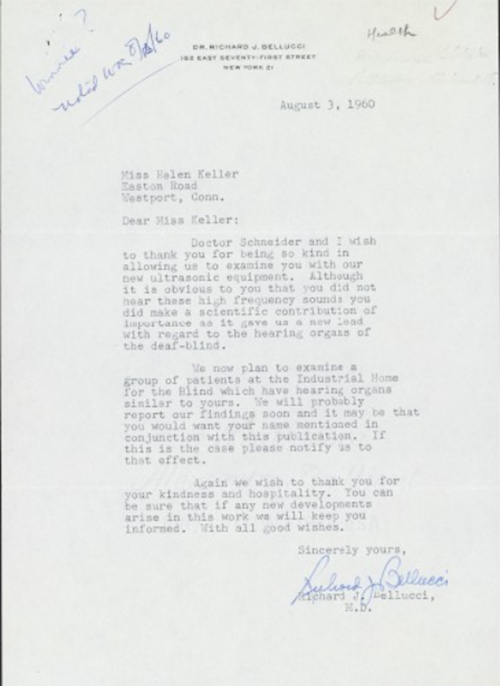 "Richard's greatest joy in life was helping people; it drove him in everything he did," says Kevin O'Leary, Bellucci's friend and the president of the Bellucci DePaoli Family Foundation, whose recent gift to the hearing center continues the foundation's transformative support. (The foundation's 2019 grant created the hearing center.)
"It would be so special for him to see his name on this center," O'Leary says. "Creighton was very important to him. But he would be most proud to see his work continue through a new generation of students and professors who will build on his knowledge and impart it to the rest of the world."
Like Bellucci himself, the center focuses on the translational aspect of research. Translational research translates discoveries made in the lab into practical treatments and therapies for patients. It's the bridge connecting scientific research to the real-world realities of the clinic. Plainly put, translational research is research that wants to start helping people as soon as possible.
"Dr. Bellucci did nothing less than lay the foundation of translational research in hearing loss," says Jian Zuo, PhD, chair of the department of biomedical sciences. "We have inherited his vision. With our research, yes, we can satisfy our own curiosity, but more importantly we need to apply all of these discoveries to the benefit of our patients."
Projects in the Bellucci Translational Hearing Center have focused on drug development and research, along with the potential to regrow the sensory cochlear hair cells that, if depleted, lead to hearing loss.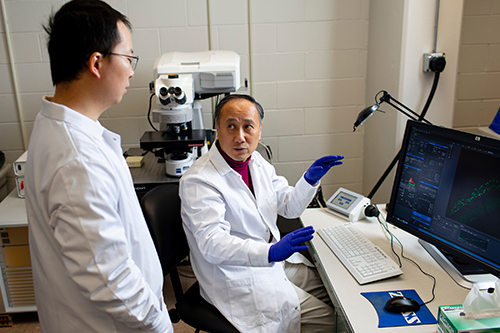 The center's partnership with the Boys Town National Research Center and the University of Nebraska Medical Center boosts the speed and reach of the research significantly, complementing the Bellucci Center's efforts by focusing on gene therapy, central auditory pathway disease analysis and clinical applications.
The hearing center's ambitions for innovative research translating into real-world health care wouldn't be possible without Boys Town and UNMC's partnership, Zuo says.
The same could be said of the far-ranging partnership within Creighton itself. The Bellucci Translational Hearing Center currently comprises about 25 faculty researchers and a dozen undergraduate and professional students from the School of Medicine, School of Pharmacy and Health Professions, the College of Arts and Sciences and the Heider College of Business (with business students and faculty exploring commercial and entrepreneurial applications of the center's research).
"The key to the hearing center's success is the collaborative work of all individuals involved," Zuo says. "We have an amazing team that continues to grow."
Some of that growth is coming from the undergraduate and professional students joining various research projects. Creighton has no shortage of outstanding student researchers, Zuo says, many of them undergraduates.
"In the years to come, these students will be the best researchers in their field," Zuo says. "They will form the foundation of our mission — to make significant contributions and breakthrough discoveries through the Bellucci Center."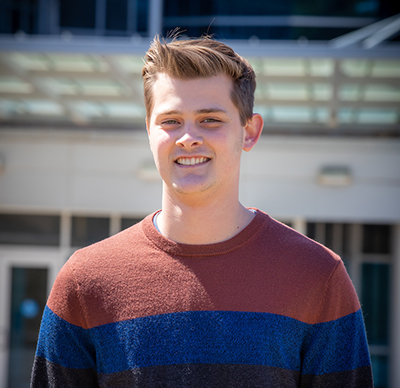 One of Zuo's student researchers is Jack Diers, a Class of 2024 neuroscience major and Goldwater Scholar.
Diers grew up in Fremont, Nebraska. At the age of 10, he got a microscope. Suddenly, the soybean field and creek behind his house became an endless source of scientific specimens. If it could fit on a slide, it went under his microscope.
Now, in Zuo's lab, Diers explores how genetic therapy can regenerate sensory hair cells in the cochlea and potentially treat hearing loss. The experience has helped him discover a passion for developmental biology, which he plans to pursue a doctorate degree in after he graduates. Though Diers sometimes feels like he's already a PhD student.
"I've learned an incredible number of things in the lab and can do pretty much everything independently at this point," Diers says. "That's going to help me a lot when I'm getting my PhD.
"But the most important thing is that I know that the work I'm doing now is going to impact people. The end goal of all this — not just what I'm doing but the other hearing center projects, too — is to help treat or prevent hearing loss, and it's very cool to be a part of that."
* * *
"Doing research in the Bellucci Translational Hearing Center makes me feel like I'm already a grad student." — Miranda Hauke, neuroscience major in the College of Arts and Sciences
* * *
Creighton is a great home for the Bellucci Translational Hearing Center for multiple reasons, says Steyger, the center's director.
"For one, it being here honors Dr. Bellucci's training in the medical school. Another reason is the faculty researchers themselves, who are very much in tune with the mission of Dr. Bellucci's work."
But on a deeper, even spiritual level, it's Creighton's Jesuit values that make it the perfect fit.
Steyger used his own experience as an example. Though he got a cochlear implant 16 years ago, he still couldn't hear his own voice properly. For years, he spoke with a great intensity in his speech. When the cochlear implant company later developed a way for him to better hear himself — the result of research, no doubt — Steyger softened his voice. He immediately noticed the effect it had on his relationships with his colleagues, family and friends.
"One of the most important things about Jesuit values is to care for the whole person," Steyger says. "And to care for the whole person, with compassion and empathy, first you need to be able to form a connection with them. Forming a connection requires both listening to what the other person is saying and articulating your own thoughts. Hearing loss, of course, affects both."
At front of mind for all the hearing center professors and students, Steyger says, is the real-world impact hearing loss has on people's lives, the untold amounts of energy they have to expend every day to participate in the broader world. This reality informs every datum the hearing center collects, every discovery it makes.
The mission of the center, like the mission of the man it's named after, was never only about hearing. It's about helping people preserve and restore the connections that define our lives.


* * *
About the Bellucci Translational Hearing Center
In the Dr. Richard J. Bellucci Translational Hearing Center, faculty scientists across multiple disciplines train the next generation of hearing researchers. Together, they seek solutions to preserve and restore hearing through the study of sensory cell regeneration, gene therapy and drug intervention.
The support of the Bellucci DePaoli Family Foundation has been vital to the center's success. Since an initial investment from the foundation launched the center in 2019, researchers have earned more than $8.5 million in research awards from federal and national funding bodies. The foundation's support was also essential to securing a $10.8 million award from the National Institutes of Health-affiliated Centers for Biomedical Research Excellence funding mechanism — the largest federal grant in the history of Creighton University.
Most recently, the Bellucci DePaoli Family Foundation made a multi-year grant to the hearing center in a campus ceremony that renamed the center to honor Dr. Bellucci's legacy.
To date, the Bellucci Translational Hearing Center has received $1.4 million dollars to fund seed projects, postdoctoral and predoctoral scholars and equipment needed by the center from the Bellucci DePaoli Family Foundation. The researchers' work has resulted in dozens of papers and posters that have advanced the field, broadened the exposure of the center and propelled the career trajectories of research scientists and trainees alike.
Since 2019, the hearing center and Creighton's department of biomedical sciences have hosted the annual Bellucci Symposium on Hearing Research, sponsored by the Bellucci DePaoli Family Foundation. At the symposium, researchers and clinicians from across the country come together to share and discuss the latest findings in their field.