At Creighton, we serve each student, professor, staff member and alumnus as a whole person, respecting their individual cultures and faiths as they walk their life's path.
Our mission is best illustrated in who our students become: agents of change with a commitment to faith and community that lasts long past commencement.
Learn more about how we are living our mission.
The gift we give our students is for them to be able to identify who they are at their core, to identify what their gifts are, to identify what brings them passion and joy and fire, and to ask the question, Where does the world need all that?
— Kyle Lierk, BSBA'99, director of Campus Ministry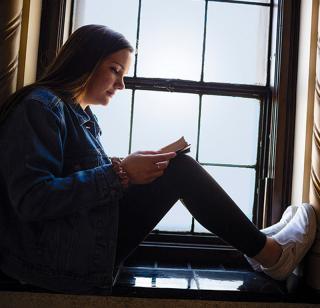 Mind, Body and Spirit
Creighton offers many resources and engagement opportunities to find community and live our faith.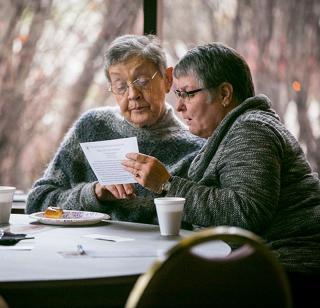 Retreat Center
The Creighton University Retreat Center is a full-service center that embodies the Spiritual Exercises of St. Ignatius, founder of the Jesuits.
Set in 153 wooded acres, the center is located 45 miles from Creighton, near Griswold, Iowa. It offers private, double and group accommodations for more than 100 people.
The center welcomes students, faculty, staff, alumni and all others seeking a place of rest or retreat, including members of religious communities, parishes, school groups, organizations and private individuals.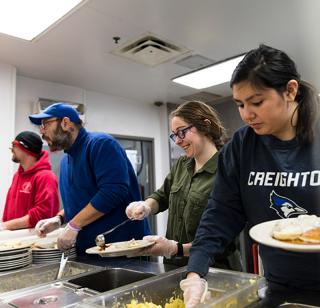 Schlegel Center for Service and Justice
The SCSJ engages students in community service, reflection and action on behalf of justice and sustainability. The SCSJ works tirelessly to serve the underserved, empower the powerless and form leaders educated in the Jesuit tradition.
The center instills a lifelong concern for the pursuit of justice, giving students the chance to serve locally and nationally through programs like Service & Justice Trips, the Ignatian Family Teach-In for Justice and more.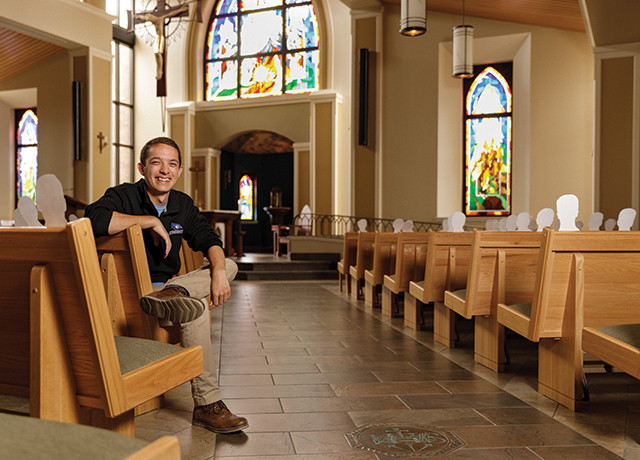 Connection to community grows through giving
The Jesuit mission and principles of Ignatian spirituality are woven deeply into the identity of Ed Nuñez, BA'18. The guiding principles that have shaped Nuñez have also helped develop his philanthropic vision.
Read the story
Creighton/St. John's Marriage Preparation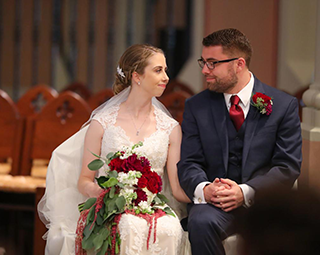 All Creighton alumni and their children who live in Omaha have the option of completing marriage preparation through the Creighton/St. John's Marriage Preparation Office, including couples getting married at churches other than St. John's. Experience the gifts of Ignatian spirituality and learn how to build a dynamic and successful marriage.
Email marriageprep@creighton.edu or call 402.280.2205 for an appointment at least six months before the wedding.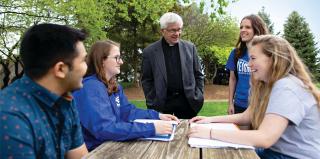 Helping us help our students as quickly as possible.