Featured Testimonial About Creighton University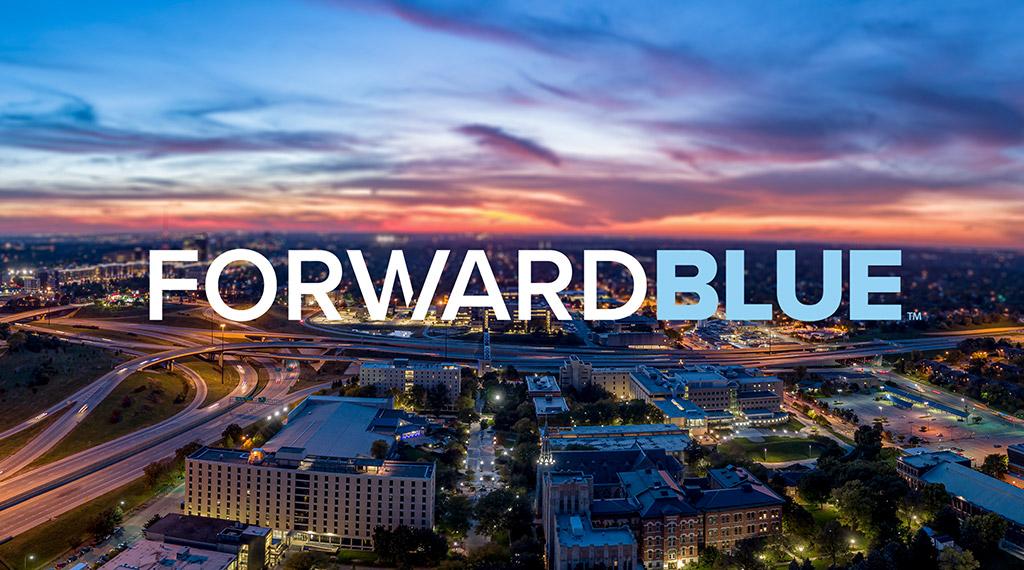 To everyone who's ever felt supported by this community, we ask that you be there for our students now. If you love Creighton, if you care about the thousands of students who call it home — join us. Make a gift. Support Forward Blue.
Forward BLUE Faq
By Micah Mertes
What to know about making a gift to Creighton's fundraising campaign.

What is Forward Blue?
It's the largest, most comprehensive fundraising campaign in Creighton's history. (Learn even more about it here.)
What's the purpose of the campaign?
The Forward Blue campaign is a concentrated effort over an extended period of time to celebrate Creighton's mission, while raising funds to ensure that mission endures.
Creighton launches fundraising campaigns no more than once a decade. In past campaigns, thousands of donors have made gifts. Creighton is what it is today largely because of the alumni and friends who have supported successful campaigns along the way.
What are some examples of how campaigns have shaped Creighton?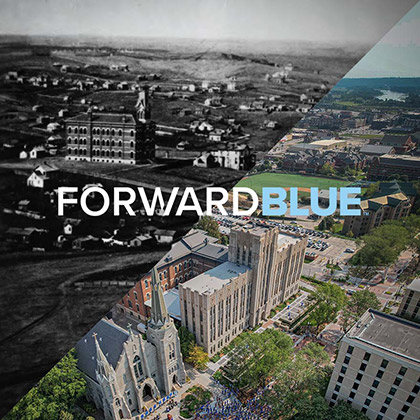 Many of the campus buildings still standing today were constructed during campaigns. To name a few: Deglman, Gallagher, Kiewit and Swanson residence halls, Becker dining hall, the Reinert-Alumni Memorial Library, the Rigge Science Building, along with the Criss, Kiewit Fitness and Skutt Student centers.
But campaigns are about more than buildings.
Look back to 1950, and you'll see a university in crisis. Post-war, enrollment had dropped. Campus facilities were dilapidated. Creighton President Carl M. Reinert, SJ, began his tenure with a commitment to transform the University. The best way to do so? Deepening Creighton's ties to its surrounding community and dedicated base of alumni and friends.
It led to vital community partnerships and donor support of scholarships, operational expenses and academic and spiritual programs. Over the next few decades, Creighton embraced its base and grew significantly — both in the number of students and programs. Yet the University never lost sight of its Jesuit, Catholic identity. That's the promise of Forward Blue — that our traditions and values will define our future.
Why should I give to Creighton?
It's this simple: Creighton depends on its donors.
As a private university, Creighton can't rely entirely on federal or state funding. The University needs the support of donors to continue giving our students a top-tier education in the Jesuit tradition. Donors support our students through gifts to scholarships, academics, programs, mission and improvements to our campuses in Omaha and Phoenix.
Every gift to Creighton is actually multiple gifts — a gift to our students, a gift to the University, a gift to our surrounding communities. Creighton and Omaha's roots are forever interwoven, and our great partnership continues. Each year, Creighton brings thousands of out-of-state students to Omaha, many who then start their careers here, enriching the region's workforce across multiple fields.
In the years ahead, Creighton will continue to boldly extend its reach and influence while preserving the mission, values and community ties that define us. Donors like you will make this possible.
Why are gifts to Creighton necessary if students are paying tuition?
Tuition alone doesn't fully cover what it costs to educate our students. It covers about two-thirds of it. The cost to run Creighton each day is $1.153 million.
Why does it cost more to run Creighton than what tuition is covering?
A Creighton education costs more because it gives more. And we mean that quite literally.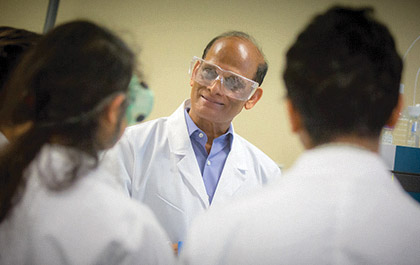 Each year, Creighton budgets nearly twice as much for each student's instructional expense as public institutions nationwide. Creighton also budgets 65% more for student services than the national average. And it shows.
Our faculty and staff have the time and space to focus on teaching and serving our students first. We give our students a markedly more personalized education, through smaller class sizes — an 11:1 student-to-faculty ratio — and the programs and services that help them flourish.
"Creighton has a myriad of degree programs, outstanding faculty, wonderful academic advisors, and tremendous services and opportunities," says Wayne Young Jr., BA'93, PhD, associate vice provost for student retention and student development. "Students and parents know that Creighton is the type of school you never leave because Creighton will help you succeed."
After a deeply challenging year, Creighton's retention rates were among its highest ever for returning sophomores. Creighton also set University records for retention of juniors and seniors. Student graduation rates, meanwhile, are significantly higher than the national averages for public and private universities. And of our alumni, 99% are employed, serving their communities or enrolled in a graduate or professional school within six months of graduation.

What is Creighton's most pressing area of need?
Without question, scholarships. Scholarships are one of the top deciding factors for thousands of students who choose Creighton. In the coming years, scholarships will be even more essential.
After the 2008 recession, the U.S. birthrate declined sharply and has not yet recovered. Colleges and universities will now compete for a smaller number of potential students. Scholarships are our most effective means to continue attracting excellent students to Creighton while maintaining our reputation across nine schools and colleges.
We know what the future brings, and, with your support of scholarships, we plan to get ahead of it. (Learn more about the need for scholarships here.)
If it's a precarious time for higher education, why did Creighton build a new campus in Phoenix? Why is Creighton growing?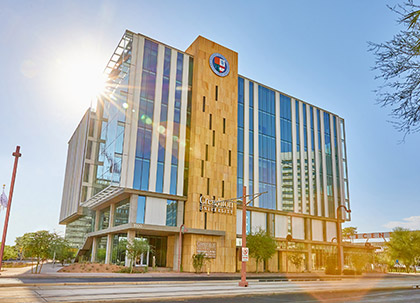 Creighton is making bold moves like building the Phoenix campus largely in response to the changes in higher education. Bringing our singular health sciences education to Arizona not only expands our pipeline of talented health care professionals to an area direly in need of them, it makes a Creighton education a much more prominent option for students in a different part of the country. The Phoenix campus is an investment in our future.
Creighton's history is marked by many such acts of courage in the face of uncertainty. We adapt to the times. We find opportunities for the University to move forward without sacrificing our Jesuit, Catholic identity. We will continue to extend our reach. But no matter what, the foundation remains the same.
How much should I give?
Gifts of all sizes make a difference every day, and our students benefit from every act of generosity. Every gift — whether $10, $100 or more — adds up to something extraordinary.
What else should I know?
No two Creighton experiences are exactly alike. We know that alumni and friends have their own personal reasons for believing Creighton is an amazing place, their own feeling or memory that connects them to campus. Maybe a favorite professor comes to mind. Or a class that changed your perspective. Perhaps it's as simple as the joy of a happenstance encounter along the mall or a quiet morning in St. John's.
One unifying thread of all Creighton experiences? Someone was there for me. In past surveys, graduating seniors and alumni said the strongest aspects of their Creighton experience were smaller class sizes, access to faculty/staff and the overall sense of community.
To everyone who's ever felt supported by this community, we ask that you be there for our students now. If you love Creighton, if you care about the thousands of students who call it home — join us.
Make a gift. Support Forward Blue. Together, we'll make sure that Creighton remains Creighton — today, tomorrow, always.