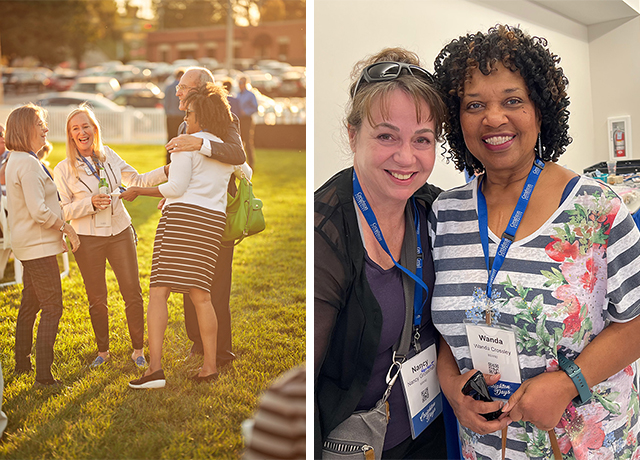 Photos/highlights of Creighton Days 2022!
Over a long and lovely fall weekend, more than 800 alumni and friends returned to campus from all over the country for Creighton Days.
Read the story
Snapshots from Creighton Days
Enjoy these memories from the past Creighton Days events on campus.
A few words from past guests ...
"This was just a really special weekend for us. Life passes a little too quickly if you're not paying attention. We just had to carve out the time to get here, and Creighton did the rest. Creighton supports Reunion Weekend so much. Once you get into it, you see, they offer so much."
— Heidi Woodward, BA'99

"It's just good to come back. It's good for your soul. We went through so much together here. We were family. Life gets busy, but it's important to come back and reconnect. Creighton … it's just a piece of my life."
— Diane Barry Carlson, BSN'79

"Revisiting for Reunion Weekend is really nice. I used to do so much when I was a student. I was really happy to see that I can reconnect with some of my peers here. It felt like a family when I was a student; now that I'm back, it still does."
— Martin Jose, BS'16

"It's just fun to come back. I have so many good memories of being a student here, so many good friends I've stayed in touch with."
— Christina Bruck Heller, BA'94

"You get close-knit when you're at Creighton. Everybody's trying to help everybody else get through. Then when it's over, you go in different directions all around the country and the world. Fifty years later, you get back together, it doesn't take long to reunite."
— John Parrish, DDS'69