Featured Testimonial About Creighton University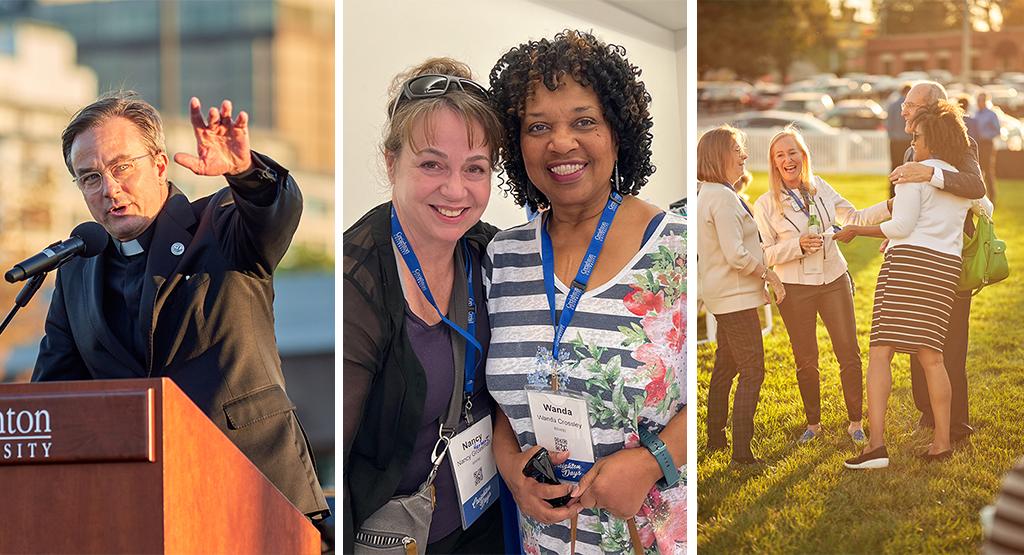 Hands down, Creighton University enjoys the most loyal and involved alumni and friends imaginable.
The Rev. Daniel S. Hendrickson, SJ, PhD
Creighton president
By Micah Mertes and Nichole Jelinek
Photos by Creighton University Relations staff
Over a long and lovely fall weekend, more than 800 alumni and friends returned to campus from all over the country for Creighton Days, attending dozens of events — from class parties to pregame celebrations to Presidential receptions.
What follows are some highlights from the weekend, a few interesting alumni we met and a group of alumni celebrating their 50-year reunion with a hula hoop contest.
(You can see a full gallery of photos from Creighton Days here.)
* * *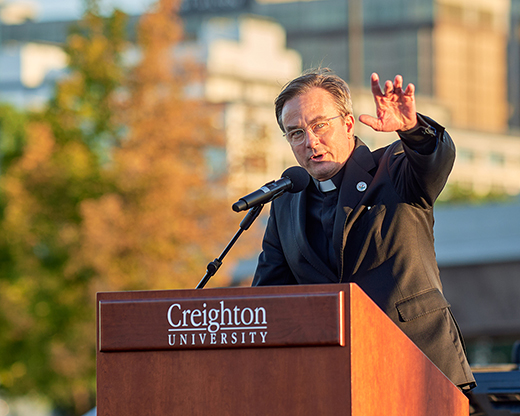 Creighton President the Rev. Daniel S. Hendrickson, SJ, PhD, kicked off Creighton Days Thursday evening with a reception on the lawn of Morrison Stadium.
"Hands down," Fr. Hendrickson told the crowd, "Creighton University enjoys the most loyal and involved alumni and friends imaginable."
Fr. Hendrickson spoke about the impact of donor support, the historic fundraising campaign Forward Blue and the amazing changes that have come to campus since many alumni last visited.
He also dropped some major news, announcing that the in-construction residence hall for first-year students now has a name: Graves Hall.
"I am very excited to share for the first time publicly that a double-degree Creighton alumnus – Lee Graves – made a lead gift to name the new residence hall," said Fr. Hendrickson. "Graves Hall will open in 2023 and offer the expressions of excellence and spirit of community for which Creighton is known. Thank you to Lee and his wife, Judy." (Read more about Graves Hall here.)
Here are some more moments from the presidential reception.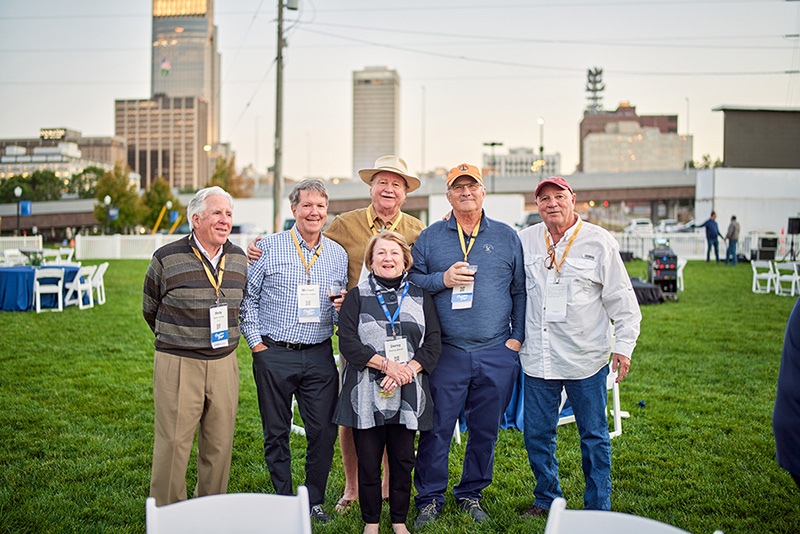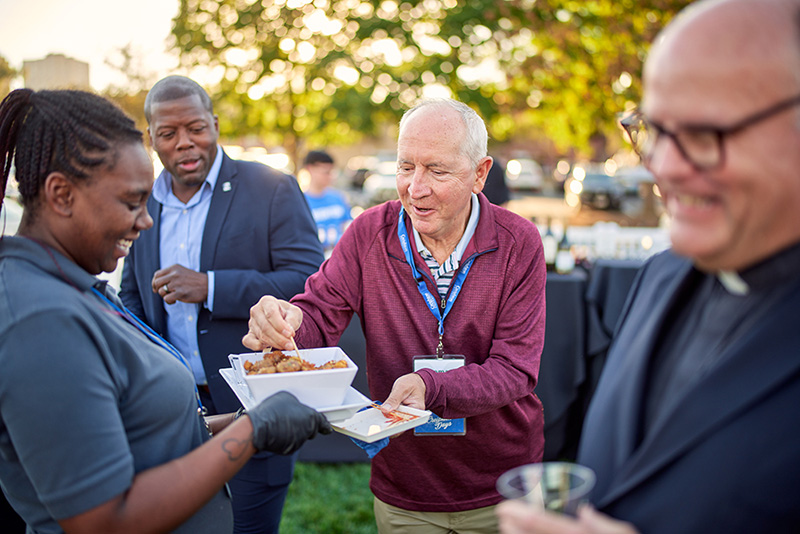 * * *
There are many ways to celebrate the milestone of your 50-year Creighton reunion. One way is a hula hoop contest.
Here are a few scenes from the contest at Friday night's Undergraduate Class of 1972 reunion.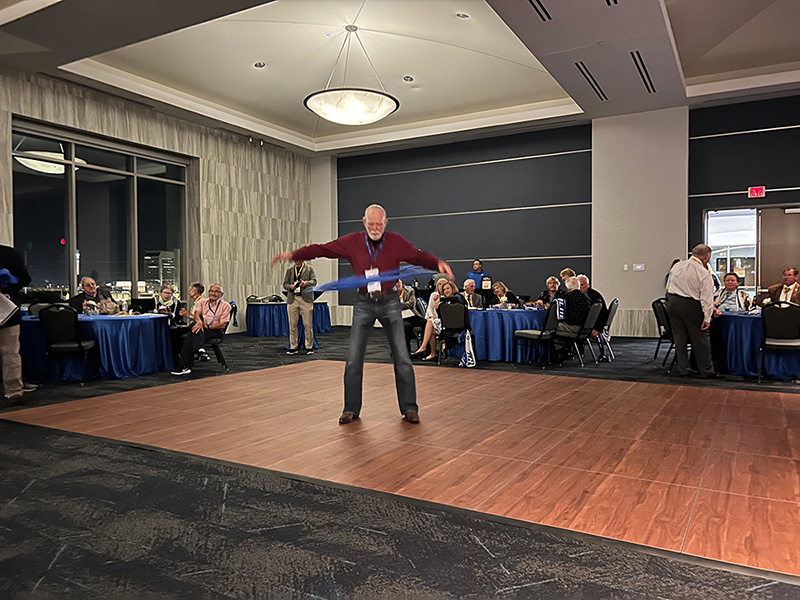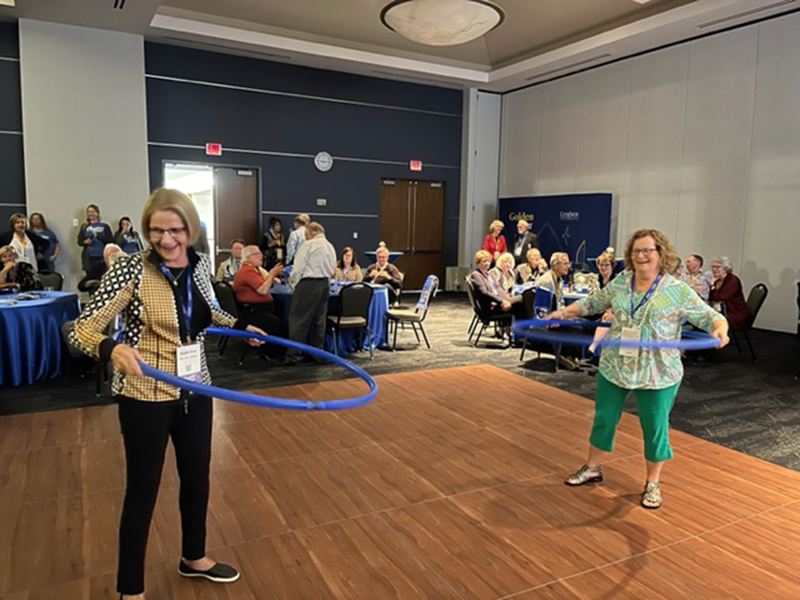 * * *
Out-of-town alumni have plenty of reasons to return to Omaha and come to campus for Creighton Days — attending fun events, seeing the changes to campus, marking reunion milestones, competing in hula hoop contests ...
But the motivation for most alumni is obvious: They want to see their old friends.
Nancy Herbert-Grossman, BSN'82, drove to Omaha from her home in Washington to celebrate her 40-year class reunion.
"I'm excited to rekindle some friendships while I'm here … like with my friend Wanda," Nancy said, pointing to former classmate Wanda Crossley, BSW'82.
Nancy was misty-eyed as she reflected on how much time had passed.
"It's just crazy. I can't believe it's been 40 years. But I'm so glad to be here now. And it's nice to see that people are still super friendly at Creighton."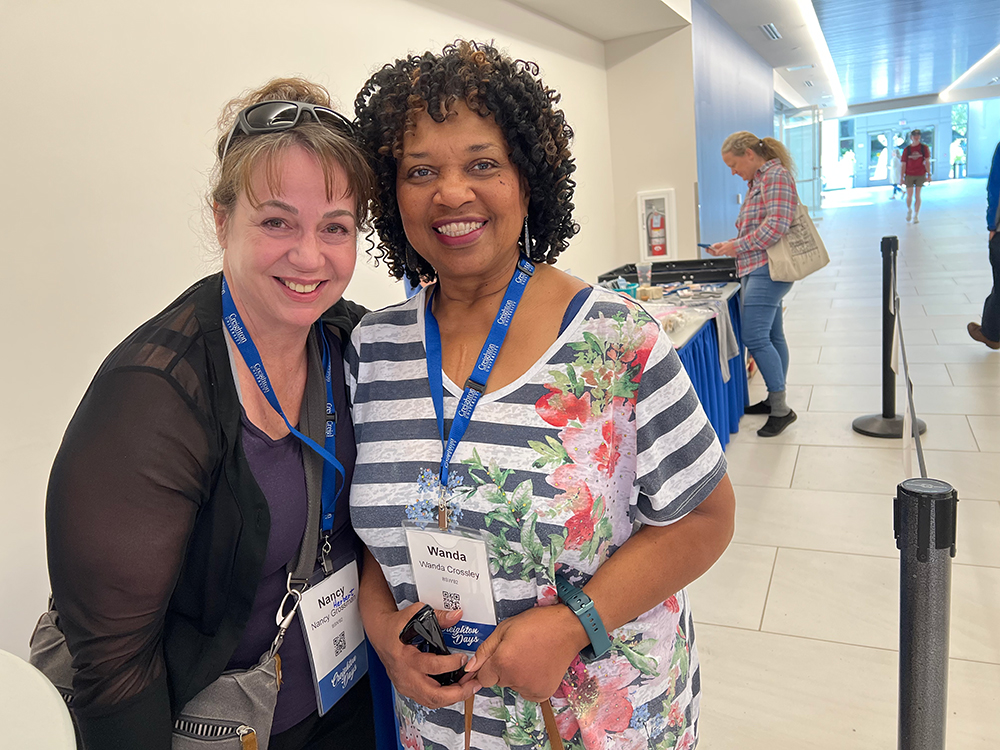 * * *
On Day 2 of Creighton Days, we hosted a garage sale — a Gallagher Hall garage sale.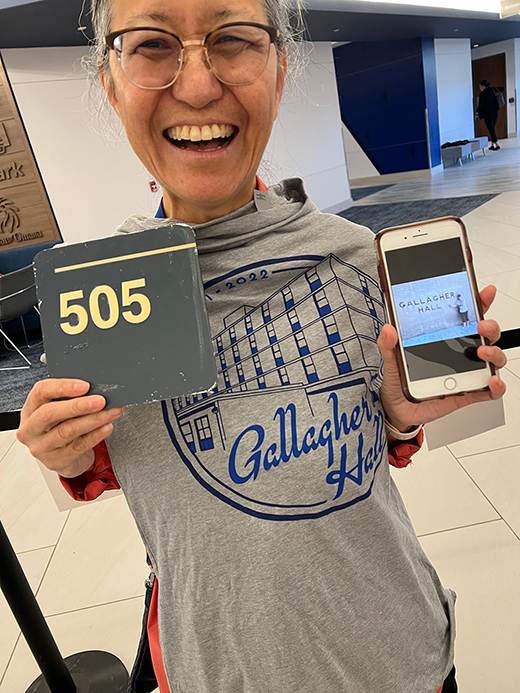 Alumni, faculty and staff flocked to the Harper Center-hosted sale and went home with Gallagher bricks, doorknobs and room numbers. With Gallagher photos, T-shirts and stickers.
Former Gallagher resident and current Arizona physician Angela Wong, BS'83, MD'87, found her old room number of 505.
Wong recounted a few of her favorite Gallagher memories. Like the time her freshman year when a fellow dorm resident from North Dakota showed Wong (originally from Honolulu) and a few other students from warmer climates how to use a scarf in time for the Nebraska winter.
Wong also recalled the time a group of male students accidentally flooded Gallagher's third floor while trying to hook a keg up to the building's plumbing. Water rained down all the way to the first floor. Students in the commons area put an umbrella over the TV console to keep it dry.
In the winters, Wong said, she and her classmates would use the SAGA cafeteria trays to slide down snowy hills or along an ice-slicked California Street (not yet the Mall).
"We had a good time," Wong said. "It's great to get together again."
The Gallagher Garage Sale ended up being most popular with upperclass students, the last to have lived in the recently demolished dorm. The students excitedly flipping through the garage sale items looking for their old room numbers.
Clare Hart, a senior in the College of Arts and Sciences (and a potential future Creighton Days attendee?), stopped by the garage sale to look for pieces of the dorm she held so dear.
"It had a bad rep," Clare said. "People called it 'Galcatraz.' But it's where I met all my best friends. It was such a tight-knit community. Everyone loved the connections they made. I'm just grateful for all the memories."