Featured Testimonial About Creighton University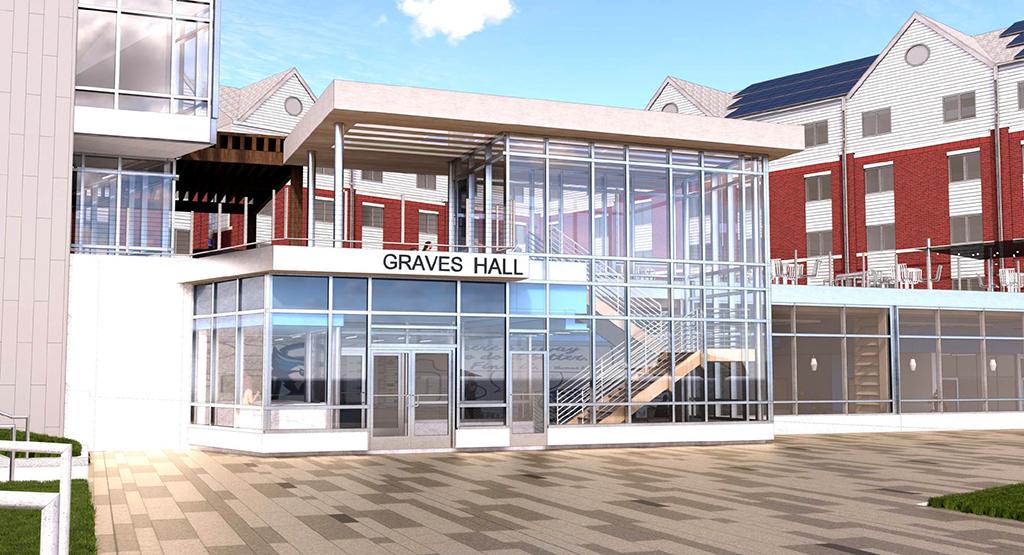 The thing about Creighton that's different from a lot of places is its sense of family and sense of community. That's something that holds just as true now as it did back in my day.
Lee C. Graves
BSBA'80, JD'83
Watch Creighton President the Rev. Daniel S. Hendrickson, SJ, PhD, announce the residence hall's name at the Creighton Days Presidential Reception
See more renderings of Graves Hall
* * *
By Micah Mertes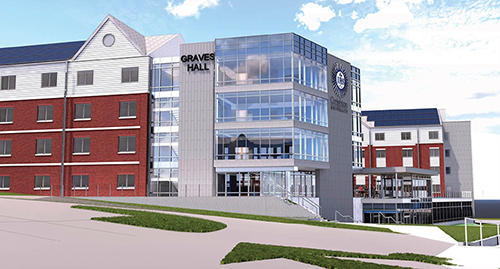 Creighton's new residence hall will be called Graves Hall.
The hall's namesake is Lee C. Graves, BSBA'80, JD'83, who, along with his wife, Judy Graves, recently made the lead gift of $12 million to the residence hall now in construction at 23rd Street, south of Burt Street.
The 400-student Graves Hall, opening in fall 2023, will be the first residence hall built exclusively for first-year students since the 1960s, and the first residence hall of any kind built since 2006. The $37 million project broke ground in the fall of 2021.
"Creighton needs to have the tools for campus to continue to grow and for the schools to continue to thrive," says Lee C. Graves, the chairman, founder and CEO of ELM Companies, which provides utility and energy management services. "This new freshman residence hall is going to be a great asset in attracting students to Creighton."
Graves noted that the residence hall looks right over the new business school and law school. ("If the buildings looked this cool back then, I might have gone to class more," he joked.)
Graves remembers the feeling of his parents driving away after move-in in the fall of 1976. He knows how important it is that a freshman's new home feels like home. Especially if they're far from their old home.
Graves — who now lives in Fort Worth, Texas — is a Peoria, Illinois native. His senior year of high school, he visited Creighton's campus with a friend.
"I thought it was such a cool place," he says now. "I didn't want to go to college anywhere else, so I didn't apply anywhere else. I just went straight to Creighton."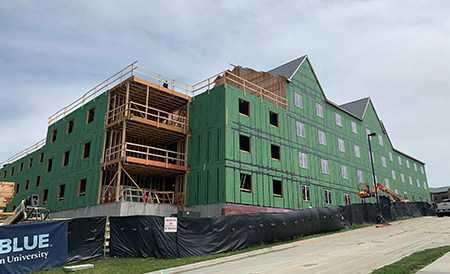 On campus, Graves found what so many students do — lifelong friends and life-changing mentors. For Graves, that mentor was the Rev. John P. Schlegel, SJ.
Fr. Schlegel would later serve as Creighton president from 2000 to 2011, but in 1976 he was an assistant professor of political science and a Jesuit chaplain in Swanson Hall, where Graves lived his first two years at Creighton. Graves and a few friends grew close to Fr. Schlegel through their fraternity Phi Psi's service work.
Graves recalls his confessions with Fr. Schlegel. "They were given over a bottle of wine in the Jesuit Gardens," Graves says. "Our philosophy is that 'God is everywhere.'"
It was Fr. Schlegel who convinced Graves to go to law school at Creighton. By Graves' senior year of business school — after having lived up to that point in landlocked Peoria and Omaha — he was seeking a place with a beach.
He planned to apply to a law school in California but needed a strong recommendation. He sought one from Fr. Schlegel. In fact, Graves wrote Fr. Schlegel's recommendation for him. All he needed to do was sign the letter.
"Fr. Schlegel looked at that recommendation letter, then shoved it aside," Graves says.
Fr. Schlegel: "Lee, I want you to congratulate me. I'm the new chaplain of the law school."
Graves: "That's fantastic, Father … Please sign here."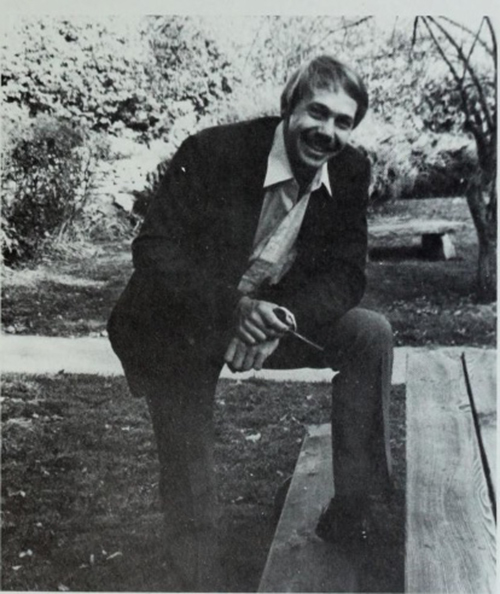 Fr. Schlegel: "No, you don't understand. I'm looking forward to seeing you there."
At that point, Graves realized, well, I guess I'm going to Creighton law school. He says now he wouldn't have traded it (or any of these moments with Fr. Schlegel) for anything in the world.
Graves is a longtime donor to the business and law schools, along with other causes. In 2003, Graves and his friends Kathy and Jim Simpson, BA'80; Rich Doyle, BS'80; and other Phi Psi members came together to honor their friend, forming the Schlegel Endowed Professorship in Politics and Government.
Fr. Schlegel, who passed away in 2015, didn't live long enough to see a residence hall named after one of his pupils. But as Doyle recently told Graves: "Padre would be proud."
"The thing about Creighton that's different from a lot of places," Graves says, "is its sense of family and sense of community.
"That's something that holds just as true now as it did back in my day. You build these lifelong relationships that grow out of the nucleus of the people you live with your freshman year. This new building will give students an even greater opportunity to create the connections that will define their lives."
More about Graves Hall
The residence hall will be divided mostly into four-person suites. Each will have two bedrooms, two living spaces and a shared bathroom. Each floor will have kitchenettes and space for student development programs. The building will also have a larger kitchen on the second floor for all students.
The residence hall's programming will include dedicated interfaith spaces and amenities supporting student development, wellness and academics.
"We are deeply grateful for Lee Graves' gift and the ways it will transform how our students live and learn on campus," said Creighton President the Rev. Daniel S. Hendrickson, SJ, PhD. "Graves Hall will represent a philosophical shift in how we house our freshman students, with accommodations that allow for both privacy and community.
"The residence hall will allow us to enhance our commitment to creating a sense of belonging for our first-year students, including providing meaningful programming that fosters growth, learning and formation in the tradition of a Jesuit, Catholic education."
Renderings