Supporting our students first
With Forward Blue, we celebrate our values. We embrace our Jesuit identity. In an uncertain time, we welcome a new generation of amazing students to Creighton through the gift of scholarships and other essential support.
If you want to see Creighton continue to thrive as the place you know and love, these are the two areas where you can make the greatest impact for our students and the University scholarships and school or college general funds.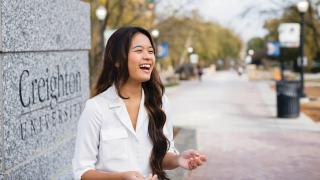 Scholarships
Our No. 1 fundraising priority. When you make a gift to scholarships, you continue Creighton's legacy of offering a life-changing education to every excellent student who wants to come here.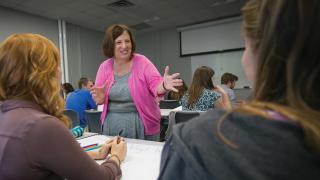 School & College Funds
School and college funds support the most essential components of the Creighton experience across all fields. They support the tremendous faculty and staff who have helped our alumni become the people they are today.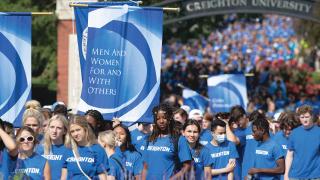 Other Giving Opportunities
There are so many ways you can support the University and our tremendous students — mission, academics, faculty development, athletics, campus improvements, whatever Creighton cause means the most to you!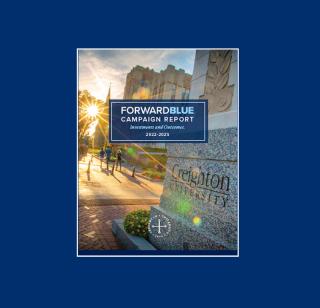 Forward Blue Campaign Report
Check out our annual Forward Blue Campaign Report to see the many ways donors are defining Creighton's present and future and supporting our students through mission, academics, programs, scholarships, campus transformation, athletics and more!
Bold moves, bright future
This moment will be remembered as one of the most transformative in Creighton's history. In 2021 alone, the University has overcome the challenges of a once-in-a-lifetime pandemic; administered the vaccine to tens of thousands of people; and opened a health sciences campus in Phoenix while breaking ground on a new facility in Omaha.
The coming years will see a rapidly evolving landscape in the world of higher education. To meet this moment, we will step forward, boldly. With your help, we will make courageous choices and major changes while embracing Creighton's key strengths as a Jesuit, Catholic university.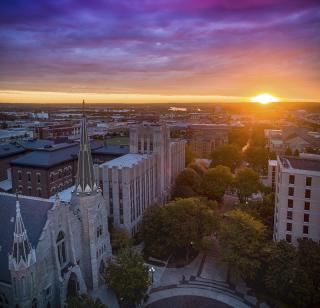 Campus improvements
Thousands of students call Creighton home, and we prioritize their needs above all others. That's why each new campus building and renovation serves our students' education first.
Learn more about campus improvements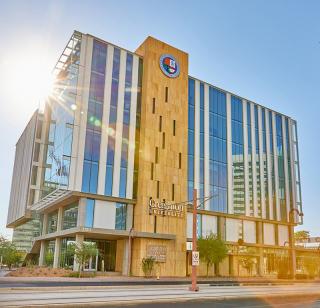 Health sciences
Two capital projects underline the growth of our health sciences enterprise — the nearly $100 million health sciences campus in Phoenix (which opened this fall) and the $75 million CL and Rachel Werner Center for Health Sciences Education (opening fall 2023). Creighton educates more professional health sciences students than any other Catholic university in the nation.
Learn more about the health sciences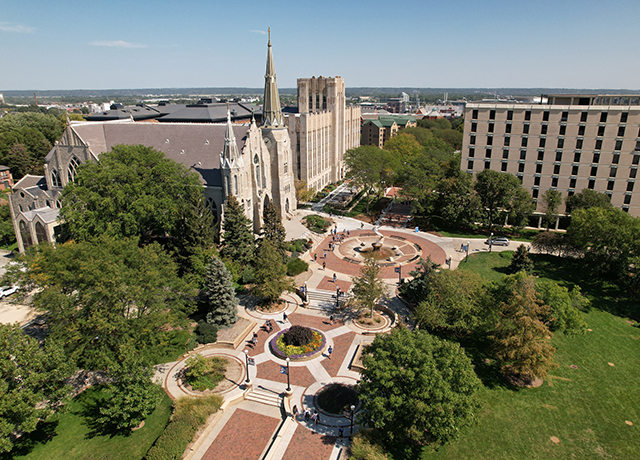 Propelled by Creighton's Forward Blue campaign, this past fiscal year was the second-highest fundraising year in the University's history.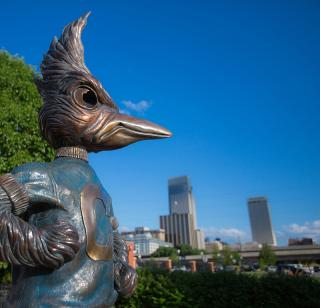 A partnership continued
Creighton and Omaha grew up together — from a one-building college and frontier town to the nationally renowned institution and thriving city you see today. Our partnership continues, stronger than ever.
As does our relationship with the state at large — each year, Creighton generates $790 million for Nebraska's economy. Additionally, nearly half of Creighton undergraduate students stay in Nebraska after graduation, bringing an incredible amount of brain gain to the region.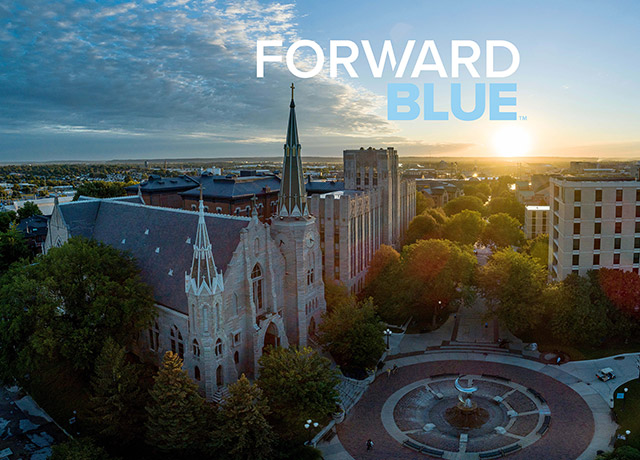 Forward Blue: Everything you need to know
A Forward Blue FAQ covering the ins and outs of the largest and most comprehensive fundraising campaign in Creighton's history.
Read the story
Embracing our strengths
Forward Blue is a promise to our community. It's our promise to you — that we won't lose sight of what makes Creighton, Creighton. That whatever challenges we face in the years ahead … Our values will guide us. Our mission will move us. Our alumni and friends will help us lead the way.
This is a time of record growth, new partnerships and ever-expanding global impact. What's true of Creighton will always be true — the deeper our roots, the farther our reach.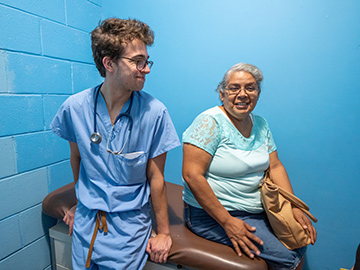 Global outreach and impact
Over the past decade, Creighton has seen incredible growth, breaking enrollment records and achieving greater national distinction through an elevated Carnegie classification. Creighton also has a remarkable track record in global outreach and education. Many established programs offer service, research, internship and volunteer opportunities abroad, as we've extended our international reach through the Creighton Global Initiative.
Support the Creighton Global Initiative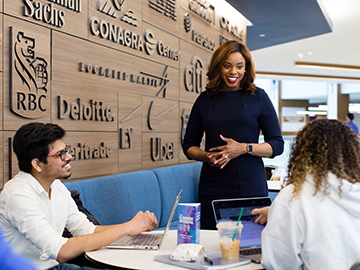 The future of business
Since 2011, the Heider College of Business — Creighton's first named college — has seen enrollment surge 75%, with 4 in 5 students coming from outside the state and more than 40% of them stay in Nebraska after graduation. The Heider Mindset Curriculum is unique to any business school in the country, forming a new generation of world-ready business leaders.
Support the Heider College of Business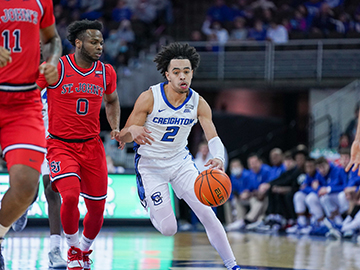 Creighton Athletics
Creighton Athletics has a long and storied history. Multiple programs have competed in the NCAA Tournament, continuing the University's 30-year streak with at least one NCAA Tournament team. In 2013, our move to the BIG EAST Conference brought an unprecedented level of national attention — to Creighton and Omaha. It also created countless opportunities for our nearly 300 student-athletes.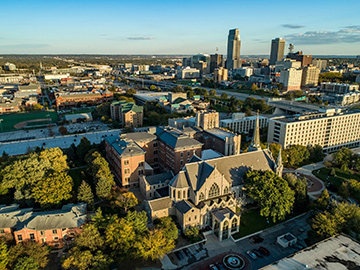 The Kingfisher Institute
Creighton strives for collaboration across all disciplines and aspires to new forms of interprofessional learning. The Kingfisher Institute was founded to celebrate this intersection of the humanities and professional programs and to fortify a Jesuit education rooted in the liberal arts.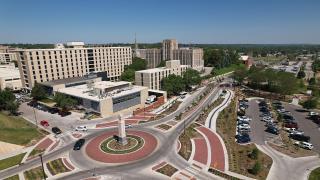 FORWARD BLUE
Everything you need to know about Creighton's exciting future and how you can be a part of it.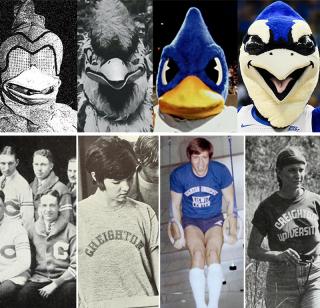 Creighton's history
One way we like to celebrate Creighton's rich (and occasionally weird) history is by culling our archives for interesting stories and nostalgia-inducing photos. We'll continue to update this list of articles throughout the Forward Blue campaign. Ideally, over time, the stories will form a more complete tapestry of a place and community unlike any other, and right at one of the most transformative moments in Creighton's history.
See all Creighton archive stories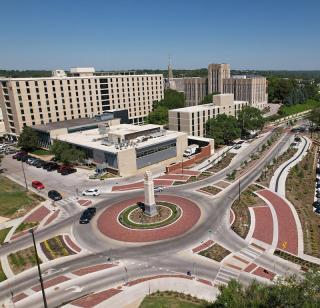 Creighton's future
Creighton's history is marked by many acts of courage in the face of difficult times. The University once again charges forward, boldly, making moves that will keep Creighton thriving for generations to come. Read about the many bold moves that are shaping Creighton's future.
Exciting changes at Creighton
Thank you
Forward Blue is a campaign focused on the students first.
Every gift given, no matter the size, continues the Creighton experience and supports this life-changing education for thousands of future leaders. Meet some of the excellent students who came to Creighton with the help of scholarships supported by donors like you.
Support scholarships
You can make a huge difference for our students by making a gift to scholarships.