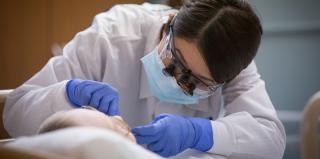 It all starts with scholarships
When you support scholarships, you help our dental students manage costs and make ends meet. But more than that, you give them a transformative sense of belonging, purpose and personal growth.
Tuition alone doesn't fully cover what it costs to educate our students. In fact, it only covers about two-thirds of it. Most of our students receive financial aid or scholarships. Last year alone, Creighton awarded nearly 1,900 scholarships to students across all schools and colleges.
With your support of dental scholarships, you ensure that we continue to offer this transformative education to all deserving students. Your gift to this area has a tremendous ripple effect, not just for our students and school but the community at large.
Each year, the School of Dentistry serves more than 14,000 patients (more than 2,100 of them children). By caring for so many patients, our students are not only fulfilling Creighton's mission of service and justice for others; they're becoming some of the most practice-ready dentists in the nation.
You can make a difference today!
It's because of donors like you that I could come to Creighton. Scholarship aid brought me here and has allowed me to stay. Your gift, no matter the amount, makes a huge impact.
— Tyler Ushio, School of Dentistry
School of Dentistry
A great education in service of a great community.
33%
without dental schools
33% of Creighton dental students come from states without dental schools.
44k
patient visits
Each year, the dental clinic sees more than 44,000 patient visits.
$91m
in services
More than $91 million in discounted and unreimbursed dental services by 2028.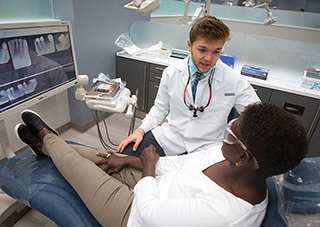 A bold new chapter
Since its founding in 1905, the School of Dentistry has prepared more than 5,000 dentists for lives of professional excellence, community leadership and compassionate care.
Thousands of our tremendous alumni are now working around the world, with more Creighton dentists serving rural, underserved communities than graduates from any other private dental school in the country.
In 2018, the school started a bold new chapter with the construction of a 200,000-square-foot clinic and facility, which has already driven significant growth in our educational opportunities and the amount of care we can provide our patients in the region.
Contact a Director of Development
Paul Findley
Senior Director of Development, School of Dentistry
PaulFindley@creighton.edu
402.280.1119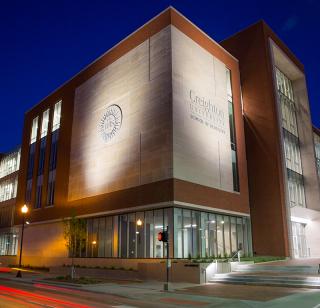 School of Dentistry
Great things are going on in the School of Dentistry. We've got a new building, a growing number of patients and many exciting service opportunities.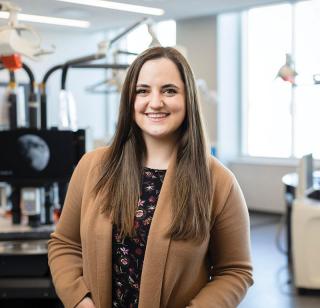 Shape the future of Creighton dentists
"There's nothing else I'd want to do but be a dentist, and there's nowhere else I'd want to study but Creighton's dental school. It's just one of the best, most well-rounded dental programs in the country. And the school's Jesuit mission to give back to the community aligns with my own values. I want to help serve the underserved, and Creighton has given me many opportunities to do so."
— Emily Snodgrass, School of Dentistry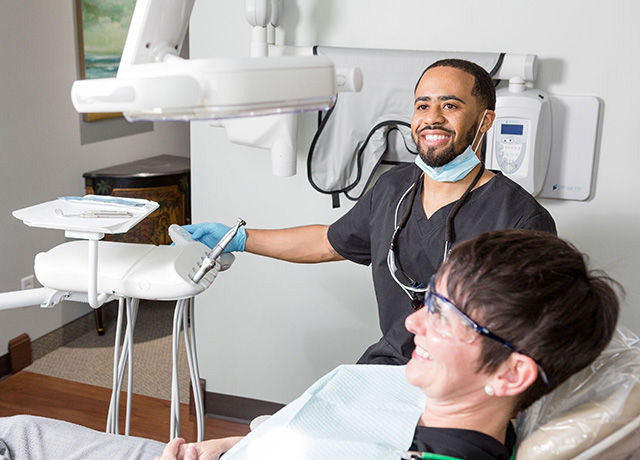 For Creighton dentist, hope knows no bounds
Dr. Robinson credits his Creighton mentors for helping him navigate the initial hurdles of dental school and pushing him to succeed. He is grateful for the multiple scholarships that allowed him to follow his dream of becoming a dentist.
Read the story