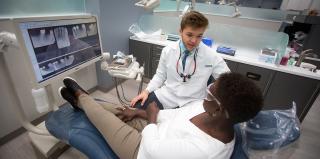 Getting the care they need
Not everyone has the money to get the dental care they need — for themselves or for their children. Through the Patient Assistance Fund, you can make a huge difference for local families who need our help.
Your support allows us to provide basic disease control and emergency dental procedures to adult and pediatric patients with limited financial resources. The fund assists with the costs of the most common procedures — extractions, exams, x-rays, fillings, infection control and pain management.
Thank you for helping us ensure that the most vulnerable people in Omaha and beyond have access to the finest dental care available, free of charge or for significantly reduced rates.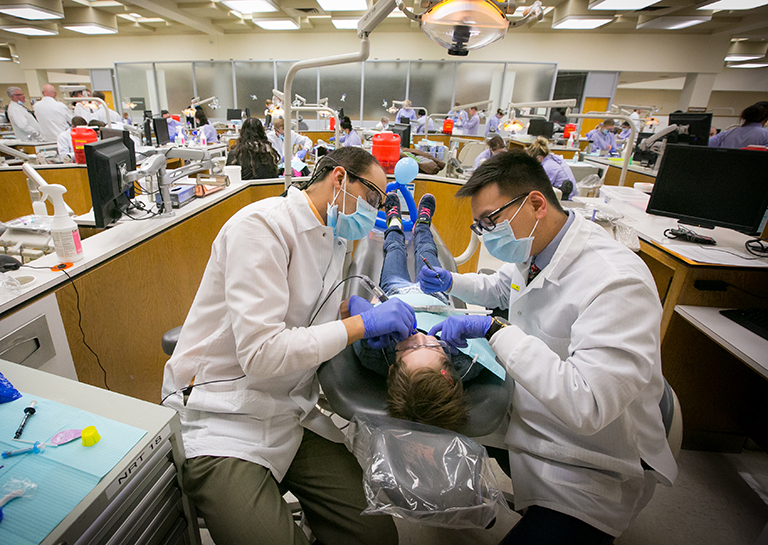 Every gift to the dental school has a tremendous ripple effect, not just for our students and school but the community at large.
Each year, the School of Dentistry serves more than 14,000 patients (more than 2,100 of them children). By caring for so many patients, our students are not only fulfilling Creighton's mission of service and justice for others; they're becoming some of the most practice-ready dentists in the nation.
You can make a difference today!
School of Dentistry
A great education in service of a great community.
44k
patient visits
Tens of thousands of patient visits to the dental clinic each year.
4k
dental sealants
Thousands of dental sealants provided for children in local elementary schools.
$91m
in services
More than $91 million in discounted and unreimbursed dental services by 2028.
More than 5,000 alumni. And counting.
Since its founding in 1905, the School of Dentistry has prepared more than 5,000 dentists for lives of professional excellence, community leadership and compassionate care.
Thousands of our tremendous alumni are now working around the world, with more Creighton dentists serving rural, underserved communities than graduates from any other private dental school in the country.
In 2018, the school started a bold new chapter with the construction of a 200,000-square-foot clinic and facility, which has already driven significant growth in our educational opportunities and the amount of care we can provide our patients in the region.
Contact a Director of Development
Paul Findley
Senior Director of Development, School of Dentistry
PaulFindley@creighton.edu
402.280.1119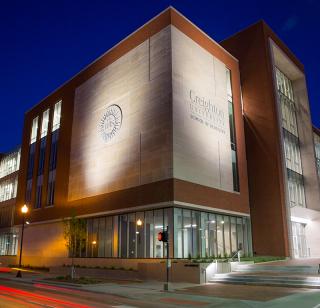 School of Dentistry
Great things are going on in the School of Dentistry. We've got a new building, a growing number of patients and many exciting service opportunities.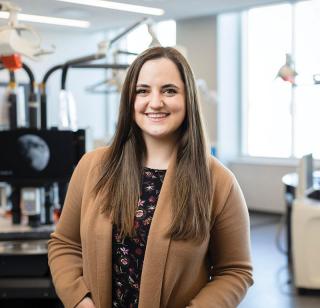 Shape the future of Creighton dentists
"There's nothing else I'd want to do but be a dentist, and there's nowhere else I'd want to study but Creighton's dental school. It's just one of the best, most well-rounded dental programs in the country. And the school's Jesuit mission to give back to the community aligns with my own values. I want to help serve the underserved, and Creighton has given me many opportunities to do so."
— Emily Snodgrass, School of Dentistry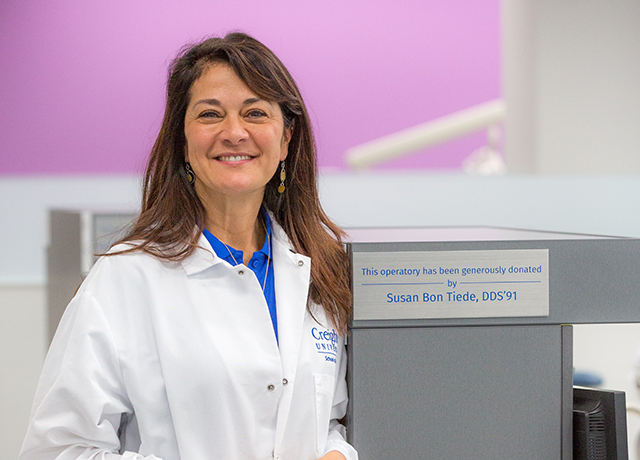 Creighton dental grad gets at the root of things
"There's something that shakes you to your core about the Jesuit tradition. The giving and acceptance and service, it changed my life." — Sue Bon Tiede, DDS'91
Read the story