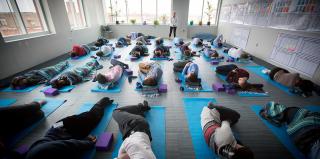 Mind, body, spirit
In the School of Dentistry, excellent technical skills are just one part of the equation.
Empathy, compassion, mindfulness — these are the values that make our dentists Creighton dentists.
Mindfulness spurs personal and professional development in our students. It gives them the tools they need to reflect and to connect with their patients and serve their communities. Simply put, it makes them better dentists.
This is where the dental school's Program for Ignatian Mindfulness comes in. Framed by the Ignatian charisms of care of the whole person and people for and with others, the program offers a space — mental and physical — to integrate body, breath, mind and spirt through practice and contemplation.
The Program for Ignatian Mindfulness's three pillars:
Pause: Creating a space without judgments or attachments, to appreciate the whole person.
Presence: Bringing attention to the moment by noticing one's thoughts and surroundings.
Peace: Imagining empathy and compassion for self and others through contemplation.
We believe these practices add up to a sense of well-being for our students and, in turn, the patients they serve.
You can support this program today!
We hope (the future dentists) can help their patients with these tactics. Dentistry can be stressful for the patient. It's enabling students to view things from the lens of their patients, and I think it will serve them well.
— Colette O'Meara-McKinney, assistant dean for student affairs
School of Dentistry
A great education in service of a great community.
33%
without dental schools
33% of Creighton dental students come from states without dental schools.
44k
patient visits
Each year, the dental clinic sees more than 44,000 patient visits.
$91m
in services
More than $91 million in discounted and unreimbursed dental services by 2028.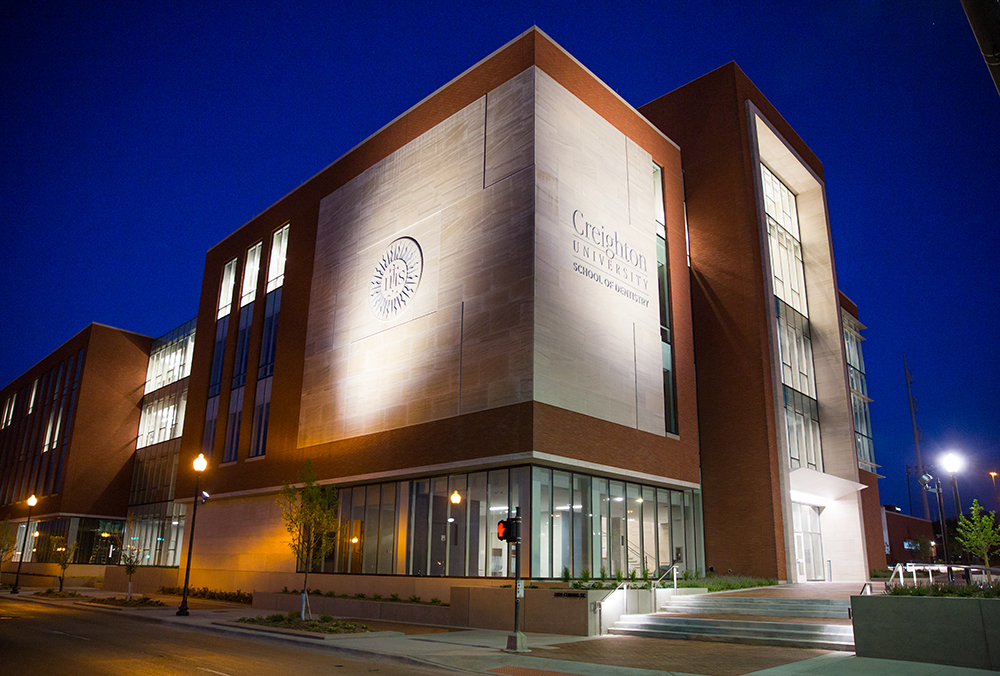 More than 5,000 alumni. And counting.
Since its founding in 1905, the School of Dentistry has prepared more than 5,000 dentists for lives of professional excellence, community leadership and compassionate care.
Thousands of our tremendous alumni are now working around the world, with more Creighton dentists serving rural, underserved communities than graduates from any other private dental school in the country.
In 2018, the school started a bold new chapter with the construction of a 200,000-square-foot clinic and facility, which has already driven significant growth in our educational opportunities and the amount of care we can provide our patients in the region.
Each year, the School of Dentistry serves more than 14,000 patients (more than 2,100 of them children).
By caring for so many patients, our students are not only fulfilling Creighton's mission of service and justice for others; they're becoming some of the most practice-ready dentists in the nation.
Contact a Director of Development
Paul Findley
Senior Director of Development, School of Dentistry
PaulFindley@creighton.edu
402.280.1119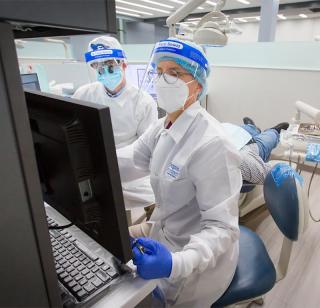 School of Dentistry
Great things are going on in the School of Dentistry.
We've got a new building, a growing number of patients and many exciting service opportunities.