Featured Testimonial About Creighton University
It's such a great experience for the students to be able to take this professional step and cover a major event. It means a lot that we're able to offer this.
Carol Zuegner
Joella Cohen Endowed Chair, associate professor of journalism
By Micah Mertes
Before this year, Creighton sophomore and Creightonian photographer Xavier Rincon wasn't sure what path he wanted to pursue or major he wanted to declare. Then he went to the NCAA men's basketball tournament.
As he sat there on the floor of Denver's Ball Arena, capturing the Jays' historic postseason run, absorbing all the excitement and joy of the moment, it all felt crystal clear. He realized … "I love doing this," he says. "I'm good at it. I'm going to keep doing it and see where it takes me."
One of the best parts of the experience, Xavier says, was whenever the TV cameras pointed in his general direction and his friends and parents would text him to tell him how proud they were to see him on the court.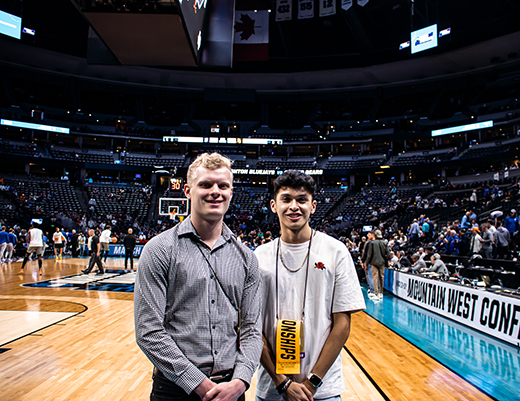 "I'm a first-generation college student, and my parents didn't have the chance to do anything like this," Xavier says. "They didn't have these opportunities to gain new experiences by going to new places. I'm so grateful I got the chance to do this."
Xavier, also the Creightonian's photo editor, was one of a handful of the paper's writers and photographers who covered the Creighton men's and women's NCAA basketball tournament games this year. Senior Max Fritsch — the Creightonian men's basketball reporter, who hopes to work in sports information after graduating — was able to go to both Denver and Louisville.
"It was a great experience professionally," Max says. "It's incredible that we get the real-world experience of covering the team every day as a major national event develops."
Not every student newspaper has the budget to send students to the tournament, but two donors made it possible for the Creightonian.
Marty and Barbara Perry regularly make gifts to Creighton's Computer Science, Design and Journalism department in honor of their son, Zach Perry, BA'10, who passed away in 2020 at the age of 31. This academic year, the Perrys worked with Carol Zuegner, PhD — Joella Cohen Endowed Chair, associate professor of journalism and the Creightonian advisor — to designate their gift specifically to the paper's travel budget, not just for athletics coverage but any great opportunity that came along.
"It's hard to find funds for travel, not surprisingly, as you often have to make plane reservations at the last minute," Carol says. "But it's such a great experience for the students to be able to take this professional step and cover a major event. It means a lot that we're able to offer this."
Marty and Barbara say they can think of few better ways to honor their son's time at Creighton.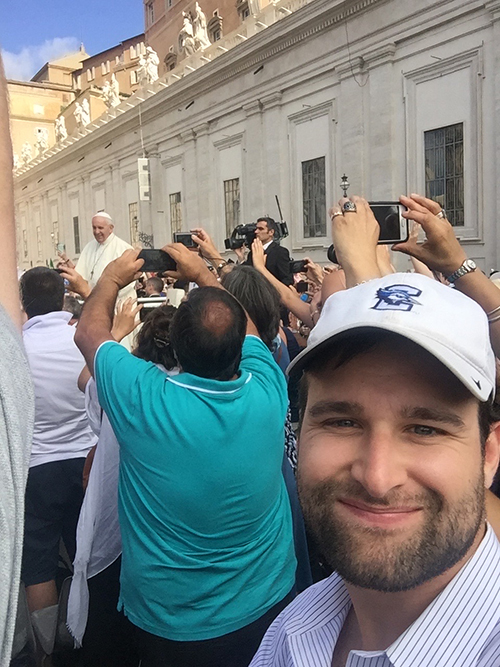 As a student, Zach worked as a photographer for the Creightonian, covering all manner of assignments. He especially loved shooting athletics, including men's basketball, of course. (He was also the reason the Creightonian started covering the College World Series again.)
"What Zach really loved was travel," Barbara says. "He loved talking with people and getting to really explore wherever he went. It would have made him very proud to see other students getting to have these experiences in his honor now."
Zach had been to Croatia, Spain, Quebec, the U.K., France and nearly every state in the U.S. He watched the World Cup in Germany and got to snag a selfie with Pope Francis in the background at St. Peter's Square in Vatican City.
Even after his leukemia diagnosis in 2014, Zach didn't lose his love for travel or for making meaningful new experiences.
A lifelong sports nut, he worked as a video producer for NBC Sports Chicago during that time. He also went back to school, earning an MBA from the Quinlan School of Business at Loyola University Chicago. He even got married — to Molly (Brewster) Perry. Their families held a ceremony in the hospital, just a few weeks before Zach's death.
Nothing, Zach's parents say, was going to stop him from living his life with the time he'd been given.
Watching Creighton's historic tournament run this year, the Perrys couldn't help but recall the times they'd see Zach on TV at Creighton games — out on the floor, under the basket, working to capture that perfect shot.
Creighton will always be their team. Not just for what Creighton basketball meant to Zach but for what it did for him. When Zach received his diagnosis, Coach Greg McDermott and the team — including Doug McDermott, BSBA'14 — sent him a video greeting.
"That was so kind," Marty says. "We'll always have a soft spot in our hearts for Creighton."
* * *
See the Creightonian's coverage of the Creighton March Madness games here.