Featured Testimonial About Creighton University
Safely tucked away in a desk drawer that belonged to the late Andreas Gommermann, PhD, are the notes he received from students and former students he taught at Creighton University.
Born in Hungary in 1928 and educated there and in West Germany, Gommermann moved to the United States with his wife, Dora, and their two young sons, to study at Marquette University. In 1967, the Gommermanns moved to Omaha, and he joined the Classic and Modern Languages faculty at Creighton.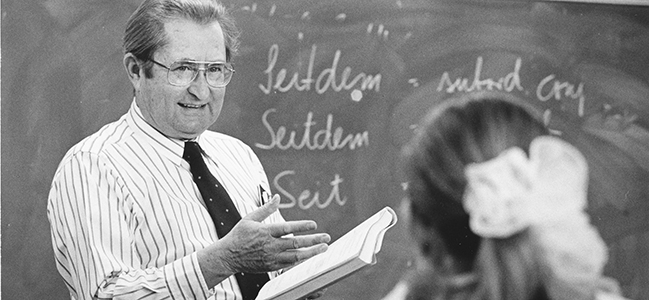 Gommermann possessed an intense love for language – he spoke German, Hungarian, and English. At Creighton, he taught German at all levels, as well as undergraduate and graduate courses in literature and civilization.
During his 31-year career at the University, Gommermann maintained an open-door policy, always available to students seeking counsel. He never tired of writing recommendations, recognizing their achievements, and helping young scholars obtain scholarships and financial aid. He himself was a loyal donor to the College of Arts and Sciences.
In 2017, parents of a 1987 Creighton graduate and former student and mentee of Gommermann named a scholarship in his memory. The Andreas Gommermann, PhD, Endowed Scholarship is awarded to German majors and honors his legacy as a distinguished teacher.
"He was so loved by his students," Dora said. "The scholarship was such a generous gift. And that drawer is full of thank-you letters and other correspondence that reflect the impact he made on so many lives."
When Gommermann passed away in 2013, Dora added to the drawer of notes a letter written by former student, Charles Begay, BA'73, which he read at Gommermann's funeral.
"I can't really imagine my existence without Dr. Gommermann, or Mrs. Gommermann, in my life," Begay said. "I don't know if I ever really told him, 'thank you,' for all he did for me."
As a young teen interested in the German language in the late 1960s, Begay learned about a new language teacher at St. Cecilia Grade School – Mrs. Gommermann – who spoke German, Hungarian, and English. He says that when he took it upon himself to seek her out and introduce himself, he didn't know it would be a life-changing meeting.
"They made an undeniable mark on my life. I was a random kid from the neighborhood, but Mrs. and Dr. Gommermann were willing to help immerse me in German. I loved the challenge of language, and they could explain anything to me, and were so gracious about it."
Begay says that Gommermann was his main reason for choosing to attend Creighton.
"He gave me so much guidance, and it was about more than language. He had the ability to zero in on each student, as a person, and he knew what our needs were – intellectually and emotionally."
Begay recalls his years in the German program and Gommermann's high expectations.
"It was an excellent program and Dr. Gommermann always challenged us. But he always made sure we had the tools and knowledge to meet his expectations. Everything he did, every detail he taught, was done with a purpose. I never wanted to let him down."
In 1973, Begay graduated from the College of Arts and Sciences. For 29 years, he taught English and German in Bellevue Public Schools.
"Even after graduation, I'd see Dr. Gommermann and in each encounter, he always asked how I was doing. And he'd ask about other students. I don't think he ever forgot any of us."
In 1988, Gommermann was awarded the College of Arts and Sciences Outstanding Advisor Award and in 1993, was recognized with the Distinguished Faculty Service Award. He helped revitalize and expand the German program, volunteered on University committees, taught Continuing Education Classes and the Freshman Seminar, and served as a host at numerous Creighton events.
He published countless papers that reflected his passion for language, dialects, historical events and people. His work was a valuable resource for other scholars.
In the community, Gommermann worked tirelessly to develop standards for German teachers in secondary schools. He volunteered his time translating documents and offered expert advice to help immigration representatives, the mayor's office, and a number of organizations, such as Opera Omaha and Boys Town. He also supported a number of causes close to his heart, including the Siena Francis House and Omaha Sister Cities.
He and Dora were married for 58 years.
"He taught me a lot about what was important in life," Dora said.
Together, they traveled the state, the country and the world. Gommermann always maintained his love for language, learning, Sunday Mass, the symphony, and his garden. To this day, Dora and Begay maintain their friendship.
"The Gommermanns are wonderful people and our friendship will last forever. After all of these years, I still don't know exactly how Dr. Gommermann seemed to have done it all. Scholar, teacher, volunteer, mentor, friend," Begay said.
"I, too, keep notes. I have every test and all of my notes from my courses with Dr. Gommermann…he is a man to remember."
Notes from Dr. Andreas Gommermmann: