Featured Testimonial About Creighton University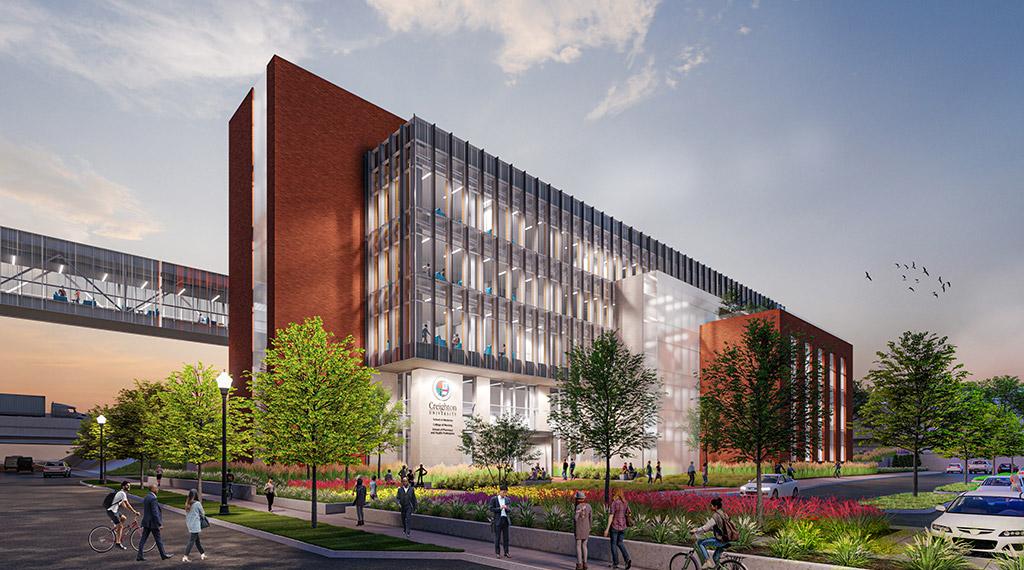 This is a truly transformational moment in our history. It will serve as a symbol of the connections we are making at Creighton — between our spaces, between our disciplines, between ourselves and the people we care for.

The Rev. Daniel S. Hendrickson, SJ, PhD
Creighton president
Building connections
Look at renderings for the CL and Rachel Werner Center for Health Sciences Education — the cutting-edge facility and new home to the School of Medicine coming to Creighton in 2023 — and you'll notice a few things.
That it's modern — a $75 million building that blends with campus architecture yet pushes it in exciting new directions.
That it's connected. The building's skywalk crosses the street to the Criss Complex, offering an actual bridge between disciplines.
That it's a statement.
"The CL and Rachel Werner Center is a beacon of our commitment to the health sciences and interprofessional model we use to teach them," says Creighton President the Rev. Daniel S. Hendrickson, SJ, PhD. "It is one of multiple areas in which we are showing growth and progress in Creighton's health sciences enterprise, as we continue to form leaders in the Jesuit tradition across all fields of health care."
Creighton is one of the largest Catholic health professions educators in the nation.
In 2021, as the University breaks ground on the CL and Rachel Werner Center, it will also open a $100 million health sciences facility in Phoenix. Meanwhile, Creighton recently established the Arrupe Global Scholars and Partnerships Program with a $25 million gift from an anonymous foundation.
These efforts announce a bold vision for the health sciences. A vision inspired by that bedrock belief on which all of Creighton is built — cura personalis.
"This is a truly transformational moment in our history," Fr. Hendrickson says. "It will serve as a symbol of the connections we are making at Creighton — between our spaces, between our disciplines, between ourselves and the people we care for."
The CL and Rachel Werner Center for Health Sciences Education
Expected to open in fall 2023; will break ground this summer.
135,000 square feet
$75 million cost (with additional $10 million renovation in Criss Complex)
About 5,900 students, faculty and staff will use the building each year.
Will reduce 220,000 square feet in campus space, for an annual savings of more than $700,000.
Will create 1,070 jobs during construction, with a $3.2 billion impact on taxes.
Common Ground
One thing perhaps not immediately apparent about the new front door to Creighton's west end? What's not there.
About 220,000 square feet.
The CL and Rachel Werner Center will be a major consolidation of space, bringing all of campus east of U.S. Highway 75.
The new facility will go in the area currently occupied by the Military Science Building and the Center for Health Policy and Ethics. The solar panels now in the adjacent parking lot will be replaced with new panels on the roof of the CL and Rachel Werner Center.
West of the highway, the University will sell the property occupied by the Cardiac Center, the Boyne Building and the Bio-Information Center. The students and faculty using those buildings will soon have a home in the CL and Rachel Werner Center and Criss Complex.
The elimination of square footage is expected to save Creighton more than $700,000 per year. But the cost savings is a secondary result, says Derek Scott, associate vice president for Facilities Management.
"This project," he says, "will provide a world-class educational environment for our health sciences students. Improving efficiency while doing that is just one of the many benefits."
The CL and Rachel Werner Center isn't about saving space. It's about bringing people together.
The facility is the brick-and-mortar embodiment of the health sciences education Creighton embraces, an interprofessional model that improves the lives of patients and practitioners alike.
Interprofessional education embraces team-based care, drawing on all disciplines to treat the whole person. Systems are streamlined, efforts integrated, silos squashed. The result is lowered costs and better outcomes for patients.
The CL and Rachel Werner Center will support interprofessional education quite literally: bridging the distance between disciplines, creating common ground.
The School of Medicine's home will serve as a health sciences hub, with active-group classrooms and a simulation center bringing together medical, nursing, physician assistant, occupational therapy, physical therapy, pharmacy, behavioral health and other students.
"The CL and Rachel Werner Center is going to facilitate high-quality interprofessional education using real-world scenarios," says School of Medicine Dean Robert "Bo" Dunlay, MD'81.
One example he cited: Students from various disciplines all in the same room, working through a cardiac arrest scenario as an interprofessional team. Taking turns with each other's roles. Understanding each other's perspectives.
"In the process, they will come together to give the patient the best care possible," Dunlay says. "That's where you really get the value in interprofessional education. That's the value of this building.
"With the CL and Rachel Werner Center and the health sciences campus in Phoenix, Creighton is ensuring that we have world-class facilities to go with the world-class instruction our students receive."
For Creighton to remain a national leader in health sciences education, it must continue to push forward, says Catherine Todero, PhD, BSN'72, vice provost of Health Sciences Campuses and dean of the College of Nursing.
"We must continue to be bold. You see this boldness in our programs and partnerships and the ways we are preparing our students. You see it in the Phoenix campus and in this facility."
You see it, she says, in Creighton's commitment to team-based care.
Looking Forward
"People are complex," says Amy McGaha, MD, the Dr. Roland L. Kleeberger Endowed Chair and professor and chair of family and community medicine at Creighton, and director of the Interprofessional Clinical Learning Environment in the Center for Interprofessional Practice, Education and Research.
"Our patients come to us with families and values and cultural practices and social determinants. If you want to effectively care for them, you have to be willing to deliver that care in a different way. If you want to take care of the whole person, you're going to need the whole team."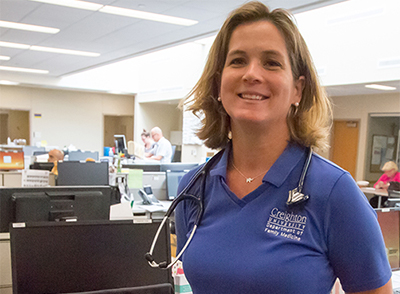 McGaha works at the CHI Health Creighton University Medical Center – University Campus family medicine clinic. A few years ago, the Family Medicine Department moved into the new clinic and expanded its interprofessional care model. Just about everything improved. Dramatically.
A study of high-risk patients at the clinic, published in The Annals of Family Medicine, found that team-based care led to a decrease in emergency room visits and hospitalizations, a nearly 50% reduction in patient costs and more than $4 million in annual savings compared to care without the expanded collaborative model.
Interprofessional care has also led to greater employee engagement and job satisfaction, which has proved instrumental in helping the clinic staff keep up hope and morale in the face of a pandemic.
In daily practice, McGaha says, team-based care means efficiently committing and coordinating multiple specialists and resources.
It means different professions meeting regularly to discuss patients with complex cases. It means flattening hierarchy without sacrificing leadership. Often, it just means cutting through red tape.
Previously, the clinic's electronic patient records were siloed by profession. One patient might have multiple sets of notes, but physicians would see only physicians' notes, nurses would see only nurses' notes, etc. The clinic combined notes for the team. It did the same with consent forms, making just one universal form necessary for patients to see all types of clinicians.
This practice — of consolidation, simplification, efficiency — streamlines care, leading to fewer appointments and lower costs for patients.
"You find out where the barriers are," McGaha says. "Then you break through them."
At University Campus, clinicians have formed new methods while unlearning old ones, she says.
Now, every team member's voice is heard and valued. Everybody teaches, everybody learns. To reach the full potential of everyone's skillsets and experiences, the team embraces mutual respect, positive intent and, above all, empathy.
At its core, interprofessional care is really about talking and listening better. As anyone who's ever worked in any kind of office knows, there are few things more difficult.
It takes time for big ideas to take root. Small everyday gestures reinforce a new mindset. A formal structure emerges. A culture of understanding takes shape.
It's a headspace for which Creighton-educated health sciences graduates are already well-suited. Teamwork and humility are baked into the culture and curriculum. Graduates aren't just ready to work, they're ready to work together.
This is the foundation of the Creighton health sciences that the CL and Rachel Werner Center will build upon.
"As a Jesuit, Catholic institution, we will bring into this facility the knowledge that it's an incredible privilege to care for others and make a meaningful impact in someone's life," says Evan Robinson, PhD, dean of the School of Pharmacy and Health Professions.
"That's what will make this the building Creighton needs. That's how this building will help form the health care leaders our world needs."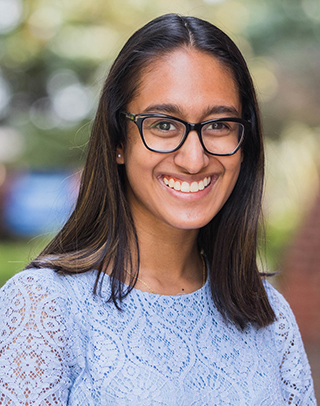 Future leaders like Rasika Mukkamala, a junior from Colorado.
Like nearly one-third of all Creighton undergraduates, she chose pre-med studies for her majors — biology and health administration and policy. She hopes to continue her studies in the School of Medicine. She's leaning toward OB-GYN.
Mukkamala is excited about the new health sciences buildings coming to Omaha and Phoenix. But what really draws her to Creighton's School of Medicine is what drew her to Creighton in the first place — the University's humanistic, innovative approach to education.
"More than anything, I value being able to care for someone physically, mentally and spiritually," Mukkamala says. "The more people I can learn from, the better I'll be able to do that, and the better physician I'll be."
Now, as we near the end of a lonely period defined by distance due to the pandemic, she can't wait to once again work more closely with her future health care practitioners.
All types of clinicians. All together. All under one new roof.
About the donors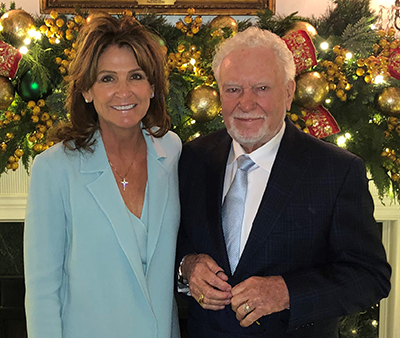 With a transformational gift to the Werner Center for Health Sciences Education, CL and Rachel Werner continue their family's legacy of supporting Creighton. Over the years, the Werners have made gifts to the School of Law, the Heider College of Business, Athletics and more. The family sees the Werner Center as a game-changing investment in Creighton's vision for a different kind of health care.
"Creighton is a driving force for education in our community," says CL Werner, founder, board chairman and the former longtime CEO of Werner Enterprises. "It is also a national leader in preparing students for the future of health care, and the new facility will accelerate this momentum."
CL Werner was the recipient of an honorary degree from Creighton University in 2018. His daughter, Gail, BA'84, JD'88, is an alumna and member of the Creighton University Board of Trustees.
"I am profoundly thankful for the benevolence of CL, Rachel and the Werner family," says Fr. Hendrickson. "Their investment is a resounding confirmation of our mission and an unwavering endorsement of our vision."
Creighton Health Sciences
3 in 5 Creighton undergraduates are health sciences majors.
23% of first-year medical students received their undergraduate degree at Creighton.
45% of Creighton students enroll in pre-professional programs, with 40% pursuing health sciences degrees.
3,500 Creighton students are enrolled in professional health sciences programs, more than any other Catholic university in the nation.
Health sciences graduates support more than 11,300 jobs in Nebraska. They help rank Omaha and Nebraska among the top cities and states in the country for health care access.
Transforming health care
Creighton has teamed with two organizations to transform health care for underserved patients in Arizona's Maricopa County.
The Virginia G. Piper Charitable Trust is investing $10 million in a long-term initiative led by Creighton and the Society of St. Vincent de Paul Phoenix. The effort aims to reduce health disparities disproportionately affecting low-income populations and people of color.
The effort will more deeply integrate the Virginia G. Piper Medical Clinic at St. Vincent de Paul into the Creighton Health Sciences – Phoenix Campus curriculum. It will also bring more health sciences students and physician faculty to the clinic, expanding access to preventive and acute care.
The gift and initiative will create two new positions in the School of Medicine — the Virginia G. Piper Chair in Medicine and Chief Medical Officer and the Virginia G. Piper Fellowship in Health Disparities.
Global Care
A $25 million anonymous gift from a foundation has established the Arrupe Global Scholars and Partnerships Program.
Named for the Rev. Pedro Arrupe, SJ, founder of the Jesuit Refugee Service, the program seeks to improve the health of the international poor and educate servant-leader physicians. The gift will support 10 cohorts of 12 students from Creighton's medical programs in both Omaha and Phoenix over 10 years, beginning in the fall of 2022.
Under the new program, Arrupe Global Scholars will earn a medical degree while working alongside international health care workers and Creighton faculty on multiyear projects aimed at addressing health challenges around the world. This program will bring quality care to those most in need while forming future leaders in the field.