Featured Testimonial About Creighton University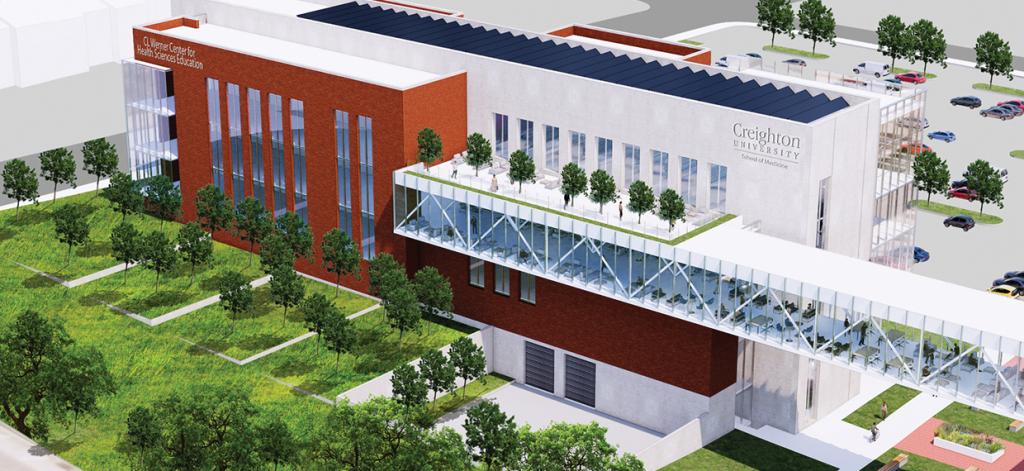 The CL and Rachel Werner Center will be ideally suited for collaborative, interprofessional teaching and learning.

Daniel S. Hendrickson, SJ, PhD
University President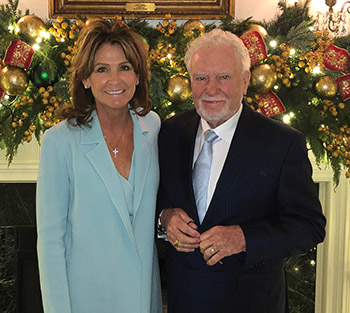 A transformational gift from CL and Rachel Werner will change the face of campus and expand Creighton University's national reputation as a leader in preparing students for interprofessional, team-based health care.
The Werners' investment represents the lead gift for an innovative health sciences facility that will bear their name. The CL and Rachel Werner Center for Health Sciences Education will serve as the new home of the School of Medicine and will include shared spaces for each of the University's health sciences schools and colleges.
Expected to open in fall 2023, the $75 million building will stand near the I-480 and Highway 75 interchange at Cuming Street, providing a new front door to the west side of campus. A $10 million renovation of the adjacent Criss Complex will bring the total project cost to $85 million.
"I am forever grateful to CL and Rachel for their generosity, and I am humbled by the faith they have placed in Creighton to transform health sciences education," said University President the Rev. Daniel S. Hendrickson, SJ, PhD. "The CL and Rachel Werner Center will be ideally suited for collaborative, interprofessional teaching and learning."
The Werners said they believe in Creighton's mission and Fr. Hendrickson's bold vision.
"The University is a leader in preparing students for next-generation health care in a team-based environment, and the new CL and Rachel Werner Center for Health Sciences Education will accelerate this momentum," said CL Werner, founder and retired CEO of Werner Enterprises and current chairman of the board of directors. "In our business, if you're moving forward, you're on the right track, and Creighton is certainly moving forward."
One of the nation's largest Catholic health sciences educators, Creighton continues to focus on interdisciplinary education. The new facility will feature a centralized interdisciplinary simulation center and active group classrooms, bringing together medical, nursing, physician assistant, occupational therapy, physical therapy, pharmacy, behavioral health and other students to train and learn with—and from—each other.
"This cutting-edge facility will offer Creighton health sciences students an ideal place to work and learn as one," said Robert Dunlay, MD, dean of the School of Medicine. "The challenges of health care require teamwork. Our students will graduate as the clinic-ready health care leaders we need to improve the quality and efficiency of patient care."
Approximately 5,900 students, faculty and staff will use the building each year. The new facility will provide health sciences with more efficient space, resulting in an annual cost savings of $700,000.
"The new CL and Rachel Werner Center for Health Sciences Education will provide a central location for students and faculty to participate in teaching and learning among the various health sciences disciplines. The facility will promote Creighton University's commitment to interprofessional education and practice," said Mardell Wilson, EdD, University provost.
Research supports the value of interprofessional health care. A study published in The Annals of Family Medicine looked at the impact of interprofessional care on high-risk patients at the CHI Health Creighton University Medical Center-University Campus. The results showed a decrease in emergency room visits (16%) and hospitalizations (18%), a nearly 50% reduction in patient costs and more than $4 million in annual savings in comparison to care without a collaborative model.
This team-based approach to health care aligns with Creighton's Jesuit, Catholic values, said Catherine Todero, PhD, RN, vice provost for the University's Health Sciences Campuses and dean of the College of Nursing.
"We believe in teaching cura personalis, or care for the whole person," Todero said. "The new Werner Center will help us deliver on our promise to prepare students for collaborative, holistic patient care."
The CL and Rachel Werner Center announcement underlines the growth and progress of Creighton's Health Sciences enterprise. Creighton recently announced a $25 million gift from an anonymous foundation to establish the Arrupe Global Scholars and Partnerships Program. In fall 2021, Creighton will open a nearly $100 million health sciences campus in Phoenix.
Approximately 60% of the University's undergraduate students are pre-health sciences students. Across 20 years, Creighton's average annual "brain-gain" impact includes 3,876 health sciences alumni originally from states other than Nebraska using their degrees here. Creighton health sciences graduates supported 11,312 Nebraska jobs in 2020, with total wage and salary earnings of $778.8 million, according to an economic impact study conducted in fall 2020 by Goss & Associates.
"We stand at a significant moment in the life of Creighton University," Fr. Hendrickson said. "This investment by CL and Rachel Werner is a bold statement of support for our mission and our students, and it reinforces Creighton's strong commitment to the Omaha community, the region, and the nation."
Creighton expects to break ground on the 115,000-square-foot CL and Rachel Werner Center for Health Sciences Education in summer 2021. The project will create 1,070 jobs during building construction, with a $3.2 billion impact on state and local taxes.
CL Werner was the recipient of an honorary degree from Creighton University in 2018.