Featured Testimonial About Creighton University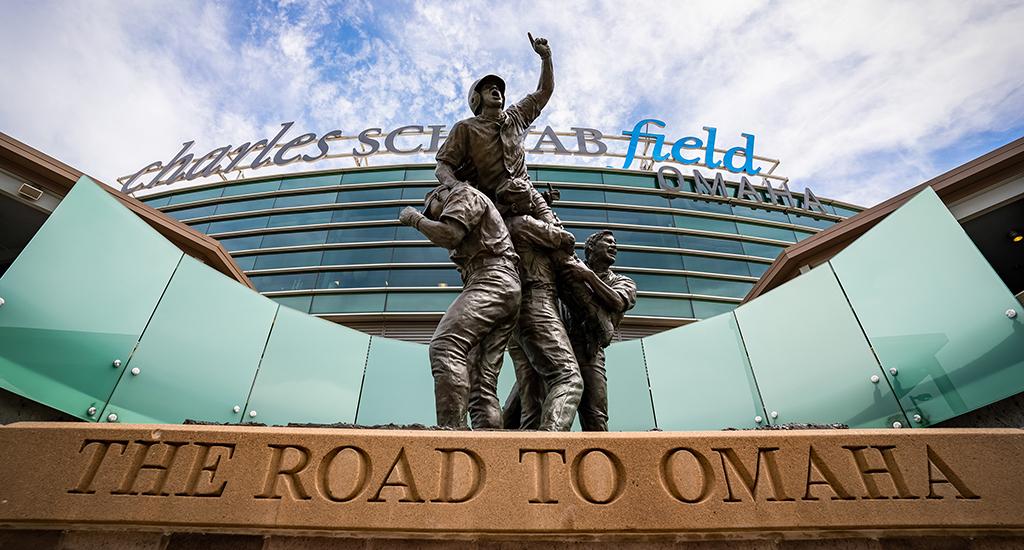 We're proud to be members of a community that comes together each year to put on a world-class event for eight teams and thousands of fans.
Marcus Blossom
McCormick Endowed Athletic Director
Want to support the many amazing things Creighton Athletics does year-round? Make a gift to Creighton Athletics today.
* * *
Note: This is an updated version of a story originally published in June 2022.
By Micah Mertes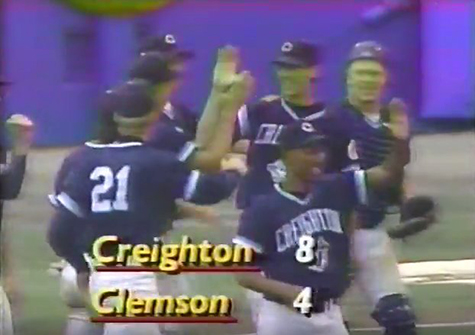 More than a decade before he became head coach of Creighton baseball, Ed Servais was visiting Omaha to catch his first NCAA Men's College World Series.
On June 1, 1991, Servais arrived at Rosenblatt Stadium as a neutral observer. He had no dog in this fight. He was just there to watch some baseball.
Yet funny enough, the first CWS game he saw happened to also be the first CWS game Creighton baseball ever played. He still remembers the stadium shaking as his eventual employer beat Clemson, 8-4.
(Read about Creighton's Season of Dreams here.)
In addition to the excitement of that and other '91 games, Servais recalls his awe of the event itself, how well-put-together it was. Five years later he would join Creighton baseball's coaching staff and get involved behind the scenes of the CWS.
"All this time later, I've never lost my awe of it," Servais says. "This is a special event that just keeps getting better. And at Creighton, we try to do our part year after year to make this the best possible experience for the players, the coaches and the fans."
* * *
Creighton University — the CWS's host institution since 1950 — is in the tournament's DNA.
Creighton is of course just one member of the team ensuring the CWS's success, a partnership that includes CWS, Inc.; the NCAA; the City of Omaha; the Metropolitan Entertainment and Convention Authority; the local business community and others. But like every other partner helping to run the series, Creighton's role is essential.
What does it mean to be the CWS host institution? Anything. Everything.
Every June, Creighton gets to live its Jesuit values of service in a truly unique way — caring for the whole tournament. Dozens of Creighton Athletics staff dedicate nearly every waking hour to the CWS, providing the resources and expertise needed to keep the Greatest Show on Dirt running strong.
"Whatever you need, we'll be there to provide it," says Glen Sisk, Creighton Athletics' associate sports information director.
"Our job is to stay out of the way and keep everything moving," says Rob Anderson, sports information director.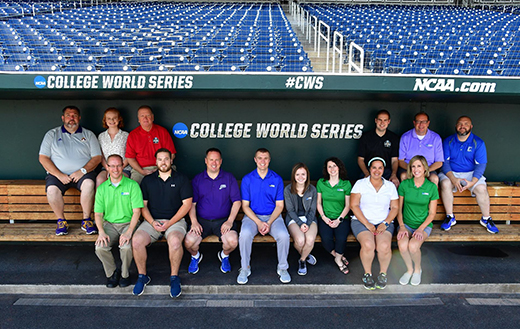 In their respective 11 and 21 years with Creighton, Sisk and Anderson have done a little of everything at the CWS — moderating press conferences, testing bats, providing box scores and stats and play-by-plays to the media and NCAA, serving as the games' official scorer, answering questions for the teams, organization, press and fans.
In two decades, Anderson has only missed about a dozen CWS games. Only a few Creighton Athletics staff could beat that streak. One of them is Carol "Ketch" Ketcham.
Ketch worked in Athletics for 44 years before retiring in 2014. She started her career as an assistant to basketball head coach Eddie Sutton and ended it as the Senior Woman Administrator of Athletics. In between, she worked many different jobs. She held just about every title but athletic trainer, coach or athletic director at some point or another.
For 40 years, Ketch was a staple of the CWS crew. So much so that the Omaha World-Herald wrote an article about her in 2003. She was believed to have worked more CWS games than anyone, save for former official scorer Lou Spry and former public address announcer Jack Payne, who recently passed away.
Ketch wore a lot of hats. Her first CWS task, in 1974, was making bologna sandwiches in the press box. She would later become the series' play-by-play recorder. At first, she had no clue what she was doing. "But once I figured out the game of baseball, I really came to enjoy it," she says now.
Ketch's other duties over the years included everything from managing tickets to arranging hosts for the hospitality suites to lining up courtesy cars for the teams.
Often, after a team had been eliminated, players would abandon courtesy cars at the airport before leaving town. Ketch spent many nervous hours searching for lost vehicles in parking garages, hoping she could get them back to the Oldsmobile dealership in time.
* * *
We've just scratched the surface. Here are some other ways Creighton helps out with the CWS:
Every year, the athletics performance staff arranges strength and conditioning for the teams.
Every year, Coach Servais and other baseball staff organize practice sites across the city, including, most years, Creighton's own practice fields.
Every year, Curtis Self, Creighton's associate athletic trainer for baseball, serves as the CWS medical coordinator and liaison for all teams and NCAA staff.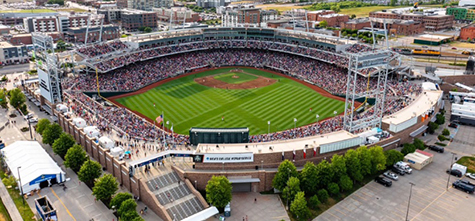 Teams travel with their own athletic trainers, of course. Self is there to meet any additional needs, to help players connect with any of the dozens of health professionals volunteering their time at the series. On hand are a physical therapist, chiropractor, dentist, eye doctor, massage therapist and physicians in internal medicine, sports medicine and orthopedics.
"We try to keep everything we can in the stadium," Self says. "From IVs to sutures, from X-rays to diagnostic ultrasounds."
They even have medical services for nonhumans.
When the University of North Carolina made it to the series a few years back, they came to Omaha with Remington, a golden retriever who serves as the Tar Heels' athletics training assistance dog.
Before the team and dog arrived, Self arranged for an Omaha veterinarian to be on call. Just in case.
"Like we like to say to all the teams," Self says, "Anything … anything you need, we're here for you.'"
Of course, playing host has its advantages for Creighton, too.
Working at the CWS every year is, without question, one of his favorite parts of the job. Many families are enticed by the University right down the street. Campus tours spike during the College World Series. So much so that Enrollment Management has created programs to accommodate larger groups.
How many paths to Creighton started on the Road to Omaha?
* * *
Creighton's ties to the CWS go back to nearly the beginning.
The first two series were played in Kalamazoo, Michigan, before moving to Wichita, Kansas, for one year, and then Omaha in 1950.
The CWS was in the red for most of its first decade in Omaha, but a dedicated group of supporters kept the tournament going. One of them was a Creighton alumnus — Byron Reed, BS'29, of the PR and advertising agency Bozell (then Bozell & Jacobs).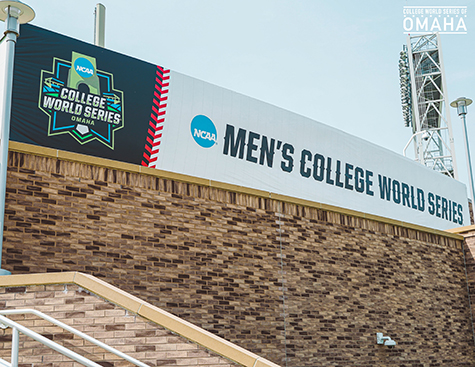 In 1967, another Creighton alumnus, Jack Diesing, Sr., BA'40, JD'41, created College World Series of Omaha, Inc., the tournament's local nonprofit organizing committee. Creighton's contributions as host school continued to grow during this time.
"One thing we continue to work hard at is not taking the College World Series for granted with the NCAA," says Jack Diesing, Jr., who was elected as president and chairman of CWS, Inc.'s board and executive committee upon his father's retirement.
In the early years, Diesing, Jr. says, the NCAA's contracts with CWS, Inc. were yearly. By 1990, they were upped to five-year extensions. And in 2011, the NCAA and CWS, Inc. started an unprecedented 25-year agreement to keep the series in Omaha through 2035.
But even with that guarantee, says Diesing, Jr., no one is resting on their laurels.
"We're always doing what we can to make the series a little better each year for the fans and players. Among others, Creighton has played a key role in this and in Omaha becoming synonymous with the College World Series."
In 1950, hosting an NCAA championship in the same city year after year was an experiment never before tested. Seven decades later, the results speak for themselves. Not only through Omaha's longevity as host city but in the ways the model has been replicated.
In 1990, Oklahoma City became the permanent home for the Women's College World Series. The NCAA Outdoor Track & Field Championships, meanwhile, are frequently held in Eugene, Oregon.
"College World Series, Inc., and Omaha created the blueprint for the NCAA looking at other championships," says Bruce Rasmussen, former longtime Creighton Athletic Director. "The College World Series has shown that instead of having to reinvent the wheel every championship, you can take what's worked and tweak it a little every year."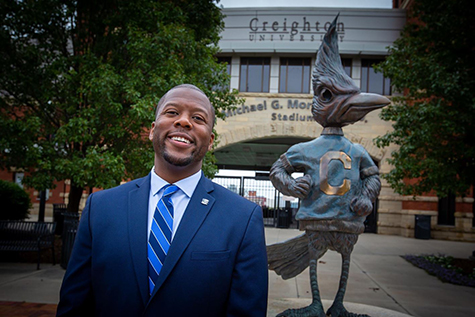 Rasmussen says the University's work with the CWS has benefited Creighton Athletics in countless ways. For one, it's strengthened the University's relationship with the NCAA, with other schools and with Omaha itself.
In 2022, Marcus Blossom got to experience his first College World Series as the McCormick Endowed Athletic Director. He sees Creighton's role as host of the CWS as a terrific way to support the University's host city.
"We want to do everything we can to contribute to Omaha," says Blossom, who serves on the executive committee of the CWS, Inc. board. "We're proud to be members of a community that comes together each year to put on a world-class event for eight teams and thousands of fans."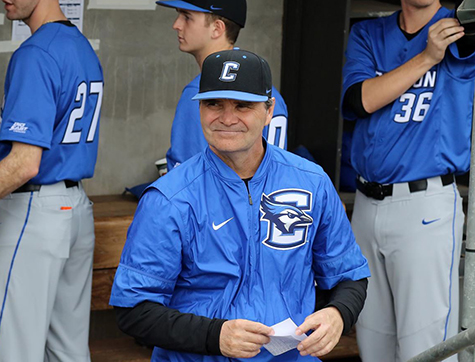 * * *
Looking back, Ed Servais appreciates the irony that his road to Omaha was paved by the Road to Omaha. How funny that the first College World Series game he ever saw was won by the team he would one day coach.
"If you don't believe in destiny, I've got a few stories that might make you think again," Servais says.
He says he'll remember that 1991 Creighton vs. Clemson game the rest of his life.
He remembers the seat he sat in. He remembers the heat of the afternoon and the tornado watch and thunderstorms that followed.
"I remember falling in love with the city at that series," Servais says. "Here was a town that truly embraced college baseball. Looking back … maybe this was right where I was meant to be all along."
Like the College World Series itself, Servais found a home in Omaha.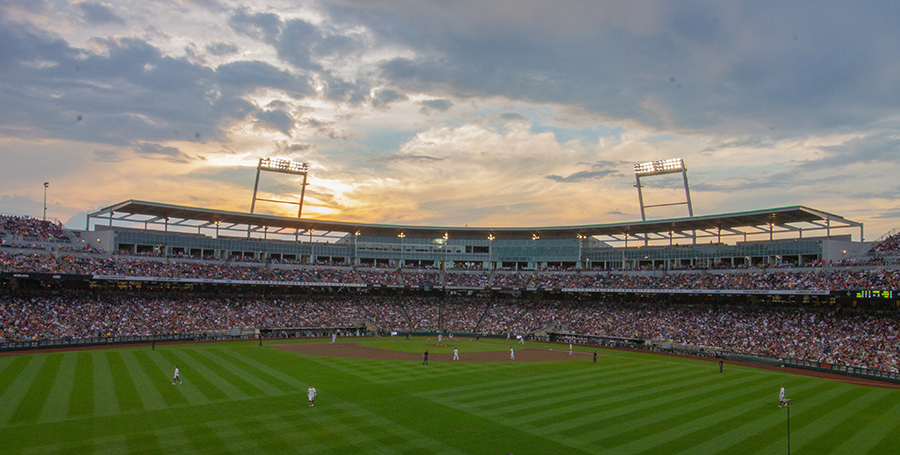 * * *
Want to support the many amazing things Creighton Athletics does year-round? Make a gift to Creighton Athletics today.