Rising in Phoenix
As one of the largest Catholic health professions educators in the nation, Creighton is preparing students for a workforce that demands innovative care amid a rapidly changing world.
To extend the reach of this transformative education, to infuse more communities with our singular sense of service, Creighton heads west.
We are very pleased to be working with Creighton to make this exceptional medical facility a reality. The new building will help fill a critical need in the Arizona medical community.
— Sharon Harper, chair of the Presidential Phoenix Health Sciences Advisory Board

Creighton's nearly $100 million health sciences campus — opened in the fall of 2021 at Park Central in midtown Phoenix — serves as a four-year medical school and will accommodate nearly 900 students, including future physicians, nurses, occupational therapists, physical therapists, pharmacists and physician assistants.
With the support of alumni, donors and friends like you, Creighton is changing the face of health care in the Southwest and forming a new generation of compassionate, well-trained professionals ready to meet the needs of our communities.
You can make a gift today to one of the most exciting projects in Creighton's history.

A state in need
Creighton's new campus arrives in Phoenix at a critical time, with Arizona requiring more health care professionals to meet the state's population boom and the growing demands of aging and diverse demographics.
Arizona is the fastest-growing state in the nation. In the past decade, its population has increased 40%. Between 2017 and 2018, Maricopa County alone added 200 new residents every day, making it the most rapidly growing county in the nation.
This has put immense pressure on Arizona's health care system, and the problem is projected to get worse.
By 2030, Arizona is expected to have just one primary care doctor for every 1,500 people and a projected shortage of 50,000 nurses. Such shortages can result in dangerous delays in diagnosis and treatment of our residents.
Arizona needs health care professionals now.
Creighton physicians in Phoenix
Making an impact in the Southwest, one physician at a time.
105
physicians
More than 100 Creighton-educated physicians have stayed in Arizona for residency programs, and that number is growing every year.
325
residents and fellows in 22 programs
Meeting a need
Creighton's expanded presence will help confront this growing demand.
Creighton has long been an academic mainstay in the area, sending medical students to Dignity Health St. Joseph's Hospital and Medical Center for rotations.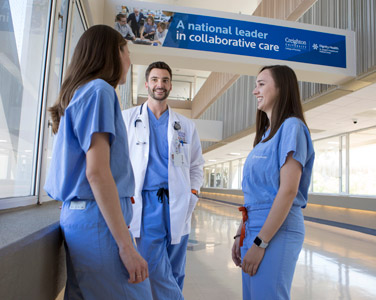 In 2009, Creighton teamed up with St. Joseph's to establish a School of Medicine in Phoenix. More recently, Creighton and St. Joseph's partnered with District Medical Group and Valleywise Health to form the Creighton University Arizona Health Education Alliance. The Alliance aims to increase the number of physicians and other health care professionals in the state.
And in 2018, Creighton graduated its first class of accelerated nursing students in Phoenix.
Now, the health sciences campus — this modern facility with cutting-edge technology, equipment and spaces — will further enrich Creighton's Jesuit education, preparing our students to work in a wide variety of clinical settings and transforming the face of health care in the Southwest.
The University has already added a fresh injection of health care workers to the area, with hundreds more on the way.
In its first 10 years, the campus' economic impact in Phoenix is projected to include thousands of jobs and billions of dollars in economic output.
Giving opportunities
There are many ways to support Creighton health sciences students in Phoenix.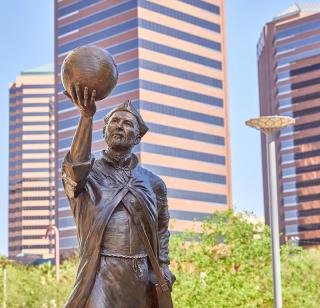 Health sciences campus in Phoenix
The state-of-the-art facility will enrich Creighton's Jesuit education and transform health care in the Southwest.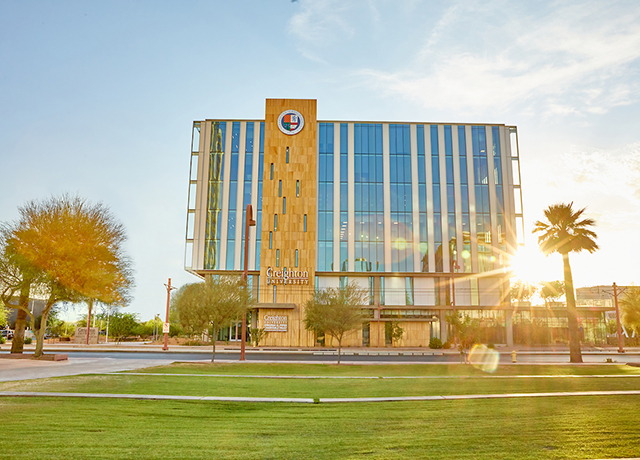 The District Medical Group (DMG) Scholarship will support four medical students every year to strengthen Creighton's efforts to recruit and support Latino, Latina and Latinx students — as well as other students who come from low-income or underrepresented backgrounds.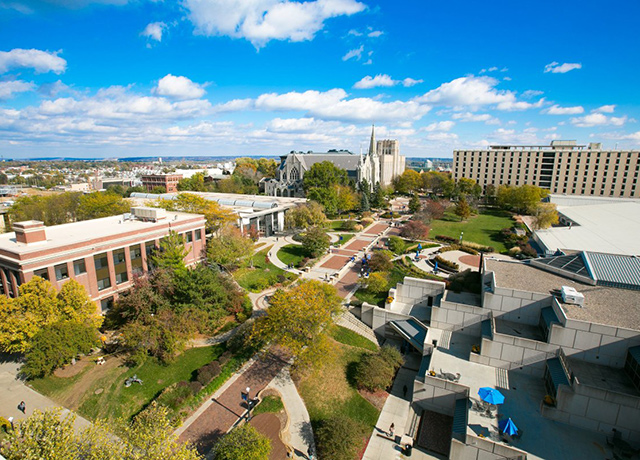 This was a year that broke ground on exciting new facilities, saw the launch of innovative programs and celebrated landmark anniversaries. It was, overall, a great year for Creighton.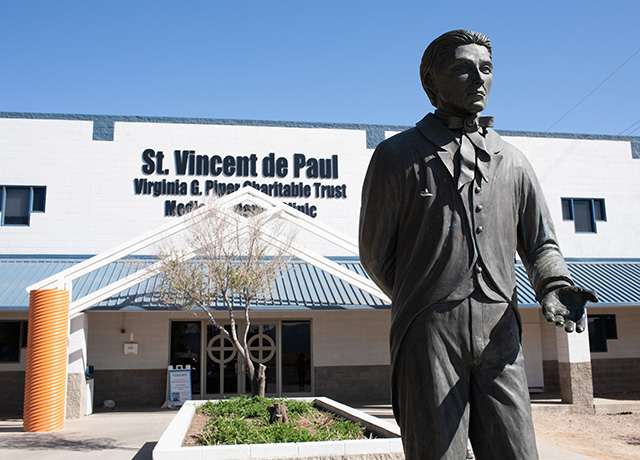 John Anwar, MD — assistant professor at the School of Medicine in Phoenix — has been named the Virginia G. Piper Chair of Medicine at Creighton and Chief Medical Officer at St. Vincent de Paul's Virginia G. Piper Medical Clinic.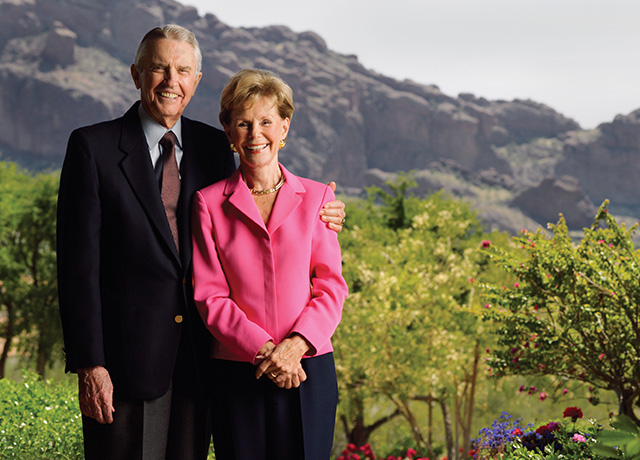 Driven by tradition to transform the Southwest
Guided by their hearts and innovative vision, Doris Norton and her late husband, John, created a legacy of giving that continues to underscore their passion and commitment for shaping health care education and delivery in Phoenix and the Southwest.
Read the story