Meeting a need now
When you support scholarships in Phoenix, you help us form a new generation of nurses ready to serve a region direly in need of health care professionals.
Creighton's 183,000-square-foot, $100 million campus — opened in 2021 at Park Central in midtown Phoenix — serves as a four-year health sciences school for hundreds of students in multiple health care professions.
Creighton came to Phoenix at a critical moment, with Arizona requiring more health care professionals to meet the growing needs of the state's aging and diverse demographics. By 2030, Arizona is expected to have a shortage of 50,000 nurses.
Creighton is preparing students for a workforce that demands innovative care and service amid a rapidly changing world.
College of Nursing
Now serving students and communities on three different campuses, the College of Nursing is seeing tremendous growth and success.
1,163
students
For the first time in its history, the College of Nursing enrolled more than 1,000 nursing students.
99%
success rate
About 99% of BSN alumni are employed, pursuing an advanced degree or doing volunteer work within six months of graduation.
8,800
alumni
Creighton's College of Nursing has nearly 9,000 alumni.
The importance of scholarships
Creighton has been an academic mainstay in the area for more than a decade. In December 2018, Creighton graduated its first class of accelerated nursing students in Phoenix.
Your support of scholarships will continue to bring the best and brightest students to Phoenix and infuse the area with some of the most practice-ready nurses in the nation.
Scholarship support weighs significantly in students' decision to come to Creighton. Tuition alone doesn't fully cover what it costs to educate our students. In fact, it only covers about two-thirds of it.
Most of our students receive financial aid or scholarships. Last year alone, Creighton awarded nearly 1,900 scholarships to students across all schools and colleges.
When you make a gift to scholarships, you help our students manage costs and make ends meet. But more than that, you give them a transformative sense of belonging, purpose and personal growth.
Contact a Director of Development
Cody Fuchtman
Senior Director of Development, School of Pharmacy and Health Professions
CodyFuchtman@creighton.edu
402.280.2299

Michael Zirulnik, PhD
Assistant Vice President for Phoenix Development
michaelzirulnik@creighton.edu
602.812.3123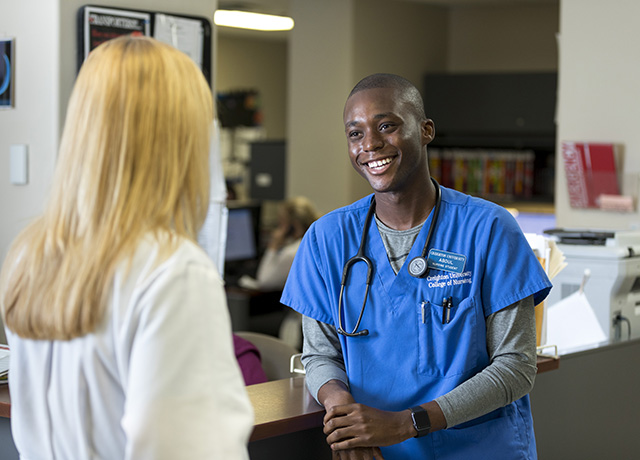 Creighton nurse meeting a need in Phoenix
Even if Abdul Tholley is in the thick of the 12-month Accelerated Nursing Program at Creighton's Phoenix campus, he still finds the time to volunteer where he can. Even if it means leaving the country.
Read the story
CREIGHTON'S HEALTH SCIENCES CAMPUS IN PHOENIX
The cutting-edge facility will enrich Creighton's Jesuit education and transform health care in the Southwest.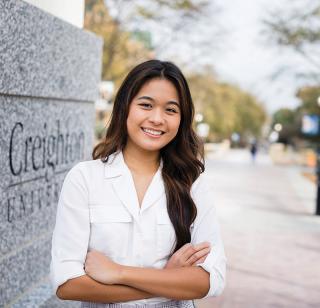 For and with others
"I love it at Creighton. People care about each other here, and they teach you how to care for others the best way you can. "The support of donors makes the Creighton experience possible — for me and for thousands of other students. Without my scholarship aid, I don't think I'd be at Creighton. It eases the stress on my family and makes this possible. The least I can do, in return, is work hard and do my best."
— Robyn Acob, College of Nursing
Read more about Robyn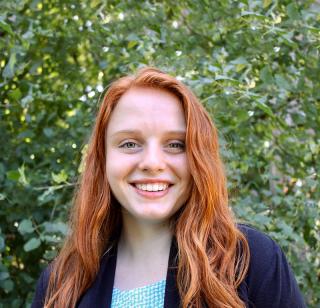 THE NURSE I WANT TO BE
"Thank you for helping me develop into an innovative and empathetic nurse. Creighton's Jesuit values have guided my path over the past three years and shaped the kind of nurse I want to be. I am truly thankful for the discoveries I've made and the knowledge I've gained. It's more than I could have imagined."
— Emily Sanders, College of Nursing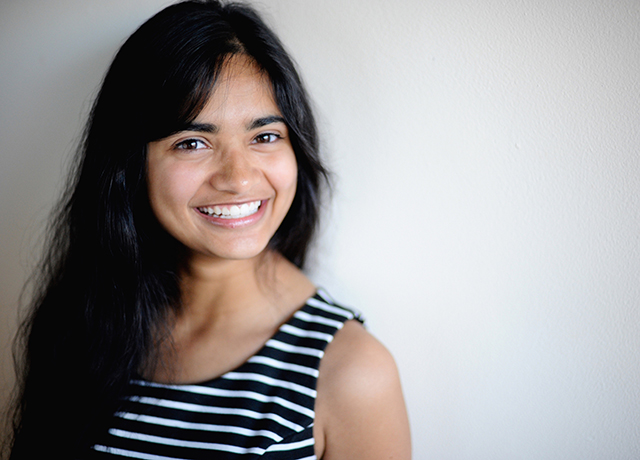 How scholarships change our students' lives
Every day, we speak with students about how scholarships have made their Creighton experience possible, how they've changed their lives and the lives of their families.
Read the story