We work with our partners to align their objectives with our vision for Creighton. We find the areas where our missions, values and goals overlap. Together, we determine the best ways to invest in the future of our students, the University and the community at large.
When you partner with Creighton, our stewardship of your gift is a top priority. We aim to make every dollar count.
Interested in teaming up with Creighton? Contact Andy Kammerer, senior director of corporate and foundation relations, at 402.280.4273 or andykammerer@creighton.edu

Invest in Creighton
Scholarships
Invest in scholarships relevant to your interests and values. Deepen your ties to Creighton. Attract the best and brightest students to your workplace. Make a gift to scholarships.
Endowed Chairs
Make a lasting impact through the endowment of a faculty chair, named in honor of your organization, its founders or executives. You can also support research efforts most relevant to your future. Learn more about endowed funds.
Capital Improvements and Facilities
Make a permanent and highly visible contribution to campus itself. These opportunities come with naming rights for buildings, classrooms, research labs and more. Learn more about naming opportunities.
Matching Gifts
Establish a matching gift program, and your employees with Creighton ties can double or even triple their impact to the University. Learn more about matching gifts.
In-kind gifts
Contribute equipment, supplies, software, hardware and other such donations to Creighton, and you'll both benefit the University and gain tax deductions for your corporation or foundation.
Learn more about non-cash charitable contributions.
Our corporate partners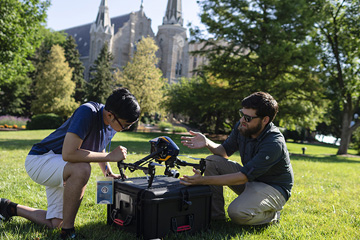 Creighton has a long history of working with corporations and foundations — locally, nationally and globally. Here are just a few of our successful partnerships:
Union Pacific represents one of Creighton's most enduring corporate partnerships, contributing to the Heider College of Business through scholarships, programming enhancements and faculty development funds.
Mutual of Omaha has worked with Creighton for more than a century, sponsoring multiple spaces across campus and supporting an endowed faculty position in risk management.
The Canon Corporation partnered with Creighton to enhance the cutting-edge equipment of the IDEA Hub, the University's hub for technological research and innovation.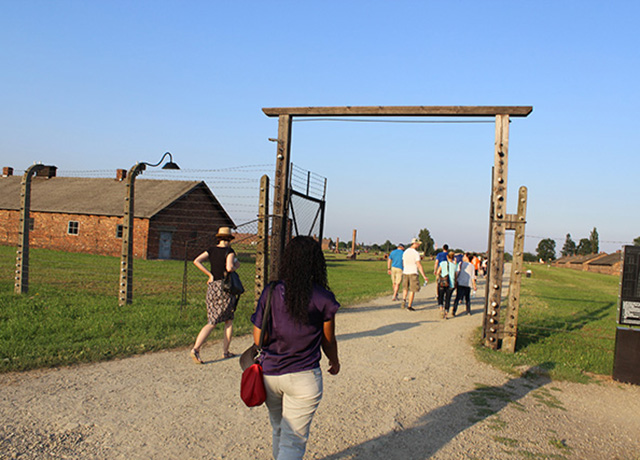 School of Law gift will strengthen Creighton's ties to Jewish community
The gift will support a School of Law program that keeps history alive by creating more witnesses to the Holocaust.
Read the story