Featured Testimonial About Creighton University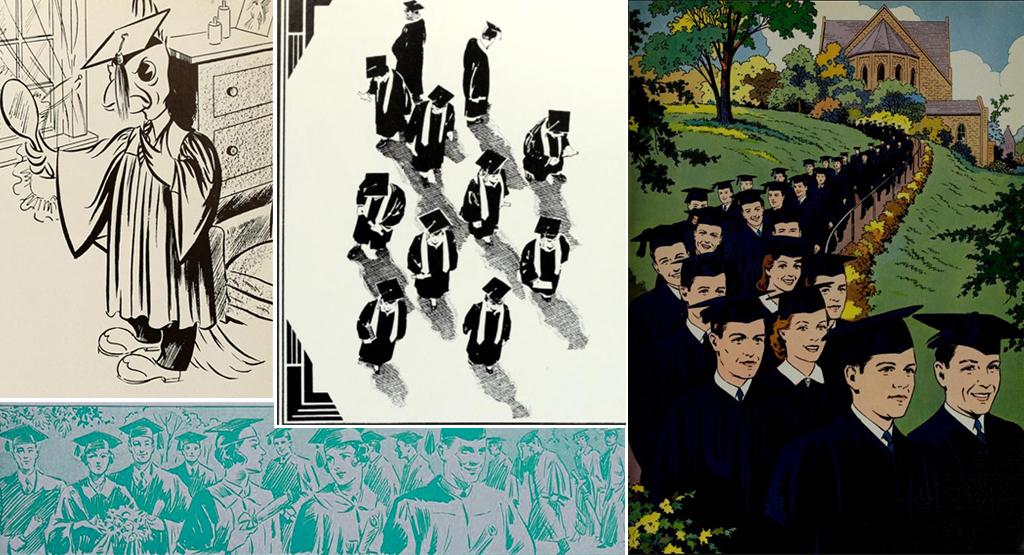 A deeper impression would be made upon the city, and college spirit (would be) more easily fostered, if all the colleges were grouped on the same campus.
Learn more about Creighton Commencement 2022
See photos of Creighton graduations past
* * *
By Micah Mertes
From May 12-14, about 2,000 students will graduate from Creighton, bringing the size of our community to more than 80,000 alumni living all over the world.
If that weren't impressive enough, Creighton has also hit another milestone: 100,000.
According to Registrar's Office records, from 1891 to December of 2021, Creighton conferred more than 100,000 degrees. (We cracked 100k at the start of this academic year.)
With the help of the Registrar's Office and the University Archives, we've compiled a list of stats, facts and amusing anecdotes — a history of Creighton told through commencement.
Read on to see which schools and colleges have awarded the most degrees, how graduating class sizes have grown from five students to more than 2,000 and why it took Creighton more than 13 years to produce its first graduates.
Growing pains
Let's begin with an interesting footnote in Creighton's history: It took until 1891 (13 years after our founding) for a single student to graduate.
This was due to a few factors. Though Creighton (then Creighton College) was tuition-free at the time, retention was abysmal. Students would enroll and drop out whenever they felt like it.
"The incentive to learn was absent in pioneer Omaha (a town of only about 22,000 people in 1878)," wrote former professor the Rev. Roland J. Reichmuth, SJ, in a 1988 issue of Creighton magazine (then called Creighton Window). "Parents thought a few classes in the basics sufficed."
Not a single Creighton student enrolled in the first three years of Creighton's existence ended up graduating. (The teaching situation was nearly as dire. The area lacked Jesuit educators, and Creighton had become a revolving door for secular professors, the remaining educators struggling to maintain the curriculum.)
Here's a chart tracking the first 25 years of the University's fluctuating enrollment ...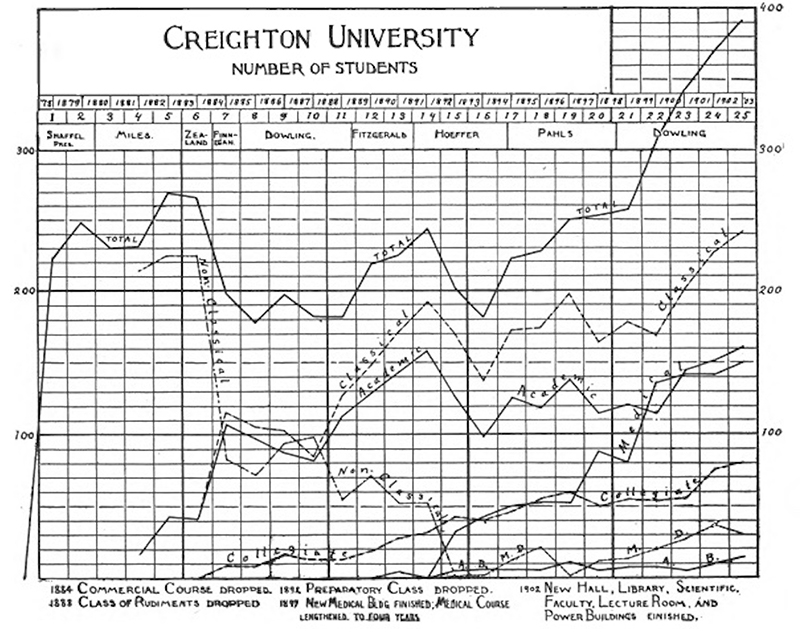 Another reason it took so long for Creighton's first graduation to take place: "College" meant something very different back then, especially when it came to a Jesuit college.
For Creighton, it meant that to graduate, students had to complete a seven-year course of studies starting right after grade school. The first three years of college basically served as what would today be a high school education.
According to Fr. Reichmuth's account, Creighton was more or less a de facto elementary school in its first decade. There were only two Catholic grade schools in Omaha at the time, and Creighton would help to alleviate the classroom space shortage by admitting boys as soon as they'd finished with fractions (about the fourth grade).
(There was technically a Creighton commencement ceremony in 1879, because in this case commencement just meant "promotion to the next grade." Despite heavy rain during the ceremony, attendance was reportedly strong. Wine, cake and cigars were served.)
Despite these obstacles, by 1890, Creighton was finally ready to produce its first graduating class … of four students.
But there was a hitch. The Jesuit Provincial of the Missouri Province — which operated Creighton in those days — refused to allow a commencement ceremony with a graduating class of fewer than six students.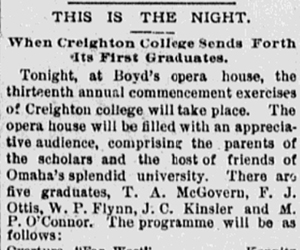 One of the University's founding family members, John A. Creighton, was less than pleased by the decision, particularly since three of the four students being denied a ceremony were his nephews.
(The nephews would, in fact, drop out of Creighton University that year to attend and graduate from St. Mary's College in Kansas; though one of John Creighton's nephews — the Rev. John B. Furay — would return to Creighton commencement in 1928 to receive an honorary degree.)
The year after the foiled commencement, the University's number of graduating students was just five. But apparently five was close enough to six because the Provincial allowed a ceremony to take place. Here they are, the Class of 1891, Creighton's first graduates …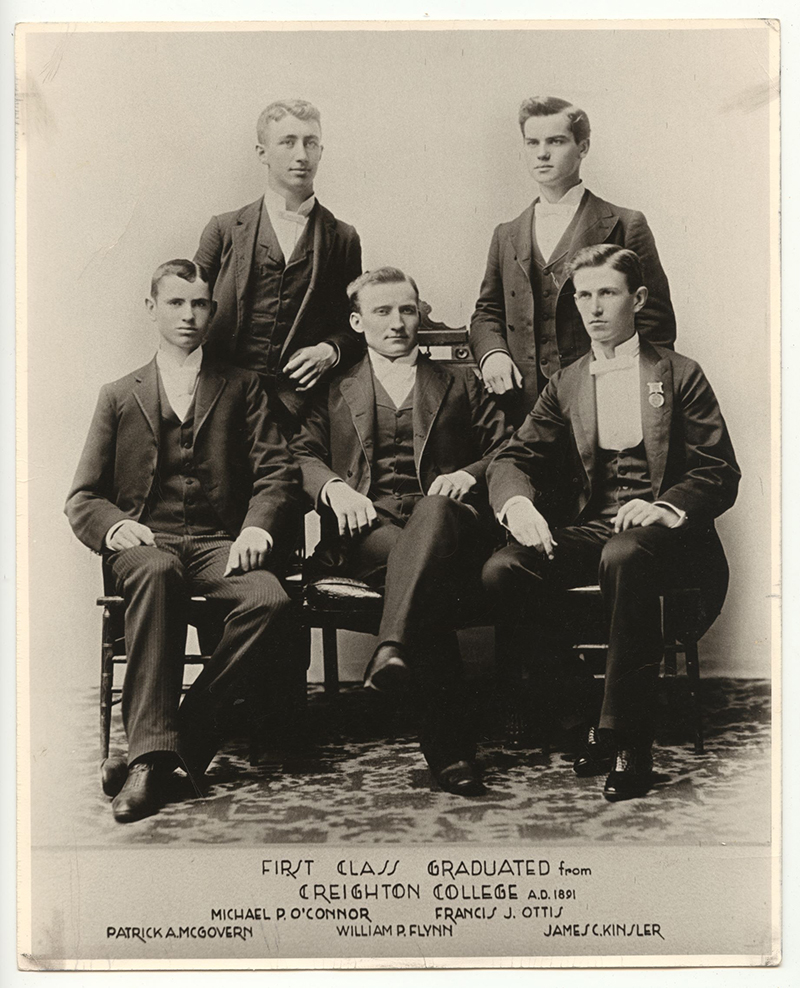 From 5 to 2,000
Let's take a quick stats break, first a sampling of graduating class sizes over the years.
Sources: University Archives or Dennis Mihelich's The History of Creighton University, 1878–2003
Class of 1891: Five students
1905: 16
1915: 122
1923: About 200
1930: About 300
1943: 190 (first WWII-time commencement ceremony)
1950: 575 (largest graduating class up to that point)
1960: 388
1966: 503
1976: 848
1987: About 1,000
1990: 900
2000: More than 1,200
2010: 1,346
2015: More than 1,600
2019: Nearly 1,900
2022: About 2,000.
(Note that for 2022 commencement, 2,021 degrees and certificates are expected to be conferred, with about 2,000 students earning degrees or certificates.)
Though we couldn't find the size of every graduating class in our history, the Registrar's Office has kept records of every one of the 100,000-plus degrees Creighton has conferred from 1891 to 2021.
Here's the history of Creighton's growth in one chart.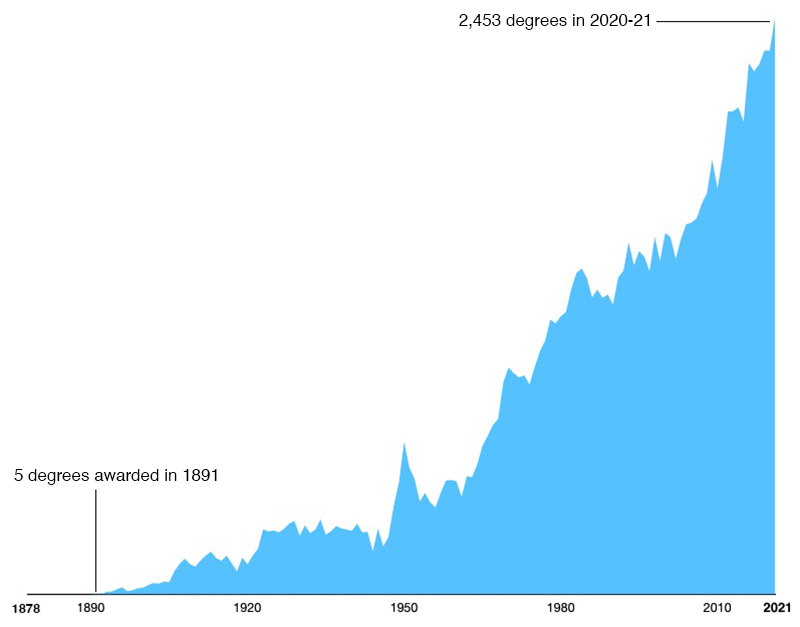 And while we're on the topic of charts, here's how the 100,000 Creighton degrees have broken down by school or college since 1891.
(Data provided by the Registrar's Office. Accompanying year indicates when the school or college was founded. Certificates awarded are not included, just degrees.)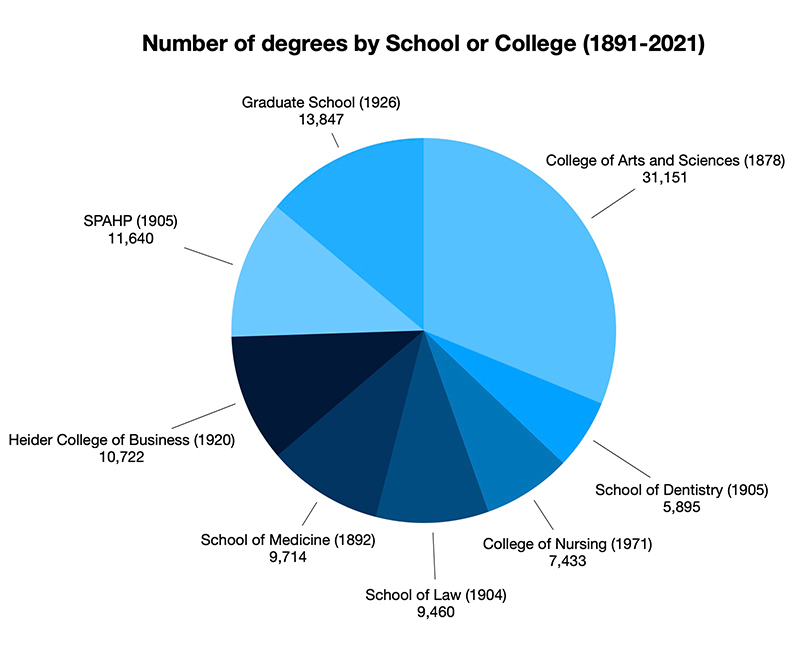 A few notes:
Names of schools and colleges have changed continually throughout Creighton's history. The College of Business Administration, for instance, became Creighton's first named school or college in 2013.
The College of Professional and Continuing Education is not included in this chart because a great deal of CPS graduates have had their degrees conferred by other schools or colleges.
In 1948, the College of Arts and Sciences (previously Creighton College) absorbed the School of Journalism (founded in 1936).
The Graduate School was formally established as a separate division in 1926, though the University conferred the first master's degree in 1893.
Creighton's nursing program can be traced as far back as the 1920s
Creighton comes together
Here's one last piece of Creighton commencement lore …
Though the University feels wholly unified today, this wasn't always the case. Some feared it was in danger of coming apart just a few decades into its history.
A 1911 editorial in the Creighton Chronicle expressed the mood of many alumni, students, faculty and staff at the time: "(Creighton) has a scattered nature, with Creighton College on the hilltop and the professional schools in various locations in the central business district.
"A deeper impression would be made upon the city, and college spirit (would be) more easily fostered, if all the colleges were grouped on the same campus."
A consolidated campus would take a while. But in the meantime, alumni and administrators launched a few efforts and changes to keep Creighton connected. These included:
The creation of Creighton's first magazine (the Chronicle).
Reorganizing Founder's Day to include all alumni and faculty.

1915 World-Herald article.

Holding the first fundraising campaign for the University (launching a tradition that continues today).
And finally — on April 29, 1915, at the Brandeis Theatre — Creighton brought all school and college commencement ceremonies together for the first time.
From the Creighton Courier: "The 122 graduates donned cap and gown, the caps for various colleges having a characteristic color. Promptly … classes formed in procession and marched to the theater. On stage, graduates were seated in tiers according to colleges.
"It formed a very pretty picture."
* * *
Learn more about Creighton Commencement 2022
See photos of Creighton graduations past