Featured Testimonial About Creighton University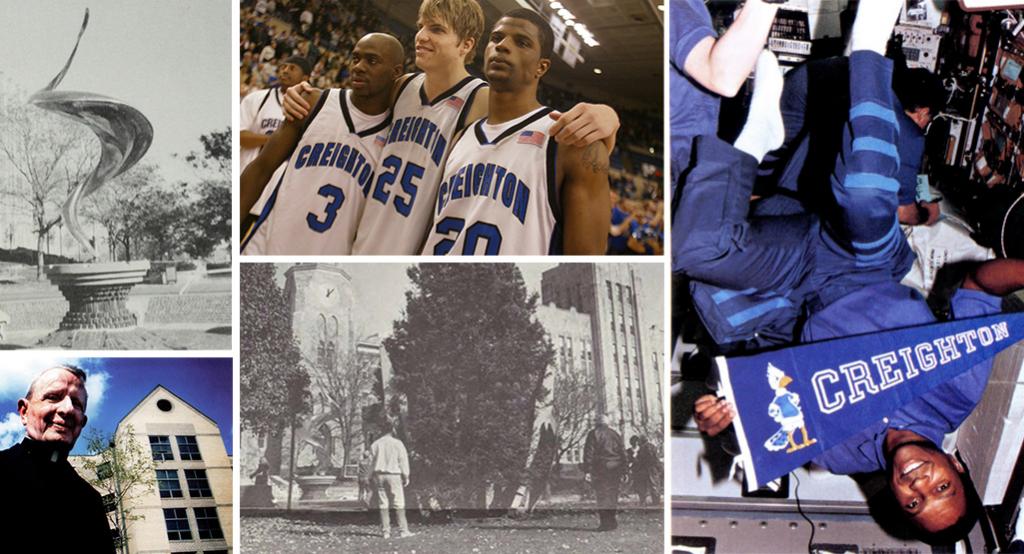 Listen to a new episode of Weird Creighton History, in which we discuss the batch of 2023 Creighton anniversaries featured in this article. Listen to parts 1 and 2 here.
* * *
By Micah Mertes
This is the third part of our three-part series on Creighton anniversaries in 2023. Find the previous entries at the links below.
Part One: 1893-1943 — The first master's degree, a new mascot, the Bluejay who won WWII
Part Two: 1948-1973 — The DePorres Club, the start of women's sports, Swanson Hall gets AC

40 years
1983 — Creighton starts University College
Creighton started University College to better accommodate its growing number of nontraditional students — in many cases older, working, part-time students who needed the flexible hours of evening and weekend courses to make their education work for them.
University College has since evolved into the College of Professional and Continuing Education (previously the College of Professional Studies).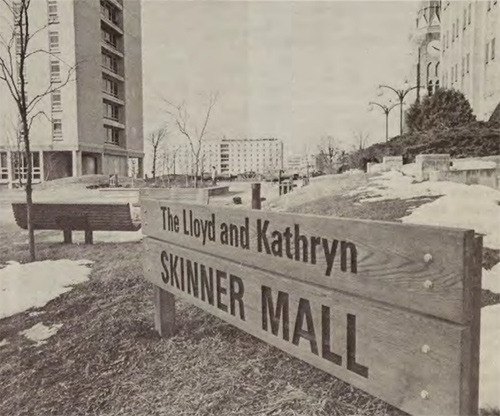 1983 — The Mall gets a new name
When Creighton closed California Street to traffic in 1977, it paved the way for the construction of the central campus Mall. Though completed in 1980, the Mall wouldn't receive its full name until 1983 — the Lloyd and Kathryn Skinner Mall, a tribute to two donors who fostered the growth and success of Creighton for more than 35 years.
In the Mall's early years, efforts to make campus look more like a campus were reportedly slow and arduous. Planting a lot of trees and bushes helped. (Fun fact: Plans for the central campus Mall originally included a pond, but the idea was scrapped.)
In any case, the Mall quickly became Creighton's circulatory system, as integral and iconic a part of campus as Creighton Hall and St. John's.

1983 — The first service trips
The Service and Justice Trips program, run through the Schlegel Center for Service and Justice, is about as Creighton as it gets, with hundreds of students traveling all over the country every year to serve (and learn from) different community partners. Thousands of alumni have participated in past service trips.
Like many great things at Creighton, it started small. In the spring of 1983, a group of seven students packed into a van — bringing nothing but some light luggage and a stack of peanut butter sandwiches — and headed to rural Kentucky to lend a hand.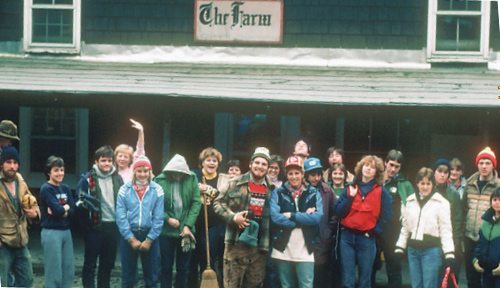 Ellen Townley, BSN'83, was the alumna most responsible for making that first trip happen. (She got the idea after spending three months in Appalachia through a summer program.) When Ellen graduated, another group of students carried on the tradition, the size of participants and number of destinations growing each year.
The scope of the Service and Justice trips has changed quite a bit since that first van ride to Kentucky. But the spirit has remained the same …
"The purpose of that first trip was two­fold," Ellen said. "One was to educate people and raise their consciousness. The other was to do some­thing worthwhile."

1983 — Creighton football wins national championship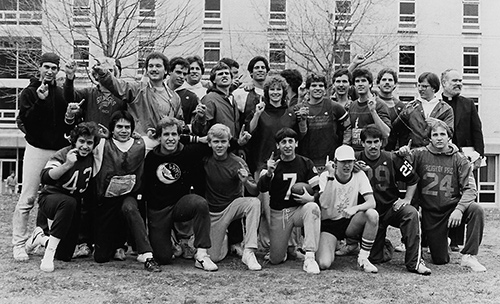 Though Creighton hadn't had an actual intercollegiate football team since near the start of WWII, that didn't stop a group of Creighton students from starting a fake football team that would play an undefeated season and go on to win not only the national championship but the Super Bowl, too. The gag had started in the pages of the Creightonian, was then reported on in the Omaha World-Herald and finally picked up by the Associated Press and covered in newspapers across the country.
The joke culminated in a game of football played on a chilly November morning east of Kiewit Hall. A CBS camera crew was there to film the fake team for a real news segment that would air a few weeks later, during the Nebraska vs. Oklahoma game.
We wrote all about Creighton's perfect season of football here.

30 years
1993 — Beirne Tower is completed
The six-story medical research facility was funded by a gift from brothers Gilbert A. Beirne, MD'45, and Clinton G. Beirne, MD'48.

1993 — Student Center is dedicated to the Skutts
The Skutt Student Center was named in memory of V.J. and Angela Skutt, a couple who made an indelible mark on Creighton and Omaha. V.J. Skutt, JD'29, became president of the Mutual of Omaha companies in 1947, building the firm into one of the nation's major insurers and serving 33 years as its chairman. The student center, completed in 1987, was funded largely through gifts from Mutual of Omaha.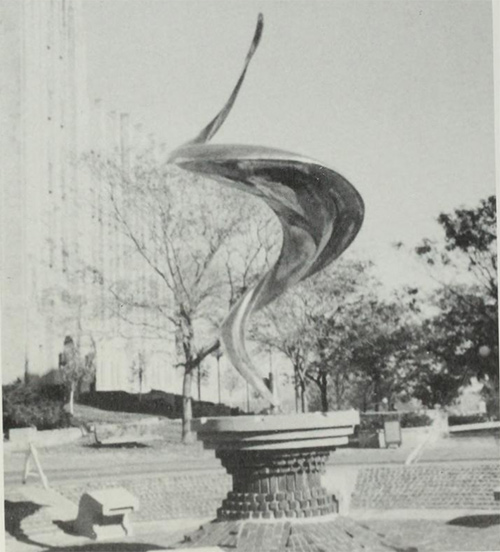 1993 — The fountain gets a sculpture
When it was completed in 1978, the St. John's Fountain had a flat top, with no plans for a statue or sculpture. A few years later, Creighton decided the fountain should serve as the reigning "high point" of the Mall, leveling off five feet of ground in front of Creighton Hall to make it happen. As the fountain grew in stature, ideas for a statue began to take shape.
Those plans go back to at least as early as 1983, when a group of students in a Creighton photography class added large cutout images of their statue proposals, which included a Rubik's Cube and a photo of the Rev. Michael G. Morrison, SJ, running a touchdown in the aforementioned nationally televised football game.
But it would take another 10 years for a real sculpture — the "Eternal Flame" by artist Grant Kenner — to top the fountain.
In the original design, a motor made the sculpture rotate atop its brick stand, but the one they'd purchased proved insufficiently powerful. Plans to obtain a more powerful motor never came to fruition, and the flame remains stationary.

1993 — A permanent Christmas tree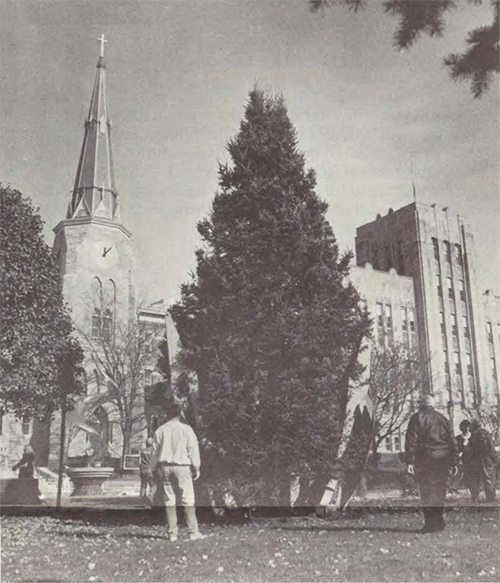 No one could know it at the time, but the arrival of the flame had lit the fuse for a fiery Creighton controversy.
Every year since the fountain first came to Creighton in 1978, it had served as a makeshift stand for the campus Christmas tree. With the "Eternal Flame" sculpture now taking its spot, the Christmas tree was moved to the front of Creighton Hall. That same year, 1993, a permanent Christmas tree — a tall spruce courtesy of Mulhall Nursery and other donors — was placed near the fountain and lit up in time for the holiday season.
For seven years, the two Creighton Christmas trees — the permanent one in front of Creighton Hall — coexisted peacefully. But in 2000, new Creighton President Fr. John P. Schlegel, SJ, asked a fair question … Why are we cutting down a new tree every year when there's a perfectly good one planted nearby?
Fr. Schlegel said they would cut the tradition of a Christmas tree in front of Creighton Hall and use the already planted spruce as the sole campus Christmas tree.
Students. Had. Feelings.
More than 630 of them signed a petition protesting the removal of the Creighton Hall tree.
Fr. Schlegel, for his part, was both apologetic and amused by the students' reaction. In a Creightonian interview, he jokingly referred to himself as "the Grinch who stole your Christmas tree."

1993 — Creighton Athletics receives first No. 1 ranking in half a century
That fall, the men's soccer team scored the No. 1 ranking in the Intercollegiate Soccer Association of America poll, the first time a Creighton team held the top spot in a ranking since 1942 — when the men's basketball team was named No. 1 in the Dunkel Rankings.
The ranking was all the more impressive considering the program had only recently returned from a long break, joining the Missouri Valley Conference in 1991. Under the leadership of head coach Bob Warming, the 1993 team achieved a 19-1-0 season and an appearance in the NCAA Tournament after its postseason debut the previous year.
The program remains a powerhouse today, recently winning its way to the College Cup Semifinals in one of the team's finest postseason runs to date.

1993 — Creighton announces return of volleyball
The program's origins date back to 1973, the same year softball, women's basketball and swimming came to Creighton. But Creighton dropped volleyball in 1981 due to expenses, recruitment issues and shifting NCAA regulations.
When the NCAA announced all Division 1 schools would be required to add two new sports to their athletic program, at least one of them a women's sport, Creighton announced the return of volleyball. The revived program started playing again by the 1994 season.
The team has seen great success in the past three decades, particularly the most recent one. Creighton volleyball recently claimed its eighth BIG EAST Tournament title in the past nine years.

1993 — Doctor of Physical Therapy program begins
Creighton was the first university in the country to offer an entry-level Doctor of Physical Therapy degree program.

1993 — Creighton starts Parent Council
Creighton created a council for parents quite simply because the parents asked for it.
In a 1991 survey of parents, the most frequently offered suggestion was "better communication between parents and the school." Based on this feedback, the University and a few dozen parents — led by alumni Ann McDermott McGill, BA'65, and Dr. James E. McGill, MD'64 — formed the new group.
One of their first orders of business was creating more opportunities for parents to participate in Creighton activities, in addition to helping new graduates find jobs and serving as ambassadors to other Creighton families, current and prospective.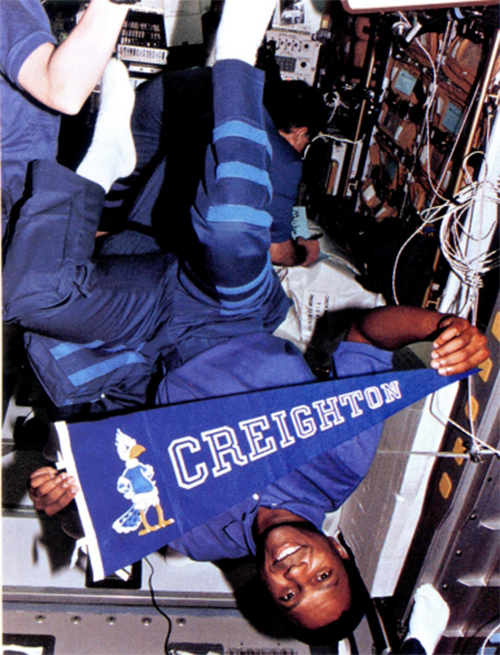 These efforts continue today, in the form of the Parent and Family Leadership Council.

25 years
1998 — Creighton alum goes to space
Lt. Col. Michael P. Anderson, MS'90, was the first (and, so far, only) alum to leave the earth's atmosphere. And he took a few pieces of Creighton with him.
Anderson first flew to space in the Endeavour in 1998, part of a docking mission to transfer more than 9,000 pounds of scientific equipment to the Russian space station Mir. During his near-nine-day mission, Anderson and his fellow astronauts traveled 3.6 million miles to orbit the earth 138 times. (You can mark Anderson down as Creighton's fastest alum, too.)
Of the few objects Anderson took to space, two were from Creighton: One was a University pennant and the other was the spectrometer that had been mounted in the campus observatory since 1886. Anderson returned both items to Creighton shortly after returning to earth. (Creighton awarded him the grad school's Alumni Merit Award that same year.)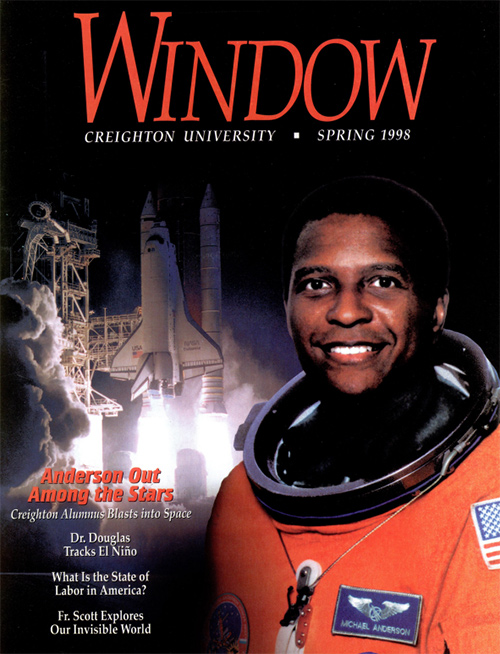 Anderson had dreamed of space flight since he was a kid watching science fiction shows on TV. Years later, when he was an Air Force pilot stationed at Offutt Air Force Base in Bellevue, Anderson attended Creighton to take a graduate course in physics that would further his goal of becoming a NASA astronaut.
In 1994, he was one of 3,000 to apply to the space shuttle program, one of 122 to get an interview at the Johnson Space Center and one of just 19 to enter the program. "It seems like a dream," he once told the Creighton AlumNews.
Twenty years ago this winter, Anderson made his second trip to space, and it would prove tragic. The space shuttle Columbia's 16-day flight was a science and research mission in which the crew successfully conducted 80 experiments. But on re-entry into the atmosphere over Texas, the Columbia disintegrated, killing Anderson and his six fellow crew members.
The nation mourned. Creighton paid tribute to Anderson. "Michael was one of Creighton's best and one of the nation's best," then-President the Rev. John P. Schlegel, SJ, said at the time. "He was an exceptional alumnus and a wonderful representative of Creighton. Many of us knew and loved him. We are so very proud of him, his work at NASA and his fine example."

1998 — McGloin Hall opens
The residence hall — the first built on campus since Kiewit Hall in 1966 — was named after longtime Creighton Jesuit the Rev. Richard D. McGloin, SJ. Fr. McGloin had served as a residence hall advisor for more than 40 years. At the time, he was living in Swanson Hall.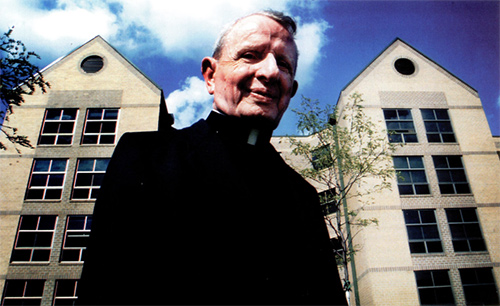 McGloin's career at Creighton began in 1955, when he moved into Dowling Hall to work as a resident advisor. He was told he'd only have to stay there for a year, but he often joked that his job was to remain in the dorms until they're demolished. All the while, he taught classes in Latin, Greek, theology and philosophy. In fact, he taught classes up until the age of 88, bringing his near-50-year career to a close in 2003. (He died two years later.)
McGloin likely knew as many students and touched as many lives as any Jesuit in the University's history. "He built my foundation," one of McGloin's students said in his obituary. "I don't know where I'd be without him."
McGloin's fellow Jesuits remembered him first and foremost for his generosity, the time and attention he gave everyone he knew. In McGloin's 2005 obituary, then-Creighton President John P. Schlegel, SJ, said he once asked McGloin why he always took the same route when crossing campus when he could take a shorter one.
McGloin told him, "So the students know where to find me."

20 years
2003 — Kirsten Bernthal Booth named volleyball coach
The program Coach Booth built speaks for itself — winning eight of the last nine BIG EAST Tournaments and appearing in each of the 11 most recent NCAA Tournaments (one of only nine teams nationally to do so).

2003 — So long, Civic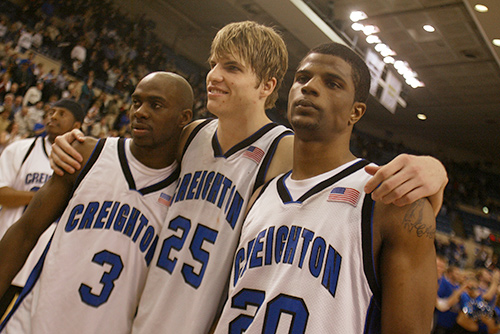 Creighton men's basketball said goodbye to its 48-year-old home with a March 3 game against Wichita State. Leading up to that last game, the team had one of its most exciting seasons to date — zero losses at home and a record average attendance of 8,183 per game.
Creighton's stay in the Civic Auditorium started in 1955, but games continued to be split between the building and the Old Gym until Creighton became a full-time tenant of the Civic in 1961.
In a storybook ending, Creighton beat Wichita (decisively) in its final Civic game, 86-60, completing the Jays' third perfect season at home and bringing their overall venue record to 432-155.
The team hit a few other milestones in that last game. Larry House scored a career-high 28 points in 22 minutes, and Dana Altman achieved his 100th victory at the Civic, the first head coach to do so.
The Civic would continue to serve as the home of the Creighton women's basketball and volleyball teams for some time after, eventually closing in 2014 and being demolished two years later.
Of course, the Civic was notable for countless other reasons besides its Creighton affiliation.
It was the arena of Billy Graham's Nebraska Crusade (in 1964) and one of Elvis Presley's final concerts (in 1977). It was also the site of the 1988 U.S. vice-presidential debate between Lloyd Bentsen and Dan Quayle that produced one of the most memorable quotes of the modern political era. ("Senator, I served with Jack Kennedy, I knew Jack Kennedy, Jack Kennedy was a friend of mine. Senator, you're no Jack Kennedy.")
2003 — A new home for the Jays
That following season, the men's basketball team moved into the newly built $291 million Qwest Center (later the CenturyLink Center Omaha, now the CHI Health Center Arena).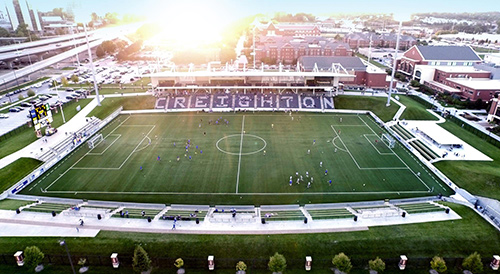 2003 — A new soccer complex
Men's basketball wasn't the only program to get a new home that fall. The Creighton Soccer Complex opened as one of the nation's finest collegiate soccer venues and (if we may say so) one of the best vantage points of the downtown Omaha skyline.
The following year, the facility was renamed the Michael G. Morrison, SJ, Stadium, after the longtime Creighton president.

2003 — The Hixson-Lied Science Building opens
Its name honors Christina Hixson, Ernst F. Lied and his parents. It opened as part of Creighton's growing integrated science complex, which includes the Rigge building, Criss I-III and (soon) the CL Werner Center for Health Sciences Education.

2003 — The first JayWalk
To celebrate the 125th anniversary of Creighton, the University, Creighton Prep and the Jesuit Academy came together to put on a big race for a good cause. (The idea for the event had come from the Creighton Students Union after they realized no events for the University's anniversary had been planned for students.)
In the 20 years since, the JayWalk has raised tens of thousands of dollars for the Jesuit Academy, the money going to scholarships, facilities and a new gym floor.

10 years
2013 — Creighton enters the BIG EAST
On July 1, 2013, Creighton officially became a member of the BIG EAST Conference. The move brought an unprecedented level of national attention to Creighton while continuing our programs' long history of success. For more than 30 years, at least one Creighton team has competed in an NCCA Tournament.
Creighton's membership in the Conference continues to create many opportunities for our nearly 300 student-athletes, who have access to some of the best coaches, faculty and facilities in the nation. Last year, the University further deepened its ties to the Conference when Creighton President the Rev. Daniel S. Hendrickson, SJ, PhD, was elected to a two-year term as chair of the BIG EAST Conference Board of Directors.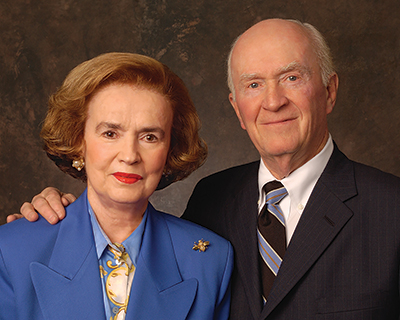 2013 — The first named college
A decade ago, Creighton's College of Business Administration became the Heider College of Business — the first named school or college in the University's history. The college was named in honor of Charles Heider, BSC'49, Hon'10, and his wife, Mary Heider, Hon'10.
The Heider family's gift ushered in a new era for Creighton business education and allowed the college to move into the Harper Center — the beautiful front door to campus' east end, named for the late Charles M. "Mike" Harper, HON'95, and Joan F. "Josie" Bruggema Harper.
Since then, the Heider College of Business has grown significantly. Enrollment has surged 75%, with 4 in 5 students coming to Creighton from outside Omaha and half of them starting their careers here after graduation.

1 year
2022 — Gallagher Hall demolished
Not much more needs to be said about the fallen residence hall. In fact, we wrote so much about it last year that attorneys representing Gallagher's ghost sent a cease and desist order. But mark your calendars for our 2031 anniversaries story, in which we'll celebrate Gallagher's 70th birthday.
* * *
This was the third part of our three-part series on Creighton anniversaries in 2023. Find the previous entries at the links below.
Part One: 1893-1943 — The first master's degree, a new mascot, the Bluejay who won WWII
Part Two: 1948-1973 — The DePorres Club, the start of women's sports, Swanson Hall gets AC
See past Creighton anniversary stories
2022 anniversaries
2021 anniversaries
* * *
Listen to a new episode of Weird Creighton History, in which we discuss the batch of 2023 Creighton anniversaries featured in this article. Listen to parts 1 and 2 here.