Read more
• Gallagher Hall alumni memories
• Meet the Poopas of Gallagher Hall
• A Gallagher Hall love story
* * *
There is a place ...
A place like no other anywhere in the world. We call it ... Gallagher Hall.

Creighton recently announced that after 61 years, campus' westernmost (and mostly beloved) residence hall is coming down.
Gallagher will be razed beginning in May. (Before then, almost 200 beds and bedframes, along with other useful furniture, will be donated to local charities. Read more about Gallagher's last good deed.)
To honor the building's final days, we're re-upping our definitive history of Gallagher Hall. We'll also be running a series of Gallagher stories over the next few weeks as we say goodbye to a real one.
Have any warm, fun, nostalgic, amusing and/or family-friendly memories of Gallagher Hall? Share them with micahmertes@creighton.edu, and we might include them in a future feature.
* * * *
An ode to Gallagher
By Micah Mertes
For some former residents, memories of Gallagher are complicated. It's like with your first car or your first job. When you think of the hall, all the affection, mockery and nostalgia get mixed up. Because for many of the thousands of alumni who have lived on one of its five floors, Gallagher's flaws are its virtues.
"When I was there, it was already outdated, just kind of a little hole in the wall, but we all loved it," said Johanna Gniffke, BA'99, BSN'05, MS'19, a former resident and later a resident advisor. "People who didn't live in Gallagher maybe didn't get it, but we had a lot of fun."
One of Gniffke's most vivid memories of the hall is from her freshman year, when she lived in the room right next to the floor's one bathroom. For her first two semesters at Creighton, she and her roommate heard every flush. They eventually got so used to it they didn't even notice anymore. It was just funny to them.
Bathroom proximity aside, Gniffke said just about every aspect of her Gallagher experience was special.
"I met so many great people from all over the country, from all over the world. It really was a community. Just this teeny-tiny building at the edge of campus."
We're celebrating the 60th birthday of that building with a series of photos old and new, facts well-known and not, and Gallagher-related quotes, surveys and other material that's come out over the course of the last six decades.
As our ever-evolving campus makes way for exciting changes, we honor the rich history of an old, weird friend.


Gallagher Hall opened in 1961, preceding the construction of Kiewit and Swanson halls, as well as the Becker and Brandeis Dining Halls. Gallagher was the first residence hall constructed for women but would later become a co-educational rite of passage for freshmen.
The hall was built at a time of great growth for Creighton. (A time not unlike 2021.) In 1961, Creighton also added a new library and the Eugene C. Eppley College of Business Administration Building, later to become the headquarters for the College of Arts and Sciences.
According to the 1962 Blue Jay yearbook, this was the first time a Jesuit college opened three new educational structures at the same time.
Construction of the hall cost $1 million, and was named in memory of Ben Gallagher, Sr., who founded the Omaha grocer Paxton and Gallagher Co. in 1879 (just a year after the University's own founding). His company later started roasting the popular Butter-Nut Coffee brand.
In 1958, Paxton and Gallagher Co. (founded by the namesake of Gallagher Hall) was sold to Campbell Soup executive and community leader W. Clarke Swanson (namesake of Swanson Hall). Not kidding, this really happened.
Swanson renamed the company Butter-Nut Foods, which that same year launched an innovative national ad campaign for its premier product, Butter-Nut Coffee. With the help of Capitol Records, the company made an "original cast recording" of Omaha! — a parody of the Rodgers and Hammerstein musical Oklahoma! The campaign made Butter-Nut Coffee a bestselling national brand and put Omaha on the map. (Read more about it here.)
Not long after, Butter-Nut Coffee — which, again, was founded by the namesake of one Creighton residence hall and made a national brand by the namesake of another Creighton residence hall — was acquired by Coca-Cola.
Over the next few decades, Butter-Nut Coffee changed hands many times over — Maryland Club Foods, Proctor & Gamble, Smucker's — and eventually became a flavor for Folger's. Just last year, Folger's discontinued Butter-Nut Coffee, bringing the Creighton-connected, Omaha-born brand's 104-year journey to an end.

But anyway ... we were talking about Gallagher Hall.
Upon Gallagher's opening, the Creighton Alumnus proclaimed the hall "the feminine highpoint of the Creighton campus."
Some of the things written about Gallagher at the time of its opening —
"It's modern and functional, with a very homey atmosphere."
"A home away from home."
"Residents find almost every convenience of home, in addition to quite a large family of sisters, working, studying and enjoying recreation together."
"A dream come true."

Gallagher life in those first few years ...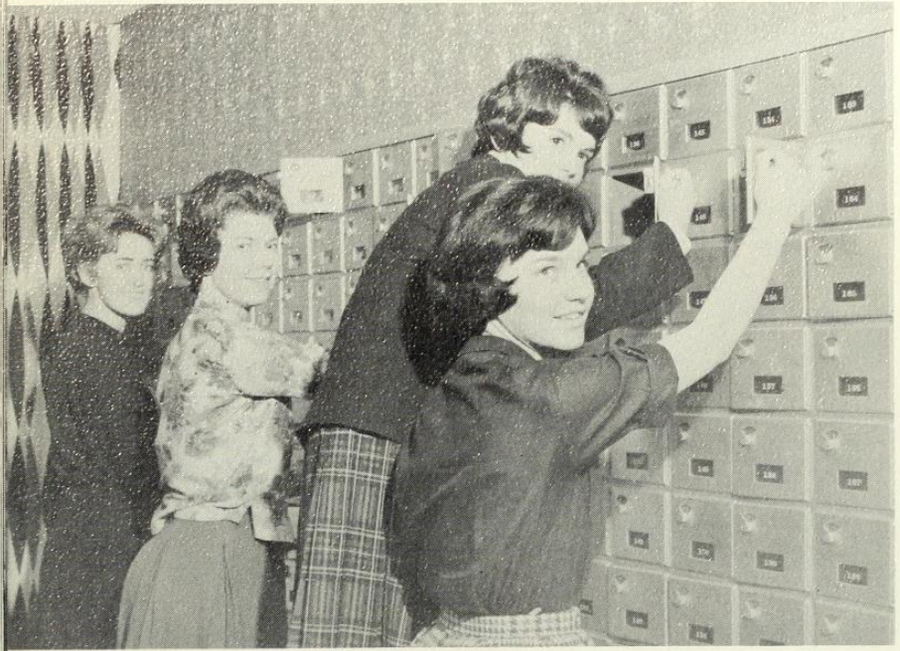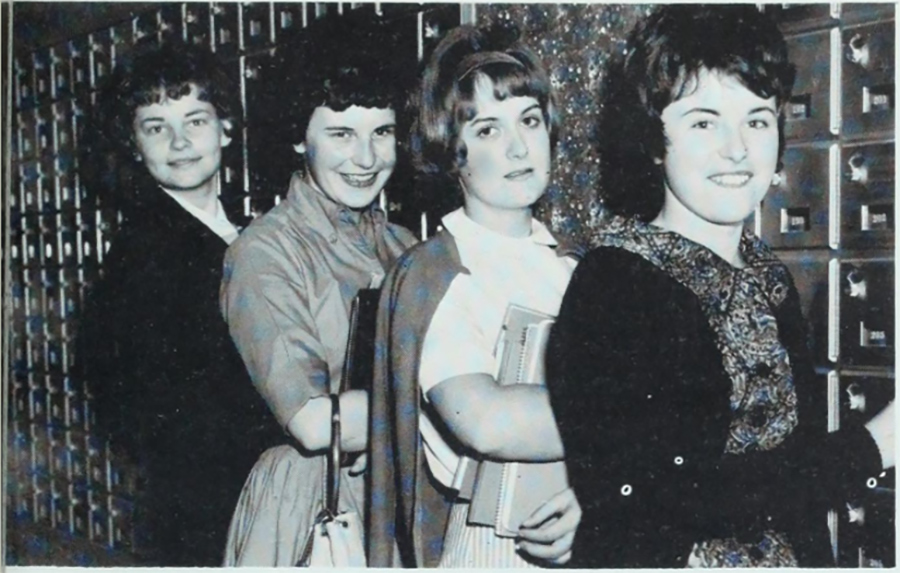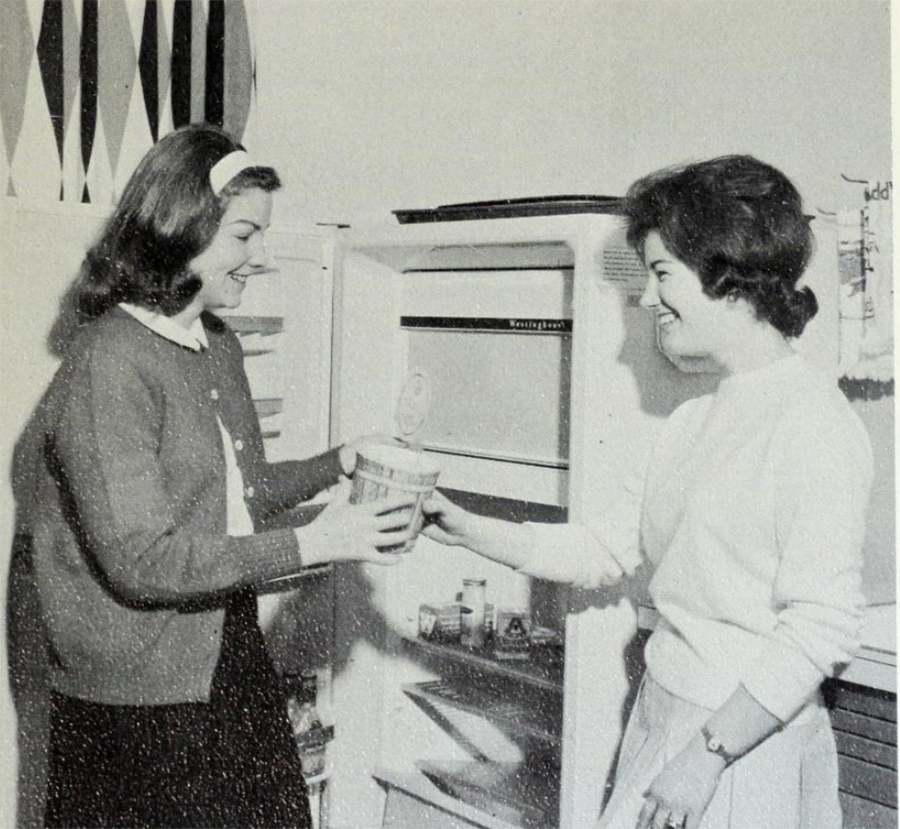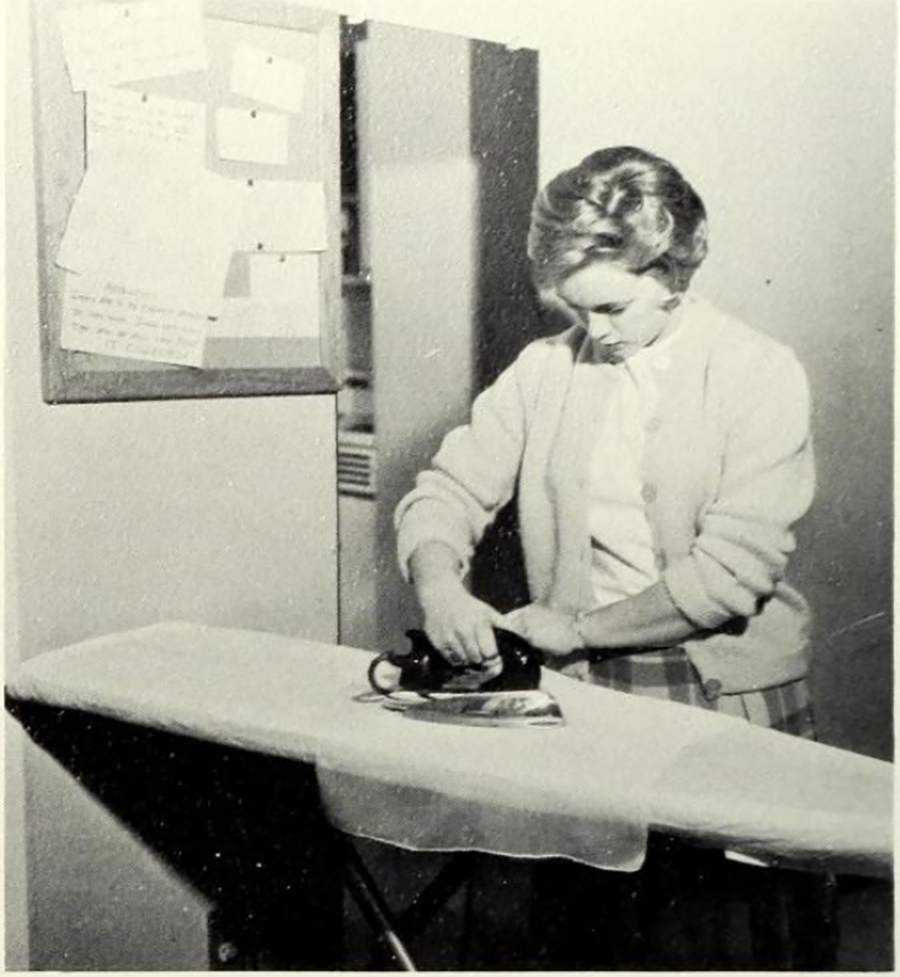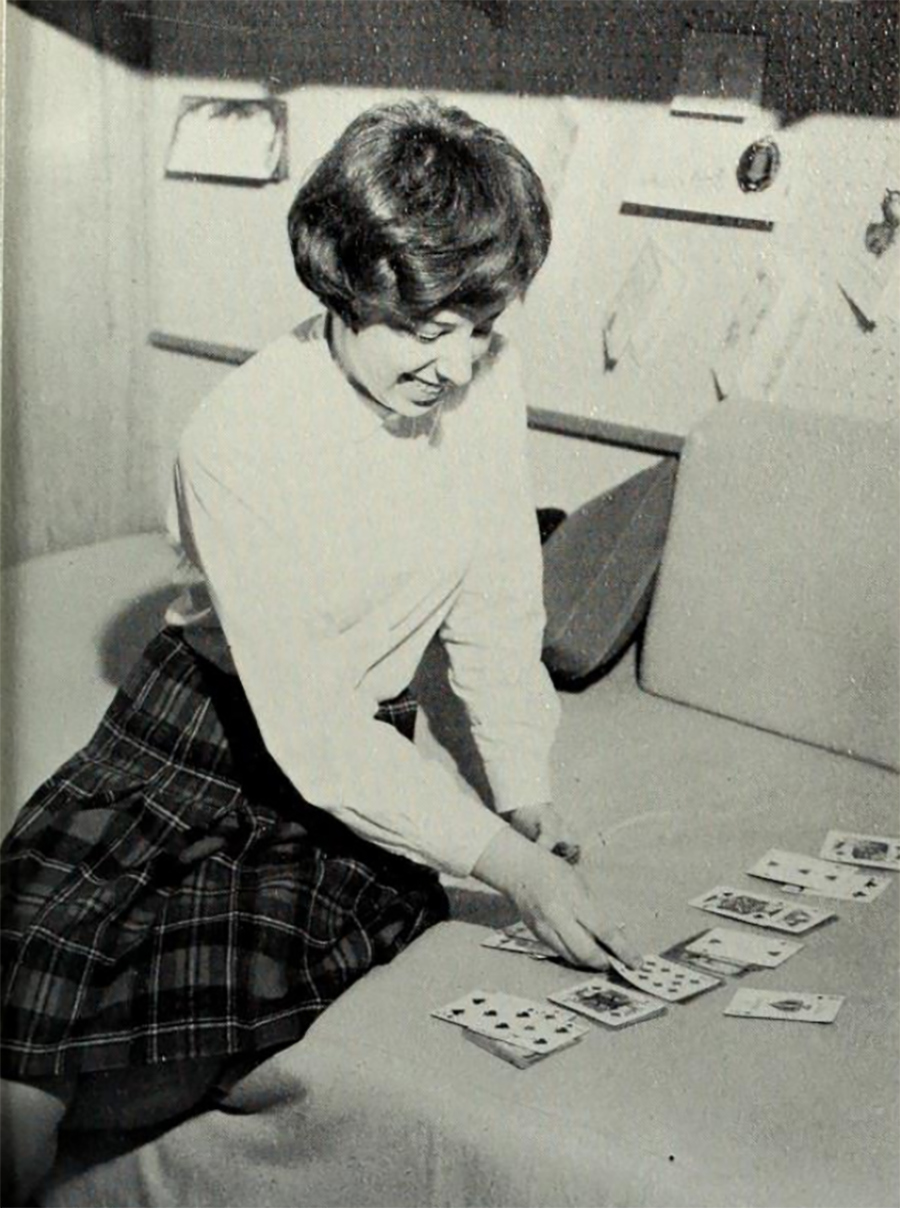 These first few years were certainly swell. But later, after the dorm became co-ed, Gallagher took on a rowdy reputation that has stuck with it ever since.
A few examples of shenanigans and just plain bad luck: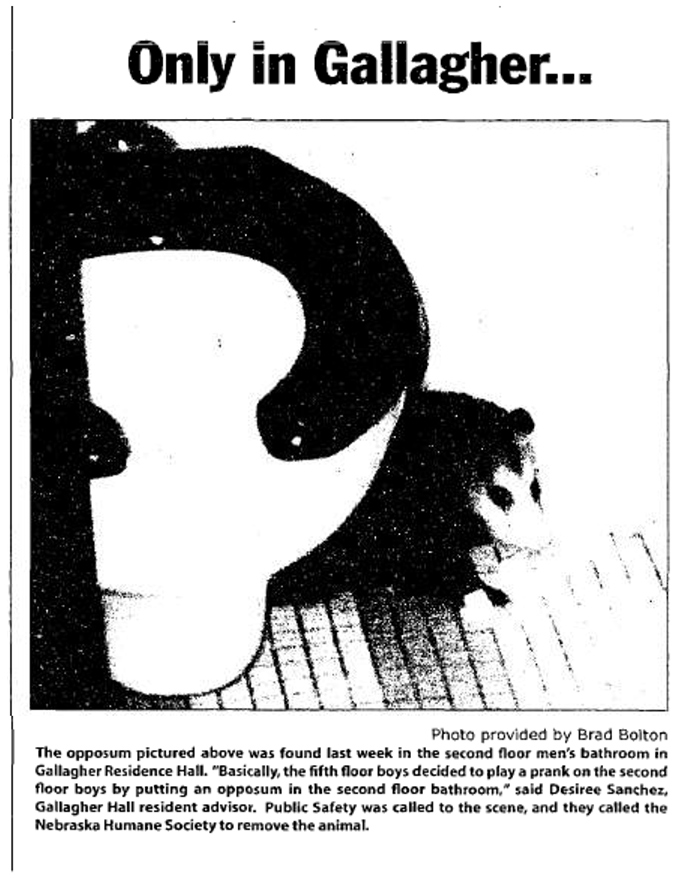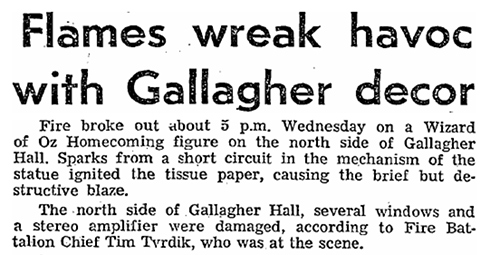 Possums and mattress fires aside, many students and alumni have said Gallagher's wild reputation is more myth than fact.
In the '70s, a few residents stuck up for the hall in the Creightonian, calling it "the friendliest dorm on campus" and "much more sedate than everyone makes it out to be."
In the 1980s, Gallagher attempted a rebrand.
The hall's nickname at this point was "The Zoo," but resident advisors wanted it to now be known as "The Country Club." The dorm underwent extensive changes — new paint, new carpet, new air conditioning, the addition of lounges on every floor. It also integrated freshmen with upperclassmen, creating an entirely different vibe — "a home for all who live here."
The head resident advisor at the time said, "The general attitude is one of relaxation and solitude with little or no disciplinary action necessary. There is an air of calmness and good feeling as you walk through Gallagher."
Creighton's residence halls all started adding more programming and activities around this time, and Gallagher now held movie nights, volleyball, seminars on nutrition and popular social gatherings, including the Bruce Springsteen Party.
Ann Rhomberg, BS'83, had lived in Kiewit Hall for undergrad but later served as the graduate assistant advisor for Gallagher throughout the mid-'80s. More than 30 years later, she still recalls the hall's homey vibe.
"Gallagher's smaller size contributed to its charm. It was just a gem on the edge of campus that no one knew much about. But for those who lived there, you felt such a sense of community."
The ping-pong table helped. As did the TV lounge, where all residents present would vote on what to watch.
Scenes from the hall in the '80s ...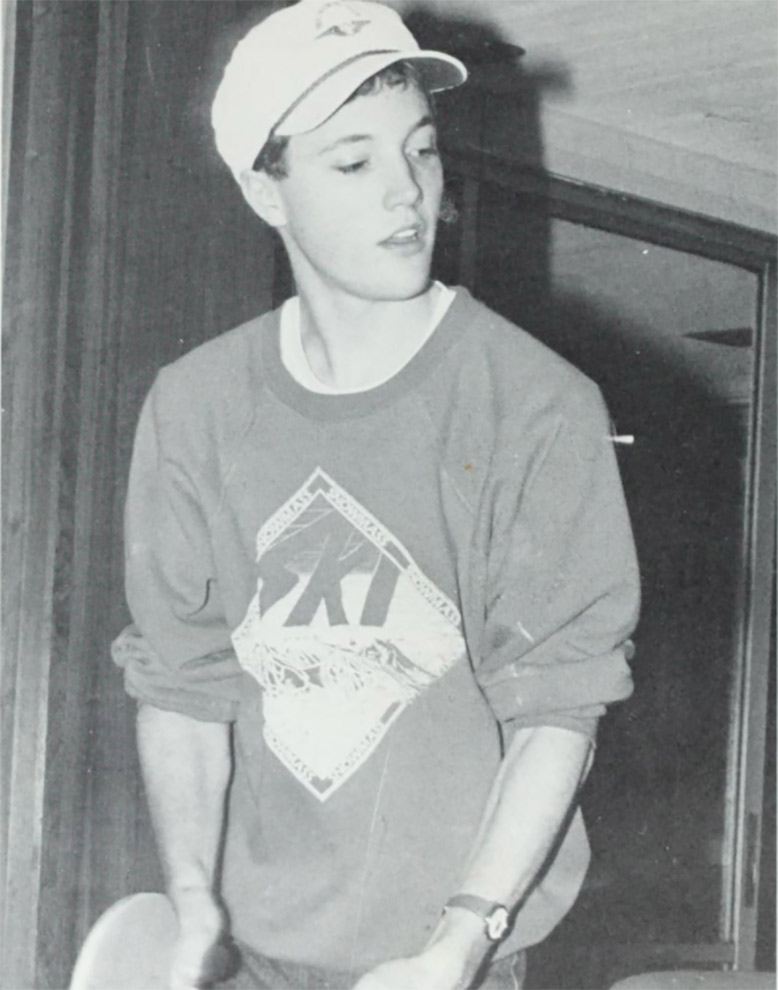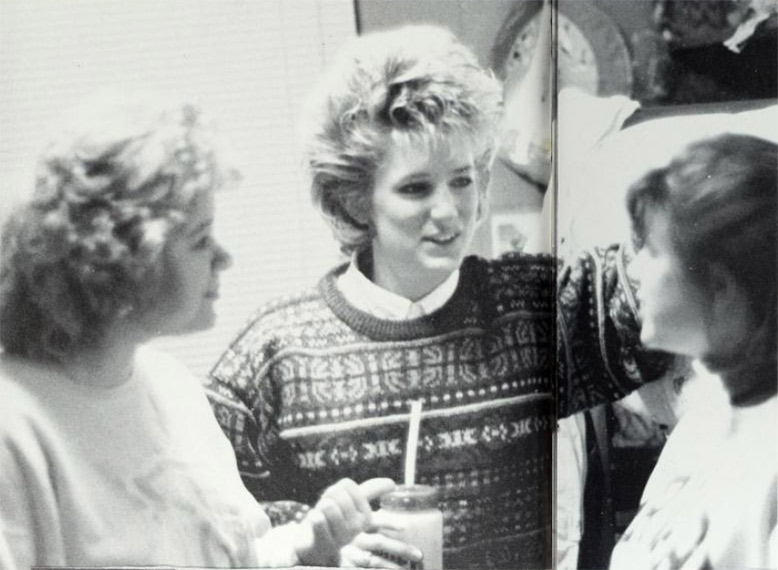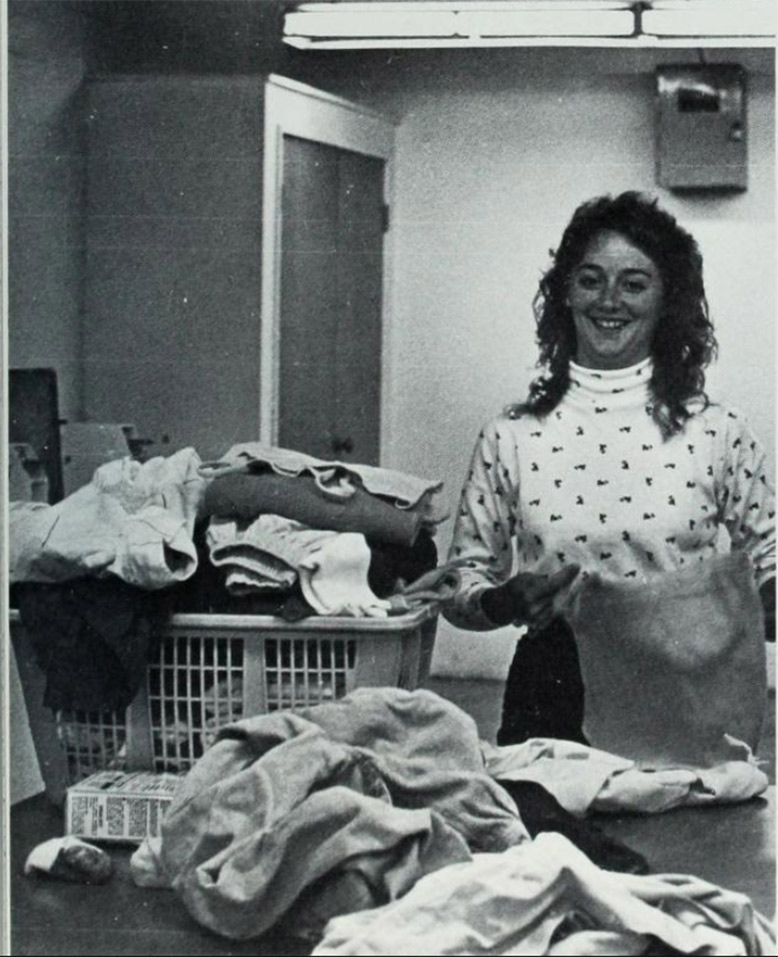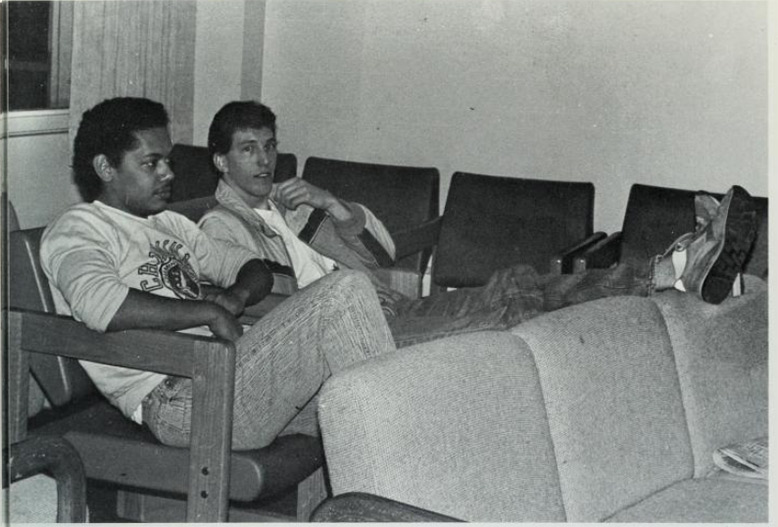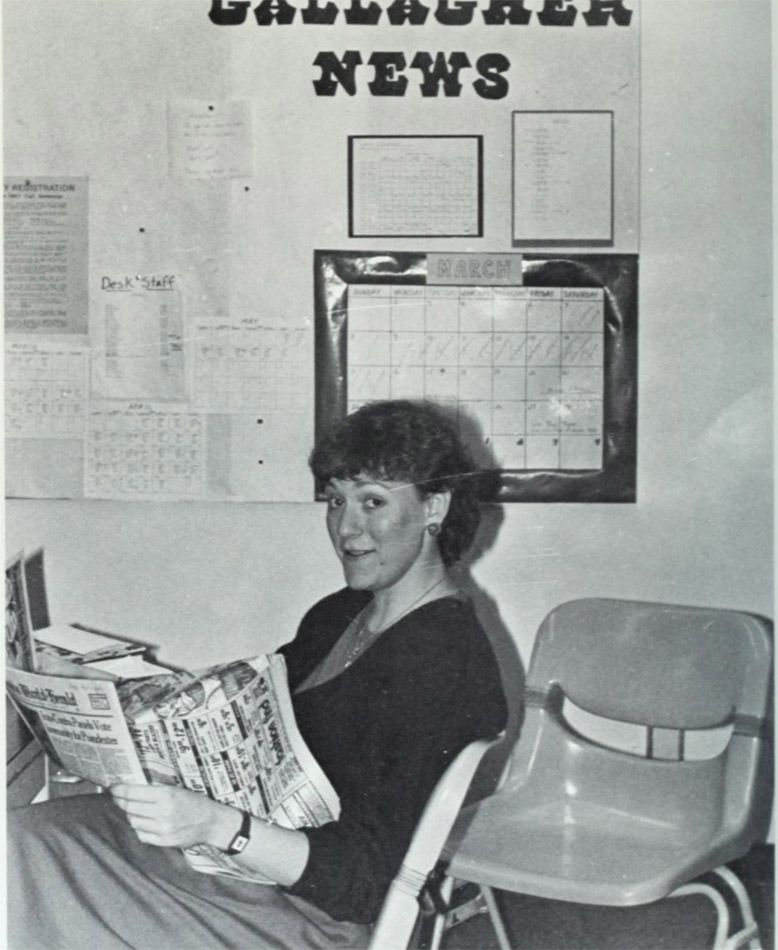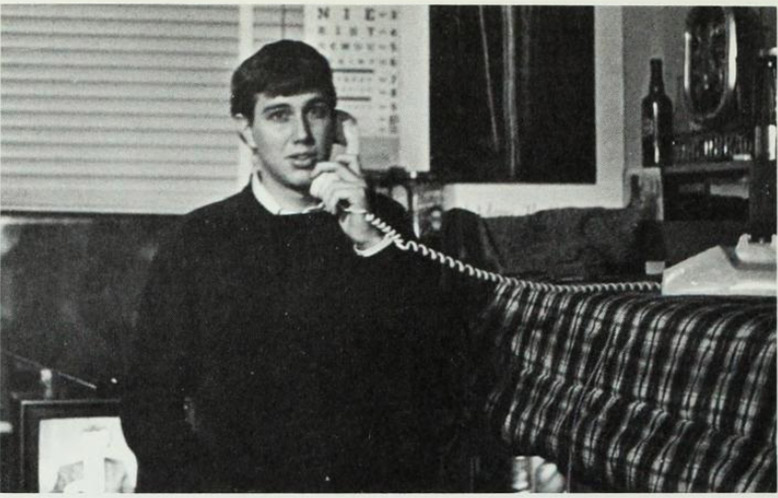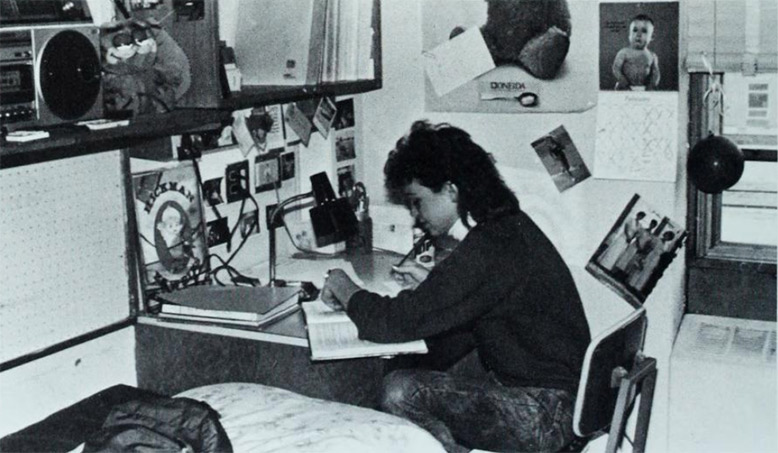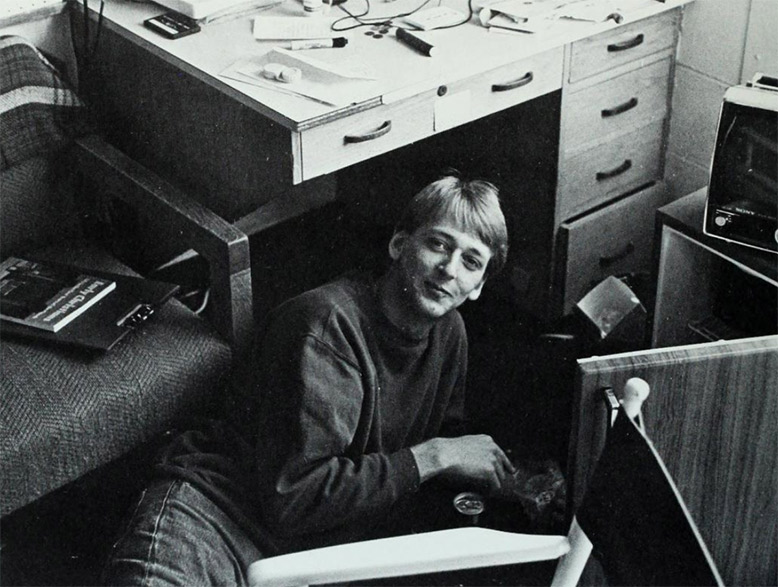 From the Division of Student Life: "All Freshman Hall rooms include two desks, two beds, two closets, two desk chairs, sink and community bathrooms. Students are welcome to personalize their room."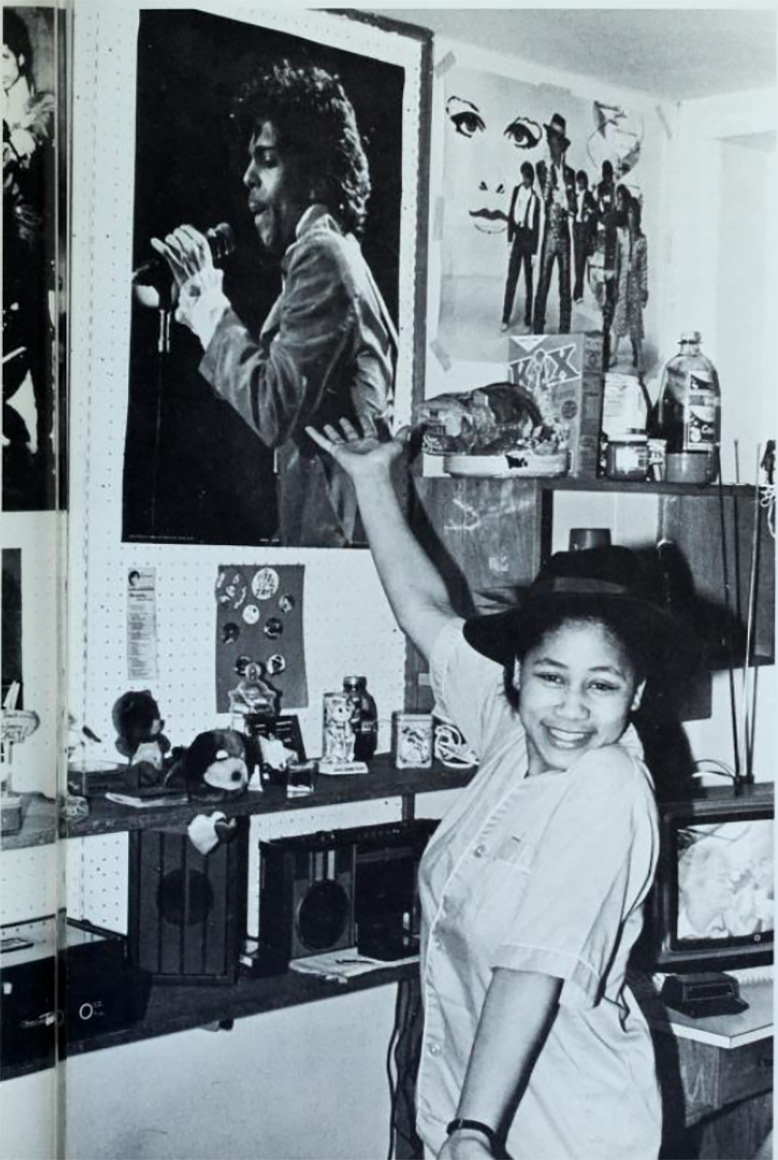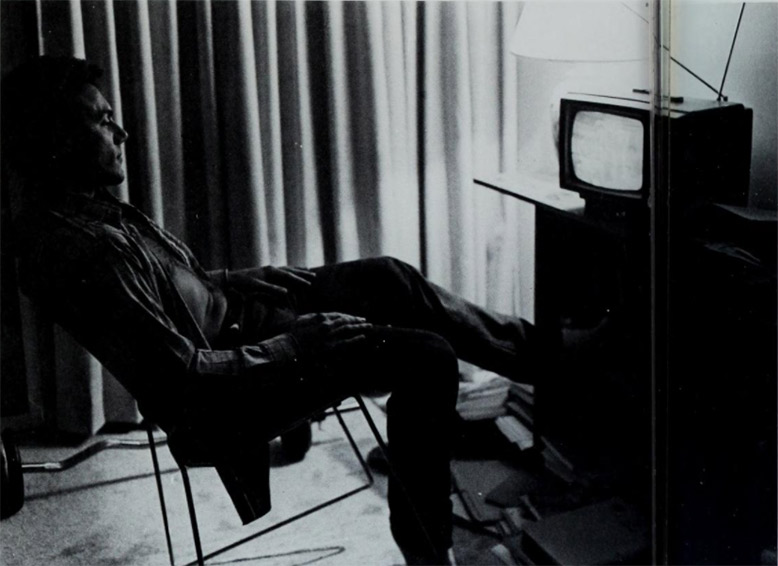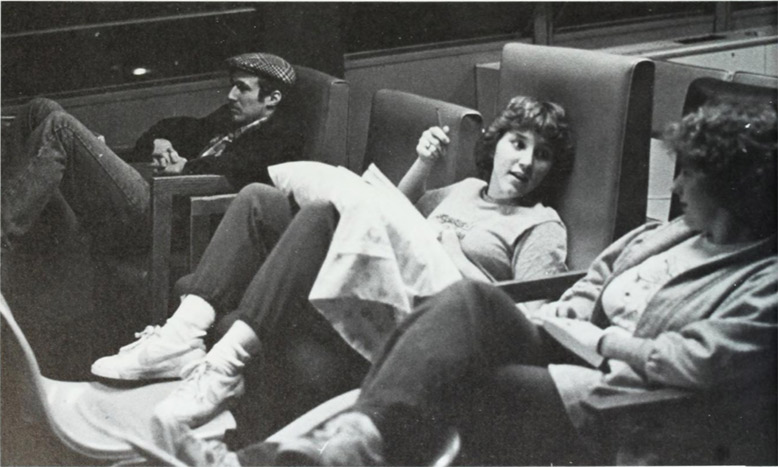 If you walk down any hallway in Gallagher, it seems like you're caught in the middle of an old Brady Bunch episode.
– 1992 Blue Jay yearbook

Gallagher's reputation as a tight-knit community continued throughout the '90s. The hall held monthly birthday parties in the lobby. Every floor bustled with activities.
One of the most peculiar we could find was a Gallagher-wide game of Clue, in which teams of residents tried to solve a murder mystery. Resident advisors played the suspects, and contestants raced from floor to floor and room to room until the mystery was solved.
It's an expression used too often, but it's too true not to be said here: "Only in Gallagher."
A 1992 survey of Gallagher residents (and their no doubt partly sarcastic responses) gives us a little texture from that time:
What's your favorite food delivery to Gallagher?
54% – Domino's
35% – Godfather's
7% – Subway
4% – Pizza Hut

What's the best part about living in Gallagher?
50% – the beautiful view of the highway or Kiewit Hall
30% – the slow elevator
12% – the convenient parking
8% – the easy access to the mailboxes
Scenes from Gallagher in the '90s ...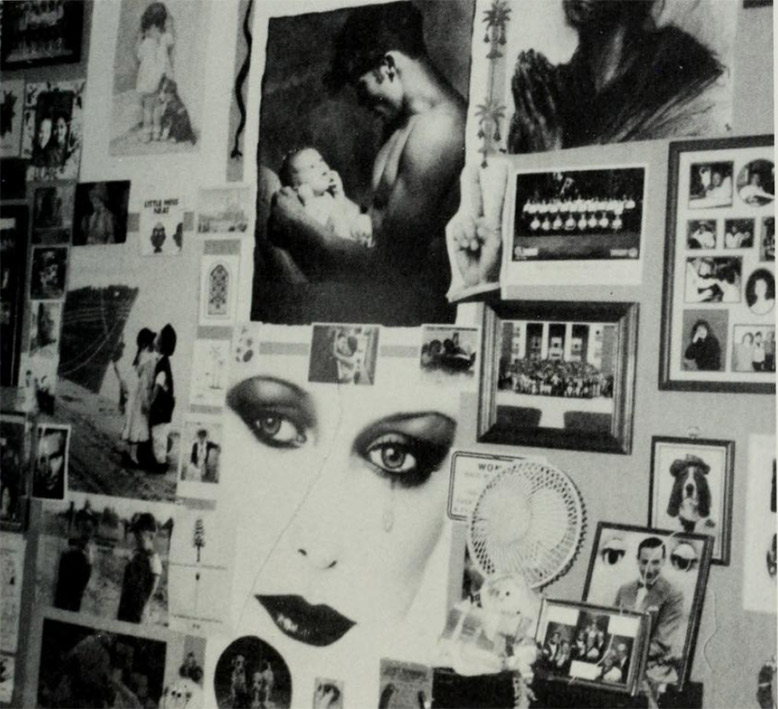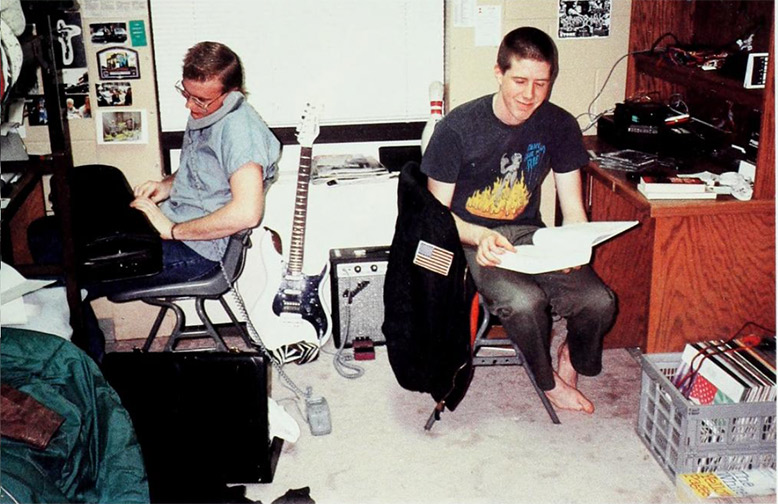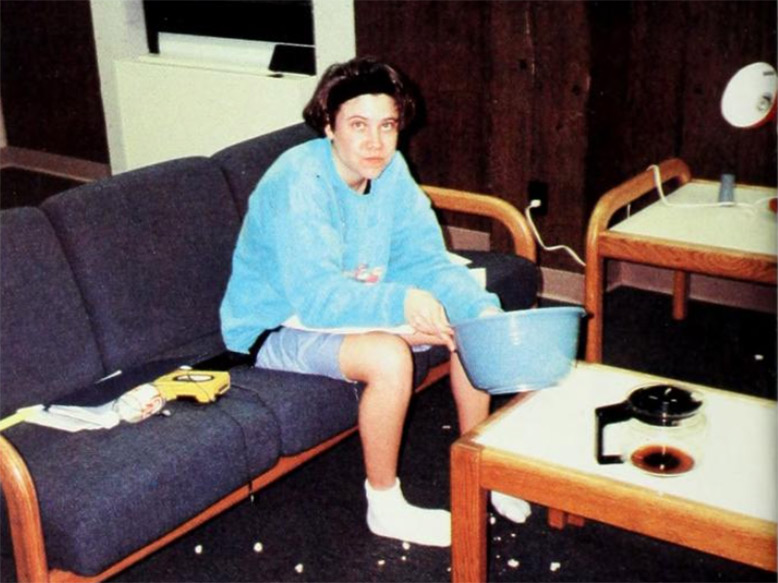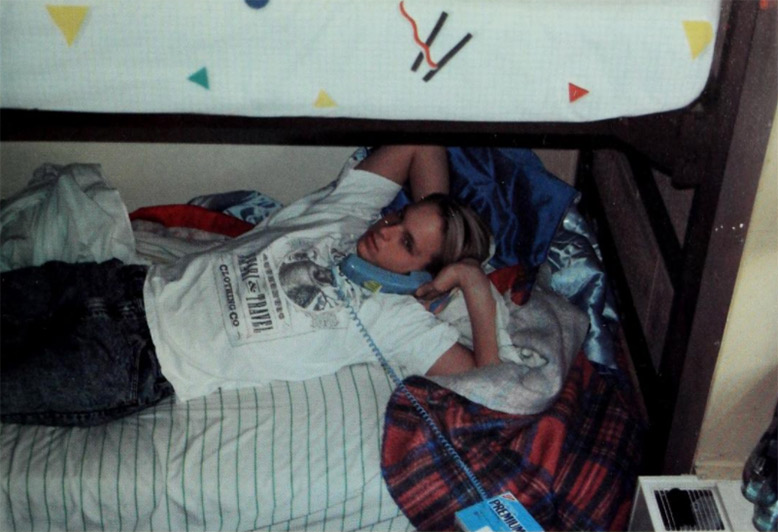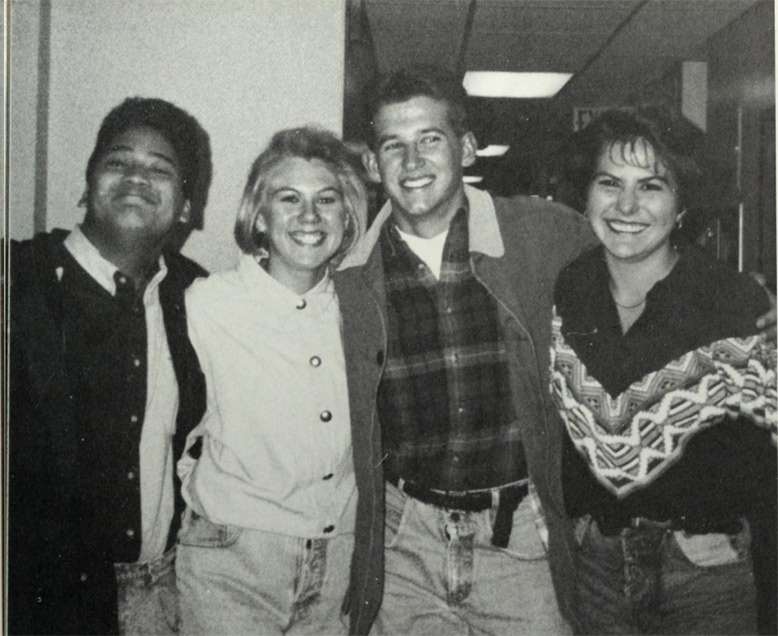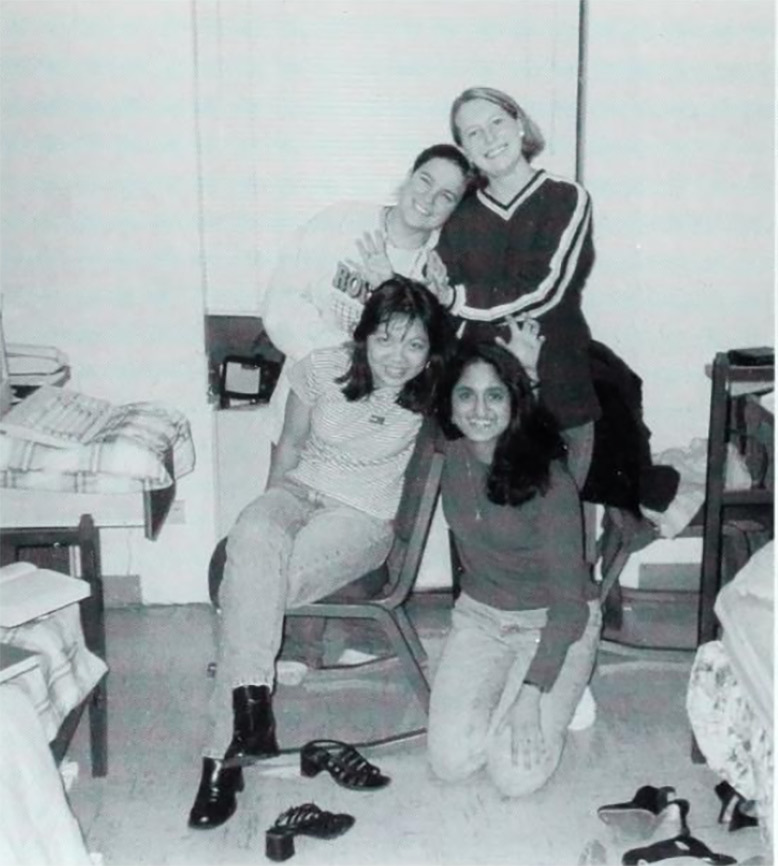 Like a microcosm of Creighton itself, Gallagher has always been a true community.
Through all eras of Creighton, through all iterations of the hall, residents seem to agree on one thing — For better and sometimes for worse, there's no place like Gallagher.
In a Blue Jay yearbook article, a freshman resident said, "I can honestly say that I've met, or know something about, everyone in Gallagher. I'm not sure you could find that in any other dorm."
Here's to Gallagher — the small hall that's seen it all.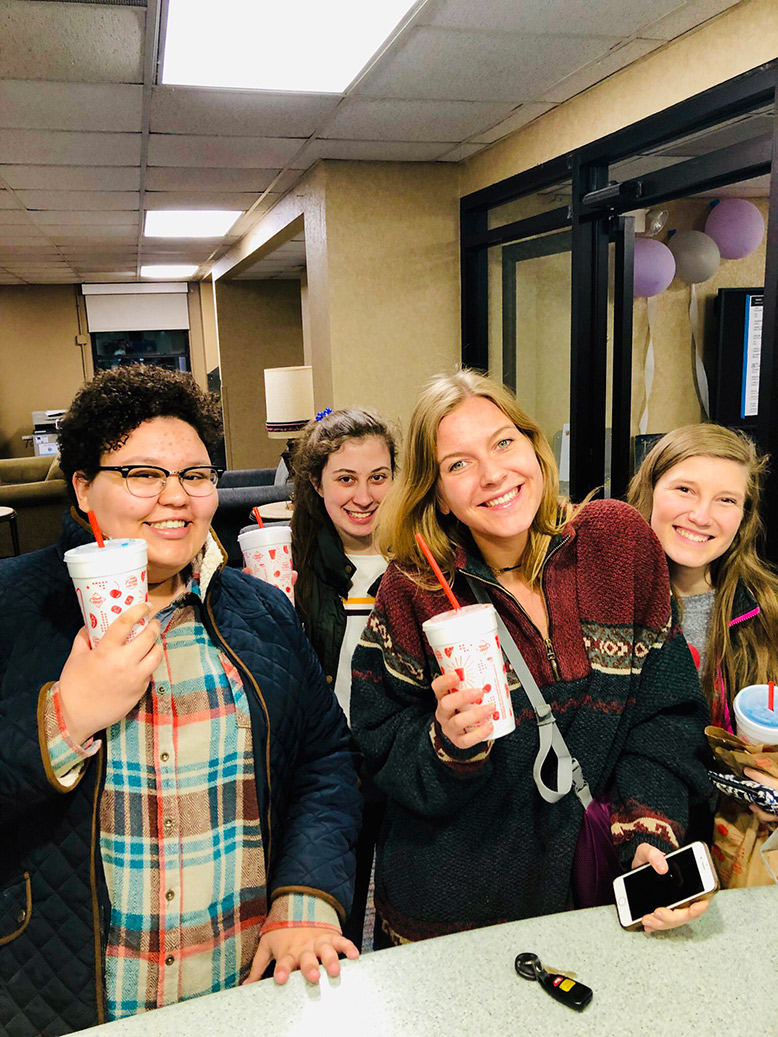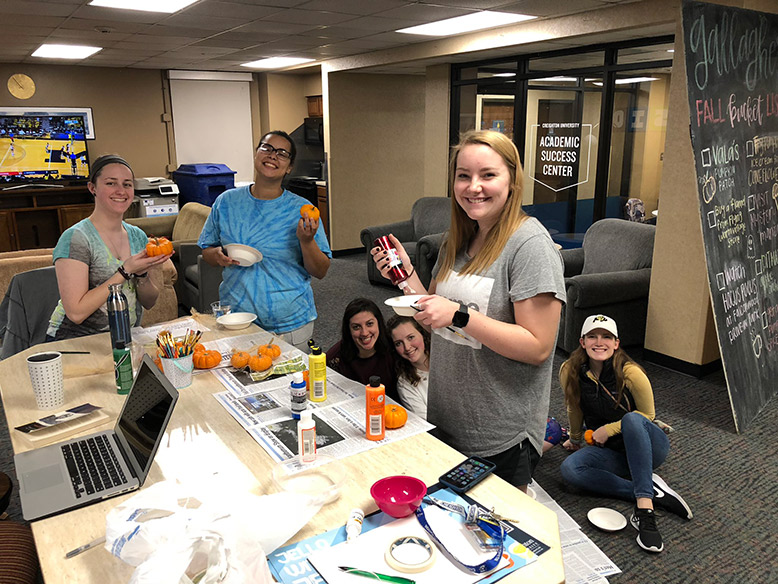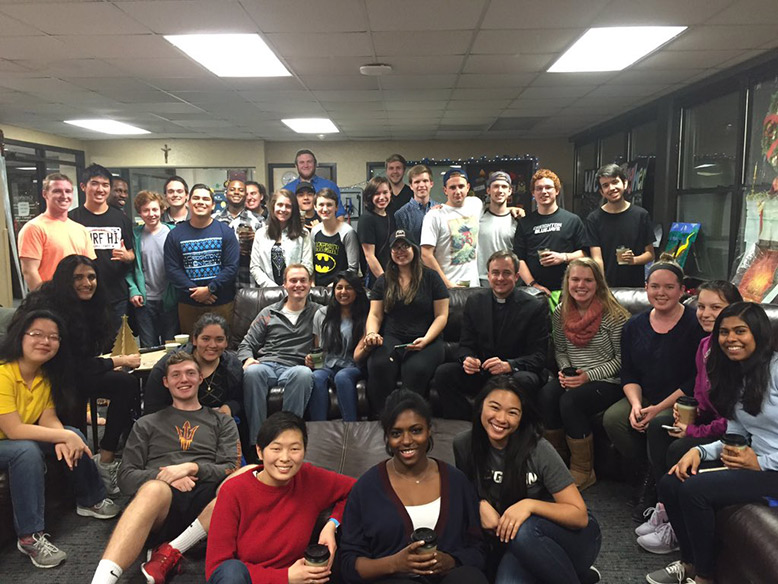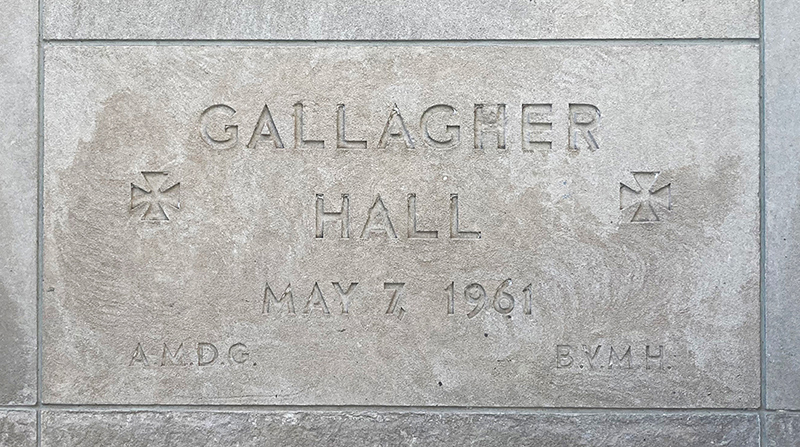 Have any good Gallagher stories or photos? Send them to micahmertes@creighton.edu, and we might feature them in a followup article.
As a parting gift to all you Gallagher fans out there, please enjoy this 360 virtual tour of a modern Gallagher room, as well as the specs for each room's layout and dimensions.

* * *
Read more
• Gallagher Hall alumni memories
• Meet the Poopas of Gallagher Hall
• A Gallagher Hall love story