Featured Testimonial About Creighton University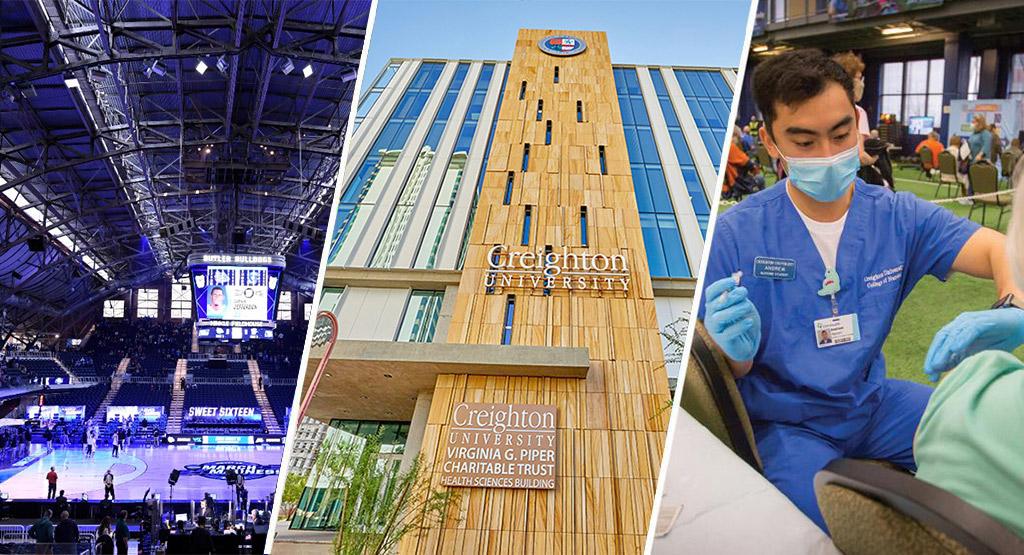 By Micah Mertes
Someday, people will look back on 2021 as a truly transformative time for Creighton.
It will be remembered as a time of innovation and momentum, when the University made strides to connect with communities local and global, and when our own community came together to face a once-in-a-generation crisis. This was a year in which Creighton stepped up creatively, with thoughtfulness, hard work and vision.
With that in mind, we wanted to celebrate some of the great things that happened at Creighton in 2021.
Here's to everyone who made a difference in someone's life this year. Here's to another great year at Creighton.
* * *
WINTER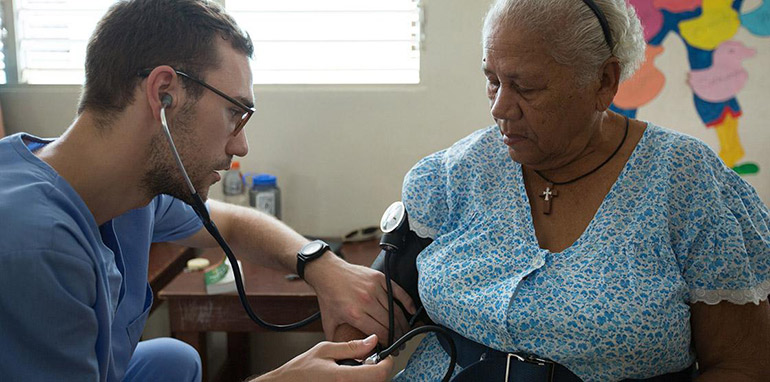 Arrupe Global Scholars
In January, Creighton received a $25 million gift to establish the Arrupe Global Scholars and Partnerships Program, in which students earn a medical degree while working alongside international health care workers and Creighton faculty on multiyear projects around the world.
The new program seeks to improve the health and well-being of the international poor and educate future servant-leader physicians. It also furthers the Creighton Global Initiative, which aims to enrich and embrace a global focus for the University.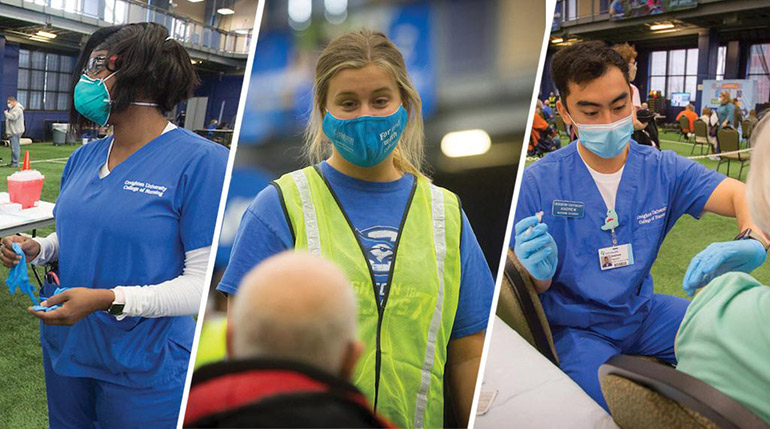 The Vaccine Clinic
In February, Creighton launched the COVID-19 Community Clinic in the Rasmussen Center — hosted in partnership with the Douglas County Health Department. Over the next few months, the clinic administered tens of thousands of vaccine doses to the community.
The clinic was a hugely ambitious undertaking made possible by hundreds of Creighton faculty, staff, students, alumni and friends volunteering their time and service at a critical moment.
SPRING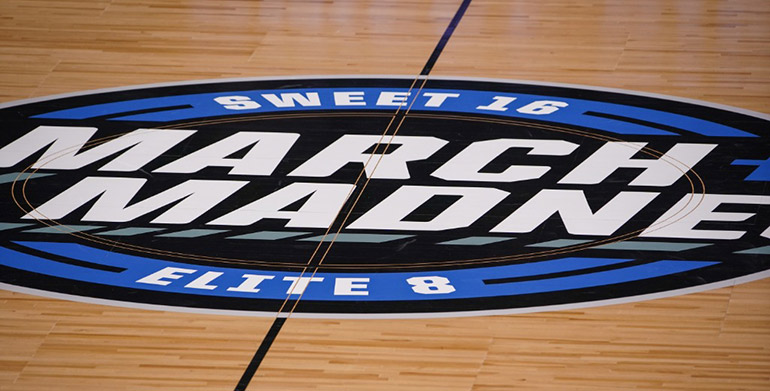 A historic season
In March, the Creighton men's basketball team played in the NCAA Tournament's Sweet 16 for the first time since 1974!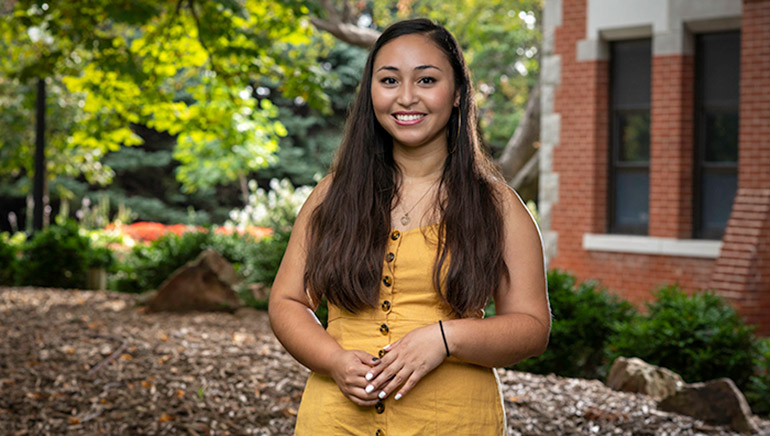 First-gen Forward
This spring, Creighton was awarded the designation of First-gen Forward by the Center for First-generation Student Success.
The designation will create more opportunities for students from underrepresented walks of life who are helping to create a more diverse campus — ethnically and socioeconomically.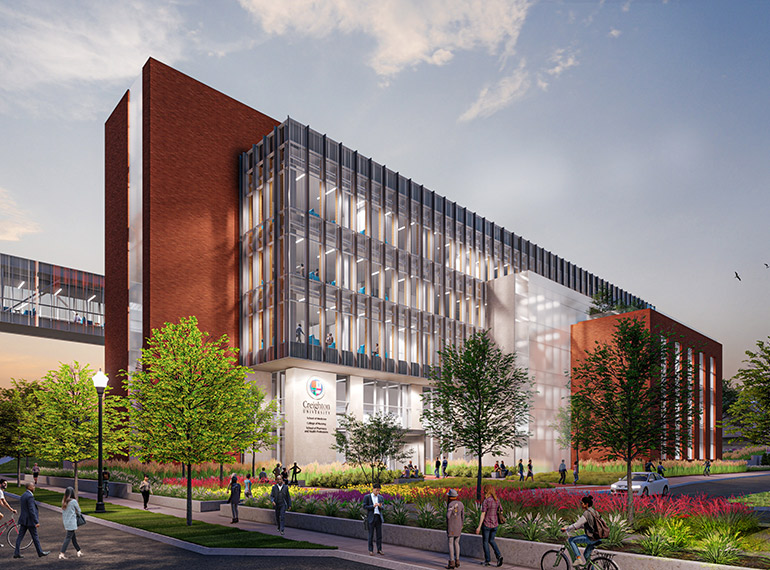 The CL Werner Center
In May, Creighton broke ground on the CL Werner Center for Health Sciences Education, a facility that will transform the west side of campus and further Creighton's health sciences enterprise, as well as the interprofessional model of education the University embraces.
Named for longtime Creighton supporters CL and Rachel Werner, the five-story facility will serve as the new home to the School of Medicine and bring together medical, nursing, physician assistant, occupational therapy, physical therapy, pharmacy, behavioral health and other students to train and learn with — and from — each other.
SUMMER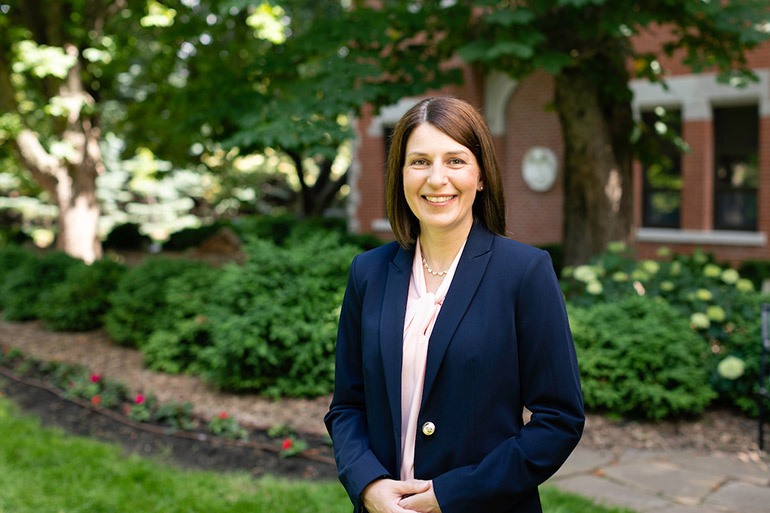 New Dental Dean
This summer, Jillian Wallen, BDS, MS, became the new dean of the School of Dentistry, succeeding Mark Latta, DMD.
"When I arrived at the School of Dentistry," Dean Wallen said, "I quickly realized I had joined a community extending far beyond our classrooms and clinic floor. People here support you before you even know you need it. That's true if you are a patient seeking care, a freshman in anatomy lab or even if you're the new dean trying to fill the shoes of your trailblazing predecessor."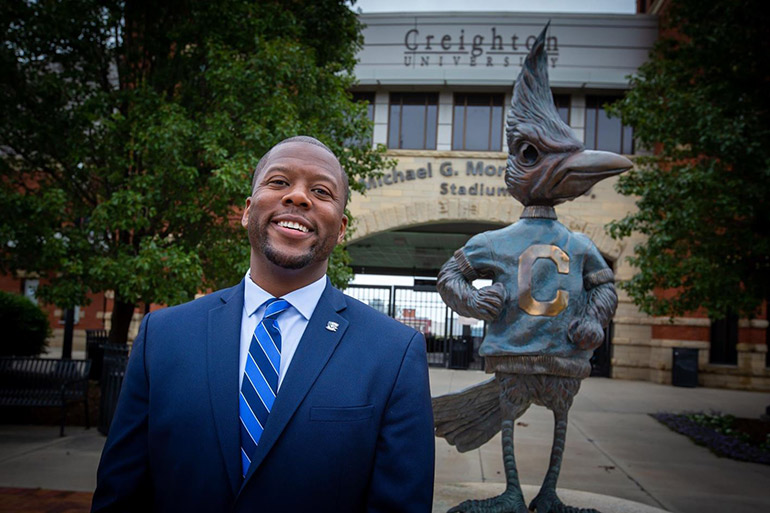 Passing of the torch
In August, Marcus Blossom was named the new McCormick Endowed Athletic Director at Creighton. This came just a few weeks after Creighton Athletics' longtime leader Bruce Rasmussen announced his retirement after 41 years at Creighton and 27 years as AD.
In the fall, the University honored a legend and ushered in a new era for Creighton Athletics.
FALL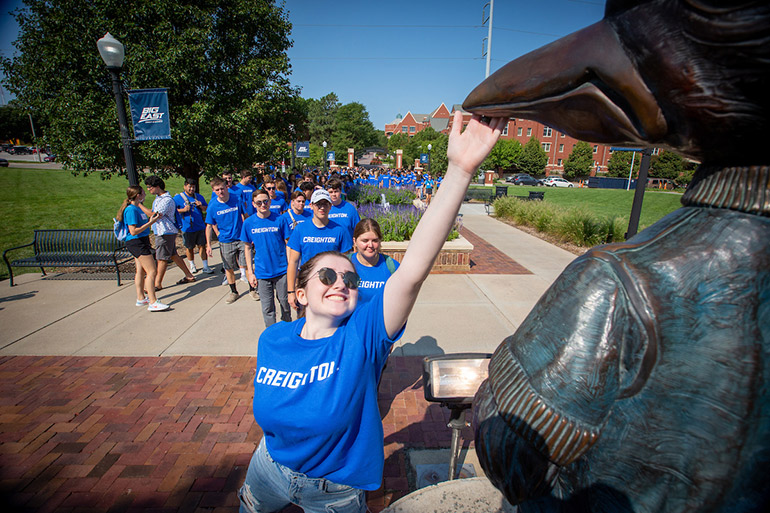 Continued growth
This semester, Creighton welcomed the second-largest freshman class in the University's history — 1,130 first-year students. More than 40% of students in the freshman class came to Creighton from more than 300 miles away!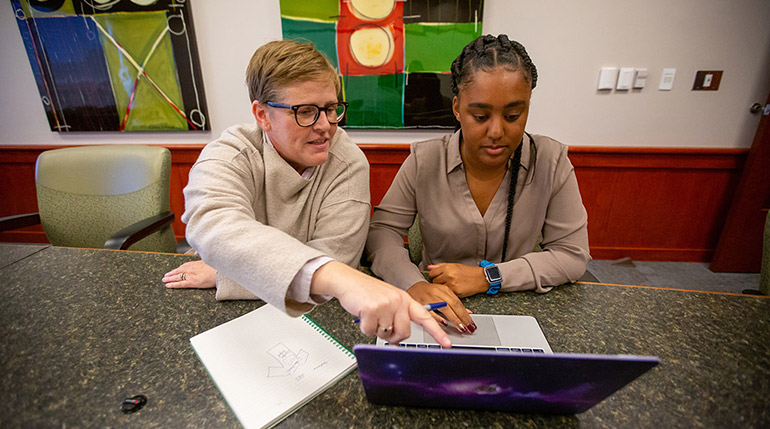 Juvenile Justice Clinic
In the fall, Creighton's School of Law launched the Juvenile Justice Clinic — a grant-funded initiative helping to fill a vital need in the community: dedicated and holistic legal representation for Douglas County youth.
The clinic serves as a small law firm, providing opportunities for both classroom learning and real-world experiences for third-year law students. The student-attorneys will provide free legal services for youth with open cases in the Separate Juvenile Court of Douglas County.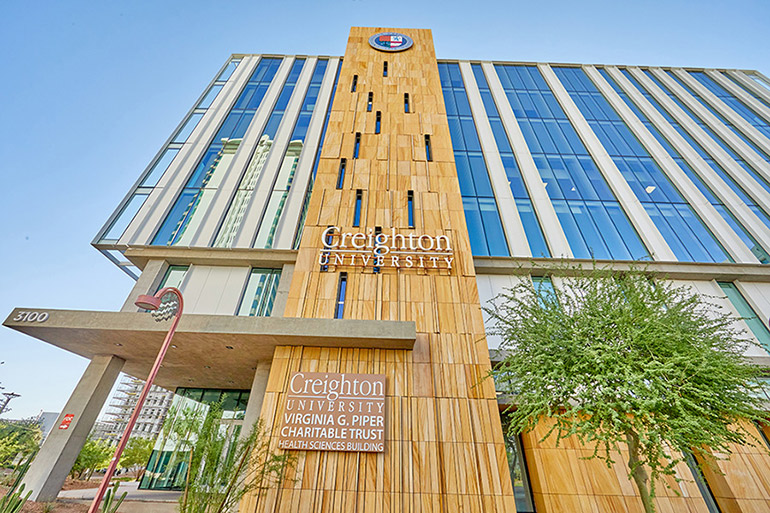 Creighton's new campus
In September, Creighton inaugurated one of the largest expansions in its history — with the grand opening of the Virginia G. Piper Charitable Trust Health Sciences Building, home of the Creighton Health Sciences Campus – Phoenix.
The nearly $100 million facility makes Creighton the nation's only Catholic university with two comprehensive health sciences campuses, educating more health professions students than any other Catholic university. The campus will accommodate nearly 900 students.
This moment was made possible by the transformative gifts of multiple families and community partners.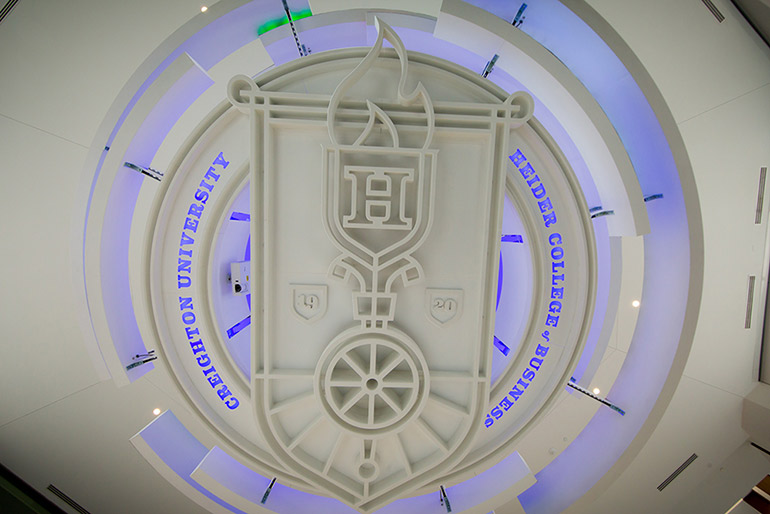 Creighton business reimagined
This fall, the University celebrated 100 years of Creighton business and the incredible strides the Heider College of Business has made since becoming Creighton's first named school or college in 2013.
Since then, the Heider College of Business has grown significantly. Enrollment has surged 75%, with 4 in 5 students coming to Creighton from outside Omaha. With rapid growth came new challenges, and the business college met the moment with a bold reimagining of the Harper Center, and a new Mindset Curriculum that prepares students for a lifetime of leadership.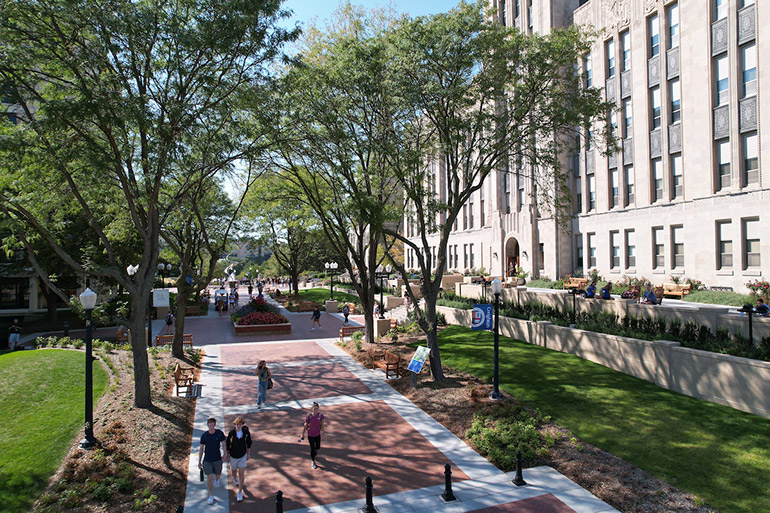 Rankings and recognition
In U.S. News & World Report's 2022 "Best Colleges" rankings released in September, Creighton ranked No. 103 in the prestigious National Universities category, putting the University in the top third of national universities.
Creighton received several other national rankings, including:
— No. 13 in the Undergraduate Teaching category. Creighton's was the only program in Nebraska recognized in this category.
— No. 43 in nursing programs, out of 658 institutions nationally.
— Among the top 20% of business schools across the country.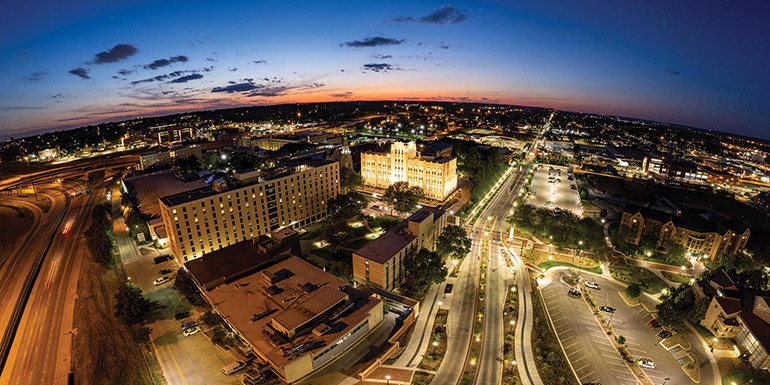 Forward Blue
In October, Creighton launched the largest and most ambitious fundraising campaign in the University's history — Forward Blue.
During a transformational time for Creighton, Forward Blue celebrates our traditions and values, while raising funds to ensure that they endure for generations to come.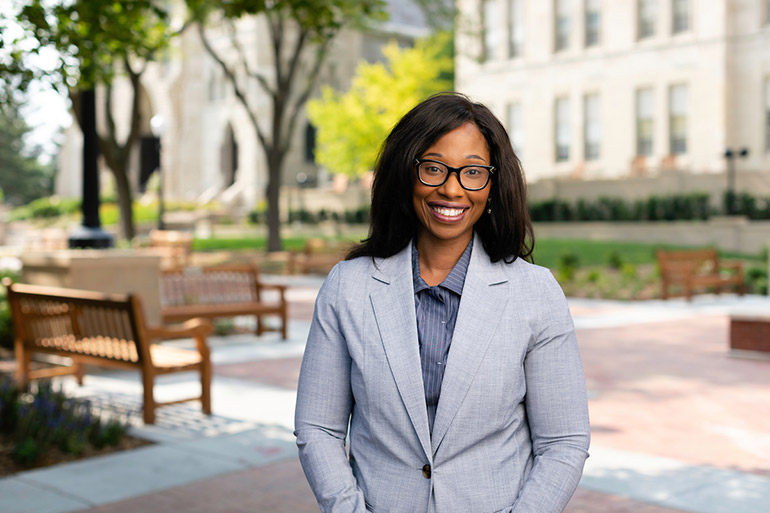 New VP of Equity, Diversity and Inclusion
In November, Sarah Walker, PhD — professor in the Heider College of Business — was named vice president of the Division of Equity, Diversity and Inclusion (EDI) at Creighton.
Walker, who had served as the interim VP since March, has worked extensively to identify and organize foundational elements for EDI at Creighton, helping to create a more diverse and inclusive campus for all. Initiatives so far include changes to programming, academic advising and orientation for undergraduates, and comprehensive feedback of faculty and staff.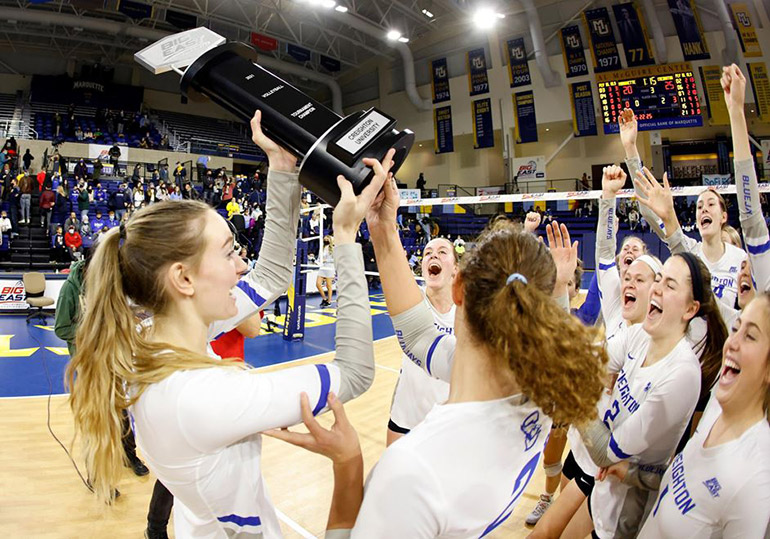 Seventh BIG EAST title
In November, Creighton's volleyball team won its seventh BIG EAST Tournament in eight years, with a 3-0 win at Marquette. It was Creighton's 13th straight win and school-record 30th of the season, and it sent the program to the NCAA Tournament for the 11th time.
* * *
Want to make 2022 a great year, too? Support Creighton students with a gift to scholarships, mission, academics or any other number of areas. Whatever Creighton cause means the most to you!