Featured Testimonial About Creighton University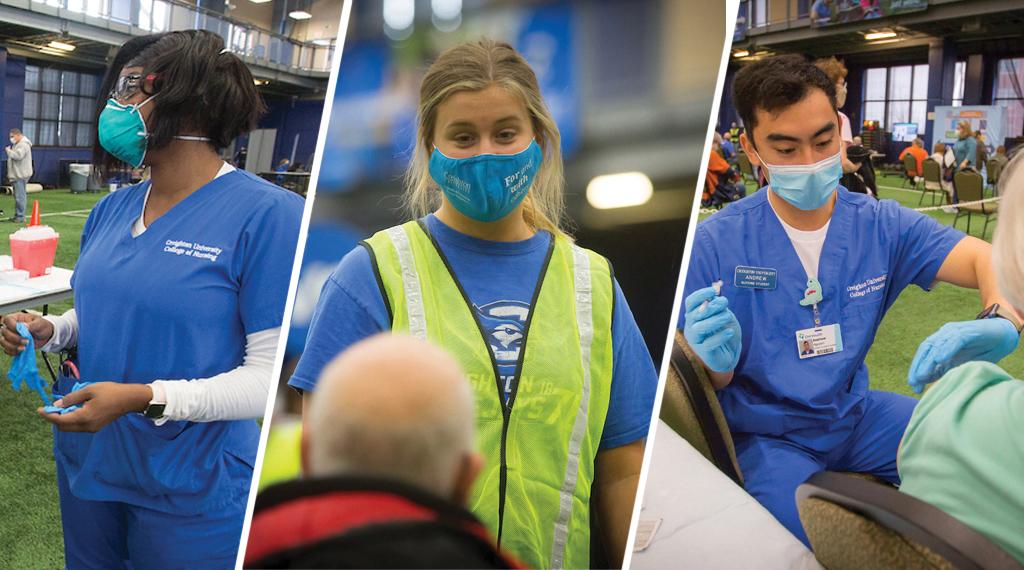 This is going to be a part of history. I want to do my part and make a difference
20,000 and counting.
It's an incredible number that grows every weekend. Since opening in February, the COVID-19 Community Clinic in the Rasmussen Center — which Creighton is hosting in partnership with the Douglas County Health Department — has administered more than 20,000 vaccines. For each of the past few Saturdays alone, more than 4,500 people have received doses.
It takes a lot of volunteers to run this clinic. More than 1,500 volunteer shifts have been worked so far, with hundreds of Creighton students, faculty, staff and alumni (both from the health sciences and not) helping to get Douglas County vaccinated.
The administration of the vaccine shots themselves wouldn't be possible without the help of our student volunteers from multiple health professions.
Their service to others is saving lives — allowing them to play an essential role in a historic moment, both for Creighton and the country.
We spoke with several of the student volunteers about their experiences at Creighton and working in the vaccine clinic.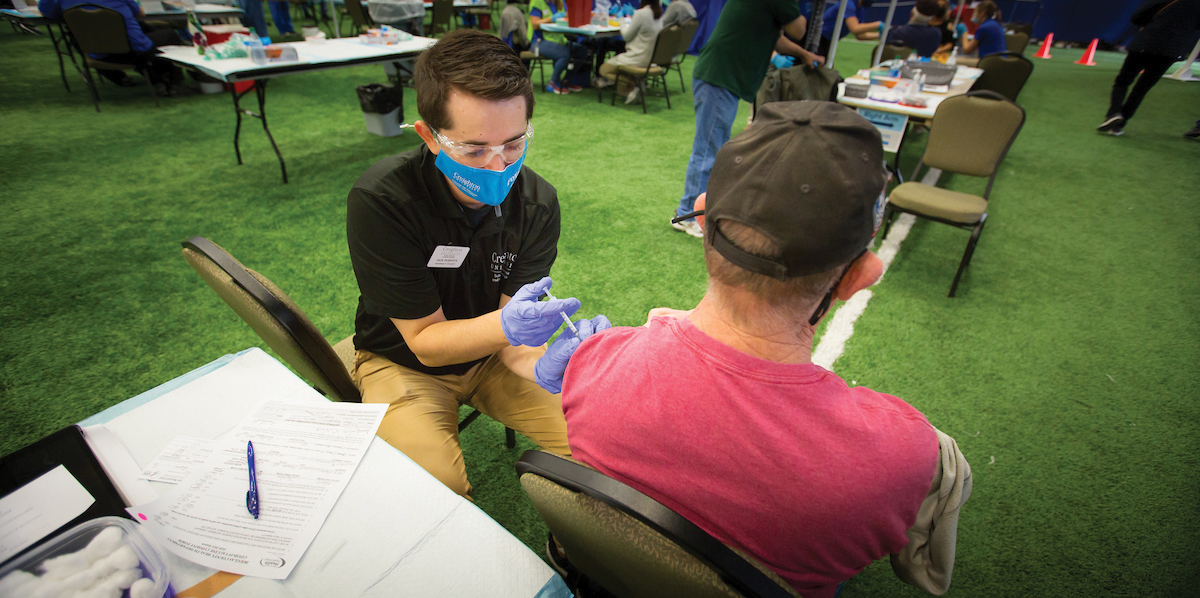 SPAHP
'It Feels Pretty Special'
As guests rolled up their sleeves at one of 24 stations inside the clinic, many expressed their gratefulness to the health sciences students administering the vaccination.
Jack Roberts, a second-year pharmacy student from Sheridan, Wyoming, could certainly understand their enthusiasm. The vaccine not only provides important protection from the deadly virus, but a measure of freedom and a pathway back to normalcy.
But Roberts said he is equally grateful – for this opportunity to serve the community and to hone his professional skills.
"For me and my classmates," he said, "I think a lot of us jump at any opportunity to go out and meet and care for real people. And to be part of a monumental effort to get the Omaha community vaccinated, it feels pretty special."
Roberts' goal is to eventually practice in an ambulatory care setting, where he can develop relationships with patients and be part of a health care team. To that end, the hands-on experience at the clinic has been invaluable.
"You really learn things, and they become concrete when you go out and do it," he said. "I'm thankful that we had the opportunity to be here, and to be able to do this."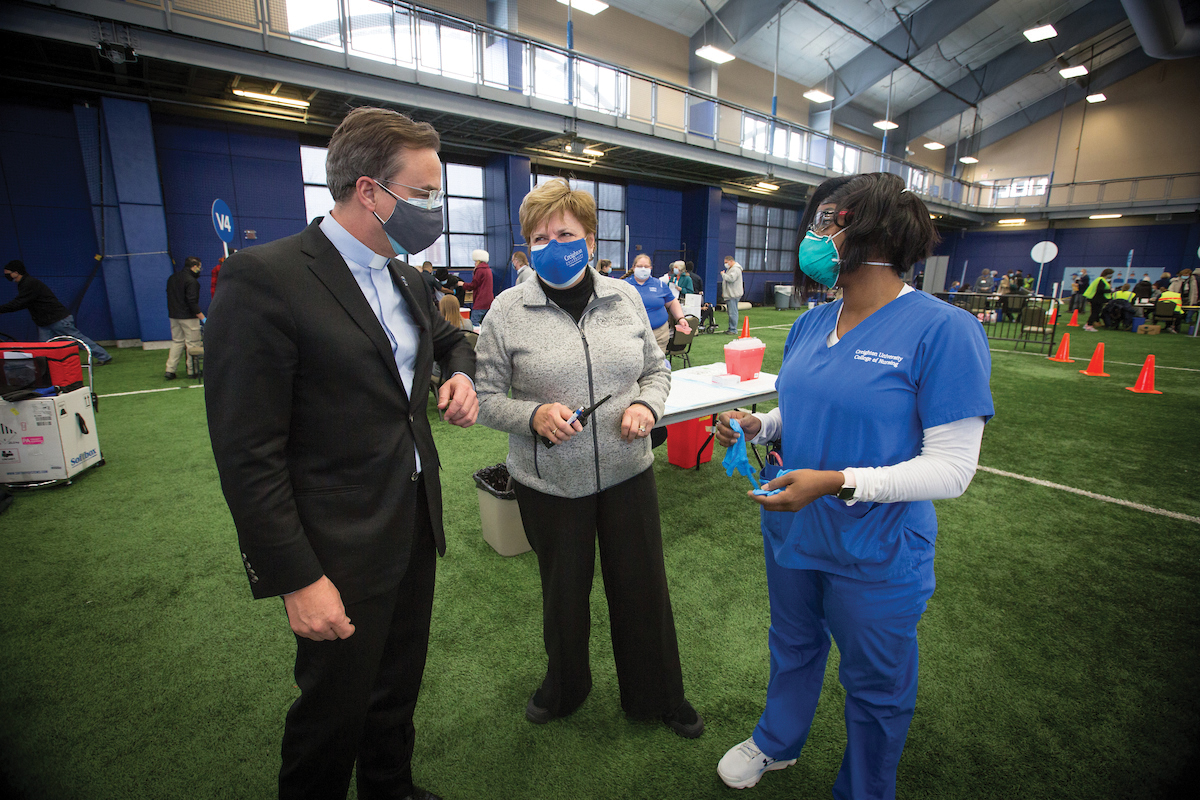 NURSING
A Call to Serve
For Annie Carter, nursing is a second chapter in a life of service.
Before becoming a student in the College of Nursing's accelerated one-year program, she was a master sergeant in the U.S. Air Force, serving more than 16 years at the Offutt Air Force Base. She recently retired to fulfill a dream she's had since she was 15.
She chose Creighton for her nursing degree because the University's Jesuit values align strongly with her passion for serving the community.
"And this right here," Carter said, gesturing to the clinic around her, "is another example of Creighton serving the community and helping as many people as we can."
In addition to her growing health care skills, Carter has brought to the clinic a fluency in two languages that aren't English.
In the Air Force, she served as an airborne cryptologic language analyst for Spanish and Mandarin Chinese.
"For all the different people coming into the clinic," she said, "it's been great to help diverse populations of patients with their native language. I'm so happy to help people get their vaccines."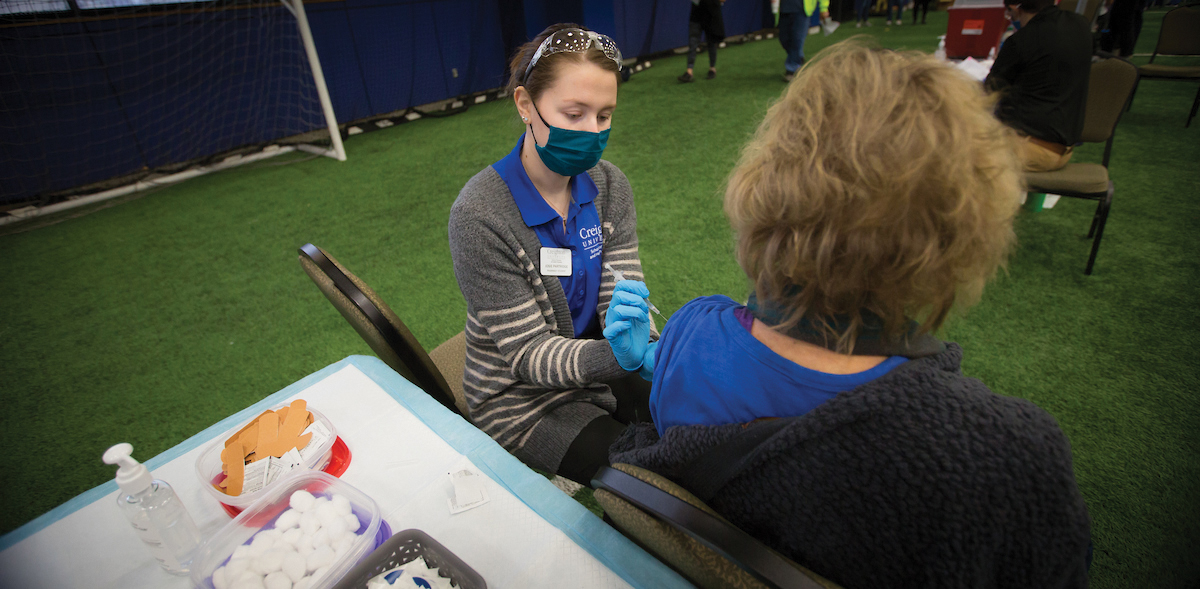 SPAHP
'A Part of History'
Josie Partridge, a first-year pharmacy student from Castle Rock, Washington, has volunteered at the clinic almost every Saturday so far, and she's excited to do more.
"I think I'm going to be here as long as this is open," Partridge said. "It's so much fun to be here, and to be a part of history. I know I'm doing my part. It may be a little part, but I'm trying to make a difference."
In addition to volunteering at the clinic, Partridge juggles school and a job at the Hy-Vee pharmacy in Papillion, Nebraska. Volunteering at the clinic, she said, has helped her be more comfortable interacting with patients at the pharmacy.
"It's been good to practice talking to patients because sometimes I know that I get a little nervous," Partridge said.
Administering anywhere from 65 to 80 shots at each clinic has also given her more confidence in that skill.
"I really love seeing the patients come through and say, 'I'm so excited to get my vaccine!'
"It's really rewarding. I know eventually, one day, I want to tell my grandchildren, 'Yeah, I gave out a bunch of COVID shots.'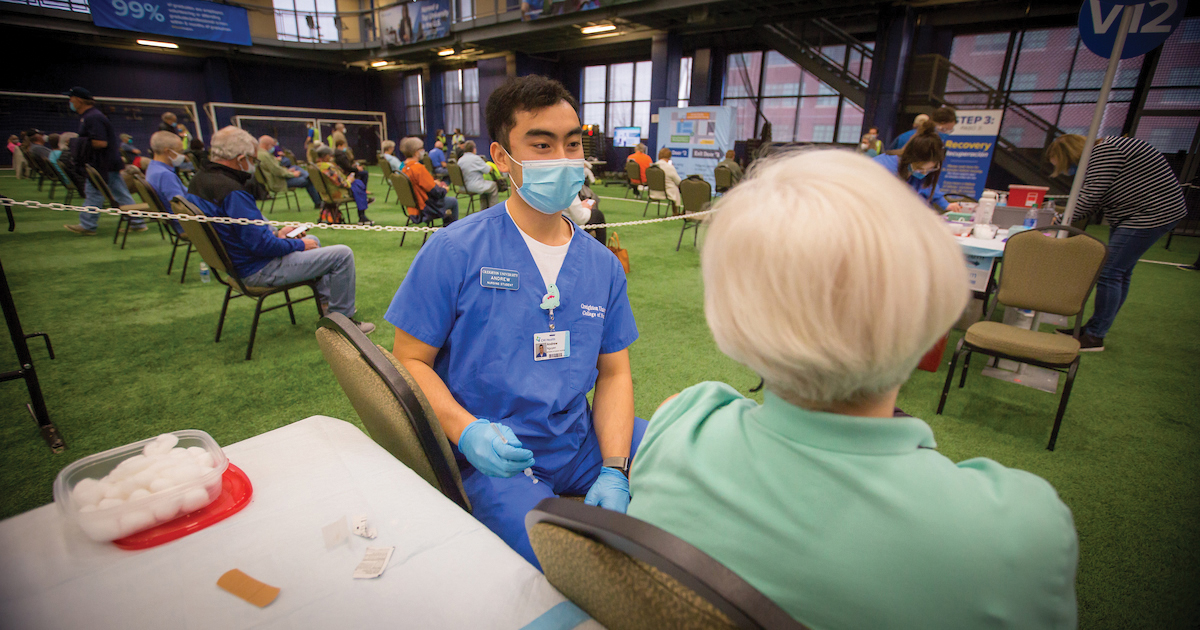 NURSING
'I Want to Get Everyone Back to Normal'
Andrew Nguyen, a junior nursing student from Sacramento, California, was drawn to the nursing profession at an early age, when he saw how nurses were helping his mother in her successful battle against cancer.
Nguyen said he was around 8 years old when his mother, Cindy, was diagnosed with Stage 4 colon cancer. "She survived, which is amazing," he said.
He would often join his mother during her trips to the hospital for chemotherapy treatments. "Being around all the nurses, and seeing what they did for my mom made me want to become a nurse," Nguyen said. "I became pretty friendly with all the nurses on the oncology floor."
Nguyen was drawn to Creighton because of its Jesuit values, including cura personalis, or care of the individual – something he's found in the faculty at Creighton.
Now he's looking to pay that back – through his service at the vaccine clinic.
"I just really want to help out the community," he said. "I know people have been really struggling. I want to get everyone back to normal again."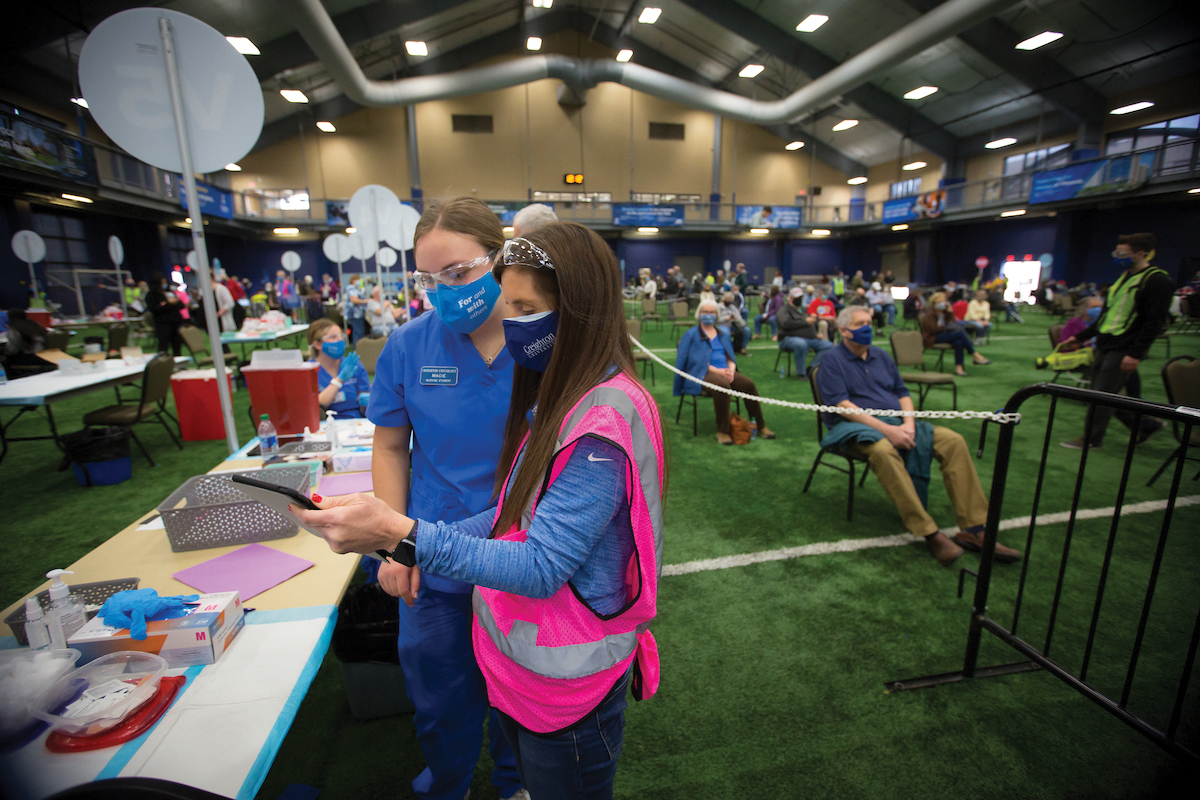 NURSING
'I Feel Honored'
Macie Hanka, a junior nursing student from Delano, Minnesota, said volunteering as an immunizer at the clinic is something she'll remember for the rest of her life.
"The global pandemic is something we'll talk about our whole lives," Hanka said. "I feel really honored that I get to be an important part of it and say that I gave people the vaccine."
Hanka was grateful to be working with students from other health sciences programs at Creighton, who were preparing the vaccines and delivering the prepared needles to her vaccination station.
She estimated she had given about 100 shots during her shift. "So, I got lots of practice with that," she said. "This also helped strengthen my communication skills, talking to people and making sure they were comfortable."
Hanka said her Creighton nursing education has been rigorous, but she wouldn't want it any other way.
"The classes are hard, and the labs and clinics give you great experience," she said. "It's definitely rigorous, but I think it will make me a better nurse."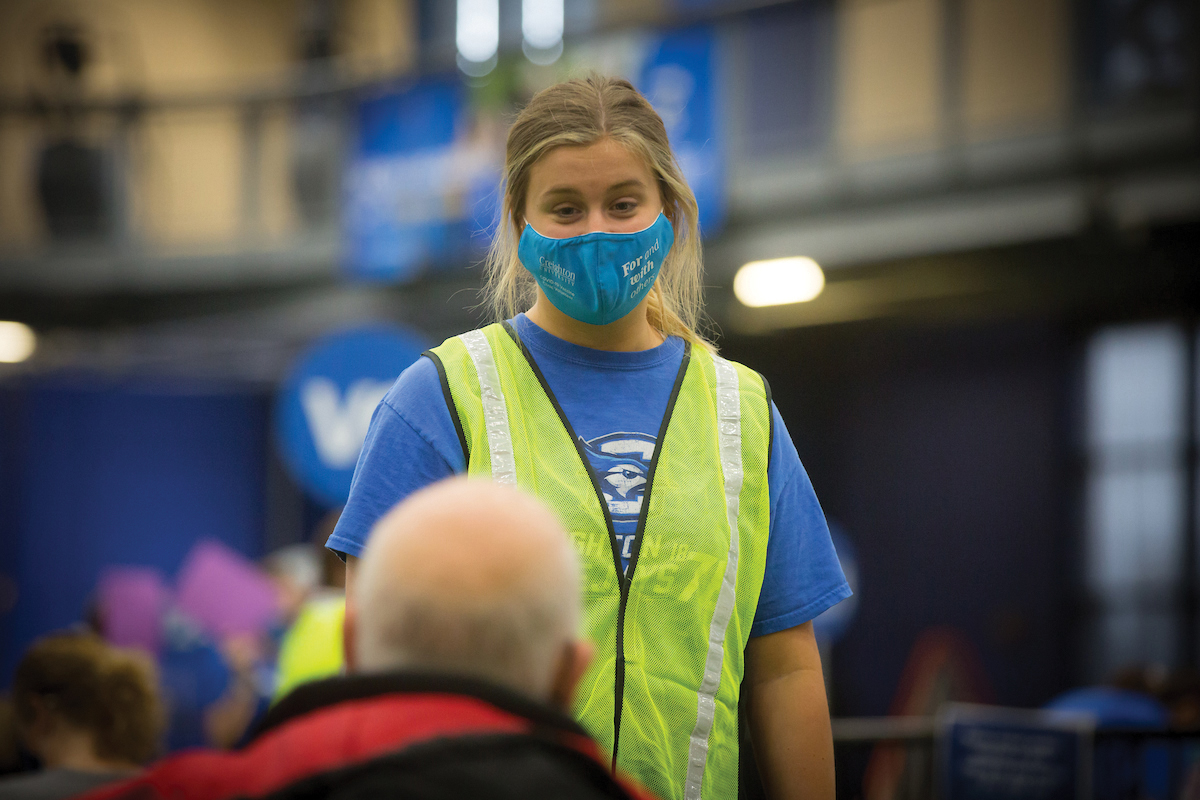 CCAS
'COVID a Big Part of Our Lives'
Greta Purcell, a sophomore exercise science major from Omaha Skutt Catholic High School, was checking on patients in the clinic's post-vaccine recovery and observation area when a round of applause broke out among the just-vaccinated guests.
"Somebody started a round of applause for all the volunteers and the workers, which is really sweet," Purcell said. "They're very grateful, and they're really impressed with our clinic. I've gotten a lot of comments that it's very organized and that they're in and out in a timely manner.
Purcell's faculty advisor, Jennifer Yee, BA'96, an instructor in exercise science and pre-health professions, has volunteered every Saturday at the Creighton clinic. She said many of her students have volunteered, as well, performing a variety of duties.
"It makes me proud as a faculty member to know that our students are willing to volunteer their time on a Saturday, and serve our community in this time of need," Yee said.
Purcell said she was appreciative of the opportunity to give back, and to do something positive in light of all the challenges faced during the pandemic.
"COVID has been such a big part of our lives for the last year," she said. "It's cool to see the direct benefits of the vaccine, and the hope that this brings to a lot of people."
Purcell, who wants to become a physical therapist, said the best part of her day was talking with the patients and hearing their stories.
"It's nice to walk around and see a lot of hope. You can see there's a lot of relief."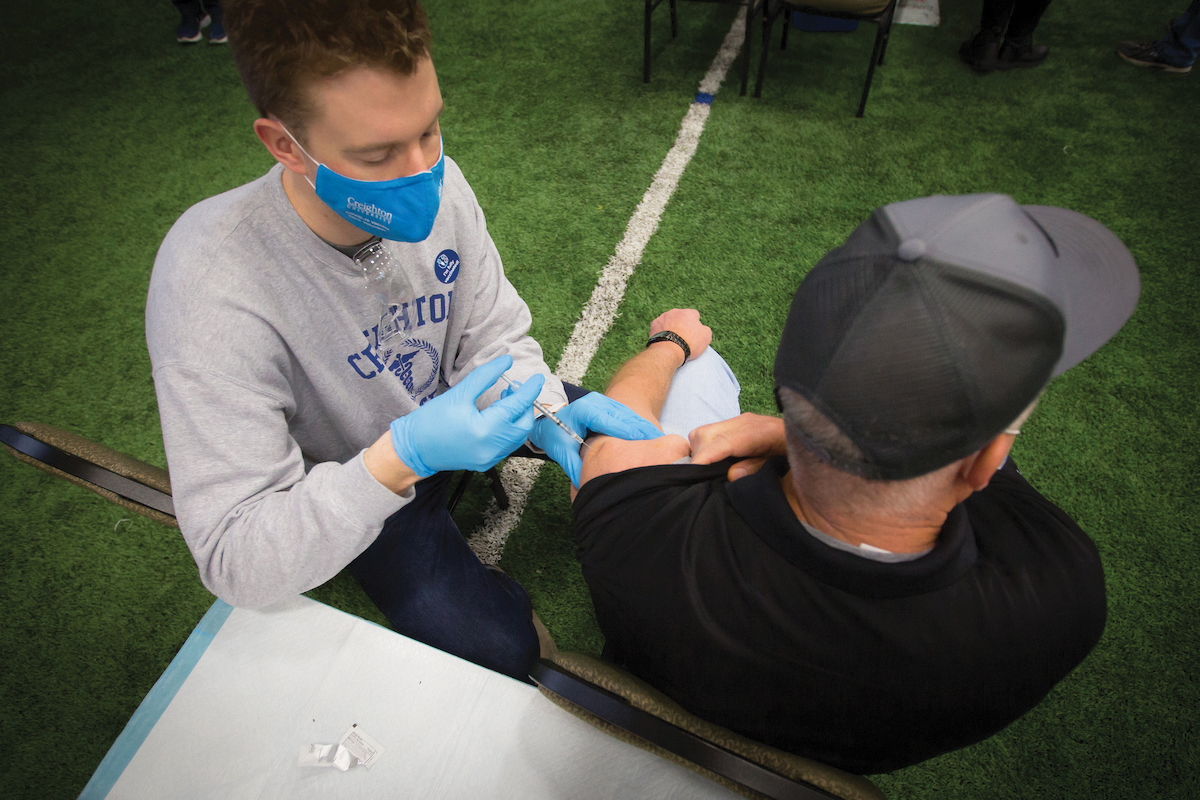 MEDICINE/EMS
'Defining Event of Our Time'
Brett Boggust has an emergency medical services degree from Creighton and is now working on his medical degree. He's volunteered as an immunizer on multiple Saturdays at the vaccine clinic.
"This is historic, and I think it's something that my generation is going to look back on as one of the defining events of our time," Boggust said. "It's such a simple thing, to get the shots and prevent illness."
The Rochester, Minnesota, native earned his bachelor's degree in emergency medical services at Creighton in 2019, and then worked as a paramedic for a time before beginning medical school this past fall. While the pace of medical school has been intense, he said his EMS degree prepared him well.
"It was the best thing I could have chosen to do for undergrad," Boggust said. "The experience of taking care of patients and making clinical decisions was the best preparation for medical school that I ever could have possibly had."
Boggust said he's been interested in a career in medicine since high school, and is following in his father's footsteps. His dad, Andy Boggust, earned his undergraduate and medical degrees from Creighton and is currently an emergency medicine physician at Mayo Clinic in Rochester.
"I'm pretty focused on emergency medicine as a specialty, too," Brett said. "And my paramedic background, I think, will really help me."
So will his time at the COVID-19 clinic – providing perspective on the ultimate goal of the health professions — serving patients and improving lives.
"It's nice to get out and see real patients with real lives, and hear things like, 'I'm so excited to go and hug my grandkids.'"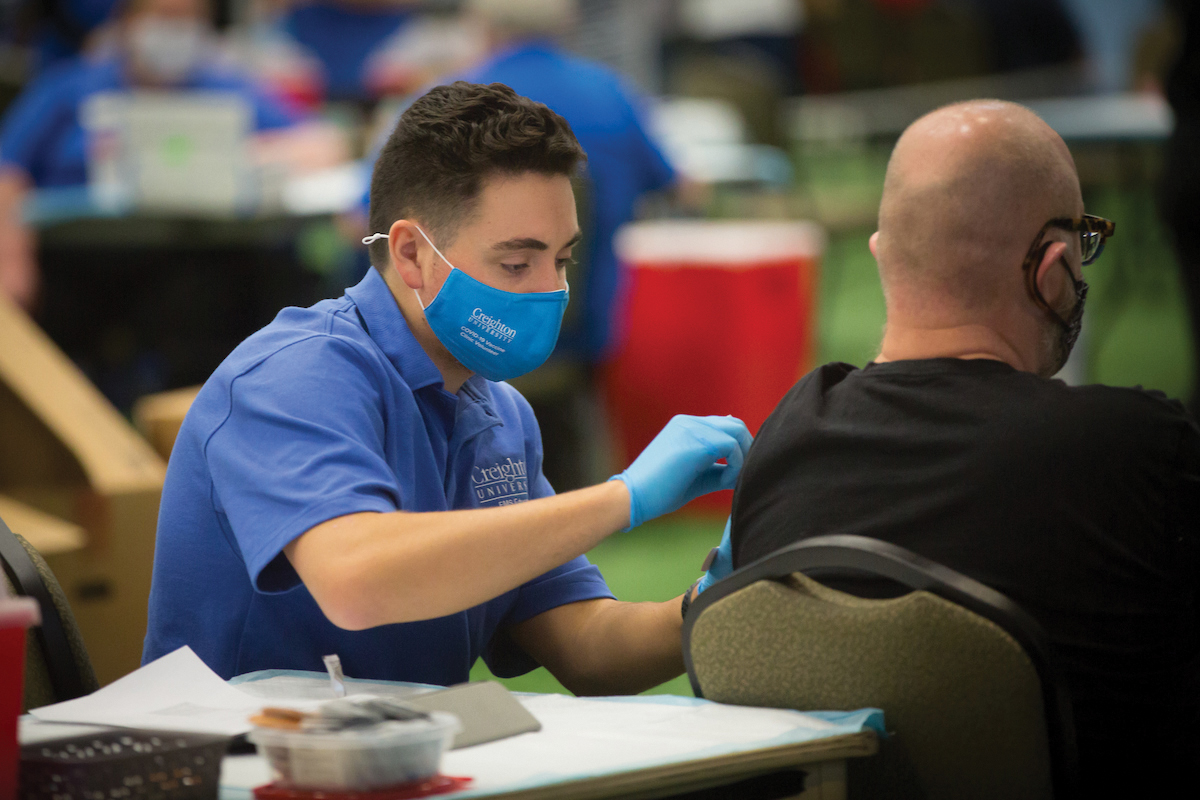 EMS
'Definitely Scary'
Volunteering at the clinic is personal for 2019 EMS graduate Luke Wiedmayer. His parents and brother contracted the virus earlier this year.
"They're all OK; they made it out all right, fortunately enough," Wiedmayer said. "I was with them when they were going through it. It was definitely a little scary."
Wiedmayer never contracted the virus, and is grateful that his family never developed severe symptoms.
Now, he's paying it back at the vaccine clinic – giving others some peace of mind.
"Being able to do this and get people vaccinated is a great thing."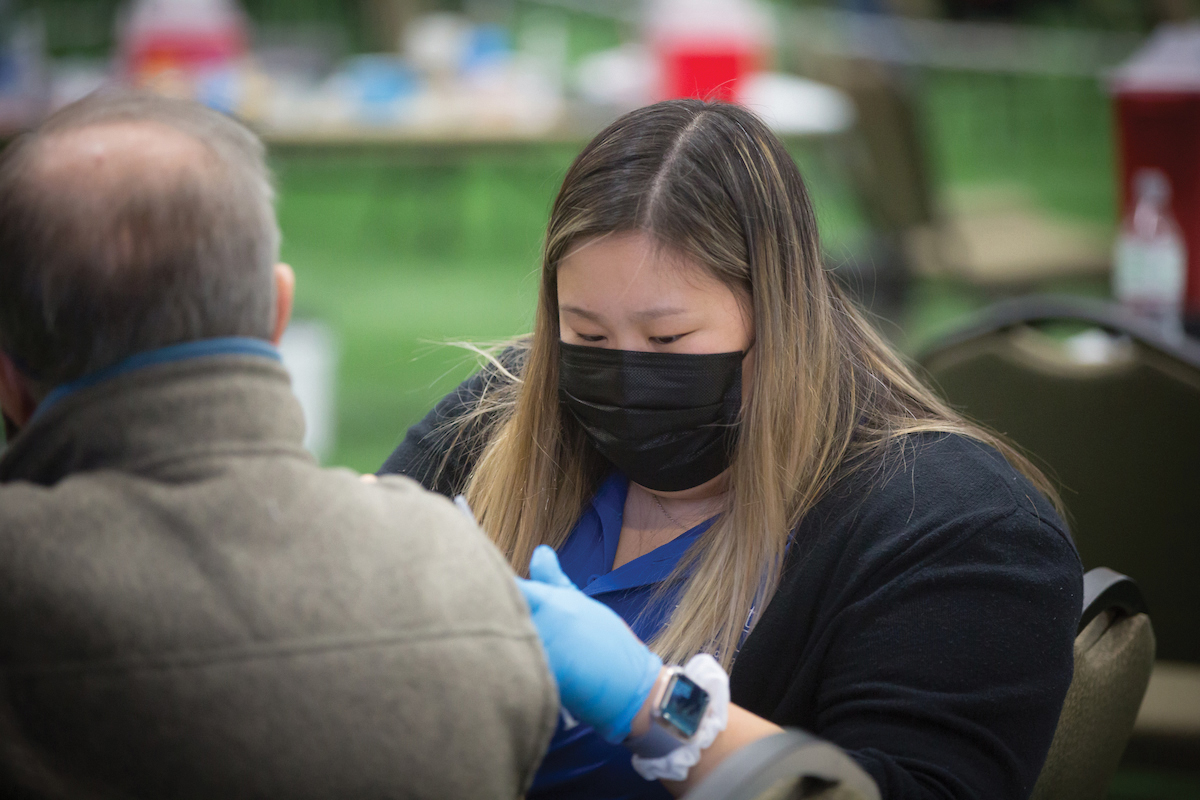 EMS
'My Way to Repay the Community'
Sarah Knight and Tina Zhang, seniors in Creighton's undergraduate program in emergency medical services, worked side by side at the COVID-19 community vaccine clinic at Creighton, gladly sharing their time and talents.
"I'm a paramedic," said Zhang. "And you don't get into this field unless you want to care for people and give back to your community. Doing this COVID clinic is my part of giving back to what Creighton and the Omaha community have given me."
Knight said the opportunity for students to volunteer at the clinic is one of the many ways a Creighton education extends beyond the classroom and into the community.
"It's easy to get caught up in the textbooks, but to see how you can make an impact … it's incredible," she said.
Zhang, who also serves as an adjunct instructor in Creighton's 16-week Emergency Medical Technician (EMT) program, said the clinic is an extension of Creighton's Jesuit mission to serve others, especially during times of great need.
"I think everyone realizes this is a step in the right direction to getting things back to normal," Zhang said. "And it's not just about the patients' physical health; it's their social health and mental health. It's that holistic view of caring for the whole person that's so important here at Creighton."
Knight, who is from Peoria, Illinois, will graduate with her bachelor's degree in EMS with a minor in neuroscience. Zhang, who is from Seattle, Washington, is graduating with a bachelor's in EMS with a minor in health administration and policy. She is also currently serving as a paramedic with the Hamburg, Iowa, Fire and Rescue.

NURSING
'It's Really Uplifting'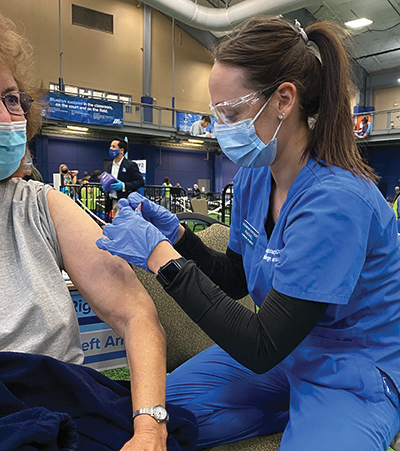 Six months into Creighton's yearlong accelerated Bachelor of Science in Nursing degree program, Rachel Whipple is not only gaining the skills, confidence and knowledge to be a practice-ready nurse; she is also combating a deadly virus.
And making a major difference in people's lives.
"A lot of people are in here getting their shots so they can see their new grandbabies or go travel," said Whipple, during a break between patients at the vaccine clinic.
"It's really uplifting. They get this sense of freedom now that they have the vaccine."
Whipple was one of more than 200 Creighton health sciences students volunteering at the clinic on Feb. 27, preparing and administering vaccine, answering questions, assisting in the patient recovery area and performing other duties. Another 123 nonclinical volunteers from Creighton – students, faculty and staff – were on hand to assist the more than 3,600 guests that day, as well.
The clinic has given Whipple and other health sciences students an opportunity to sharpen their skills and interact with patients, under the guidance of faculty mentors.
"It definitely helps us with our clinical skills," Whipple said. "But it also helps us with our communication skills and getting that patient interaction that has been difficult to get with COVID, because we're not always in a clinical setting."
Whipple expects to graduate with her nursing degree in August. After, she plans to return home to Colorado, where she hopes to begin a career as a neonatal intensive care or emergency room nurse.

SPAHP
Feeling at Home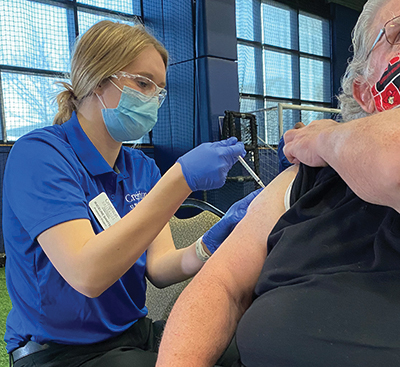 Administering the life-giving COVID-19 vaccine to the exposed shoulders of nervous patients sometimes requires tending to frayed nerves first.
And second-year Creighton pharmacy student Madeline Shaffer has just the prescription: a healthy dose of warm smiles and friendly conversation.
"I usually start with, 'How's your day going? What's going on.' Make it a little more personable," said Shaffer, as she waited for another patient at her vaccination station at the clinic.
"I try to make it as genuine and caring as possible, and make them feel at home."
Shaffer, herself, certainly feels at home – in Omaha, at Creighton, in serving others and in pursuing her career dreams.
She's an Omaha native, graduated from Marian High School. She's a legacy student – both of her parents are Creighton pharmacy graduates, Christopher Shaffer, PharmD'93, and Catherine Shaffer, BSPha'93.
She's worked as a pharmacy technician and now a pharmacy intern at Methodist Women's Hospital. And she's generous in sharing her gifts and talents – volunteering at Creighton's Shoo the Flu clinics on campus and the Magis Clinic at the Siena Francis House homeless shelter.
These service opportunities are not only allowing her to give back to her hometown, but are enhancing her professional education.
"I think that's something that Creighton offers," Shaffer said. "You are put into these real-life situations that I feel will help better prepare me for my future career."

SPAHP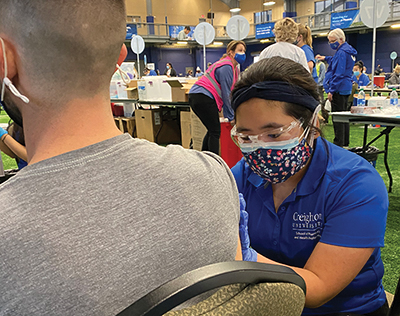 'One Step Closer'
Marielle Wong, a first-year Creighton pharmacy student from Honolulu, Hawaii, has an affection for Omaha's changing seasons and its people, and she's glad she could do her part to help the community during the pandemic.
"It's been really fulfilling seeing all of these patients, and knowing that they're getting us one step closer to helping our community be COVID-free," said Wong, who has volunteered at the clinic as a vaccine preparer and a vaccinator.
She enjoyed the opportunity to talk with patients and hear their stories.
"I had one patient who was super excited to go see their grandson in a couple of weeks, because they got their second dose," Wong said. "It's awesome that now that we have this vaccine, we have an opportunity to reconnect with loved ones again."

EMS
'People are People'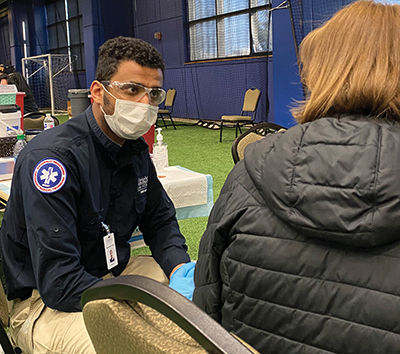 Saleh Al Sari's hometown of Abha, a city in southwestern Saudi Arabia, is thousands of miles from Omaha, but the global spread of the COVID-19 virus and its effects hit home, even inside Creighton's Rasmussen Center.
"People are people," said Al Sari, a senior in Creighton's Bachelor of Science in Emergency Medical Services (EMS) program, "and all of us have been affected by this virus in some way. I'm glad I had this opportunity to help people. I know, under their masks, they are smiling."
Al Sari said he was attracted to Creighton's EMS program because of its reputation as one of the top programs of its kind. He said he has not been disappointed. "The faculty are excellent," he said. "They are very knowledgeable, and do a great job of teaching us the material."
Al Sari looks to pay that back to others. After he graduates, he plans to return to his hometown to teach. And he will be sure to remember the experience at the vaccine clinic.

EMS
'Hope for the Future'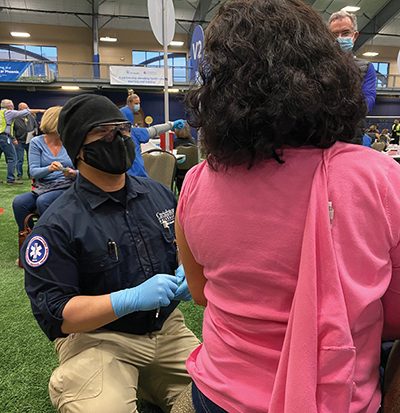 The COVID-19 community vaccine clinic at Creighton has not only provided doses of vaccine, it's provided a good measure of another important medicine: hope.
"It's honestly been great," said Ervin Buhian, a junior in Creighton's Bachelor of Science in Emergency Medical Services program. "I love the reaction when people get the vaccine. You can tell it gives them hope for the future."
Buhian is from American Samoa, a series of islands in the south-central Pacific Ocean, about 2,000 miles southwest of Hawaii, that is an unincorporated U.S. territory. He became a U.S. citizen through his service in the military; he served four years of active duty as an Army combat medic and now serves in the Army Reserves.
His hope is to go to medical school, preferably at Creighton.
Volunteering at the clinic, Buhian said, has not only provided him an opportunity to serve others, it has given him insights into his coming career – working side by side with other future health professionals in a collaborative environment.
"Working in a hospital, it's not just going to be paramedics working by themselves," Buhian said. "It's paramedics working with the nurses in the ER, working with the physicians and so on and so forth.
"Here, I'm working as an EMS immunizer. But I'm also working with the pharmacy students, who are drawing up our medications. I'm working with other volunteers from the nursing program. It really helps me understand what that collaboration looks like and what we can accomplish together."