Meeting a need
When you make a gift to the School of Medicine, you help us meet our greatest areas of need, including scholarships, faculty development, mission, academics, programs and other initiatives that fuel the Creighton experience for some of the best and brightest medical students in the country.
With your support, we will continue to offer our students a truly transformative medical education dedicated to treating the whole person — mind, body and soul.
School of Medicine
A transformative education, dedicated to treating the whole person.
$114m
in care
More than $114 million charitable medical care donated annually by Creighton health sciences and CHI Health-affiliated clinics.
1,000
treated annually
People treated annually at the free, student-run Magis Medical Clinic at Siena Francis House, Omaha's largest homeless shelter.
99%
accepted
99% of students were accepted into residency programs, and 92% of 2022 graduates matched with their specialty of choice.
Meeting the moment
Creighton's School of Medicine stands at a significant moment. We're looking back on more than 125 years of health care education but also looking ahead to the rapidly shifting landscape of our profession.
We are ready to meet the moment. Through our clinical partnerships in Omaha and Phoenix, we are preparing some of the most clinic-ready physicians in the country to help meet a growing need for health care professionals.
As we build upon our expertise in medical education and research, our guiding Jesuit values will continue to show us the way forward — developing women and men of competence and compassion, doing all things for the greater glory of God.
Contact a Director of Development
Michon Marcil Abts
Senior Director of Development, School of Medicine
MichonAbts@creighton.edu
402.280.1138
Katrina Spiess
Senior Director of Development, Heider College of Business and School of Medicine
Kspiess@creighton.edu
402.280.5286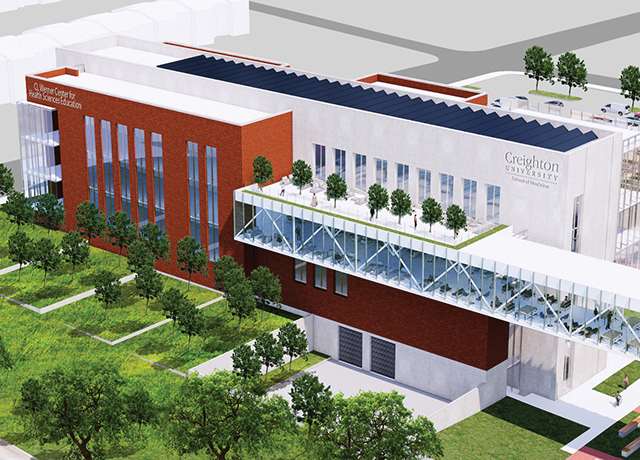 New health sciences building coming to Creighton
Creighton University has announced the CL and Rachel Werner Center for Health Sciences Education and the new home of the Creighton School of Medicine.
Read the story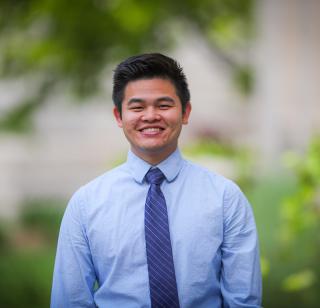 Believing in others
"My affinity toward wanting to improve lives and fighting for the underdog is matched by Creighton, both through service and philanthropy. They give me a reason to believe in others and a way to see their humanity."
— Matthew Taira, BS'15, MS'16, School of Medicine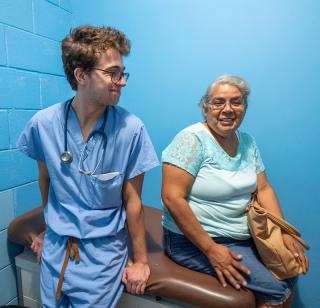 The Jesuit tradition
The School of Medicine offers many service opportunities for our students, including the Magis Clinic, which provides medical services to homeless and underserved residents in the Omaha area. These experiences help our students become competent and compassionate physicians as they help meet the needs of our communities.
Creighton's health sciences campus in Phoenix
The cutting-edge facility will enrich Creighton's Jesuit education and transform health care in the Southwest.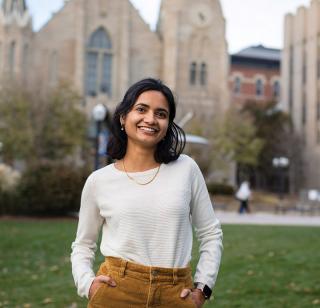 THE PHYSICIAN I WANT TO BE
"I'm now doing rotations, and sometimes, as I watch the physicians at work, I'm moved to tears. In many cases, they're caring for people having some of the worst days of their lives. But after years, even decades working with patients, Creighton physicians still bring that same level of compassion and curiosity to every encounter. The values of this education last for life. "That's the kind of physician I want to be. That's the kind of physician Creighton is preparing me to become."
— Pooja Varman, School of Medicine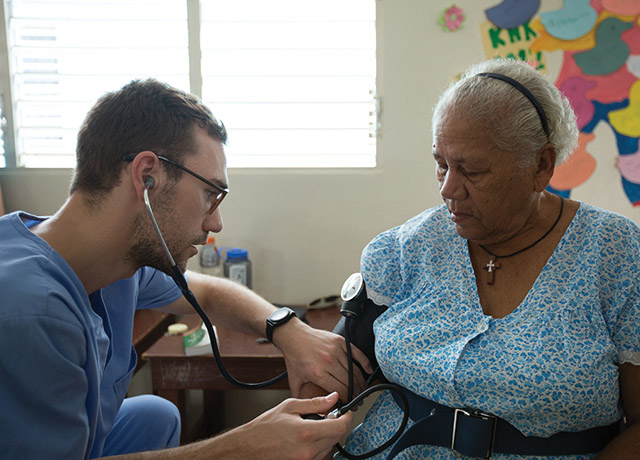 $25 million gift creates new Creighton program with global reach
Creighton University has received a $25 million gift for the establishment of the Arrupe Global Scholars and Partnerships Program.
Read the story