An essential program
At Creighton, we're committed to helping communities local and global, to improving the lives of our most vulnerable, wherever they are, however we can.
Nearly half the world's population — more than 3 billion people — live on less than $2.50 a day. For billions of people in developing countries, access to essential surgical care is limited or even non-existent.
Through the School of Medicine's Global Surgery Fellowship Program, we're serving the underserved in communities direly in need of quality surgical care.
School of Medicine
A transformative education, dedicated to treating the whole person.
$114m
in care
More than $114 million charitable medical care donated annually by Creighton health sciences and CHI Health-affiliated clinics.
1,000
treated annually
People treated annually at the free, student-run Magis Medical Clinic at Siena Francis House, Omaha's largest homeless shelter.
96%
matched
School of Medicine graduates matched with their specialties of choice.
Fighting for systemic change
In the program, fellows in their second year will guide essential operations in a developing country, providing free surgery and training local practitioners to continue this quality care beyond the fellow's stay.
Fellow by fellow, patient by patient, we are fighting for systemic change. We are fighting against a worldwide disparity in access to surgical care.
The Global Surgery Fellowship Program is a truly transformative effort with far-reaching effects. When you support the program, you're not only contributing to an invaluable real-world experience for our fellows. You're helping us save lives and bring vital care to communities most in need.
We thank you for your support and your compassion.
Contact a Director of Development
Michon Marcil Abts
Senior Director of Development, School of Medicine
MichonAbts@creighton.edu
402.280.1138
Katrina Spiess
Senior Director of Development, Heider College of Business and School of Medicine
Kspiess@creighton.edu
402.280.5286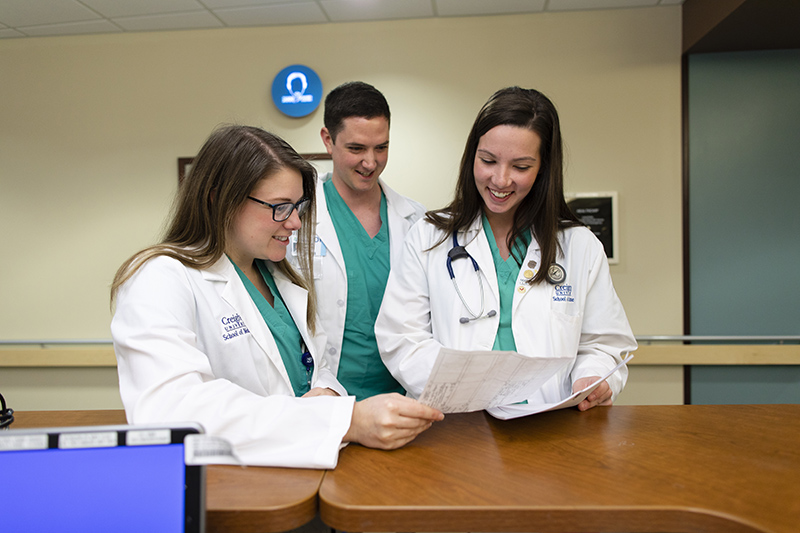 The future of care
Creighton's School of Medicine stands at a significant moment. We're looking back on more than 125 years of health care education but also looking ahead to the rapidly shifting landscape of our profession.
We are ready to meet the moment. Through our clinical partnerships in Omaha and Phoenix, we are preparing some of the most clinic-ready physicians in the country to help meet a growing need for health care professionals.
As we build upon our expertise in medical education and research, our guiding Jesuit values will continue to show us the way forward — developing women and men of competence and compassion, doing all things for the greater glory of God.