Featured Testimonial About Creighton University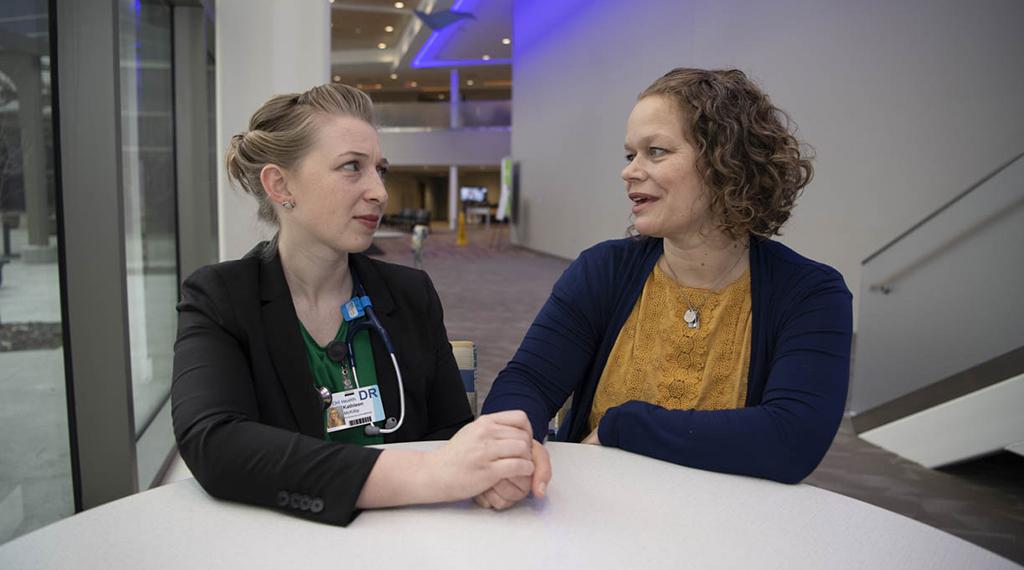 In the School of Medicine, we're in the business of character formation. We don't want Creighton to be known for doing the same thing as everyone else. We want to be bold.

Robert "Bo" Dunlay, MD'81
Dean of the School of Medicine
This is a story about the power of stories — to connect human beings, to reach the places that stats, facts and figures can't quite touch.
So, let's begin with a story …
A few years ago, a baby girl named Grace was born with trisomy 18, a chromosomal disorder that comes with serious health problems. Most babies with the condition don't survive birth. Grace, through the aid of heart surgery and other interventions, would live for five months.
Grace's mother, Creighton English professor Brooke Kowalke, PhD, had once been the freshman advisor of Kate McKillip, MD, BA'09. The two had long since lost touch, but now McKillip was completing her residency at the hospital where Grace was being treated.
One late night, McKillip walked into the room and reunited with her former advisor at an intensely difficult moment.
"I remember thinking at the time, 'What can I say that will help?'" says McKillip, now a palliative medicine physician with CHI Health and assistant professor in the School of Medicine. "'What are the words?'"
Fortunately, she found them. They came in the shape of stories.
"I remember when Kate came into the room that night," Kowalke says, "and she sat with me and told me stories about her own life, and they were so helpful. Most people are ready to run from this kind of situation. Kate made a point of meeting me where I was, which was sitting on a bed, holding my daughter, in what ended up being one of the last days of her life."
Medicine couldn't save Grace. But McKillip's stories — her vulnerability, her compassion — helped Kowalke's family through the worst time of their lives.
From this experience, McKillip learned that "a lot of the work we do in health care is not the work of physicians or medicine but the work of human beings. Since then, I've only gained a deeper understanding of how care should unfold when life is fading. Sometimes words help. Sometimes the silence between the words can be just as meaningful."
Grace changed everything — for McKillip as well as Kowalke.
The two women have since stayed in touch and become close colleagues. Now they're channeling what they learned from Grace's story toward a major new effort at Creighton.
McKillip, Kowalke and many others are helping to build up the recently formed Department of Medical Humanities in the School of Medicine. The department plans to foster a higher level of compassionate care and ensure that generations of Creighton-educated physicians can find the right words to any story.
Interconnected
The School of Medicine's Medical Humanities Department operates on a core Creighton value — that we are more than mere molecules, that there's something within each of us that cannot be measured using the tools of science.
And that something needs to be cared for.
What are the medical humanities? Well, they're the humanities … but for medical students (and all other health sciences students).
The department will focus on the disciplines traditionally seen outside the scope of medicine to emphasize the areas of healing that go beyond the physiological.
"We see this as one of the real challenges in 21st century health care going forward," says the Rev. Kevin FitzGerald, SJ, PhD, PhD, the department's inaugural chair. "We are going to need a much richer and more comprehensive understanding of what it means to be human and what it means to be 'well' in order to deliver the kind of care we desire to give."
The idea behind the medical humanities is both as old as Aristotle and a relatively recent trend in higher education. It's the idea that all human knowledge is fundamentally interconnected and should be taught as such. Or, as Albert Einstein put it, that "all religions, arts and sciences are branches of the same tree."
Underlying this pedagogy is the belief that specialization has gone too far. That in countless cases the various disciplines of the arts, humanities and sciences have become walled off from each other. And that it's time to tear those walls down.
Here's the thinking as it pertains to medical care: A more well-rounded health sciences education leads to more well-rounded students and clinicians, and, ultimately, to a deeper sense of compassion between health care providers and their patients.
And the key medium through which this connection is made? Stories.
Through the humanities, physicians learn both how to tell (and contextualize) their own stories and how to more fully understand the narratives of their patients.
On a related note: According to a study published in Science magazine, people who read novels are more likely to develop a cognitive skill called "theory of mind," which places the reader in the headspace of a person with different beliefs, experiences and desires from their own.
Good books, then, can serve as empathy simulations, preparing physicians for the real thing.
This is the power of the medical humanities in microcosm.
A Foundation
"In the School of Medicine, we're in the business of character formation," says Dean Robert "Bo" Dunlay, MD'81. "The medical humanities are going to be essential to that. This new curriculum won't be an add-on. It will be a critical part of the foundation of everything we do.
"We don't want Creighton to be known for doing the same thing as everyone else. We want to be bold, and this is a bold approach to medical education."
The Medical Humanities Department will reflect Creighton's commitment to the liberal arts as the foundation of its nine schools and colleges. The department itself will have a small staff but a long reach. It will team with faculty across all disciplines, drawing upon areas of expertise not traditionally associated with health care.
A few of the early course offerings for first- and second-year medical students:
Death, Health and Dickens, which explores the inextricable ties between social conditions and health as illustrated by the work of Charles Dickens.
The Art of Examination, in which students study works of art to boost their powers of observation and other skills to aid in understanding their patients.
Narratives of Neurodiversity, in which McKillip and Kowalke teach students to better understand and communicate with patients of varying cognitive abilities.
"I think our students are going to love the courses and get a lot out of them," says Tracy Leavelle, PhD, associate professor of history and the inaugural director of the Kingfisher Institute for the Liberal Arts and Professions. "We believe that in addition to having all the scientific and technical expertise that comes with a Creighton medical education, our students will also be enthusiastic about developing these other capacities."
The Kingfisher Institute helped the medical humanities develop its curriculum, as Kingfisher's own mission aligns neatly with the new department. Kingfisher aims to integrate the liberal arts with professional education, to show how the two complement and reinforce each other.
It goes back to that holistic approach to education — the breaking down of barriers between all areas of knowledge. This, Leavelle says, is the heart (mind and soul) of a Creighton education.
Fittingly enough, this rallying of the disciplines goes back to the teachings of Ignatius himself.
"What we're doing here speaks to the Jesuit ideal of contemplation in action," Leavelle says. "Because of our history and values and the vision of our leadership, Creighton has an opportunity to become a national leader in a publicly engaged humanities."
Better Health Outcomes
Here's a question: Why the medical humanities, and why now?
Here's another: Why should medical students — extremely busy, in the thick of learning all that science and tech, studying for exams, training in the clinic — be expected to make time for art, writing, philosophy, etc.? Of what practical use is it?
Each question can be answered by a good number of recent studies. The gist of their findings is this: When physicians are more empathetic, it leads to better health outcomes for their patients.
The National Academies of Sciences, Engineering and Medicine recently released a comprehensive report ("Branches From the Same Tree") that found that, overall, American higher education is moving toward a blend of science and humanities curriculum. The report also argued that when medical training gets a shot of the humanities, students graduate with more empathy and resilience, better communication and observational skills, and a higher tolerance for ambiguity — all in all, well-rounded physicians better able to connect with their patients.
Humanistic physicians get results. Studies published by the U.S. National Library of Medicine have shown that empathy leads to improved health outcomes for patients with cancer, diabetes, depression and even the common cold.
There's also evidence (from the Journal of General Internal Medicine) that medical students educated in the humanities show fewer signs of burnout. Protecting physicians from burnout will be an essential aim of the medical humanities going forward, as recent studies have shown high incidences of physician fatigue, which might be leading to increased medical error, diminished treatment and a looming health care crisis.
According to the National Academy of Medicine, more than half of U.S. physicians experience burnout, a condition defined by a high degree of emotional exhaustion, depersonalization and a low sense of personal accomplishment at work. One study, published in the Mayo Clinic Proceedings, found a rising trend of dissatisfaction among those working in the medical profession, which could worsen the projected shortage of U.S. physicians.
Creighton itself is conducting a study through the medical school to determine whether spending more time and forming deeper connections to patients can boost the well-being of health care professionals.
"When we talk about medical student and physician burnout, I think we're really talking about a crisis of meaning," says Nicole Piemonte, PhD, assistant dean for medical education at Creighton's health sciences campus in Phoenix, where she specializes in the medical humanities.
Too many physicians no longer see meaning in their work, she says. Their patients have become a factory line, every day a grind. The most profound goal of the humanities, Piemonte says, might be to give physicians a new perspective.
"Can we teach doctors compassion through communication skills and reading people better? Sure," she says. "But what we're trying to cultivate with the medical humanities goes beyond that.
"It's an openness — a way of seeing and knowing ourselves, our patients and the world around us."
Living Proof
Iowa oncologist Richard Deming, MD'80, is living proof of how much the humanities can mean to a physician.
Deming, medical director of the Mercy Cancer Center in Des Moines, Iowa, is renowned for his compassion. To connect with his patients, he's drawn upon his humanities education countless times.
"As I've had the opportunity to interact with thousands of cancer patients, I've learned the therapeutic value of just being present with them," he says. "Genuine caring and authentic compassion have a tremendous healing power."
Much of that power comes from knowing the value of the humanities.
"What I gained through my classes on spirituality, theology, philosophy, psychology and literature has had a huge influence on my success as a doctor," he says. "Each of these disciplines has provided me with the insight and vocabulary to connect authentically with patients and to provide healing."
Now Deming wants to help Creighton create more physicians with a firm foundation in the humanities. He's supported the new department by making a significant gift to create an endowed chair. The person in this role will help put Creighton students on the path to becoming empathetic and well-rounded physicians.
One Creighton medical student already well on her way is Pooja Varman.
Varman came to the School of Medicine from Columbia University, where she received a master's in narrative medicine (Columbia's equivalent to the medical humanities).
Varman started out as a "big math nerd" and had originally planned to go all in on the technical side of medicine. But over time — and after many late-night philosophical conversations with high school friends — she was drawn to the medical humanities, in particular the social and psychological determinants of medicine.
When she first interviewed for Creighton medical school, she quickly realized she was in the right place.
"I was in tears by the end of that interview," she says. "It was such a powerful moment when I talked with the faculty member about the University's value of cura personalis. I could tell the School of Medicine cared about looking at the whole person and drawing out the connections between the humanities and how we take care of people."
Varman now serves as one of the medical school's premier champions of the humanities. If she ever feels clinical medicine start to drift away from her other passions, she reminds herself of this: "Who you are as a doctor and who you are as a person don't have to be separate."
Use the tools of the humanities to break down the barriers within.
Make all parts part of the same story.