Featured Testimonial About Creighton University
By Micah Mertes
Here, we continue our list of the many anniversaries Creighton will observe in 2022.
If you haven't yet, be sure to check out Part 1 — 1892-1923 and Part 2 — 1942-1972.

* * *
45 years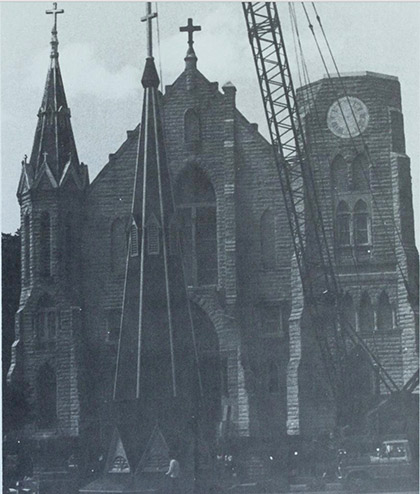 1977 — St. John's is completed
Ninety years after its cornerstone was laid, St. John's Church was finally completed, with the addition of a six-ton, 60-foot aluminum steeple.
The steeple and the hands of the church's clock were a gift from the family of a longtime School of Medicine professor.

1977 — California Street closes to traffic
No more cars through California! Ahead of the fall semester, Creighton closed California Street to traffic, paving the way for construction of the central campus Mall, completed in 1980 and later renamed the Skinner Mall. (Read about the history of the Mall/California Street, including the streetcar that once ran through it.)
In 1978 — the year of Creighton's centennial — the University added the St. John's Fountain to the heart of campus. It was later decided that the fountain should serve as the Mall's highest point. To achieve this, five feet of ground was leveled off in front of Creighton Hall, making the fountain the highest point.
The fountain would grow even taller in 1993, with the addition of the Eternal Flame sculpture.
Plans for the fountain ebbed and flowed in the years between. At one point, seven concrete gargoyles were slated to surround the fountain, and the flame sculpture was supposed to rotate. Complications arose. Plans changed.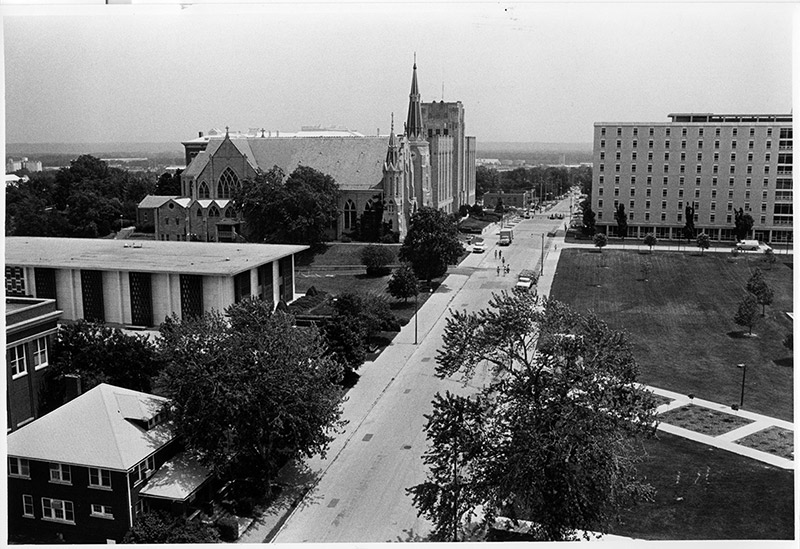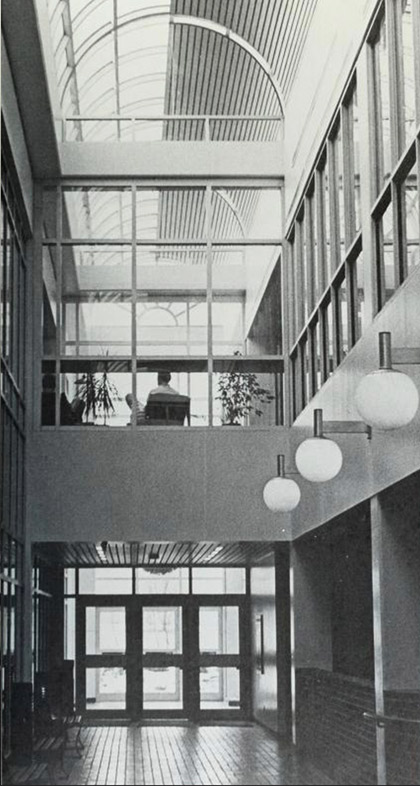 40 years
1982 — Library addition completed
Two decades after its construction, Creighton's library was renovated and renamed the Carl M. Reinert Alumni Memorial Library in honor of the beloved former University president.
Renovations doubled the building's size, added much-needed shelf and study space, seminar rooms, a walkway/commons area under a skylight and more.
There was a construction hitch when renovating the library basement, and it calls back to another anniversary we're observing this year. The fallout shelter in the library's basement was so well-constructed it took longer (and cost more) than expected to tear down.

1982 — Child Care Center opens
In 1982, the University established the Creighton Child Care Center (later renamed the James R. Russell Child Development Center) to meet the childcare needs of parents who are students, staff or faculty members.

For decades, the Center has complemented Creighton's educational mission by providing an opportunity for students to work directly with the children, and for others to observe children as an element of their course work. The Center is committed to this three-fold mission: to serve young children, to serve their parents and to serve the students of the Creighton community.

See a series of videos sharing memories and the history of the Center here.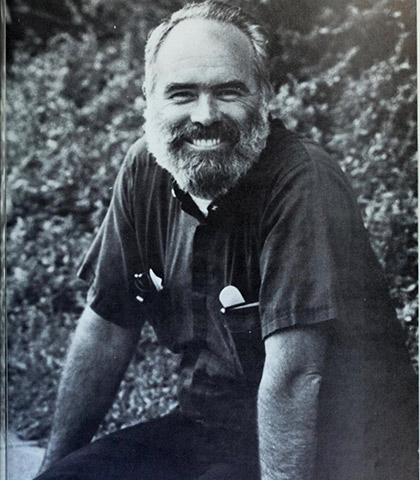 1982 — Fr. Morrison becomes President
At the age of 44, the Rev. Michael G. Morrison, SJ, became Creighton's 22nd president, starting a tenure that spanned 19 years and made him the longest-serving president in the University's history. (He was elected in 1981 and installed in 1982.)
Highly accessible to students, Fr. Morrison could often be found on pleasant days sitting in front of St. John's, ready to speak with anyone who passed by.
Addressing the Creighton community at his first convocation in the spring of '82, Fr. Morrison said, "We must make clear our identity, our mission. To do this means realizing and recognizing our distinguishing feature of faith."
35 years
1987 — Student Center opens
That fall semester, Creighton added "a living room." The $6 million Student Center was a place for Bluejays to relax, study, watch TV, grab a snack or coffee or play a few games of pool.
It took quite some time for the dream to become a reality. Fr. Morrison observed at the Student Center's dedication that just a year prior, the center was nothing more than a giant hole in the ground with rushing rivers of mud whenever it rained.
In 1993, the center was renamed in honor of V.J. and Angela Skutt.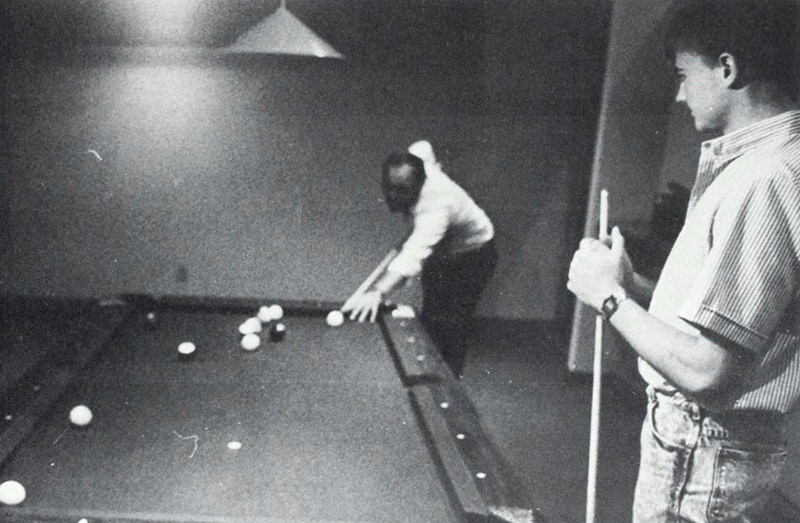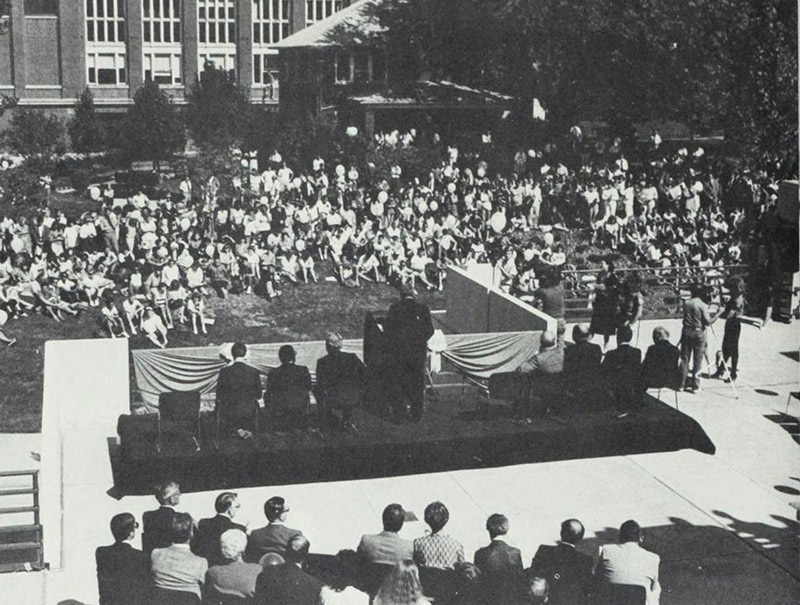 30 years
1992 — The Internet comes to Creighton
Alright, so maybe there's not a single event that marks the World Wide Web's arrival at Creighton. But if there were a moment, it might as well be marked by this 1992 Creightonian article. It's worth repeating the first few paragraphs:
"Imagine sitting down at your computer and looking up the latest card catalog entries from the University of Calgary, or sending electronic greetings to a friend in Europe, all in a matter of minutes.
It may sound impossible and straight out of a science fiction novel, yet this technology is already available and is coming to Creighton. In fact, some faculty and staff members have already started using it
This new computer technology is known internationally as "Internet" and on campus as JAYNet. It is an electronic link between connected computers throughout the world and throughout campus."

25 years
1997 — Snowstorm
A few days before Halloween, a record-breaking snowstorm slammed Omaha and caused $100,000 of damage to Creighton's campus.
In the wake of the storm, Creighton came together to provide meals to hundreds of elderly people whose food had spoiled because of power outages caused by the storm.

20 years
2002 — St. Joseph changes to CU Med Center
First let's go back a bit further …
In 1892 — 130 years ago — St. Joseph's Hospital was built at 10th and Castelar Streets, serving as Creighton's primary teaching hospital for a very long time after.
In 1978, the hospital moved to 30th and California Streets.
In 2002, the hospital was renamed Creighton University Medical Center.
And in 2017, after a series of ownership and location changes, the hospital became the CHI Health Creighton University Medical Center — Bergan Mercy. The same year, the Creighton University Medical Center — University Campus opened at 24th and Cuming Streets.

2002 — New KFC floor
Students returned to Creighton that fall semester to find a safer and more comfortable gym floor in the Kiewit Fitness Center.
The courts and running track were resurfaced with a shock-absorbent material designed to decrease injuries. It was a welcome upgrade from the hard, slippery floor that students, faculty and staff had been using for the previous 25 years.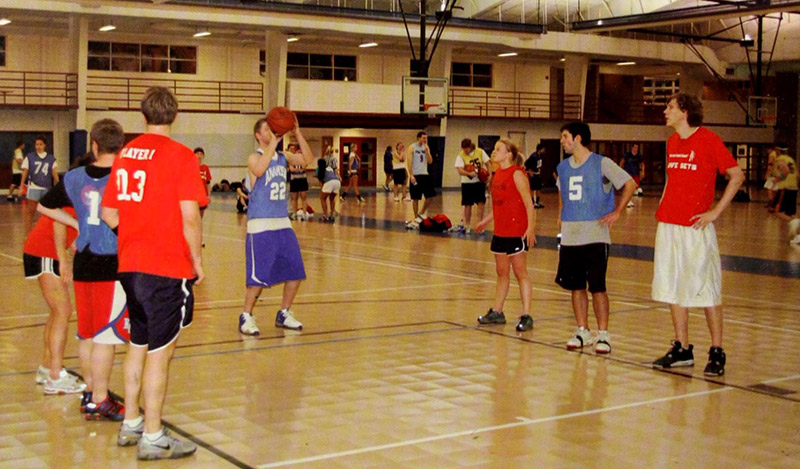 10 years
2012 — Creighton volleyball's historic season
That year, the team had its best season to date — boasting a 29-4 record, capturing its first regular-season and tournament conference titles, receiving its first national ranking and winning its first-round match in the NCAA Tournament.
It was the start of something special for the program.
This past November, Creighton's volleyball team won its seventh BIG EAST Tournament in eight years, sending the program to the NCAA Tournament for the 11th time.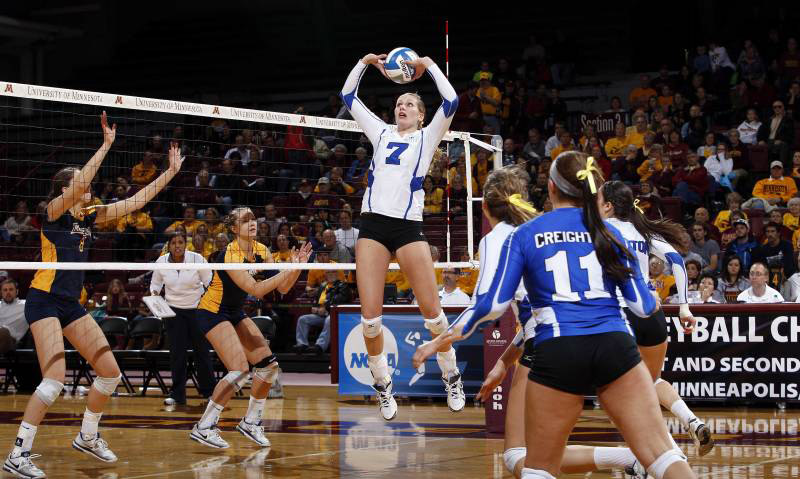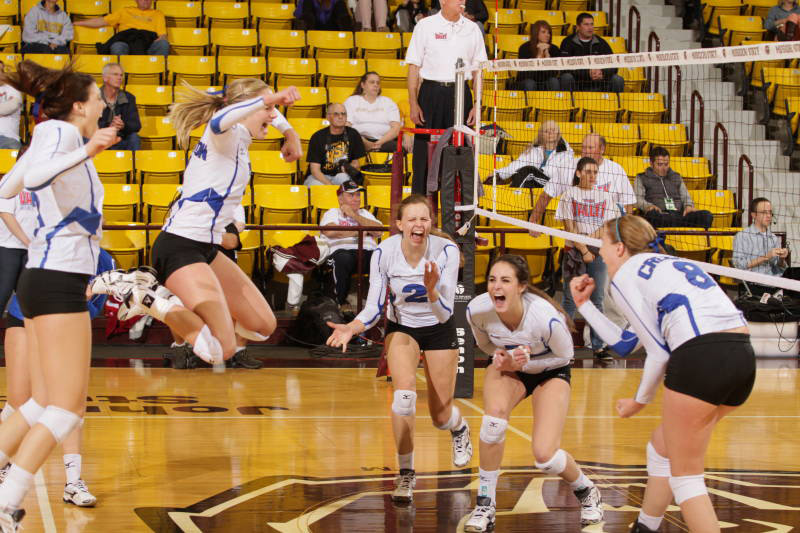 2012 — Medical campus opens in Phoenix
In an early move that signaled much bigger things to come, Creighton established a School of Medicine campus at St. Joseph's Hospital and Medical Center in Phoenix. About 40 future physicians attended orientation to complete their last two years of medical school.
Prior to the regional campus, the two organizations had enjoyed a more informal relationship for many years.
And last year, of course, Creighton opened the nearly $100 million Virginia G. Piper Charitable Trust Health Sciences Building, home of the Creighton Health Sciences Campus – Phoenix, a campus accommodating nearly 900 students.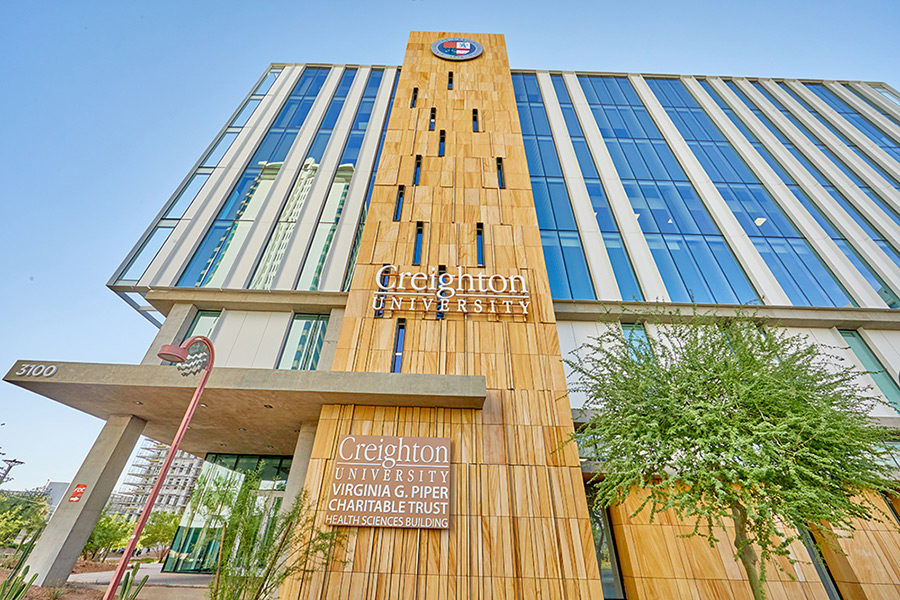 1 year
And in 2022, Creighton will celebrate the 1-year anniversaries of more than a dozen exciting things that happened throughout a truly transformative year.
Read about 15 great things that happened in 2021.
***
Read about more anniversaries we'll observe in 2022!
Creighton's 2022 anniversaries: Part 1 — 1892-1923
* * *
Forward Blue
You've read about Creighton's past and present. Now learn about its bold and exciting future!
Read about the Forward Blue fundraising campaign for Creighton and how you can ensure that one of the nation's best universities will continue to thrive through many more anniversaries to come.