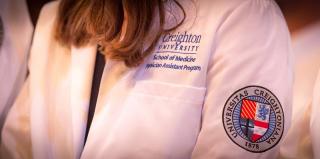 Service to others
The School of Medicine's Physician Assistant Program stays true to the values of Creighton's founders, with an education rooted in lifelong learning, reflection and continually improving how we take care of patients.
Only the fifth program of its kind offered at Jesuit institutions nationwide, the 28-month master's-level curriculum is led by a team of talented faculty with a long history of leadership in the PA profession at the local, state and national levels.
Students experience an interprofessional program designed to form competent and compassionate health care providers at the top of their field.
The program selects students who have demonstrated a commitment to service to others. Your scholarship support will allow Creighton to draw top candidates with a capacity to thrive — in this profession and the health care community at large.
It all starts with scholarships.
When you support scholarships, you help our students manage costs and alleviate debt load. But more than that, you give them a transformative sense of belonging, purpose and personal growth.
You help us form a new generation of Creighton professionals ready to shape the future of health care.
Contact a Director of Development
Michon Marcil Abts
Senior Director of Development, School of Medicine
MichonAbts@creighton.edu
402.280.1138
Physician Assistant Program
Forming compassionate health care providers ready to lead their field.
#5
in the nation
Creighton's physician assistant program ranked fifth in U.S. News & World Report's 100 Best Jobs.
1,000
people treated
The School of Medicine treats more that 1,000 people annually at the free student-run Magis Medical Clinic at Siena Francis House, Omaha's largest homeless shelter.
1:6
student-to-faculty ratio
Our dedicated faculty have the freedom to give every student their full attention.
The future of care
Creighton's School of Medicine stands at a significant moment. We're looking back on more than 125 years of health care education but also looking ahead to the rapidly shifting landscape of our profession.
We are ready to meet the moment. Through our clinical partnerships in Omaha and Phoenix, we are preparing some of the most clinic-ready physicians in the country to help meet a growing need for health care professionals.
As we build upon our expertise in medical education and research, our guiding Jesuit values will continue to show us the way forward — developing women and men of competence and compassion, doing all things for the greater glory of God.
Creighton's health sciences campus in Phoenix
The cutting-edge facility will enrich Creighton's Jesuit education and transform health care in the Southwest.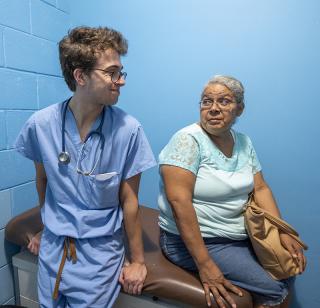 Service and justice in the Jesuit tradition
The School of Medicine offers many service opportunities for our students, including the Magis Clinic, which provides medical services to homeless and underserved residents in the Omaha area. These experiences help our students become competent and compassionate physicians as they help meet the needs of our communities.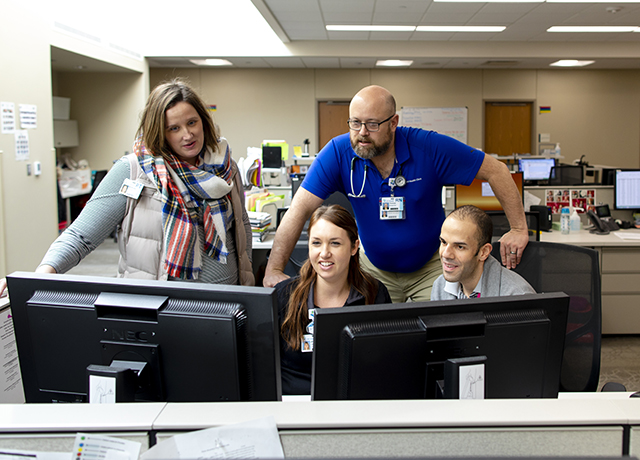 Innovating Health Care
For Creighton, collaborative care operates on a few core principles: Health care is a team effort; and clinicians working together (closely, honestly, efficiently) leads to better patient care — lowering costs, improving outcomes, saving lives.
Read the story