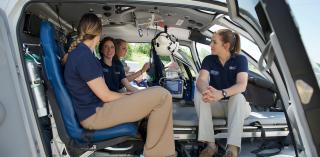 Excellence in EMS education
EMS students graduate Creighton with a cutting-edge skillset, but also with the values they need to serve their communities with empathy, compassion and a commitment to caring for the whole person.
One of the first of its kind in the country, Creighton's EMS program forms tomorrow's leaders in the field — practice-ready health care professionals ready to charge into any emergency, giving aid and saving lives.
To ensure that more students receive this transformative education, we need your help.
Your gift to EMS scholarships, no matter the amount, will make a huge difference in the lives of our students and their patients.
Thank you for supporting our students and the communities they'll soon serve.
It all starts with scholarships.
When you support scholarships, you help our students manage costs and alleviate debt load. But more than that, you give them a transformative sense of belonging, purpose and personal growth.
You help us shape a new generation of leaders ready to face the future and improve our world.
EMS — By the Numbers
A leading program in a growing field.
24%
growth
Projected growth in EMS field by 2024, according to the U.S. Bureau of Labor Statistics.
93%
success rate
Nearly 93% of our students successfully complete the program.
46
years
Creighton has offered an excellent Emergency Medical Services education since 1974.
Emergency Medical Services at Creighton
Empathy, compassion and the cutting-edge training our students need to be extraordinary health care providers. Hear EMS students share their experiences.
Learn more about the program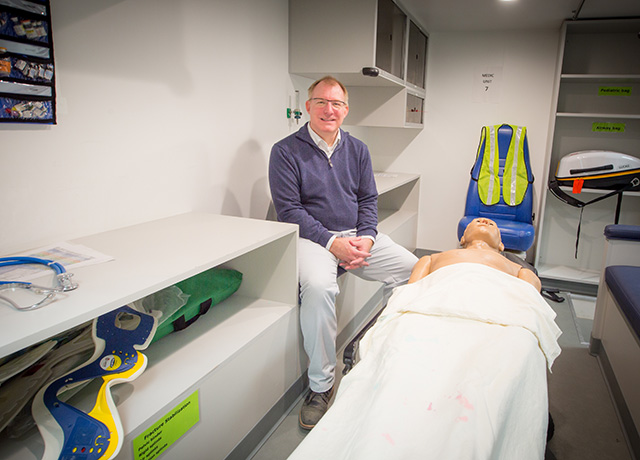 Called to a career in Emergency Medical Care
Assistant Professor, Mike Miller, BSEMS'07, MS'10, EDD'14, makes a difference through both teaching and scholarship. The Frank and Margaret Coussens and Doris Miller Memorial Endowed Scholarship supports the interests and ambitions of aspiring students.
Read the story