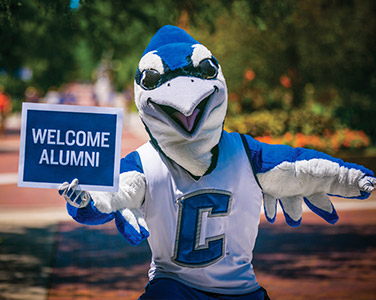 Alumni and friends —
In 2021, we're bringing Reunion Weekend to you!
Wherever you are the weekend of June 3-6, 2021, we'll be offering creative ways for you to reconnect virtually with your former classmates and faculty. Our No. 1 priority, of course, is the health and safety of our community, and we will provide an entirely virtual experience that's fun, meaningful and, above all, safe for everyone.
This year, we will combine our reunion celebrations for 2020 and 2021. That includes the classes of 1960, 1965, 1970, 1975, 1980, 1985, 1990, 1995, 2000, 2005, 2010 and 2015; and the classes of 1961, 1966, 1971, 1976, 1981, 1986, 1991, 1996, 2001, 2006 and 2016!
Like past years, this Reunion Weekend will boast many of the family-friendly activities our alumni and friends have come to know and love. The class parties. The special guests. The camaraderie. Not to mention the Presidential Alumni Dinner with Father Daniel S. Hendrickson, SJ, PhD, who will give exciting updates on Creighton.
We can't wait to share with you how much Creighton has changed!
The 24th Street renovations have given campus a new front door as welcoming as any time in our history. But some things never change — alumni will be happy to know that the "walk signal to cross 24th Street" lives on. We've also seen exciting updates to the Harper Center and Creighton Hall. The latter just received its first extensive renovations in nine decades, illuminating the 190-foot façade of one of our oldest and most beautiful buildings!
I'm also thrilled to announce Reunion Weekend's special guest — Kassandra Montag, MA'11. Kassandra is the fabulous author of After the Flood, a post-apocalyptic novel set partially in Nebraska.
We'll announce plenty of other exciting news as we get closer to Reunion Weekend. For now, just know that in the coming months we'll be working hard to craft a phenomenal event for you and your loved ones.
We'll see you soon, Bluejays!
Diane Glow, BSN'80
Assistant Vice President for Alumni Relations and Donor Engagement
***
Have questions? Interested in becoming a Reunion Weekend volunteer or class ambassador? Please contact alumni@creighton.edu.
Alumni can learn more about Creighton's response to the COVID-19 crisis at Fall 2020: COVID-19 Response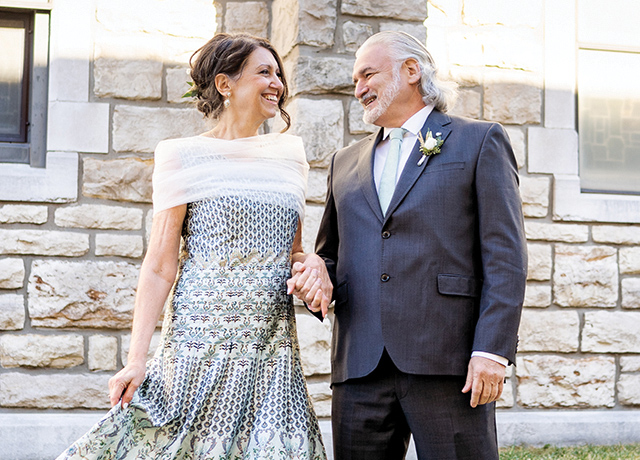 Creighton couple married after meeting again — 40 years later — at Reunion Weekend
They fell not for the people they were at Creighton but for who they became in the many years since. And who they became, they say, had a lot to do with attending Creighton.
Read the story
A few words from our 2019 Reunion Weekend guests ...
"This was just a really special weekend for us. Life passes a little too quickly if you're not paying attention. We just had to carve out the time to get here, and Creighton did the rest. Creighton supports Reunion Weekend so much. Once you get into it, you see, they offer so much."
— Heidi Woodward, BA'99

"It's just good to come back. It's good for your soul. We went through so much together here. We were family. Life gets busy, but it's important to come back and reconnect. Creighton … it's just a piece of my life."
— Diane Barry Carlson, BSN'79

"Revisiting for Reunion Weekend is really nice. I used to do so much when I was a student. I was really happy to see that I can reconnect with some of my peers here. It felt like a family when I was a student; now that I'm back, it still does."
— Martin Jose, BS'16

"It's just fun to come back. I have so many good memories of being a student here, so many good friends I've stayed in touch with."
— Christina Bruck Heller, BA'94

"You get close-knit when you're at Creighton. Everybody's trying to help everybody else get through. Then when it's over, you go different directions all around the country and the world. Fifty years later, you get back together, it doesn't take long to reunite."
— John Parrish, DDS'69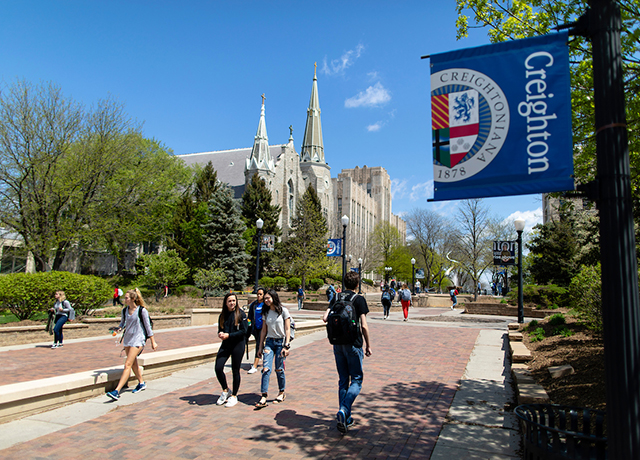 Nearly 50 Bluejays share their favorite Creighton memories
We asked Bluejays to share their favorite Creighton memories and experiences, and we got some wonderful responses. Poignant memories, funny memories and, in a few cases, memories we couldn't repeat within the PG-rated confines of alumni.creighton.edu!
Read the story
Snapshots from Reunion Weekend
Enjoy these memories from the last Reunion Weekend.