Featured Testimonial About Creighton University
Update: This story was originally published before the start of the Tokyo Olympics. On Tuesday, July 27, Simone Biles withdrew from the team finals competition after struggling to land a vault. An Olympic spokesperson said Biles "will be assessed daily to determine medical clearance for future competitions."
PT for the Olympians
By Micah Mertes
One thing Beth Riemersma, DPT'05, has learned about gymnasts — they just don't stop. Not because of pain; not because of injury. Beth's job is to help make sure they can keep going.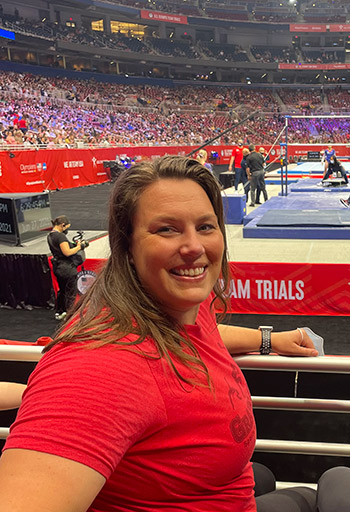 She works as a physical therapist for two of the world's greatest gymnasts — Simone Biles and Jordan Chiles, both members of the 2021 U.S. Women's Olympic Gymnastics Team. Beth recently joined the two athletes at the Olympic trials in St. Louis. Were it not for COVID restrictions, she might have accompanied them to Tokyo, as well.
As director of Grand Oaks Sports Medicine and Rehabilitation in Houston, Beth treats athletes in every sport, at every age and level — from young aspiring gymnasts to 75-year-old weightlifters.
Beth is an athlete herself. Throughout high school and college, she competed in volleyball, basketball, track and powerlifting. She still lifts competitively and has even served as a USA Weightlifting Coach.
But gymnastics is a whole different animal, a sport that requires constant fine-tuning of all parts of the body. Beth is an expert in movement analysis for athletes, which has come in handy working with gymnasts. Watching Biles or Chiles compete, for instance, she can see how a slight shoulder movement might be affecting a floor or beam routine.
"When I'm treating Simone or Jordan," Beth says, "I'm often saying, 'OK, well, we need to treat this because you're doing this, and you're doing that because of this.'"
Step by step, Beth helps them crack the code and uncover the cause and effect of their bodies, optimizing every aspect of their performance on the way to Olympic glory.
We recently spoke with Beth about her work with the gymnasts and how her Creighton education prepared her for this moment.
* * *
I suppose the first question is … what was it like to be part of the Olympic Trials?
For one thing, I was very honored to have Simone ask me to come to trials to help treat them throughout the competition. I'm just honored to have Simone and Jordan and the other gymnasts trust me to be a part of this.
At the trials, I was on cloud nine. But I was also so nervous for the girls. I was waiting in the treatment recovery center and watching them on TV, and I was like "Oh, that landing didn't look great" or "Oh, she looks like she's limping a little bit." My mind starts racing.
I'm an athletic trainer. I've been on the sidelines. I've seen ACL and Achilles tears. But watching gymnasts at this level is different. All I can think of is, we've got to keep these girls healthy. When they're feeling tightness or pain, we've got to get it fixed. We have to protect them.
What are Simone and Jordan like?
Every time I see them, there's always laughter. They're so fun to be around. They're very down to earth. Very sweet girls. Just the other day, Simone sent me a bouquet of flowers with a card thanking me for everything and for helping get her to this point.
Seeing Simone at the trials, it really sinks in how much she has done, not just for the sport of gymnastics but for all the young girls who look up to her.
You treat many athletes at all different ages and levels. What are some of the considerations specific to doing physical therapy for gymnasts? Particularly gymnasts at an Olympic level?
When they're in season, it's not necessarily about trying to cure them or to completely fix the problem. It's about what we can do to get them through the season, through the next meet.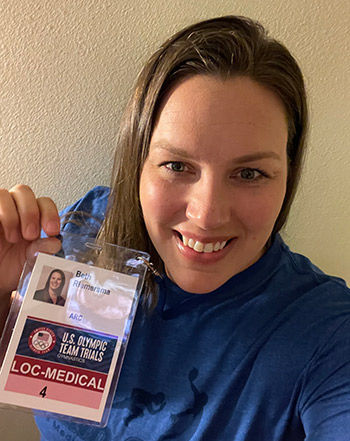 When they're not competing, it's a full-body treatment. That's how I typically treat my patients, but with gymnasts we're thinking about, OK, for this event, you're going to need a lot of shoulder stability, but for this one you're really going to need a lot of power in your legs. We combine all of that and work on the entire body.
I've really had to learn the sport to be able to treat them and get them back to the level they want to be at.
How did your Creighton education help prepare you for this moment and your career generally?
At Creighton, we just had so many experiences. We were in clinical all the time, which is where you need to be, out in the field. My clinical rotations really helped me solidify my skills.
Also, our professors at Creighton were amazing, and I'm still in touch with some of them. They were supportive and just provided us with a great education. They gave me a very strong foundation that I've been able to build upon ever since.
* * *
More Creighton Olympics!
Read about ...