Featured Testimonial About Creighton University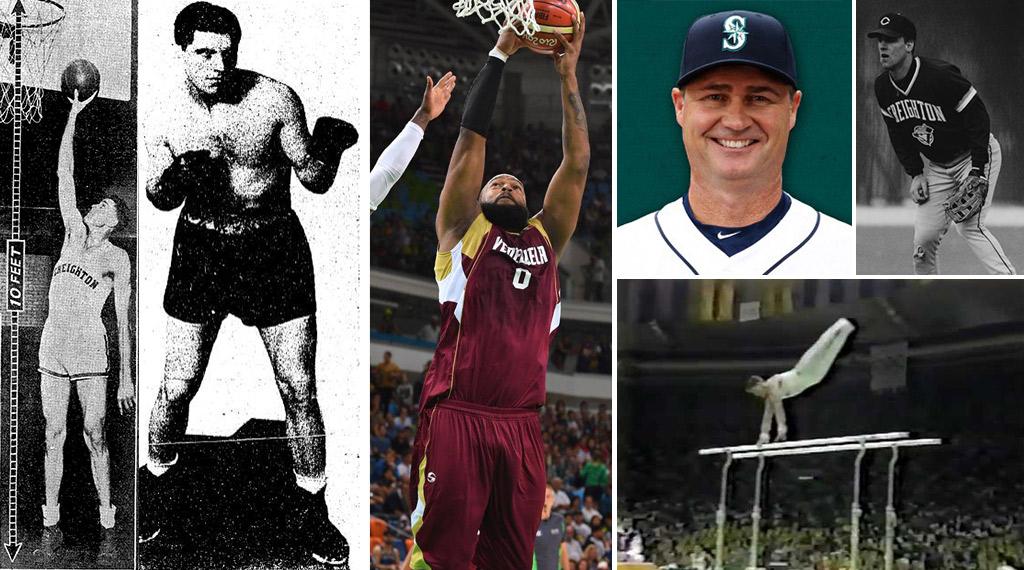 Read more about how the Bluejay boxer and basketball player who went to the 1936 Olympics in Hitler's Nazi Germany, where they befriended Jesse Owens and played the muddiest game of basketball in Olympic history.
* * *
By Micah Mertes
Creighton has seen many, many great athletes over the years, but — according to our records — just six* alumni have competed in the Olympic Games, two of them taking home a gold medal. With the Tokyo Games coming up, we wanted to share their stories.
Meet the Olympian Bluejays.
* There's an (almost but not quite) seventh Creighton Olympian. According to the Omaha World-Herald, former Creighton basketball player Ed Beisser, BS'43, qualified for an alternate spot on the 1948 U.S. team, but he didn't end up playing.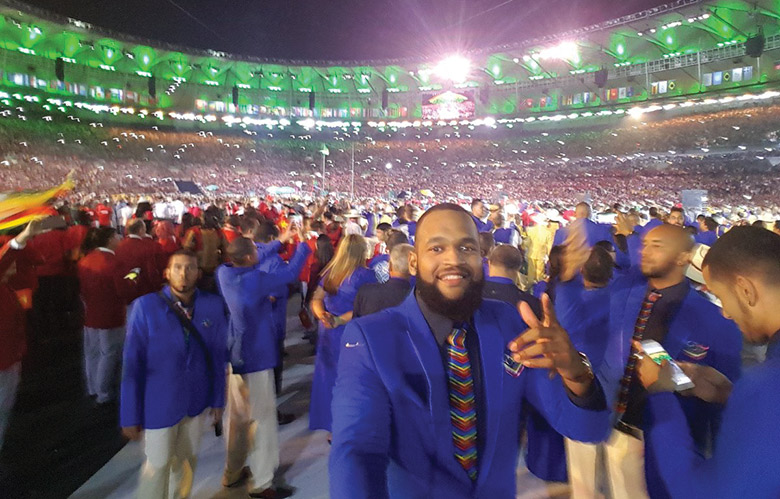 Gregory Echenique, BSBA'13
Olympics: 2016 Rio de Janeiro
Sport: Basketball (played for Venezuela)
Echenique — now a professional basketball player in his home country of Venezuela — racked up a long list of accomplishments during his three years playing center for the Jays ...
Missouri Valley Conference defensive player of the year. Most blocked shots in the conference. The first player in Creighton history to be named to the MVC's All-Defensive Team for three straight seasons.
And in 2016, Echenique became Creighton's first former basketball player to appear in the Olympics in 80 years. In Venezuela's first game (against Serbia), he scored 12 points, more than any player on his team. A few games later, he helped lead Venezuela to victory against China. It was the team's second all-time win in an Olympic game.
On the eve of playing in the Olympics, Echenique gave an interview to GoCreighton.com:
"I always thought it would be cool to be able to represent your country in the highest level there is," he said. "And to be here around the best athletes in the world. But it all seems so far-fetched that I guess now it hasn't really sunk in."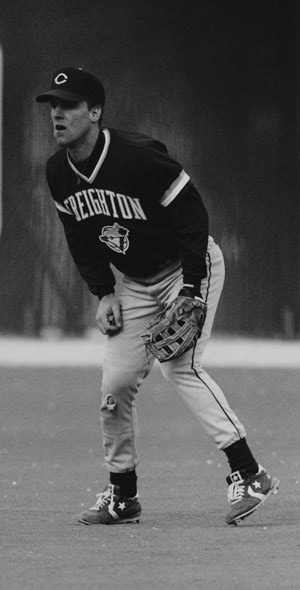 Chad McConnell
Olympics: 1992 Barcelona
Sport: Baseball
The Creighton Athletics Hall of Fame outfielder played for Creighton from 1990-92 and joined the team for its first College World Series appearance in 1991.
"Coming off that College World Series and then getting to play for the Olympic team, it was just two dreams come true," McConnell said now. "To have the uniform with the letters 'USA' on it and hearing the stands chant those letters, it's just an incredible feeling. To play among the top amateur players representing the United States, I've just been so blessed in my career."
The Olympics of 1992 was the year of the Dream Team, the first Olympic team to feature active pro players from the NBA — including Michael Jordan, Scottie Pippen and Magic Johnson.
"Those guys got mobbed by everyone wherever they went," McConnell said. "It was such a cool experience being around them. Larry Bird actually came to watch some of our games."
That same summer, McConnell was the 13th overall pick in the 1992 Major League Baseball draft. He remains one of Creighton's all-time hitters — No. 5 in home runs; No. 10 in slugging percentage.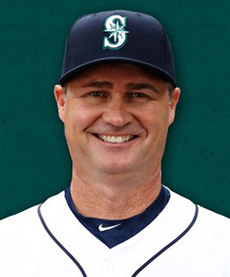 Scott Servais
Olympics: 1988 Seoul
Event: Baseball; the team won the gold medal.
One of the most decorated baseball players in the University's history, Servais earned all-American and MVC honors playing for Creighton from 1986-88 and was inducted in the Creighton Athletics Hall of Fame in 2003. He also played on Team USA in the 1988 Olympic Games.
"(The Olympics are) something I'm always going to remember," Servais told the Omaha World-Herald in 1988. "Whether I make it to the big leagues or not, I'm always going to have a gold medal. That means a lot to me. Not many people have one."
Servais did make it to the big leagues, playing catcher for 11 seasons in the MLB, with the Astros, Cubs, Giants and Rockies. He remains in the majors, serving as general manager of the Seattle Mariners. Servais is the nephew of head baseball coach Ed Servais.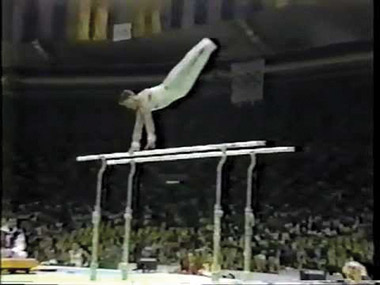 Wes Suter, JD'97
Olympics: 1988 Seoul
Event: Gymnastics
Suter was a star gymnast for the University of Nebraska, helping the team win a national championship in 1983. He ended his college career with three NCAA titles and five All-American selections. Suter later earned his degree in Creighton's School of Law. He recalls his Olympic experience with no small amount of awe.
"For certain sports — like swimming and diving and gymnastics — the Olympics is just the ultimate goal," Suter said now. "It wasn't necessarily a shock to all of a sudden be an Olympian because you get to that higher level very gradually. But at the same time, it's absolutely amazing. Because it's your dream. It's the Olympics."
After his Olympic appearance, Suter was named U.S. Male Gymnast of the Year for 1988. Though he wasn't a Creighton athlete himself, he said he loves to follow the basketball, volleyball and baseball teams.
"I think that there's a good possibility there's going to be some additional Creighton Olympians down the road."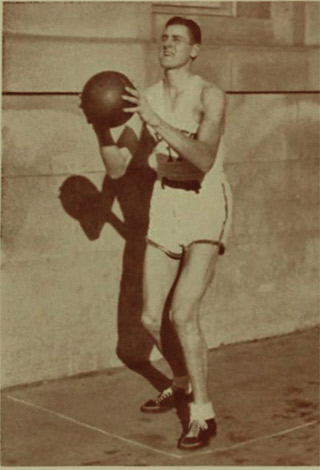 Willard Schmidt, BA'34
Olympics: 1936 Berlin
Event: Basketball; team won the gold.
Schmidt died in 1965.
Before becoming the state's first basketball player to compete in the Olympics, the 6-foot-9 Creighton alum helped Creighton win a Missouri Valley Conference championship. Newspaper headlines called him "Willowy Willard."
After graduation, Schmidt played for the McPherson Globe Refiners, an amateur team sponsored by a Kansas oil refinery. The team performed well in the Olympic trials and earned Schmidt a spot on Team USA. The Olympic team's trip to Berlin marked the first appearance of basketball as an official Olympic medal event. And it made for an awkward first appearance.
Team USA played their final game with a ball better suited to soccer than basketball. And they played it outdoors … on a gravel court … in the middle of a thunderstorm. Read more about the muddiest basketball game in Olympic history.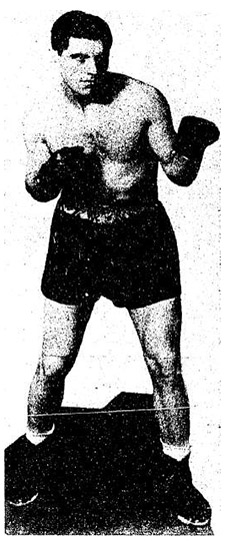 Carl Vinciquerra
Olympics: 1936 Berlin
Event: Boxer
Vinciquerra attended the Heider College of Business (then the College of Commerce) from 1935 to 1937, coming to Creighton on a football scholarship. He died in 1997.
Vinciquerra started boxing his junior year at Creighton, shortly after winning the light heavyweight in the 1936 National Golden Gloves tournament. From there, he won 14 consecutive fights to qualify for the 1936 Olympics.
Though Vinciquerra lost his opening Olympics match and no one on the U.S. boxing squad won a gold medal that year, Vinciquerra always said his Olympic memories were "beautiful ones." (One memory included befriending Jesse Owens.)
Later in life, Vinciquerra returned to Creighton. Five nights a week for several years in the 1980s, the man who worked the front desk of the Kiewit Fitness Center was a former Olympian. Read more about Vinciquerra.
* * *
Read more about how the Bluejay boxer and basketball player who went to the 1936 Olympics in Hitler's Nazi Germany, where they befriended Jesse Owens and played the muddiest game of basketball in Olympic history.