Featured Testimonial About Creighton University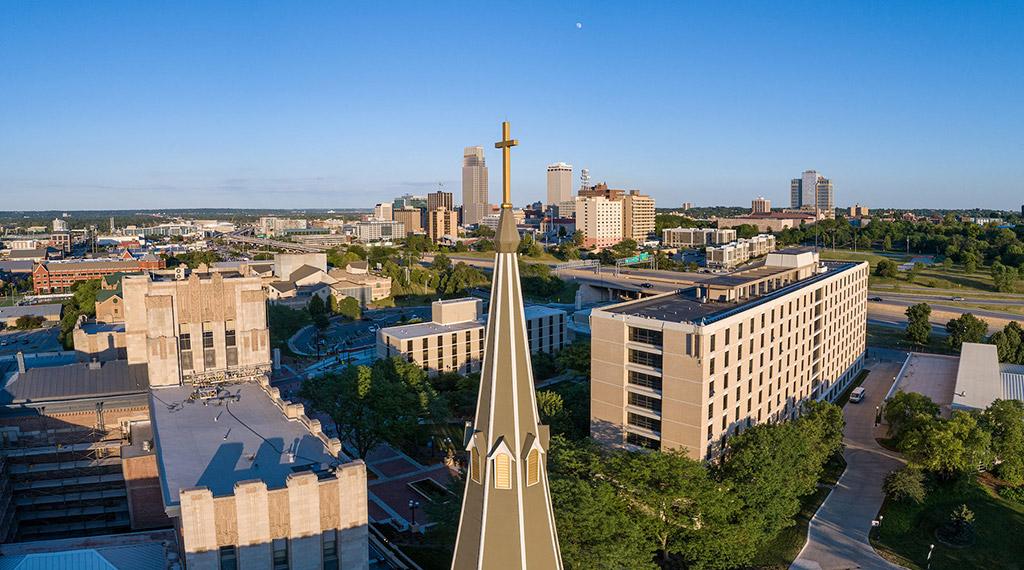 Every great university lives by the adage, 'You play to your strengths.' The Forward Blue campaign will succeed because we are investing in what Creighton does best.

Daniel S. Hendrickson, SJ, PhD
Creighton president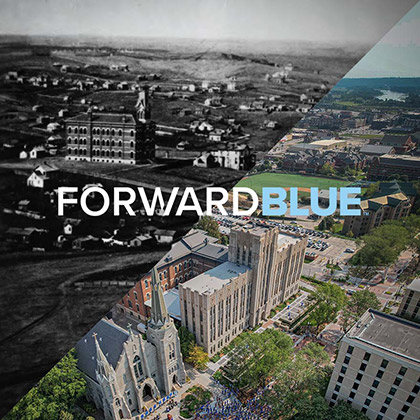 Read more about how you can support the Forward Blue campaign.
* * *
Creighton University has announced Forward Blue — the largest and most ambitious fundraising campaign in the school's 143-year history.
The $650 million campaign prioritizes student support, focusing on scholarships, campus improvements and mission-driven services and programs throughout Creighton's nine schools and colleges, as well as athletics.
The campaign comes at a time of significant growth and progress for Creighton. In 2021 alone, the University has opened a health sciences campus in Phoenix, broken ground on a health sciences building in Omaha, welcomed the second-largest freshman class in Creighton's history while also setting student retention records, and ranked in the top third of the prestigious "national universities" category of the U.S. News & World Report's 2022 "Best Colleges" list.
It's a year — and a campaign — that will be remembered as one of the most consequential in Creighton's history, said University President the Rev. Daniel S. Hendrickson, SJ, PhD.
"We announce Forward Blue at a time when Creighton's momentum is unmistakable," Fr. Hendrickson said. "In the evolving environment of higher education, we are extending our reach, growing our national reputation and expanding our innovative global programs. We are making bold, yet thoughtful, investments that will benefit our students and the communities we serve for years to come."
Fundraising efforts for Forward Blue began in October 2016, culminating with a record-breaking $143 million in donor contributions in fiscal year 2021. Creighton raised $450 million during the campaign's "quiet phase," securing approximately 70% of the overall goal. More than 37,000 alumni, friends, parents, faculty and staff have made a gift.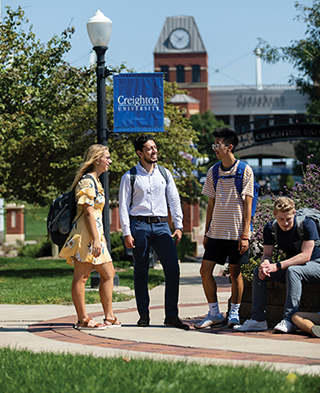 So far, donors have contributed $123.5 million to support scholarships, the campaign's No. 1 priority. Creighton aims to raise at least $90 million more in this area during the "public phase" of the Forward Blue campaign, which will likely conclude in 2024.
"We are inspired every day by the collective impact the Creighton community has on our students," said provost Mardell A. Wilson, EdD. "These outstanding young people are preparing for careers and lives that will benefit our communities — locally, regionally, nationally, and globally – whether it be in business, education, law, the arts, the sciences, health care or dentistry. Any gift to the campaign, no matter the size, will positively impact our students and those they will touch as Creighton alumni."
Creighton's approach to the education and care of the whole person results in a personalized experience, through customized student services, smaller class sizes — an 11:1 student-to-faculty ratio — and a rigorous curriculum guided by Ignatian values.
It has resulted in successful outcomes for Creighton alumni, with 97% of graduates employed, seeking an advanced degree or serving their communities within six months of graduation. Nearly half start their careers in Nebraska.
"We are driven to expand access to students seeking this unique educational experience, no matter their financial circumstances," Fr. Hendrickson said. "Scholarships make this possible for thousands of students, particularly for students from underrepresented groups."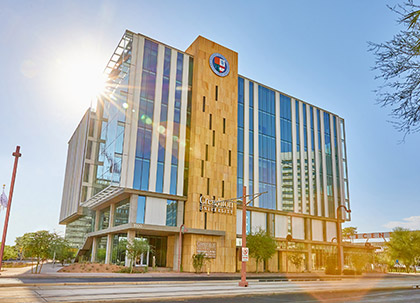 Another priority for the Forward Blue campaign is transforming the spaces where students live and learn. During the campaign's quiet phase, donors supported several transformative projects, including the 200,000-square-foot School of Dentistry facility and community clinic, the seven-story Creighton University Health Sciences Campus – Phoenix and significant renovations to the Mike & Josie Harper Center to accommodate surging enrollment in the Heider College of Business.
The University continues to raise funds for new projects, including the CL and Rachel Werner Center for Health Sciences Education and a new residence hall — the first built exclusively for freshmen since the 1960s, as well as a new Jesuit residence, renovations to labs and classrooms, and expansion of recreation facilities.
"Our concern for students drives every new building and renovation we undertake," Fr. Hendrickson said. "Top-tier facilities are essential to their learning and well-being, and to recruiting the next generation of Creighton students."
The University's third campaign priority is an investment in Creighton's schools and colleges, in areas such as leadership development, service opportunities, interdisciplinary education, faculty resources and student support. Funds will support campus-wide, mission-based programs such as the Creighton Global Initiative, the Kingfisher Institute for the Liberal Arts and the Professions, and the Center for Undergraduate Research and Scholarship.
"Every great university lives by the adage, 'You play to your strengths,'" Fr. Hendrickson said. "The Forward Blue campaign will succeed because we are investing in what Creighton does best.
"In fact, that is the meaning of Forward Blue: It's a promise to everyone who cares about the University that we will define Creighton's future by embracing Creighton's strengths."