Featured Testimonial About Creighton University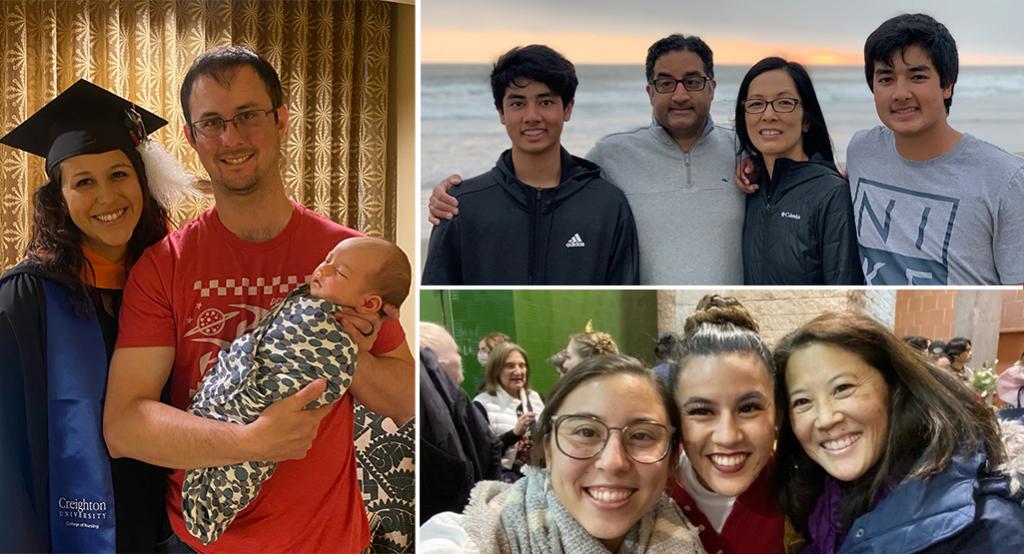 Parents know that when you send your child to Creighton, you're leaving them with family.
Want to get involved as a Creighton parent? Learn about the Parent Fund and the Parent and Family Leadership Council. You can help in many other ways, as well. Learn how to become a mentor, host events or help recruit students.
* * *
By Micah Mertes
Many Creighton parents have a special bond to the University, whether or not they're alumni themselves.
Alumni parents love to see the iconic places, how much campus has changed and how much the foundations remain. Non-alumni parents feel a faith and trust in Creighton, says Judy Pritza, BSN'92, MS'96, director of Parent and Family Programs and a mother of two current students herself.
"Parents know that when you send your child to Creighton, you're leaving them with family," she says. "Whether Creighton is 10 miles or 10,000 miles from home, you get the same sense that your children are in a place that's going to take care of them and help them succeed. That means a lot as a mother."
With Mother's Day this month, we spoke with a handful of moms about the joys of being a Creighton parent. (See our Creighton dads edition here.) They talked about what they love about Creighton and the peace of mind that comes with knowing your children are in good hands.
* * *
Creighton mother: Thaichan Jobalia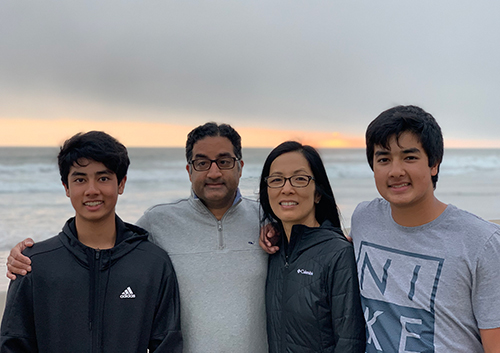 Lives in: San Jose, California
Children: Nathan Jobalia, College of Arts and Sciences sophomore; and Aaron Jobalia, planning to attend Creighton in the fall
A year ago this month, about the end of his freshman year at Creighton, Nathan Jobalia's father, Amul Jobalia, passed away.
"I really hesitated sending Nathan back to Creighton after the summer," says Thaichan Jobalia, Nathan's mother. "But Nathan still felt like Creighton was the best place for him to be at that moment. His professors have been so understanding and helpful. He's received so much grief support from the community. Despite what he's been through, he's thriving. It's incredible."
Thaichan says she's floored by the number of opportunities Nathan has had in his first two years. He's deepened his faith through Christian Life Communities, worked as the photo editor for the Creightonian, conducted research and presented a poster during his freshman year. Next fall, he'll join a research project with his oncology professor.
"Nathan is the poster child for the Creighton experience," Thaichan says.
It's been such a great two years for Nathan that his younger brother, Aaron, will join him on campus in the fall.
Thaichan remembers one moment that validated all her hopes for Creighton. It was Nathan's freshman year. Creighton was in San Jose for an event and looking for parent volunteers. Thaichan and her late husband signed up.
At the event, a biology professor came up to them and said, "Your name looks familiar."
"We told him that our son is Nathan," Thaichan says, "and he said, 'I know Nathan!'
"That confirmed for us that Nathan isn't just a number in a big place. At Creighton, Nathan is somebody to somebody. He's surrounded by layers and layers of community. As a parent who is quite a ways away from Omaha, that offers peace of mind."
* * *
Creighton mother: Kristin Weston, MSN'21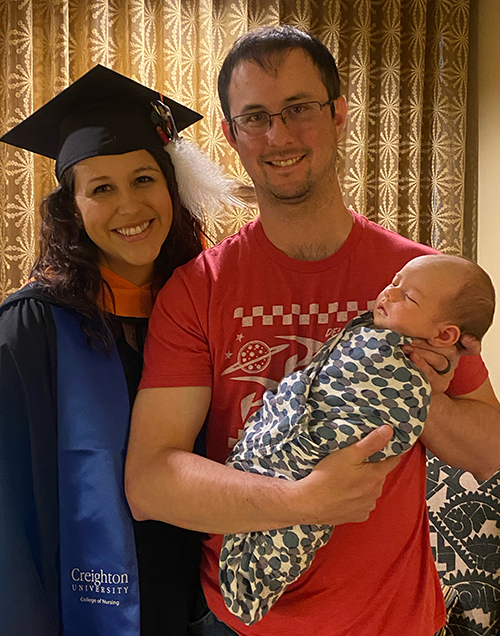 Son: Samuel Campbell, age 2
Lives in: Windsor, Colorado
In 2020, in the first few months of the pandemic, shortly after she moved to Colorado, while she was in the thick of her Master of Science in Nursing program at Creighton … Kristin Weston found out she was going to be a mother.
"I was terrified at first," she says now. "It was a crazy time, and I had so many clinical hours I needed to do. I didn't know if I could still finish my degree."
One day, Anne Schoening, PhD — associate professor of nursing — asked Kristin if she was feeling OK. Kristin told her she was pregnant.
"And Anne said, 'Oh, that's so great,'" says Kristin. "I received so much love, from her and so many others, and I wasn't scared about being a mom anymore. Because I felt like the whole Creighton community was behind me."
In the spring of 2021, with graduation and her due date rapidly approaching, Kristin was determined to walk with her cohort at commencement. She and her professors found a way to make it all work.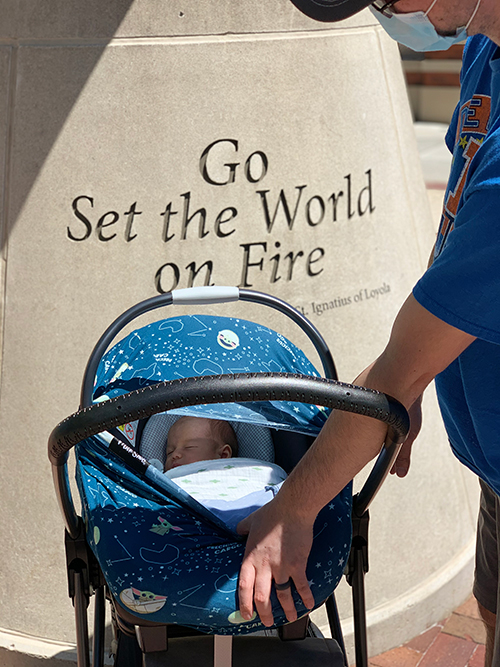 Kristin finished her clinicals, gave birth to her son — Samuel — on April 9 and arranged her post-clinical appointments around feeding and nap times.
That May, a few days after her first Mother's Day as a mother, Kristin and her husband, Greg Campbell, MD'16, hit the road for campus, and she walked the stage to receive her Creighton degree.
"This wasn't just graduation for me," Kristin says. "It was a chance to show my five-week-old son a place I love, where his parents met and were married. That experience was the best Mother's Day present ever."
Kristin — who is about to be a Creighton student once again, in the EdD program — says she's excited to stay a part of the Creighton family.
"What motivates me most in life is my foundation of core Ignatian values," she says. "I can't wait to teach him everything I've learned from my Jesuit education."
* * *
Creighton mom: Joni Tonnemacher
Children: Alexis Tonnemacher, College of Arts and Sciences junior; and Mason Tonnemacher
Lives in: Johnston, Iowa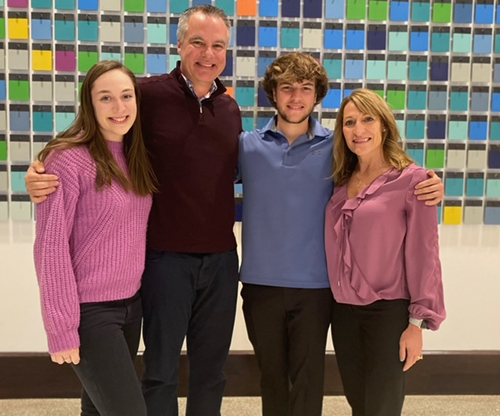 As members of the Parent and Family Leadership Council, Joni and Doug Tonnemacher, feel a special connection to where their daughter, Lexie, goes to school.
"It gives us more of an ability to be involved, to get to know the University and to see the opportunities there are for Lexie," Joni says. "We feel that sense of community, of being a part of a family away from home."
Joni says it's thrilling to see all the opportunities Lexie has had. She joined the Freshman Leadership Program, conducted research in Parkinson's disease and nerve regeneration, and this summer she's attending a research conference in Las Vegas to receive an award for an abstract she submitted.
"The opportunities she's been afforded to learn and grow are truly unmeasurable," Joni says of her daughter. "She's made great connections and relationships with some of her professors.
"We're excited to see the special things she's been a part of there and even more so for the opportunities still to come. I know if she had to do it all over again, she would choose Creighton every time."
* * *
Creighton mom: Aimee Otto, BSPHA'94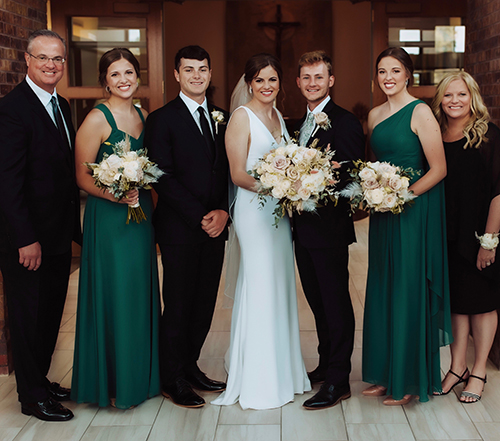 Children: Josie Otto, BSBA'22, graduate student in the Heider College of Business; Lillie Otto, occupational therapy student in SPAHP; Margaret Otto and Charles Otto
Lives in: Alliance, Nebraska
Aimee Otto and her husband, Richard Otto, BA'91, have gotten to know their University from the perspective of students, alumni and now, parents. Each experience has been different, but all have been Creighton.
"Creighton has a unique feel that's hard to describe," Aimee says, "but it embodies a sense of faith, family and purpose. From the moment my daughters made the decision, I was excited for them because I know they would love it there. I have a sense of peace knowing there are people at Creighton who genuinely care about my children's success and well-being."
Some things Aimee loves about Creighton that have stayed true since she was a student …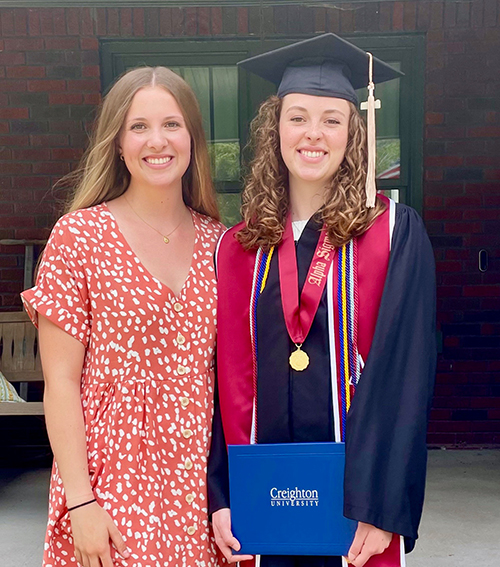 "It still feels like home when we visit campus."
"The professors are approachable, and they want students to succeed. I never felt like a number at Creighton, and my girls feel the same."
"Another thing I always loved about my time at Creighton was how effortless it was to be involved in the faith community. I remember leaving Mass feeling uplifted and strengthened. There were countless times and places to attend Mass and other students to go with as well. I am so grateful that hasn't changed."
When Aimee and Richard joined the Parent and Family Leadership Council, it became a new avenue to reconnect with campus, offering tours, campus events and insights into long-term plans for Creighton. Their membership also gave them and other parents a voice in continuing to improve the Creighton experience for students. It helped them see (and take part in) the University from a whole new angle.
For parents thinking about sending their children to Creighton, "I would strongly encourage them to do so," Aimee says. "Creighton has a lot to offer academically, but I think the difference at Creighton is more in how it feels.
"The leadership of Father Daniel S. Hendrickson (Creighton president) is exceptional. Creighton is lucky to have him and the many professors who are engaged and care about the whole student, not just their academics. These things create a spirit of family and faith at Creighton that is hard to replicate."
* * *
Creighton mom: Siobhan Duffy Kline, BSN'93
Daughter: Micaela Kline, College of Nursing junior
Lives in: Nazareth, Pennsylvania
A few summers ago, Siobhan Duffy Kline, BSN'93, brought her daughter, Micaela Kline, to Creighton for a campus visit.
While they were getting a tour, Siobhan noticed a sign with the name of Mary Kunes-Connell, PhD. "She was my favorite professor,'" Siobhan told her daughter and the tour guide.
"Next thing you know, we were in the hallway of Criss, and there was Dr. Kunes-Connell standing there," Siobhan says. "It was such a neat reunion."
Siobhan says seeing the Creighton of today through her daughter's experiences has made her "even more proud to be a Bluejay."
* * *
Creighton mother: Pam Hoeffel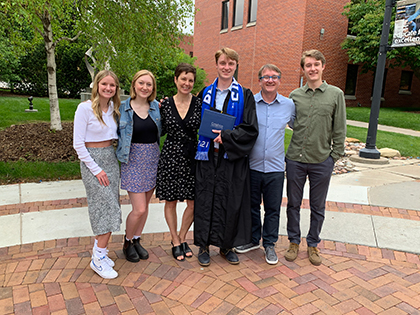 Lives in: Woodbury, Minnesota
Children: Katherine Hoeffel, nursing senior; Sam Hoeffel, BS'21; Max Hoeffel, BS'19; Jane Hoeffel, nursing freshman
Pam has always seen college as a bridge for her children, the essential step in getting them from who they are to who they want to become.
"And Creighton has been just the bridge they needed," she says. "I've had confidence in Creighton since day one. And the University has followed through on everything they said they would do and more."
One of her favorite things about being a Creighton parent is seeing the passion and curiosity the University has ignited in her children.
As students, they've been able do undergraduate research (one of them while in Ghana). They've made lifelong relationships with their professors. They've taken theology classes and found ways to deepen the faith and values they were raised on.
"While they were taking a theology class, one of them told me, 'Mom, I know you were my confirmation teacher, so don't take this the wrong way, but I just now realized the Bible is a really amazing book,''' Pam says with a laugh. "I said, 'I don't care how you figure that out, just as long as you figure it out.'"
* * *
Creighton mother: Kimberly Gill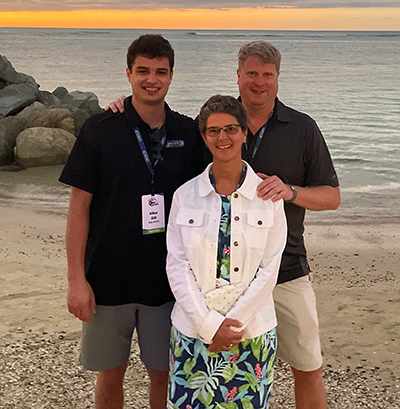 Lives in: Sun Valley, Idaho
Son: Riley Gill, senior in the Heider College of Business
Kimberly remembers feeling that Creighton was special from the early days of Riley's college visits and application process.
"For Riley choosing to come to Creighton, I have to give the admissions team credit," she says. "They made him feel wanted. He felt pursued, and that sense of pride really carried over to his efforts and results. He felt like there was a caring team behind all of it.
"With his current experiences as a student, with classes, internship opportunities and lifelong friends and their families, we truly couldn't be happier," Kimberly says. "I'm always recommending Creighton to friends with college-age students. In fact, I'm hopeful my youngest son will also end up there."
* * *
Creighton mother: Anne Coffey, BSN'71
Lives in: Omaha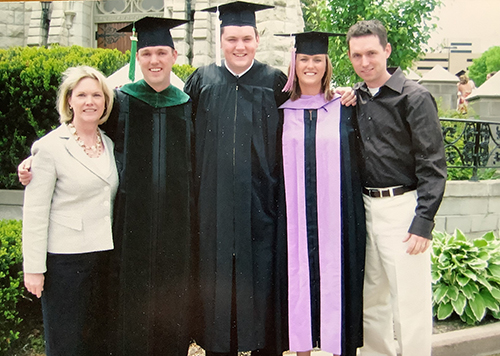 Children: Kevin Coffey, BA'06; Katherine Coffey, DDS'06; Stephen Coffey, BS'00, DDS'04; Michael Coffey, BS'99, MD'06
For a few years, all four of Anne's children attended Creighton at the same time, three of them graduating on the same day at the Civic Auditorium. (Commencement 2006 was a very long day.)
"Watching them at Creighton was a great experience all the way around," Anne says. "They all chose to go to Creighton on their own, but we were happy with their decision. We knew they'd get a great education, and we knew that the size of campus really lends itself to meeting great friends you keep forever."
Anne knows this from experience. She's been in a bridge group with the same crew of Creighton friends since her own graduation.
* * *
Creighton mother: Dr. Marleen Masuoka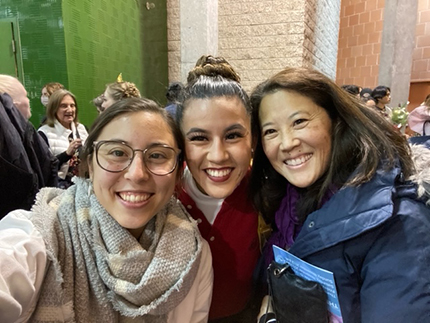 Lives in: El Dorado, California
Children: Olivia Dishno, senior in the College of Arts and Sciences; Morgan Dishno, BS'19, now a student in the School of Medicine
One of Marleen's favorite Creighton-related memories is going to the Dominican Republic to work alongside one of her daughters, who was working as a student coordinator for a summer health clinic.
"I was amazed at the cooperation, compassion and talent of the students from Creighton's undergraduate and professional health care programs," Marleen says. "My daughters have both experienced many service opportunities through Creighton in the U.S. and abroad. These experiences have given them the chance to be part of a community outside their own, experiencing different cultures, working hard with their fellow students and giving to communities in need."
That her children have grown and continue to grow from such experiences is extremely rewarding as a parent, Marleen says.
"College is a unique time in a student's life to develop their independence, interests and autonomy. Even if my daughters had chosen a university closer to home and not two flights away, I would want to give them this space for growth. Knowing Creighton is invested in the health and well-being of its students certainly is assuring."
* * *
Creighton mother: Suzanne Kotula, BSN'85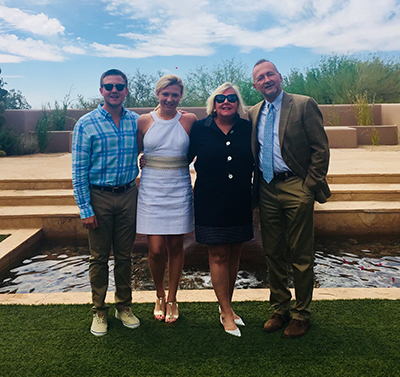 Lives in: Omaha
Children: Anna Kotula, senior in the College of Arts and Sciences; Adam Kotula, BS'17
"It just feels like home for our family," Suzanne says of campus. "It has even more of a community feeling than when I was a student. Creighton has come a long way and keeps improving."
(One example: Suzanne says the cafeteria food is much better than it was in 1985.)
Yet some things remain the same. The Creighton values, for instance. The call to service. The focus on forming leaders.
Suzanne says it's been a joy to watch her children grow — as students, as leaders, as people — and to see them walk many of the same paths that helped define her own life, from the Mall to Kiewit Hall.
* * *
Creighton mother: Cindy Tavares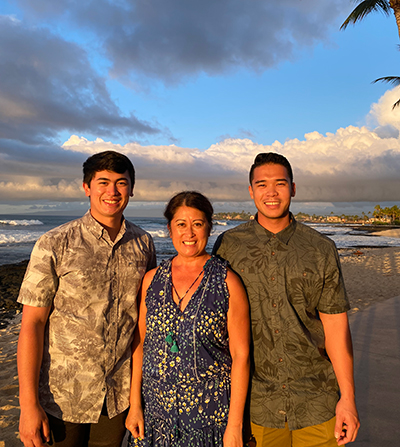 Lives in: Holualoa, Hawaii
Son: Hunter Tavares, junior in the College of Arts and Sciences
Hunter might be far from home, but there's such a strong connection between Hawaii and Creighton — and such a strong support network at the University and among Creighton parents in Hawaii — that Cindy feels at ease.
"It's very important that he is in a safe place that is really student- and family-oriented, with the focus on ensuring the students are welcomed into the Creighton family and the resources are there in case we have any questions," Cindy says.
She says she and Hunter's Creighton experience has been top-notch. It's been a joy to see him grow into a leader and pick up new skills — such as learning the Haka, Hula performances through the Hawaii Club.
"I love to hear that he's enjoying his classes and enjoying being with his friends and learning about himself."
* * *
Creighton mother: Maureen Huldin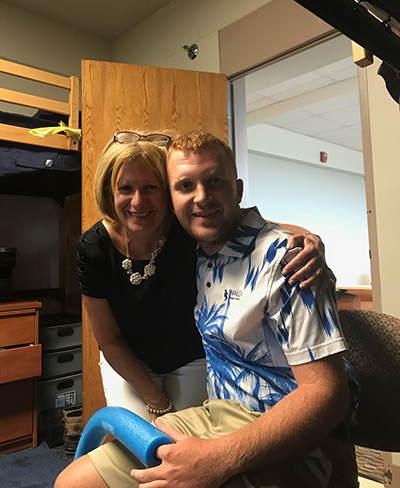 Lives in: Beverly Hills, Michigan
Son: Grayson Huldin, BSCHM'22
Though Creighton is a good distance away, Maureen and her husband, Donald Huldin, had been able to visit campus at least once nearly every semester of Grayson's time on campus.
It was a pleasure, Maureen says, to see Grayson so involved, in everything from poster presentations to rugby matches. He was able to pursue his passion across his dual majors of chemistry and theology, studying abroad in Uganda and working on a project translating the Bible into Greek.
"He developed a nice, independent life while growing and exploring his options," Maureen says. "But what's most important to me is that he's happy, and Grayson was very happy at Creighton."
* * *
Creighton mother: Stephanie McGuire
Lives in: Houston, Texas
Children: Deia McGuire, senior in the Heider College of Business; David McGuire, BSEVS'21, current student in the School of Law; Riley McGuire, BSBA'20
"The first time we visited Creighton, we were consistently greeted with smiles," Stephanie says. "After visiting other prospective colleges, the 'Creighton fit' became immediately self-evident. Our experiences, several years and three students later, re-affirms our first impressions."
One of Stephanie's favorite things about being a Creighton parent is seeing how her children are learning through doing.
Her daughter, for instance, is an accounting major who participated in an on-campus clinic to assist people in filing their tax returns. One of her sons took a course in Native American culture and was able to participate in tribal activities.
"It's one thing to read the tax code, and it's one thing to study a culture;" Stephanie says. "It's a completely different experience to sit with a client or the people of a tribe. Understanding through life experience outstrips any lecture."
Stephanie says she's also taken comfort from the smaller class sizes, dorm configuration and support system Creighton has provided for her children. They always know where to find someone if they need help, she says.
Another perk of being a Creighton mother, Stephanie says, is getting to join the Creighton community.
"It's always fun to meet people with Creighton connections in unlikely places. There have been many, many times (when we're wearing our Creighton gear) that we've been approached by people who are Creighton alumni or parents or Omaha residents. It's a pleasure to hear their Creighton stories."