Featured Testimonial About Creighton University
By Micah Mertes
As Father's Day approaches, we thought it would be a great time to highlight dear ol' dad through the lens of multi-generation Creighton families. Here are seven stories of sons and daughters who followed in the academic footsteps of their fathers (and, in some cases, a father's father).
Note: This story is an update and combination of previous stories about multi-generation Creighton families. Have more great stories of Creighton dads? Send them to micahmertes@creighton.edu.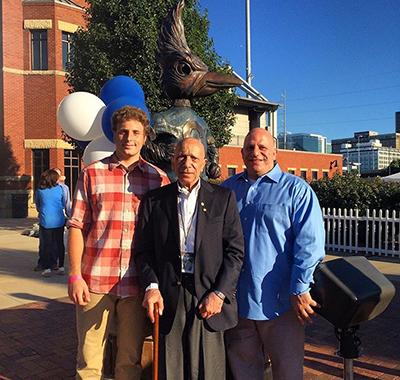 The Kouris
Grandfather: Fred Kouri, BS'50
Father: Steve Kouri, BA'85
Son: Sam Kouri, BSBA'19
Fred Kouri passed away in 2020 at the age of 92, and up to the end of his life, his grandson says, he'd still tell Creighton stories.
"They were some of his fondest memories."
Sam recalls those stories, as well as the stories his father told. When he was growing up, Creighton was a continual topic of conversation. How campus had changed. How it hadn't.
When Sam started his freshman year, he and Steve brought Fred to campus for homecoming. Fred was then celebrating his 65th reunion.
"He talked about how everything past 24th Street hadn't been built yet when he went to Creighton," Sam says of his grandfather. "But we also talked about the similarities."
Sam said the three generations of Kouri men each had their own interests and pursued different professions, but Creighton always bonded them together.
The three sharing an alma mater is a special thing, Steve says. "The Catholic education has been so important to us. It was just a great experience for all of us."
The Budesheims
Father: Thomas Lee Budesheim, PhD, associate professor of psychological science
Daughter: Erin Budesheim, BS'19
Lee Budesheim has been at Creighton since before his daughter was born. In 2019, he got to see her graduate from the University with a degree in his field.
Not only that, he got to have Erin as a student in two classes.
"People ask if it's weird," Erin says, "but it's the coolest thing ever! I know my dad loves what he does – seeing his passion and compassion in action is the coolest thing."
Growing up, Erin was at Creighton a lot, and as a little girl she sat in on a few of her father's classes. Perhaps this prepared them both for their eventual professor-student dynamic.
"It was a bit awkward at first," Lee says of having his daughter for a student, "but it became fun. It was a challenge for both of us. One student asked Erin once if she had an unfair advantage being my daughter. She guffawed and said, 'If anything, he's going to be tougher on me than anyone.' I did have high expectations for her, but I was careful to treat her like every other student."
Since 2019, Erin has been in a doctoral program in counseling psychology at the University of Illinois, her father's alma mater
"She is fabulous," Lee says of his daughter. "I'm so proud. To see how much she matured at Creighton and became an independent scholar, it was just a thrill to see that up close."
The Berberiches
Father: Ken Berberich, BSBA'79
Daughter: Kimberly Berberich, BS'13
Son: Timothy Berberich, BSBA'21
Ken's 30-year reunion ended up falling on his daughter's freshman year. Kimberly wasn't sure she wanted to go to Creighton, but her dad convinced her to make the University a stop on their roster of campus tours.
"When we got to Omaha, it was a terrible January," Kimberly says. "Cold, snowy, sleety, and we went all over campus."
(She grew up outside Chicago, so the weather wasn't exactly a shock to her.)
"I wasn't really interested in being a legacy student," she says, "but I just fell in love with campus. I didn't want to admit it to my dad. But he was right about Creighton. I waited two months later to tell him that."
Ken always talked about his Creighton experience when Kimberly was growing up — she knew what "magis" meant at an early age — but she didn't really understand what a Jesuit education meant until she came to Creighton.
"To me, it means faith in action," she says. "It was really about building my faith and being able to share it with people through my actions, doing good in the world."
She's now a social worker, and whether she's working at a women's shelter or raising money for a center that serves the underserved, she's reminded on a regular basis of her own Creighton experience and how well it prepared her for what came next.
In this case at least, father knew best.
The Youngs
Grandfather: William W. Young, Sr., PharmD, former Creighton professor
Father: William Wayne Young, Jr., PhD, BA'93, associate vice provost for Student Development
Daughter: Kayla Young, BA'19
Growing up, Wayne came to Creighton with his father pretty much all the time. He'd go to campus on the weekends to help Dad clean his lab. They'd go to runs and walks and basketball games and Christmas parties, and, inevitably, his father's love of the University spilled over into him. Now he's getting to pass it on to his own children.
Wayne's daughter Kayla graduated in 2019, and his son Brad is a student in the Heider College of Business this fall. They, too, grew up in a Creighton household.
But beyond ballgames and Bluejay apparel, William Jr. wanted to instill in them something deeper.
"I always wanted the Jesuit education for them," he says. "I want it ingrained in them, that value of finding God in all people and all experiences, of being women and men for and with others. That 'with others' part has a social justice piece that kicks in. Jesuit education is about the gritty reality of the world. About being in touch with that, heart-to-heart with that. That's why I love this place."
Kayla certainly embodies the values of a Jesuit education — working with ILAC and the Jesuit Volunteer Corps.
"I'm delighted about where her life is headed," William Jr. says of his daughter, "regardless of what she does for a vocation. I already know where her heart and soul are."
The Billingses
Father: Scott Billings, BSBA'88, MBA'90
Mother: Molly Billings, BA'90, MBA'96
Son: Nicholas Billings, BSBA'19
Daughter: Elizabeth Billings, student in Creighton's Heider College of Business
Scott and Molly met at Creighton, got married at St. John's and spent the next few decades singing the University's praises to their children. Molly works at Creighton, as the senior director of human resources, so the kids were on campus a lot.
"Molly and I bleed blue," Scott says, "and our children had a complete comfort level with the campus surroundings before they were even students there."
The Thelens
Grandfather: Duane Thelen, BS'56, MBA'71
Father: Alan Thelen, BA'81, JD'84
Mother: Sandra Thelen, BSBA'85, JD'87
Son: Mike Thelen, BSBA'13, JD'16
Daughter: Carly Thelen, BSBA'15
Duane Thelen was the first person in his family to go to college. He came to Creighton from Carroll, Iowa, about 100 miles northeast of Omaha. He didn't have a car, nor much money, and would regularly hitchhike back and forth between Carroll and Creighton.
While at Creighton, he met his future wife, Joyce Thelen, and they enjoyed nearly six decades of marriage until Duane passed away in 2017.
"Dad was an avid Bluejays sports fan," Alan says. "He took me, as a young tyke, to Creighton basketball games at the Civic Auditorium. Dad would tell me stories, about his classes with Fr. Neil Cahill, SJ, of the business school, about eating lunch at Beal's Café at 24th and California."
When it came time for Alan to pick a college, his father drove him to tour several.
"At the end of it all, Dad gave me the advice, 'Wouldn't you just rather go to Creighton?'" Alan says. "Dad was usually right when he gave advice. He was right that time."
While at Creighton, Alan ate a few burgers at Beal's. He met his future wife, Sandra Thelen. Later, Alan took his own children to Creighton basketball games, instilling in them a love of the University. His children, Mike and Carly Thelen, eventually went to Creighton themselves.
Alan: "Can you see some recurring themes here? Some things don't change, even as generations come and go."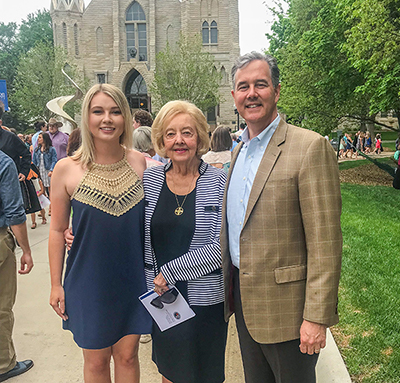 Four generations of Bluejays
Great-grandfather: Willis "Mike" Herbert, BS'27, MD'29
Grandmother: Adelaide "Corky" Herbert Erftmier, BSPHA'60
Father: Don Erftmier Jr., BSBA'87
Daughter: Elizabeth "Lizzie" Erftmier, BA'18
Son: Donald Erftmier, III, BSBA'19
Her family's Creighton history dates all the way back to when the University had a football team.
The story begins with her father, Willis "Mike" Herbert, BS'27, MD'29, a student-athlete from Minnesota who "ended his three-year career in a whirl of glory," reads the Bluejay yearbook published his senior year.
Then Adelaide "Corky" Herbert Erftmier, BSPHA'60, continued the Creighton tradition.
As did her two sons — Don Erftmier Jr., BSBA'87, and Mike Erftmier, BSBA'90.
As did Don's children Elizabeth "Lizzie" Erftmier, BA'18, and Donald Erftmier, III, BSBA'19.
"Everyone throughout the generations had such a great experience," says Don Jr., an attorney in Omaha. "Starting with my grandfather in the '20s and my mother in the '50s, my wife and I in the '80s and now Lizzie and Donald in the 2010s. Everybody's experience and the quality of education we received was wonderful. When you have an experience like that, you become an ambassador for the place that gave you that experience."
Shortly before she died in 2018, Adelaide — or "Corky," as her friends knew her — was able to see her granddaughter graduate from Creighton, making them a four-generation Creighton family.
It meant a lot to Adelaide that Lizzie went to Creighton. Four years earlier, in fact, when Lizzie was a senior in high school, her grandmother ran into then-Creighton President Father Timothy R. Lannon, SJ, BS'73, at a Creighton dinner.
"My grandmother shared with him that I wanted to study journalism and was considering going to Loyola Marymount," Lizzie says. "She told him how much she enjoyed her time at Creighton and hoped that I would end up there. Just days later, I received a personal letter from Fr. Lannon sharing his hope that I would continue my education at Creighton in their journalism department."
And so the tradition continued.
When Corky entered Creighton pharmacy school in the '50s, she was one of just three women in the program. One of her classmates was Rose Wilson, BSPHA'58.
Rose and Corky were lifelong friends. In the last few years of Corky's life, the two met regularly to catch up over long lunches. In fact, they had lunch just a week before she passed away.
"She was wonderful," Rose says of her friend. "She was so witty, so nice to everybody. I can't say enough good things about her. We were friends for 65 years, and I'm still hoping that one day I can be like her."
Her friends and family knew that Creighton meant the world to Corky.
"Mom was very proud of her Creighton pharmacy degree," says Don Jr. "She kept her license active and attended continuing education classes her entire life.
"She was very proud of what she and her family accomplished at Creighton. And she wanted to help others have that same experience."
In her estate plan, Corky made a significant gift to Creighton to endow a scholarship for students in the School of Pharmacy and Health Professions.
"We are thrilled that her legacy will continue through this scholarship," Don Jr. says. "Even though she's no longer with us, she will continue to be a part of the Creighton community."