Featured Testimonial About Creighton University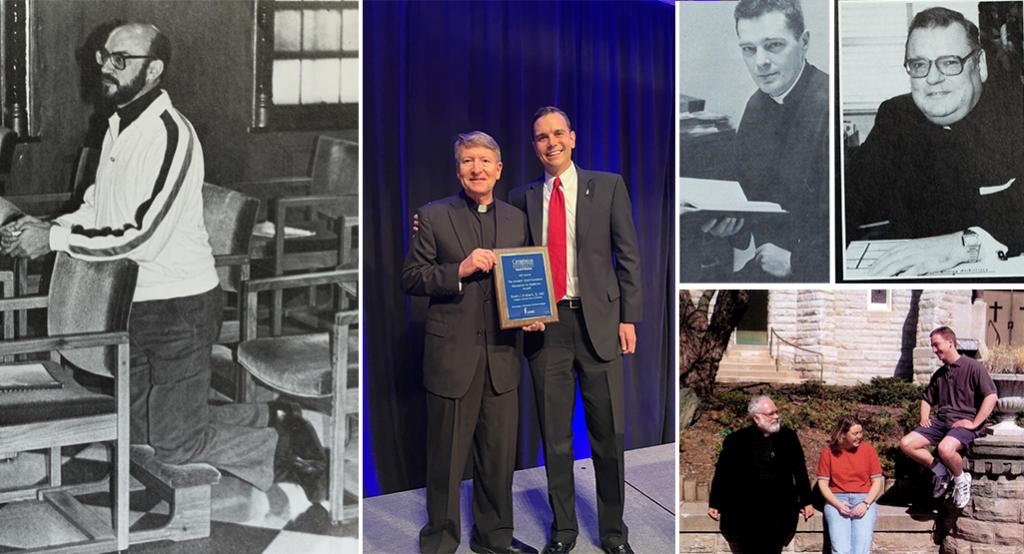 We are so blessed that he chose to devote his life to Creighton, and I am so blessed to have counted him as a friend.
Read more
* * *
By Micah Mertes
Creighton is, and has always been, a Jesuit institution. That means a lot of things, but what it means on an everyday, practical level is … there are just a whole lot of Jesuits on campus.
Their presence is one of the defining characteristics — if not the defining characteristic — of the University. Their approach to caring for students from every conceivable angle just makes this a different kind of educational experience.
We wrote extensively about this idea here and also here. But we also wanted to give some alumni a chance to share their stories of the Jesuit or Jesuits who defined their Creighton experience.
Here are a few stories of Creighton Jesuits who took the time and attention to care for the whole person, who offered words of consolation and spiritual direction to any student seeking something more from their university.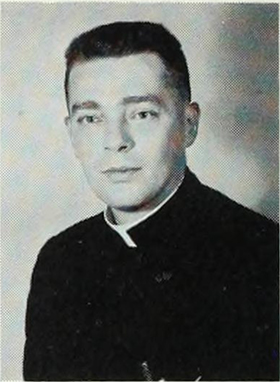 Do you want to share your story of a Jesuit who changed (or at least influenced) your life? Send your story to micahmertes@creighton.edu.
* * *
In the spring of 1960, Marguerite Holbrook Smith, BS'63, MS'95, was called out of her theology class and told that her father had suffered a heart attack.
As she collected her books to head home, her professor, the Rev. Wendell Langley, SJ, told her he would pray for her family. He also suggested she attend the Novena of Grace at St. John's Church.
"My dad survived 11 more years," Marguerite says. "And I have made it to the Novena ever since. Thank you, Fr. Wendell Langley."
* * *
A few days after Christmas in 1968, James Fogarty, BA'67, and Colleen Fogarty, BS'67, got married during a Nebraska blizzard.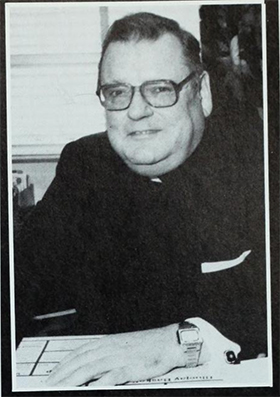 Their wedding was in the small town of Wisner, about 90 minutes northwest of Omaha. But no matter the weather, longtime family friend and legendary Creighton Jesuit the Rev. Neil Cahill, SJ, BS'43, MS'77, was going to celebrate their big day. He braved the blizzard and arrived safely. Fr. Cahill never missed a wedding.
"He was so proud of the hundreds of weddings he attended or officiated," James says. "He had photos of happy couples all over his office walls. If a family member died, he was always first on the scene at my parents' house to help those grieving, in his own friendly way.
"He always went the extra mile." Even in a blizzard.
* * *
Catherine Harvey Cole, BA'03, says that the Rev. Tom Schloemer, SJ, was the Jesuit who helped her understand that priests are people with their own stories, struggles, joys, lives.
Fr. Tom was the resident Jesuit in Kiewit Hall, where Catherine's then-boyfriend/now-husband Patrick Cole, BA'03, lived. Catherine recalls that the boys on the fourth floor would play lacrosse in the hallway, and the ball would often hit Fr. Tom's door. But he'd never complain.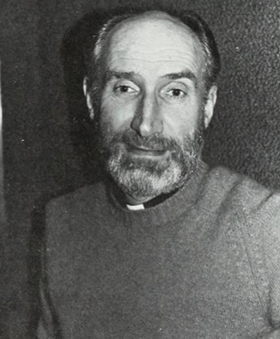 "Fr. Tom learned everyone's name and had a memory as clear as ice," Catherine says. "He was always willing to spend time talking with students, and he became the mentor for me and my husband."
Six years after Catherine and Patrick met Fr. Tom, he would officiate their wedding (on a day that also happened to be his 70th birthday). Every year, the couple calls him on their anniversary/his birthday to catch up.
"We're so grateful for his presence in our life."
* * *
When Vince Valentino, BSBA'72, JD'74, was a Creighton Prep sophomore, he met the Rev. PJ Fleming, SJ, the scholastic teaching the high school's advanced placement English class. Fr. Fleming remained Vince's mentor at Prep, throughout business school, law school and beyond. Vince attended the Jesuit's ordination at St. John's and celebrated his becoming a Creighton professor.
"He was not only my instructor," Vince says. "He was my friend. He was an example of how a man can be a great teacher and lead a religious life as a Jesuit, as a man for others."
* * *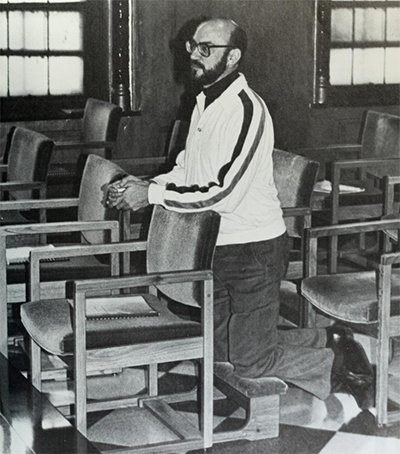 Eileen Wirth, PhD, professor emeritus, says the Rev. Dick Hauser, SJ, was the pied piper of Creighton's Jesuits. He was the one who enticed faculty, including her, to embrace the University's Jesuit mission.
"He did this by making the mission incredibly attractive and compelling," Wirth says. "I'm not the only one still asking how I can make a difference in people's lives like he did. I learned so much from watching him."
She recalls the time Fr. Hauser obliterated a consultant who wanted Creighton to omit God from admissions materials (because God hadn't tested well with teens in a focus group).
"Dick never stopped fighting for our Jesuit mission," Wirth says. "We are so blessed that he chose to devote his life to Creighton, and I am so blessed to have counted him as a friend."
In an old Bluejay yearbook, Fr. Hauser was asked: What have the students at Creighton taught you during your years here?
He said: "I'm becoming more and more aware that our students are looking for a deeper relationship with God. From celebrating Candlelight choir, I understand the deep spiritual relationship of the students, and that in turn strengthens my own faith. Some of the most profound moments I have each week are at Mass, looking into the faces of faith-filled students."
* * *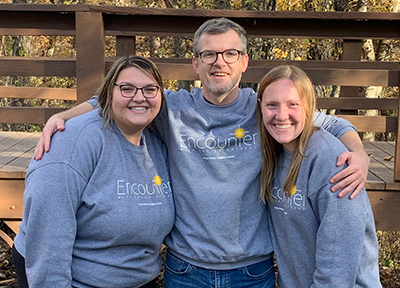 Kim Berning, BSBA'22, says that more than anyone else at Creighton, the Rev. Jeff Sullivan, SJ, BA'03, helped her experience more freedom in her relationship with God, advising her not to settle for her own plans but to discern the greatness that God has in store for her.
"Fr. Sullivan walked with me, listened to me and shared his own story of joys and struggles, all while inviting me to be courageous enough to trust God," Kim says.
"He's impacted so many other students, through Campus Ministry, on retreats, at St. John's and by simply walking down the Mall and speaking with people."
* * *
A Jesuit who profoundly influenced National Alumni Board president Rick Witt, BSBA'74, during his time at Creighton was the Rev. Thomas Hoffman, SJ. Fr. Hoffman was a theology instructor whose class "A History of the Old Testament" proved a game-changer for Witt.
"He brought our faith to life in that course," Witt says, "which wrapped religion around history in a very compelling and magnetic way. It was fascinating material made even more real by Fr. Hoffman incorporating insights from his numerous trips to the Holy Land."
Witt enjoyed that class so much he also took Fr. Hoffman's classes on the history of the New Testament and the Gospel of St. John.
"Fr. Hoffman is deceased, but I regularly think of him and those great theology classes he brought to life. May he rest in peace for a job well done."
* * *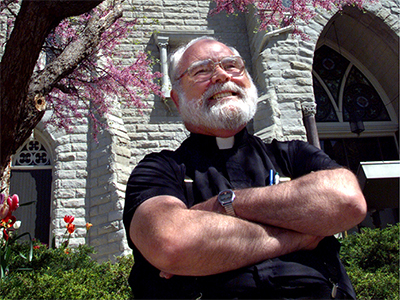 You could always count on him being there, says Christine Meis, BS'97.
Every day around lunchtime, there was then-Creighton President the Rev. Michael Morrison, SJ, sitting on the park bench outside Creighton Hall (a.k.a. the Administration Building).
"He was just always waiting for students to walk by, and he would invite them to have a chat with him," Christine says.
She worked in the admissions office as a student recruiter when she was at Creighton, and she always tried to schedule her tours when she knew Fr. Morrison would be sitting there.
"He always had an amazing smile and would brighten any day with his obvious love and care for each and every student," Christine says. "He took an interest in all students. He never failed to remember our names or majors."
* * *
Hayden Hubbs, BS'22, was born and raised Episcopalian, but she'd gone to a Jesuit high school and already fallen in love with Ignatian spirituality by the time she arrived at Creighton.
She was pre-med, a biology major. She loved it, yet over the years she felt called to pursue a minor in theology, too.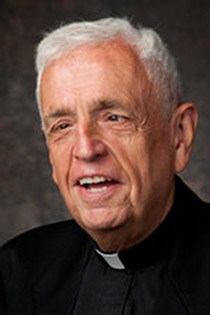 Hayden's last semester at Creighton, she was prepared to take the next steps toward medical school. Then she ran into the Rev. Larry Gillick, SJ, on campus one day. He encouraged her to take the Spiritual Exercises class.
That class helped Hubbs realize she wanted to take a more ministerial path into health care. She now hopes to become a hospital chaplain.
In the meantime, she's found the perfect place to serve. Last fall, Hubbs moved to Tacoma, Washington, to work for L'Arche Tahoma Hope, a community that cares for people with intellectual disabilities.
She thanks Jesuits such as Fr. Gillick, who "kept me walking down the right road. Which ended up being a different road."
Read more about the amazing Fr. Gillick and how experiences Creighton.
* * *
Hunter Allen, BSBA'14, MD'22, was a Heider College of Business accounting graduate who decided to become a physician. The reason for the switch, as much as anything, was his time working as a bus driver.
Though he loved his business school experience, he'd decided this maybe wasn't for him. Nonetheless, he was committed to earning his accounting degree. To support himself his junior and senior years of business school, he drove a school bus for Omaha Public Schools.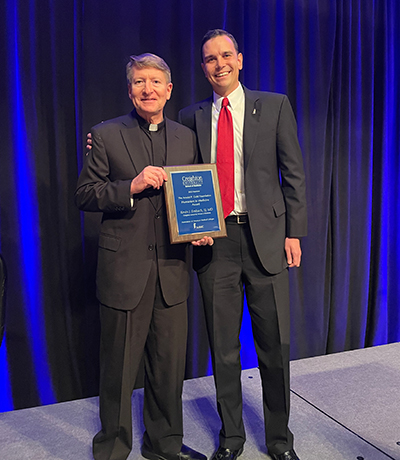 Allen would pick up and drop off elementary and high school students from class, park the school bus by Creighton Public Safety, run to the Harper Center for his classes, then head back to the bus to finish his day.
"That experience changed everything," Allen says. "Every day, 30 sets of parents trusted me to keep their children safe. I realized that I thrived in the responsibility of caring for the well-being of others. I realized that this … this is when I like me best. And that realization led me to medicine."
Allen's bus-driving epiphany aside, it was the Creighton Jesuits who played a key role in his career pivot.
"One of the reasons the Jesuit mission at Creighton is so effective at helping people figure out where they fit into the world," he says, "is just how clearly the Jesuits fit into Creighton."
The Jesuits are mentors but also models for living, Hunter says. "They project that presence and positive outlook to everyone they meet. They instill confidence, and in doing so, allow others to become the greatest versions of themselves.
"Though I may not be a Jesuit, that is how I wish to live my life."
***
We're hoping to make a running feature of this. If you'd like to share a story of the Creighton Jesuit who changed or influenced your life, please email micahmertes@creighton.edu.
We also have a collection of stories about more Creighton mentors here.