Featured Testimonial About Creighton University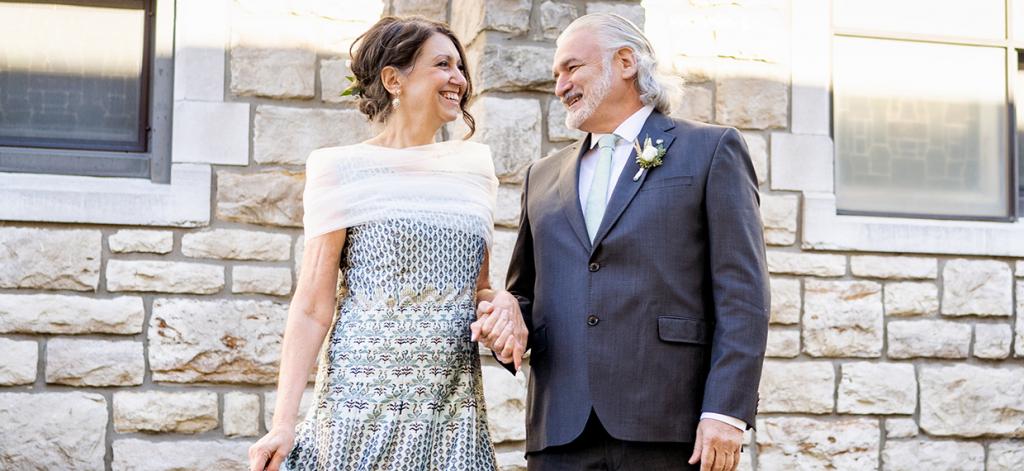 It's fair to say that a Creighton reunion changed our lives forever.

As Creighton love stories go, this one took a while.
It begins nearly 50 years ago. Freshman year, 1973.
Joyce Eisenmenger, BA'77, and Steve Chavez, BS'77, were friends, nothing more. Neither recalls any initial romantic feelings for the other.
After graduation, they went their separate ways and started families. He became a pediatrician, she a journalist.
Forty years later, they met again at a class party during Creighton's Reunion Weekend.
Joyce and Steve got to know each other a bit better at that class party. But it was after their next Creighton reunion a few years later that the two longtime friends started to date.
"It's fair to say that a Creighton reunion changed our lives forever," says Joyce.
They fell not for the people they were at Creighton but for who they became in the many years since. And who they became, they say, had a lot to do with attending Creighton.
"I got a really strong sense of confidence from Creighton that helped me immensely later on," Steve says. "And one of the things I really love about Joyce is she's got such a strong sense of social justice. She learned it at Creighton."
She learned it from the Jesuits, she says. One in particular.
At Creighton, she was an RA in Kiewit Hall at the same time the late Father John P. Schlegel, SJ, lived there — decades before he became the University's 23rd president. Fr. Schlegel would hold midnight Masses for students in the dorm. Those Masses (and the spiritual connections Joyce formed because of them) were the foundation of her Creighton experience.
Joyce recalls other mentors from that time in her life — like Fr. James Datko, who challenged her to think critically in his philosophy class; or longtime Dean of Women Eileen Lieben, who was, Joyce says, "the model of a professional woman. She exuded graciousness."
Beyond Creighton-instilled values, Joyce and Steve share a strong faith in family and community. They each have about the same number of children and grandchildren, all roughly the same ages.
When they got married late last year, Joyce and Steve celebrated a most unlikely family coincidence.
Joyce's parents were married Nov. 28, 1953, at Holy Name Church in Marcus, Iowa.
Steve's parents were married Nov. 28, 1953, at Holy Name Church in Topeka, Kansas.
Joyce and Steve were married Nov. 28, 2020, at Holy Name Church in Kansas City, Kansas.
They've wanted to get married for years, but it had to be on that day, and the Nov. 28 date never really worked out until 2020. It either fell on Thanksgiving or the day before. (In 2021, it falls on a Sunday.)
It had to be 2020, in spite of 2020 being 2020. They told their priest they were getting married the Saturday after Thanksgiving even if it was on the church steps. Even if it was just the two of them and their priest.
It didn't come to that. It ended up being a small wedding with immediate family. Everyone wore a mask and kept a safe distance, Joyce says.
Joyce's 89-year-old mother watched the wedding live on Zoom from Ames, Iowa.
Her mother dressed up for the event. She even had cake and champagne after. She was overjoyed to see her daughter honor her by walking down the aisle 67 years to the day she had.
In this family, anniversaries and reunions are a big deal.
***
Creighton/St. John's Marriage Preparation
All Creighton alumni and their children who live in Omaha have the option of completing marriage preparation through the Creighton/St. John's Marriage Preparation Office, including couples getting married at churches other than St. John's. Experience the gifts of Ignatian spirituality and learn how to build a dynamic and successful marriage.
Email marriageprep@creighton.edu or call 402.280.2205 for an appointment at least six months before the wedding.