Featured Testimonial About Creighton University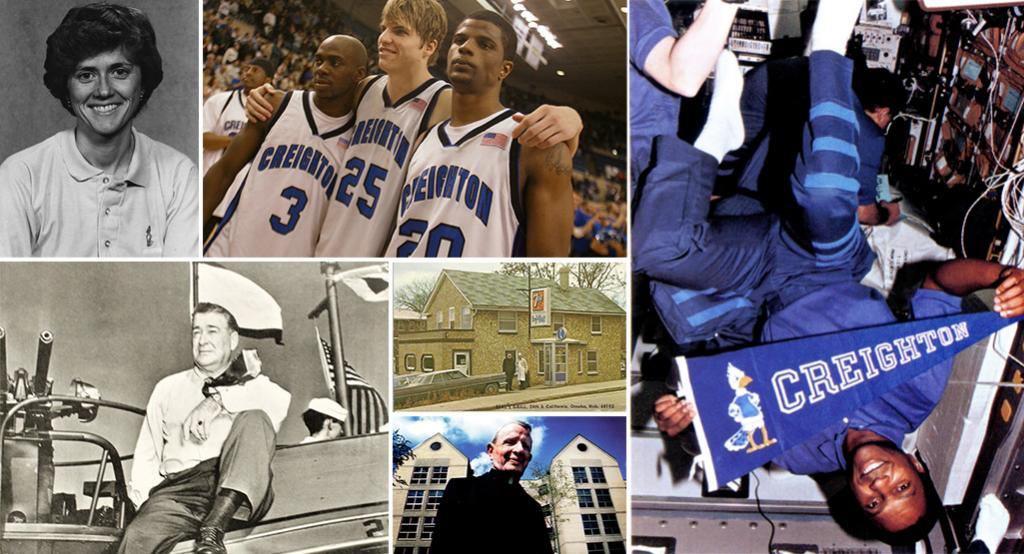 Listen to a new episode of Weird Creighton History, in which we discuss the batch of 2023 Creighton anniversaries featured in this article. Listen to parts 2 and 3 here.
* * *
By Micah Mertes
Each year when we start researching and writing these Creighton anniversaries stories, it at first appears that there aren't going to be that many this time. (And what a relief! Last year's list kinda got out of control!)
We're soon proven wrong. Every time.
The problem (and it's a good problem) is that so much has happened at Creighton and so much of it is interesting and that the need to honor as much of it as possible soon grows into a very long list of fascinating history. All of this is to say …
Welcome to the first of a three-part series of Creighton anniversaries taking place in 2023. You can find part 2 (1948-1973) here and part 3 (1983-2022) here.
Here's to 2023 being another eventful year for Creighton.
* * *
Please note that not all of these anniversaries call for celebration (though many do). Some of the anniversaries mark days of loss and tragedy. We included these entries not to be depressing but to honor the lives of some of the most interesting and integral alumni and friends in the University's 145-year history.
Please also note that we included certain items for the simple reason that we thought it would be funny to do so.

130 years
1893 — The first master's degree
Though the Graduate School wouldn't be established as a separate division of Creighton until 1926, many years earlier, the first Creighton master's degree went to William P. Flynn, BA 1891, MA 1893.

125 years
1898 — The Rev. Michael P. Dowling, SJ, returns as Creighton president.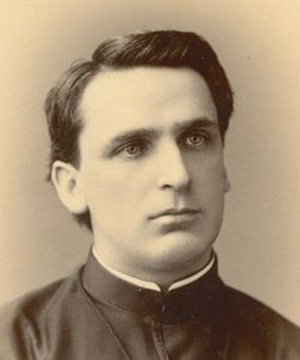 One of the most formative figures in Creighton's history was without a doubt Fr. Dowling, who served as Creighton's leader from 1885 to 1889 and again from 1898 to 1908.
Dowling returned to Creighton following one of the lowest points in the University's history. Like the rest of the nation at the time, Creighton was in dire straits following a decade of economic depression. Through his strong leadership (and a close friendship with John Creighton), Dowling resuscitated a struggling institution and laid the foundation for everything it would become.
Dowling's second tenure saw the founding of the School of Law (1904), the School of Dentistry (1905) and the School of Pharmacy and Health Professions (1905), originally called the College of Pharmacy.

100 years
1923 — The new Creighton
Forty-five years into its existence — many of those years rather rocky — Creighton launched an ambitious fundraising campaign to shore up its future. The $2 million campaign included fundraising for a new football stadium, residence hall, library, chemistry building and arts building (named after Fr. Dowling), making this one of the most literally constructive eras in Creighton's history. (We're in another one of those eras right now, by the way.)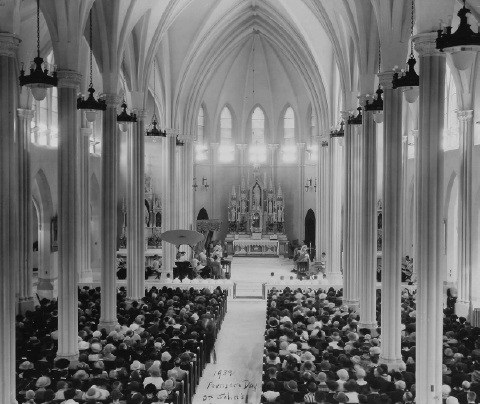 1923 — The new St. John's Church
The start of the 1923 academic year also saw a revitalized St. John's Church, with a new interior and doubled capacity, following years of renovations and expansions. But St. John's wouldn't be completed for another 54 years, when the church's east tower received a 60-foot steeple and the hands for its clock, the finishing touches a gift from the family of a longtime School of Medicine professor.

1923 — The first Board of Regents
Creighton became the first Jesuit university in the U.S. to create a Board of Regents.

1923 — Creighton starts track team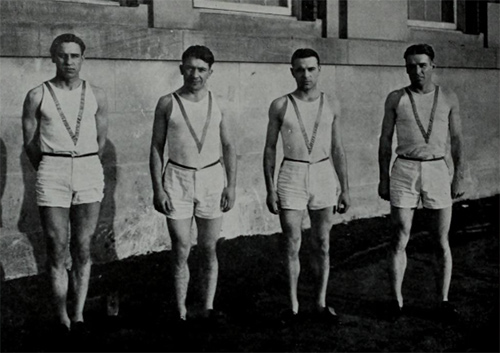 Exactly when Creighton's track program officially started remains a little unclear, with records showing its origins as both 1922 and 1923. In any case, a happy 100th or 101st anniversary to Creighton track.
This much is known … Creighton hosted track meets up until athletics dropped the program in 1961. "It is difficult to say when track will be reinstated," the supervisor of athletics said at the time.
It took another 61 years. In the spring of 2022, Creighton student-athletes competed in (and completed) a full indoor and outdoor NCAA track season as an independent program (non-BIG EAST). This also marked the first official track season for Bluejay women. The return of the track program was a longtime goal of cross country head coach Chris Gannon.

1923 — Creighton names new mascot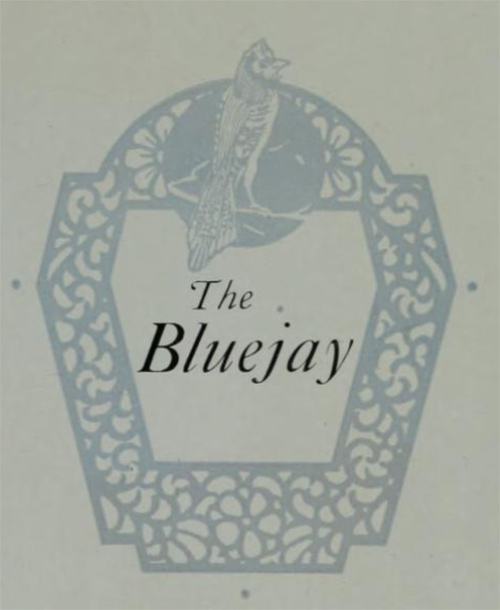 Long ago, Creighton's athletic teams were known by the school colors or the unofficial nickname of the "Hilltoppers," based on campus' elevated position. But by 1923, half a dozen other teams across the country had the same name.
At the behest of alumni and the athletics board, the Omaha Bee newspaper ran a contest to name the University's official mascot. There were 200 entries, including the Creighton Golden Rods, Creighton Shamrocks, Creighton Tigers and Creighton Bears. But the winner, of course, was the Creighton Bluejays, largely because the bird kept with the school's colors. (We officially became the Bluejays at the start of the following year.)
It wasn't until 1941 that the bird got a humanized form and a name: "Battlin' Bill Bluejay." Over the next 80 years, he would be referred to as "The Bluejay," "Billie Bluejay," "Billy the Bluejay," even "William Bluejay" before landing on the tried-and-true Billy Bluejay. And if you're into the whole brevity thing, you can of course just call him Billy. Read more about the history of the Bluejay mascot here.
Note: 2023 is also the 10-year anniversary of our current Billy Bluejay's mascot design.

90 years
1933 — The College of Journalism begins
After nine years as a department housed in the College of Commerce and Finance (now the Heider College of Business), the journalism program set out on its own to make Creighton one of fewer than 40 American universities to have a separate college of journalism.
The College of Journalism (later the School of Journalism) would stand apart for 15 years before once again becoming a department, this time in the College of Arts and Sciences. It remains there today, its current iteration the Department of Computer Science, Design and Journalism.

1933 — Creighton hosts the first "Dads Day"
The forefather of Family Weekend, Dads Day was one of the University's early attempts to better integrate our students' parents into Creighton life. This tradition's still going strong in 2023.

80 years
1943 — Creighton awards honorary degree to Andrew Jackson Higgins
Not long ago, we deemed WWII hero John Pehle, BA'30, as perhaps the single most consequential person ever to have a Creighton degree trailing his name. In hindsight, we'd like to add an asterisk for a Creighton dropout who was later awarded an honorary degree for helping us win the war.
Higgins remains a major figure for anyone remotely interested in WWII. Even in his own time, the Columbus, Nebraska native had such an obvious influence on the course of history that both Eisenhower and Hitler had a nickname for him. Eisenhower called Higgins "The Man Who Won the War," while a bitter Hitler dubbed him "the New Noah."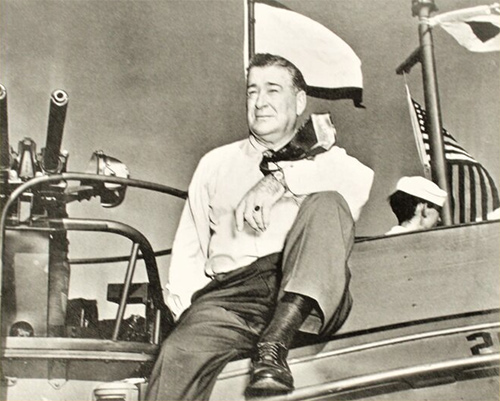 Higgins was the inventor and boatbuilder who manufactured the more than 20,000 "Higgins Boats" (Landing Craft, Vehicle, Personnel or LCVPs) during the war. These shallow-water boats "landed Allied troops not only at Normandy, but on the beaches of North Africa, Italy and countless islands across the Pacific, as well as the German banks of the Rhine River in March 1945." If Higgins hadn't designed and built the LVCPs, Eisenhower once said, "we never could have landed over an open beach. The whole strategy of the war would have been different."
Higgins was an extraordinary individual and also quite a character (expect a full Weird Creighton History episode on him at some point). Let a few of these details suffice for now …
At Creighton, Higgins was a poor student, continually kicked out of class for brawling, eventually dropping out (of what was then the University's high school before it broke off into Creighton Prep) to join the National Guard, which led him to a career in shipbuilding. Higgins' hot temper and brash, irreverent attitude toward authority remained firmly in place the rest of his life, even when it came to dealing with the world's most powerful man.
In the midst of the war, as his boat designs and New Orleans manufacturing operation had become integral to the Allies' victory, Higgins received a message from President Franklin Delano Roosevelt saying he needed to talk with him.
Higgins reportedly responded: "That won't do at all, Mr. President. I want to talk to you."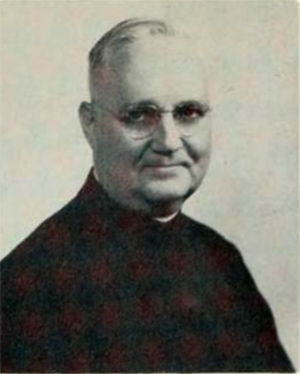 1943 — Bowdern becomes Creighton president
Thomas Bowdern, SJ, served in the role until 1945. Bowdern was the brother of William Bowdern, SJ, who led the St. Louis exorcism that inspired the novel and film The Exorcist.

More 2023 anniversaries
Part Two: 1948-1973 — The DePorres Club, the start of women's sports, Swanson Hall gets AC
Part Three: 1983-2022 — The 'Eternal Flame,' a national championship, an alum goes to space
* * *
Listen to a new episode of Weird Creighton History, in which we discuss the batch of 2023 Creighton anniversaries featured in this article. Listen to parts 2 and 3 here.