Featured Testimonial About Creighton University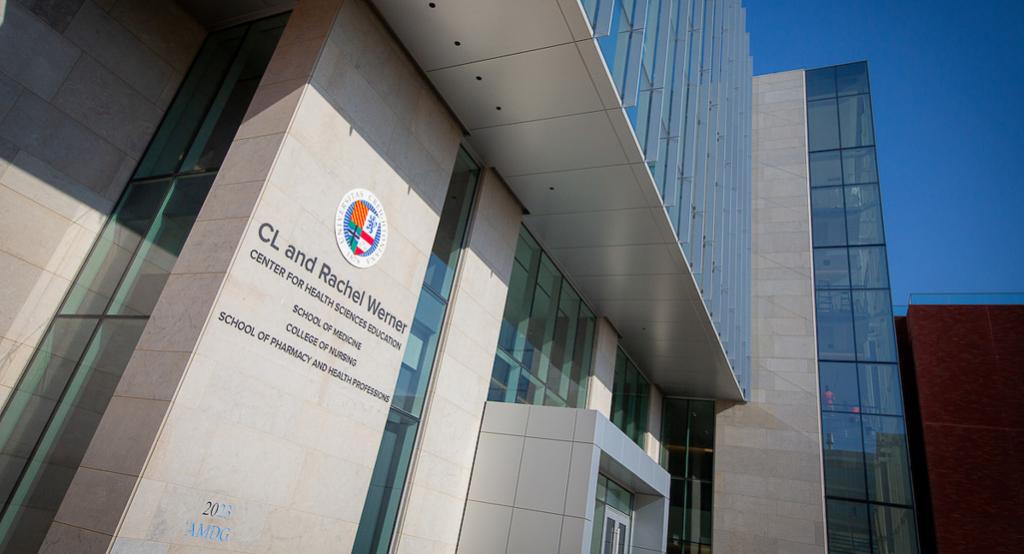 One of Creighton's key market differentiators in the health sciences is not that we're the biggest. It's that we're the best at incorporating the humanities into our education and forming professionals who are critical thinkers in the Jesuit, Catholic tradition. The CL and Rachel Werner Center provides the best possible environment for this.
Robert "Bo" Dunlay, MD'81
School of Medicine Dean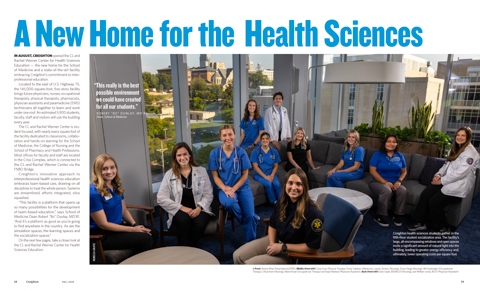 The donor-driven CL and Rachel Werner Center for Health Sciences Education — which broke ground in 2021 — is student focused, with nearly every square foot of the facility dedicated to classrooms, collaboration and hands-on learning.
Read the Creighton magazine article or see below.
* * *
* * *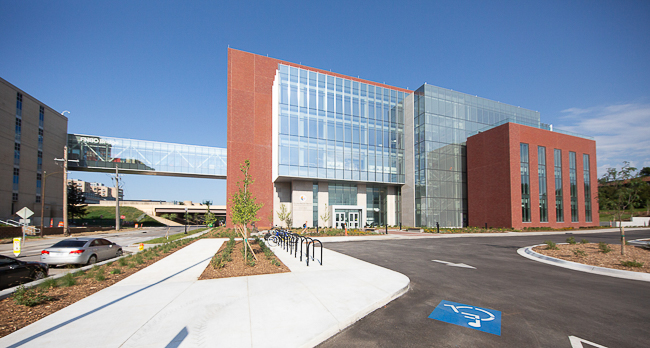 At the start of the fall semester, Creighton University opened the CL and Rachel Werner Center for Health Sciences Education — the new home for the School of Medicine and a state-of-the-art facility embracing Creighton's commitment to interprofessional education.
Located immediately east of U.S. Highway 75, the 145,000-square-foot, five-story facility brings future physicians, nurses, OTs, PTs, physician assistants and EMS technicians all together to learn and work under one roof. An estimated 5,900 students, faculty, staff and visitors will use the building every year.
The CL and Rachel Werner Center — which broke ground in 2021 — is student focused, with nearly every square foot of the facility dedicated to classrooms, collaboration and hands-on learning. Most offices for faculty and staff are located in the Criss Complex, which is connected to the CL and Rachel Werner Center via a skywalk: the FNBO Bridge. The donor-driven project's cost, which included renovations to the Criss Complex, was $90 million.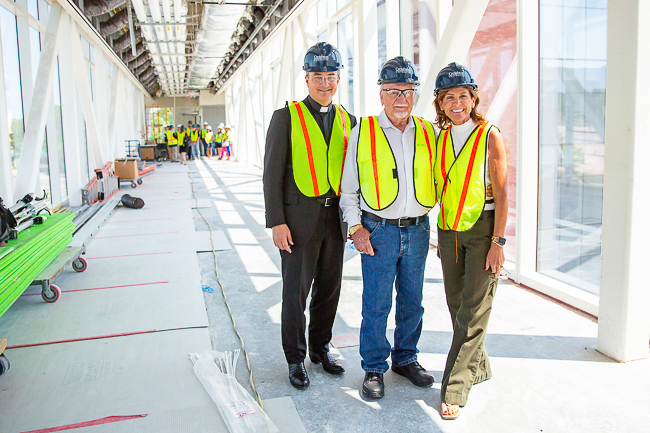 Creighton's new anchor to the west announces the University's bold and ever-evolving presence, in Omaha and beyond, says Creighton President the Rev. Daniel S. Hendrickson, SJ, PhD.
"The CL and Rachel Werner Center is a beacon of the growth and progress of Creighton's health sciences enterprise, which teaches a different kind of care, one that is holistic, empathetic and rooted in our Jesuit values," says Fr. Hendrickson. "This facility will grow and deepen the connections we are already making with the patients and communities our health sciences alumni serve.
"This dream was made possible by CL and Rachel Werner, and I am profoundly grateful for their generosity."
CL and Rachel Werner's lead gift to build the facility continues a long legacy of Creighton support. Over the years, they have made gifts to the School of Law, the Heider College of Business, Athletics and more. Their gift is a game-changing investment.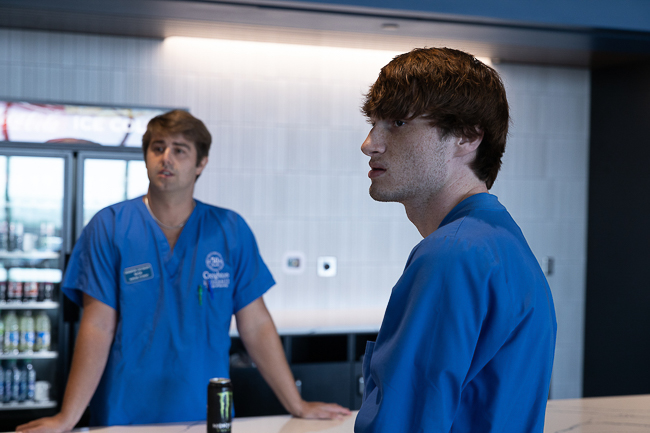 "Creighton is a driving force for education, not only for our city and state but the nation as a whole," says CL Werner, founder, board chairman emeritus and the former longtime CEO of Werner Enterprises. "Rachel and I are excited to see how this new facility will form a generation of future leaders in health care."
Future leaders like Charles Clapp and Lindsay Sasaki, both Class of 2024, who are thrilled they get to spend their final year of nursing school in the CL and Rachel Werner Center.
Sasaki: "We finally have a focused area where we can do our simulations and learn together. I've only been in the new building for about a week, and I can already see how it's giving us a broader scope to the kind of health care we would be practicing — home health care, hospital care, the operating room, all the different fields."
Clapp: "I appreciate how much more interprofessional this building feels already. We interact so much more. We're working more closely with medical students, OTs and PTs, professions we nurses will work alongside the rest of our careers."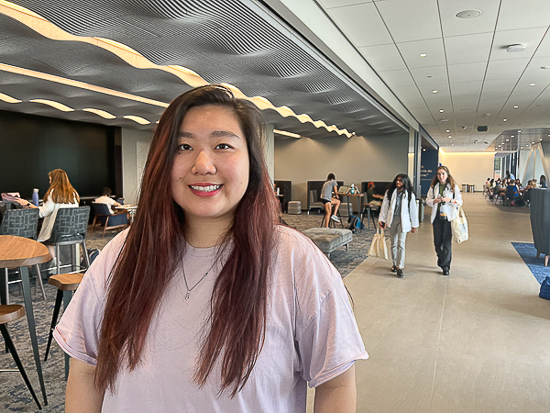 Second-year School of Medicine student Grace Oh says the CL and Rachel Werner Center highlights the human aspects of the education she's receiving.
"The school really does emphasize that being a physician isn't just about knowing the diagnoses and treatment plans," she says. "It's also about human connection. The better you can connect with someone, the better you can care for or work with them."
Creighton's innovative approach to interprofessional health sciences education embraces team-based care, drawing on all disciplines to treat the whole person. Systems are streamlined, efforts integrated, silos squashed.
Studies have shown that such collaborative care models bring huge benefits to patients and providers alike. For instance, the CHI Health Creighton University Medical Center – University Campus found that implementing team-based care decreased emergency room visits and hospitalizations and led to a nearly 50% reduction in patient costs. In the CL and Rachel Werner Center, students will learn to work within this model from day one.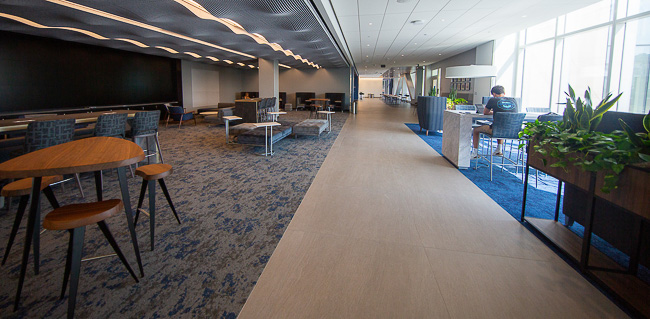 "This facility is a platform that opens up so many possibilities for developing team-based education," says School of Medicine Dean Robert "Bo" Dunlay, MD'81. "And it's a platform as good as you're going to find anywhere in the country. As are the simulation spaces, the learning spaces and the socialization spaces. This really is the best possible environment we could have created for our students."
The design of the facility was largely informed by the Creighton University Health Sciences Campus – Phoenix, which opened in fall 2021 at Park Central in midtown Phoenix.
Though it was, in fact, the plans for an earlier iteration of the CL and Rachel Werner Center that first guided the design of the Phoenix campus, says Catherine Todero, PhD, BSN'72, the recently retired vice provost of Health Sciences Campuses and dean of the College of Nursing.
"Each building project continued to build upon the other," she says. Todero believes that what's happened in Phoenix will happen in the CL and Rachel Werner Center.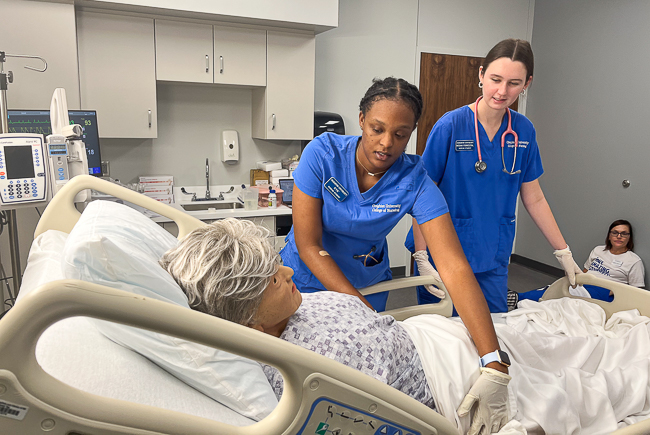 "Like with Phoenix, this facility will solidify our whole approach to interprofessional education," she says. "On the Phoenix campus, we've seen all these health sciences students and faculty crossing paths and rubbing elbows in interprofessional simulation spaces in ways that weren't initially intended. Sometimes, the space itself can influence how you educate your students as much as the education can influence the space."
She cites the Phoenix campus' nursing skills lab as an example. It had been designed primarily for nursing students, but medical students and faculty also saw new training possibilities. Now, they share the space — one of the many instances of different professions learning and working together.
If the CL and Rachel Werner Center is student focused, it is also, to some degree, student led.
"We teach the students, but every day they teach us, too," says Amy Friedman Wilson, PharmD'95, dean of the School of Pharmacy and Health Professions. "So much thought and care went into the creation of this facility, and we are excited to see some of the positive unintended outcomes."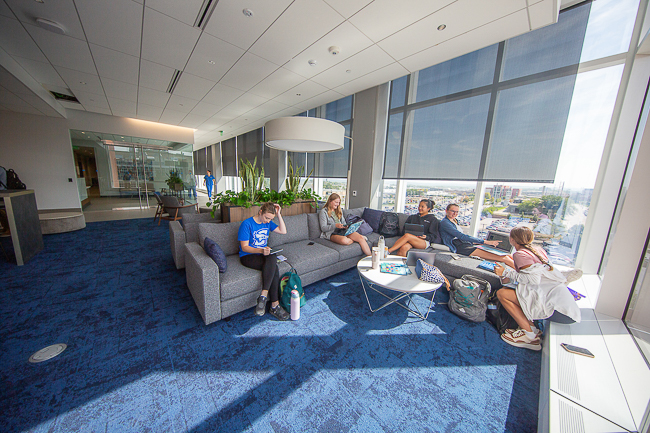 None of the health sciences students we spoke with near the start of the fall semester seemed prepared for just how much the CL and Rachel Werner Center would brighten their day. One of the first things almost every student mentioned was the sunlight, which has brought a fresh boost of vitamin D to their lives.
OT student Anna Nelson: "We have windows in our classrooms now!"
(OT and PT students were previously in the Boyne Building and the Bio-Information Center. The University now plans to sell those properties, bringing nearly all of Creighton's campus east of U.S. Highway 75.)
Resya Sastry, second-year medical student: "There's so much natural light, and it contributes to the overall aesthetic."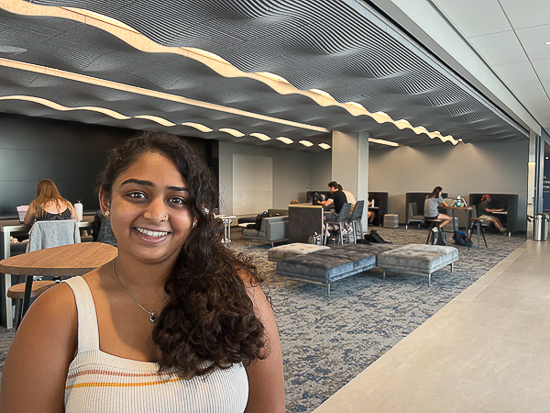 Marian Kinsel, OT student: "Whatever side of the building you're on, you're going to see some light coming in."
Olivia Kent, nursing junior: "It makes a big difference. It gives us an environment that's welcoming and conducive to learning. It's a lot easier for us to learn and a lot easier for us to want to learn in a building like this."
Lauren Zorovic, nursing senior: "Nursing students are no longer in the basement of Criss! One week in, I can already feel my brain thinking more clearly, thanks to all the sunlight. I'm so happy I get to finish my time at Creighton in this building."
* * *
* * *
CREIGHTON HEALTH SCIENCES
By the numbers
The need for this state-of-the-art space couldn't be clearer. On Creighton's Omaha campus:
3 in 5 freshman undergraduate students are interested in pursuing a health sciences career.
More than 3,500 students are enrolled in professional health sciences programs across all campuses.
80% of Creighton undergraduates come from outside Nebraska.
Omaha is the 8th best metro area for health care access in the U.S.
A closer look at the CL and Rachel Werner Center