Featured Testimonial About Creighton University
I wanted to help those who wanted to come to Creighton. I think my mom and dad would approve.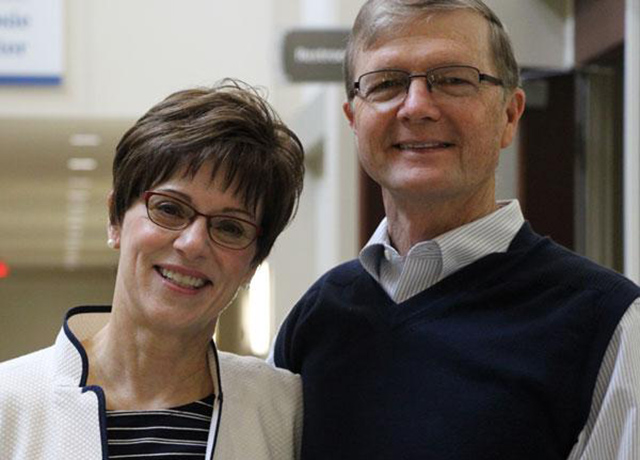 Suzy Smith, BS'70, remembers all the late nights — her father not yet home from work, her mother out on the sunporch awaiting his return.
Their family lived at the end of a long street in Anita, Iowa, and on those nights, whenever that set of headlights finally turned the corner, Janet Burke knew that her husband,  Gail Burke, BS'38, had come home again.
"They were just always a team," Smith said of her parents.
Everything they did — raising a family, building a business, enriching their community — they did together.
The Burkes' lives were marked by their faith and fortitude and perhaps most of all by their generosity.  
Gail devoted much of his time to serving on the local school board, church board and hospital board. And when Cass County needed a new hospital, he helped build it.
Gail passed away in 1991, and Janet in 2016 at the age of 99. They continue to be remembered as two extraordinary people, pillars of their family, friends and community. 
 Now Suzy and her husband, Craig Smith, will honor her parents with a $900,000 deferred gift supporting the Gail and Janet Burke Endowed Scholarship for the Heider College of Business. Gail himself was a graduate of what was then Creighton University's School of Commerce. 
 "Creighton was just such a big part of my father's life and gave him so many things," Smith said. "He never told me to give this amount to Creighton. This was my decision. I was a teacher, and I know that education is the best way to better yourself. I wanted to help those who wanted to come to Creighton. I think my mom and dad would approve." 
Gail Burke had wanted to become a lawyer after finishing his bachelor's in '38. But the family business beckoned.  
He returned to Anita to work with his father, Ernie, and brother, Ray, in their hog-buying business. Burke & Sons (later Burke Bros.) served as the middle man between the hog farmers and the meatpackers in such cities as Omaha and Waterloo, Iowa.   
For much of the middle stretch of the 20th century, you'd find Burke Bros. hog-buying stations scattered all over southwest Iowa. When the packers were ready for an order, the Burkes would ship the hogs, by rail and later by truck, to the big cities.   
Hog-buying was a lucrative business. But it took a stroke of foresight (and a little luck) to make the Burkes their fortune. As a rule, the family didn't gamble. But the one time they did, it worked out quite nicely for them. 
During the war, the government had set up livestock price controls. The Burkes counted on those being lifted at some point, so they stockpiled animals, waiting for the war to end. When the government finally axed the price ceiling in 1945, the value of hogs nearly doubled overnight, and Burke Bros.' bet paid off. 
From there, the company diversified. They sold fertilizer and livestock feed. They bought farmland. In the late '50s, Gail became an avid reader of Fortune Magazine and got into the stock market. He made smart, sound investments, ensuring that his family would be well taken care of. 
But good times came with hardships. In the late '60s, the Burkes were struck by a succession of family tragedies. First, Suzy's sister Sarah died in sledding accident. Suzy was 18 at the time, living in Omaha and back home for Christmas break. Two years later, Suzy was at Creighton when she got the news that her brother Kevin had died fighting in Vietnam.  
"It just really tests you," Suzy said. "You think, you give one and then it's two. That was hard, unbelievably hard. But still my parents kept their faith. Their faith got them through that. My faith did, too."
Through it all, the Burkes received an outpouring of love. Gail and Janet Burke had always lived for and with those around them, and in return they received that same grace from others. 
"Beautiful things were happening, too, even in the hard times," Suzy said. "My dad felt blessed. And he just so believed in the Jesuit education and Christian ideals. It made him who he was. And my mother, too."