High-impact learning
The Honors Program pairs terrific students with terrific faculty — enhancing the undergraduate experience and fueling the rich intellectual life of Creighton University.
Honors students are immersed in a rigorous curriculum guided by a faculty mentor, tapping into high-impact learning opportunities in leadership, studying abroad and grant-supported research.
"The Honors Program has supported students in remarkable academic achievements," said Jeffrey Hause, program director. "With help from donors, we can prepare them to serve as leaders in their fields."
When you support the Honors Program, you help Creighton foster a community ever committed to the formation of future leaders. Thank you.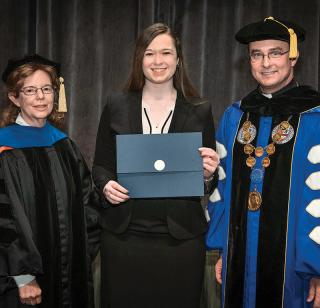 The real value
"I've really worked hard to help other students who might not realize the opportunities the Honors Program opens up for them. It says 'Honors' on your diploma at graduation, but what it means to be an Honors student, and what you're able to do at Creighton through the program — learning what our philosophy is — that's the real value of the Honors Program."
— Margaret "Molly" Carrig, BSCHM'20, Honors Student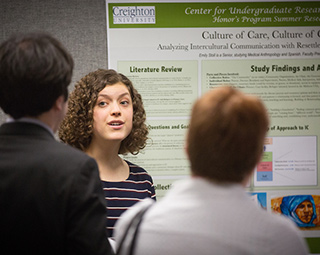 Jesuit education has always been rooted in the liberal arts. It's our tradition. It's our strength. Now, it's our way forward.
A foundation in the liberal arts has never been more essential. The humanities are an ideal training ground for our students to achieve personal and professional growth before they set forth in the world.
Through a College of Arts and Sciences education, our students gain a more profound sense of themselves and the world around them.
You can help us keep this transformative education thriving. You can make a difference today!
Contact a Director of Development
Michael O'Malley
Senior Director of Schools and Colleges Team, Graduate School, College of Arts and Sciences, College of Professional and Continuing Education
MichaelOMalley2@creighton.edu
402.280.2169