Featured Testimonial About Creighton University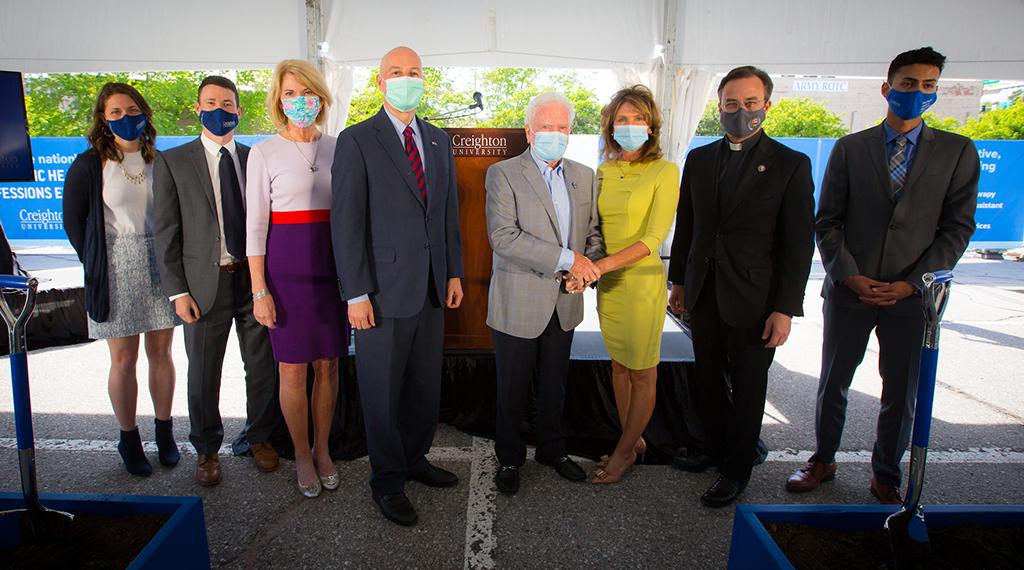 This is a truly transformational moment in our history. It will serve as a symbol of the connections we are making at Creighton — between our spaces, between our disciplines, between ourselves and the people we care for.

The Rev. Daniel S. Hendrickson, SJ, PhD
Creighton president
On Wednesday, May 12, Creighton celebrated the ceremonial groundbreaking of the CL and Rachel Werner Center for Health Sciences Education, a new facility that will dramatically change the west side of campus.
Named for CL and Rachel Werner, longtime Creighton supporters who announced the transformational investment in February, the new five-story facility will bring Creighton's entire campus east of U.S. Highway 75. It is expected to open in fall 2023.
The Werners attended Wednesday afternoon's outdoor ceremony, along with a few dozen other guests. CL Werner spoke during the event; as did Creighton President the Rev. Daniel S. Hendrickson, SJ, PhD; Omaha Mayor Jean Stothert; and Nebraska Gov. Pete Ricketts.
Various local media covered the event, including the Omaha World-Herald, WOWT and KMTV.


The CL and Rachel Werner Center will further Creighton's health sciences enterprise and the interprofessional model of education the University embraces.
The facility will bring together medical, nursing, physician assistant, occupational therapy, physical therapy, pharmacy, behavioral health and other students to train and learn with — and from — each other. The collaborative environment features a centralized interdisciplinary simulation center and active group classrooms.
Here are several photos from Wednesday's event. Here are some of the ways the CL and Rachel Werner Center will build upon Creighton's strengths.