Featured Testimonial About Creighton University
Those of us who experienced his infectious smile, happy chuckle and encouraging comments learned to share those with our students and colleagues, and in that way his joyfulness continues to ripple through schools today.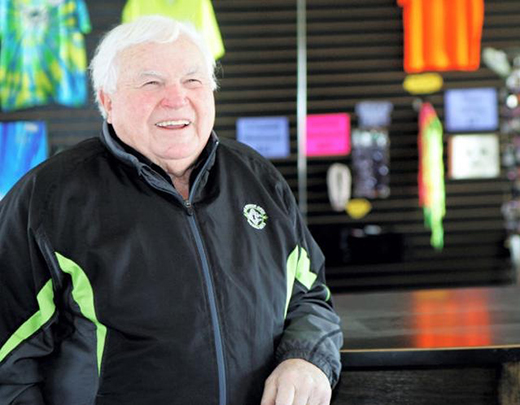 By Eugene Curtin
Despite serving on various governmental bodies in Nebraska for more than 40 years, Paul Hartnett, EdD, never sought the spotlight.
From his 20 years of service in the Nebraska Legislature where his behind-the-scenes labor assembled coalitions that built highways and bridges, to his quiet sponsorship of youth baseball programs and innumerable acts of personal charity, the former Creighton University professor quietly touched lives and transformed communities.
Hartnett, who recently died at the age of 94, taught education at Creighton from 1966 to 2004, part of a lifelong commitment to learning that began in 1958, when he left his hometown of Hubbard, Nebraska, to occupy an administrative position with Bellevue Public Schools. Bellevue became a lifelong cause for Hartnett, as he served 18 years on the Bellevue Board of Education, 20 years in the Legislature representing Bellevue and, after retirement, served for 10 years with the Learning Community of Douglas and Sarpy Counties and as a board member for the Bellevue Housing Authority.
Hartnett's other great love was Creighton University, where he trained generations of educators during almost four decades of teaching.
Nancy Thompson, BA'65, MA'82, who herself built a prominent record of public service as a county commissioner and a state senator, knew Hartnett in several capacities.
"I was so privileged to have Paul as a teacher, mentor, colleague and lifelong friend," she says. "He was always ready to help anyone and everyone, never wanting recognition or accolades.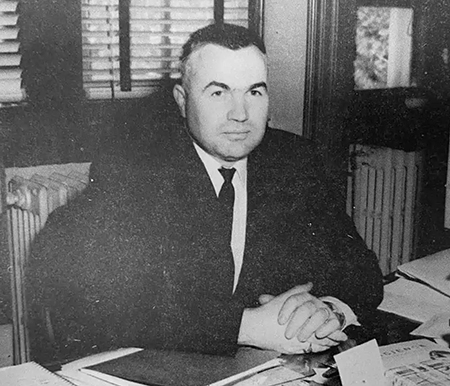 "He stayed involved at Creighton long past his retirement. I have a picture of Paul in my mind at every CU basketball and volleyball game, and I know I join so many others who cherished our time with Paul and will remain his biggest fans."
Hartnett's long tenure at Creighton began on Sept. 1, 1966, after earning a doctorate in education from the University of Nebraska-Lincoln, and is recorded in Creighton's records with the following notation: "Dr. Paul Hartnett, principal of Bellevue, Nebraska Junior High School since 1963, will join Creighton Sept. 1 as assistant professor in education."
Thirty-five years later, the Creighton employee became a Creighton benefactor.
In 1998, he and his wife of 67 years, Marjorie, who died in 2018, established the D. Paul and Marjorie S. Hartnett Endowed Scholarship Fund at Creighton University. The fund supports undergraduate students of high academic standing who demonstrate a need for financial aid. It serves, first, students of Native American ancestry, followed by graduates of Bellevue high schools, followed by graduates of Daniel J. Gross High School who live in Sarpy County, Nebraska, followed by high school graduates from Dakota County, Nebraska.
Despite his weighty governmental responsibilities and challenging teaching duties at Creighton, Hartnett is often remembered for his easy laugh and constant smile.
Diane Flynn, BA'69, who went on to become a teacher, guidance counselor and elementary school principal before retiring in 2019, remembers Hartnett's unflaggingly upbeat persona.
"Dr. Hartnett supervised my student teaching many years ago," she says. "He taught me, by example, the importance of infusing joy into teaching.
"Those of us who experienced his infectious smile, happy chuckle and encouraging comments learned to share those with our students and colleagues, and in that way his joyfulness continues to ripple through schools today."
Hartnett's quiet but influential impact began early.
Steve Jordon, a reporter for the Omaha World-Herald for more than 50 years, from 1968 to 2018, remembers Hartnett's pivotal role in steering him toward journalism.
It was 1962, Jordon recalls, when, as part of a reassigned Air Force family, he landed in Bellevue High School and was assigned a guidance counselor whose close-cropped hair and muscular physique testified to his past as a middleweight boxer at Wayne State College in Nebraska.
"I went to Paul's office to sign up for classes," Jordon recalls. "I had taken two years of French, and Bellevue offered German. 'I think I'd like to take German,' I told Paul. He looked at my transcript and grades and said something like 'I think you should try journalism instead.' I did as he suggested, and that was the start of a journalism career that has lasted 58 years, so far.
"I credit Paul with spotting my abilities in English and matching this unknown kid with a couple great Bellevue teachers and many interesting fellow journalism students. My guess is, I wasn't the only student he sent on the way to a rewarding career. Paul was a perceptive, professional educator with his students' best interests at heart."
Few perhaps have embraced more intensely Creighton's commitment to community service.
As a state senator, Hartnett was the decades-long driving force behind construction of the Kennedy Freeway through Bellevue, construction of the Highway 34 Bridge connecting Nebraska and Iowa, and successfully locating a national veterans cemetery in Sarpy County.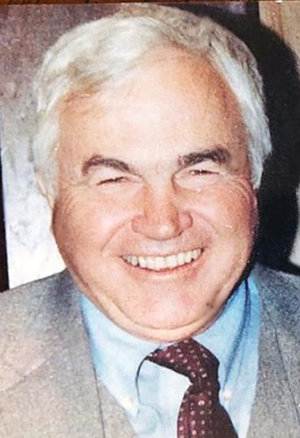 In a 2014 article recounting Hartnett's receipt of the Bellevue newspaper's "Person of the Year" award, his wife, Marjorie, described her husband's commitment to public service.
"He still serves on several boards, and he doesn't just join them," she told the Bellevue Leader. "He has to be treasurer, or secretary or something like that. He has always had very good health, and that has helped him do so much, but really, he just loves people and loves to be involved."
Hartnett's commitment to public service extended to encouraging others to do the same, as experienced by Sue Crawford, PhD, who taught political science at Creighton from 1995 to 2021. At Hartnett's urging, and with his encouragement, she was elected to the Nebraska State Legislature, serving there as state senator from 2013 to 2020.
"Sen. Hartnett exemplified public service," she recalls. "He had a knack for seeing how other people could serve the community and recruiting them to those roles and paving the way for them to serve in those roles.
"Moreover, Paul continued to serve on boards and in various volunteer capacities. He helped start a program to ensure that kids could get the shoes that they needed. For years he volunteered to help seniors complete their tax forms. In 2020, at age 92, he saw that people needed help getting documents notarized because the bank lobbies were shut down for COVID, so he studied and took the test to become a notary.
"He was always watching for what needed to be done and then stepping in to do it – or recruiting someone else to do it."
Beverly Doyle, PhD, associate professor of education at Creighton, recalls Hartnett as an energizing and supportive presence.
"I always admired his ability to work both at the Legislature and the University, where he supported all of us by serving on committees and being always a kind and caring colleague," she says.
Funeral services were held July 7 at St. Mary's Catholic Church in Bellevue, another institution that over the decades, along with the Bellevue council of the Knights of Columbus, felt the power not just of Hartnett's financial support but also his physical presence as he fried fish for fish fries and boiled spaghetti for spaghetti feeds.
The Rev. Del Lape, pastor at St. Mary's, told the gathering that Hartnett's generosity touched institutions and individuals throughout his life.
"'The souls of the just are in the hand of God,'" he said, quoting the Book of Wisdom. "What more is there to say?"