Featured Testimonial About Creighton University
The ILAC program has shaped me into the person I am today, no questions.
Nick Zeh
Creighton senior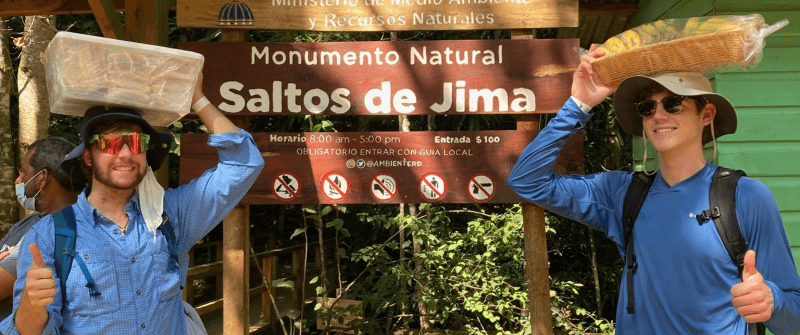 Like the more than 5,000 Creighton University students who preceded him during the past 50 years, Nick Zeh's service-learning semester in the Dominican Republic proved life changing.
"My heart was completely stolen the moment I landed in the heart of the Cibao a little past midnight," he recalls. "The ILAC program has shaped me into the person I am today, no questions."
Zeh, a senior from Texas studying international relations at Creighton, was relating his experience after arriving in the Cibao, a northern region of the Dominican Republic where he was invited to return this past summer to help with the Summer Health Program in the community of Mata de Guanábano.
"Thus, my journey in this charming country continued, walking alongside a group of medical professionals and students from all walks of life and learning," he says. "Full of life and tostones (fried green plantains) we went with wide eyes and full hearts, having no idea what we were going to experience."
For 50 years, Creighton students have experienced similar inspiration.
Creighton University recently marked its long partnership with the Institute for Latin American Concern, during International Education Week, with stories of solidarity, reunions of participants, a recreation of a rural medical clinic and, among other festivities, a film titled, A Shared Soul: Celebrating 50 Years of ILAC.
View a full schedule of the 50th anniversary events.
Creighton's ILAC Summer Health Program was among the earliest of the University's global outreach programs through which students in the schools of medicine, nursing, dentistry and pharmacy work together in interdisciplinary rural medical clinics in the Dominican Republic. During the program, students serve and live a "campo" with a host family.
Matthew Freeman, like Zeh a native of Texas, is a Creighton junior studying Spanish with minors in biology and theology who served in the Dominican Republic during the fall semester of 2021.
"With the people, language, service, reflection and course work, the program encompasses an ideal service-abroad program as part of a Jesuit education. The intentionality of the program supported my discernment for a vocation focused on global medicine and public health.
Also like Zeh, whose DR experience inspired him to seek volunteer opportunities abroad with a nonprofit organization, Freeman intends to seek opportunities in global medicine and public health.
"I will forever hold my Dominican Republic experience close," he says.
René Padilla, PhD, OTR/L, FAOTA, associate professor of occupational therapy and vice provost for Global Engagement at Creighton, says the Dominican Republic ILAC program has provided generations of Creighton students with a pathway to understanding global issues.
"In many ways, it has been a 'lab' in which Creighton University has learned how to live out its global mission in very practical yet transformative ways," he says.
"From its inception, ILAC has created spaces for us to learn what it truly means to accompany the poor and to cultivate a sense of equal exchange rather than a hierarchy based on what we have, and the poor don't."
A key lesson, Padilla says, has been that charity and justice are intertwined.
"They are not opposite poles on a continuum, but rather two parts of a whole," Padilla says. "Participants in our programs must wrestle with when it is appropriate to serve through individual acts, and when collective actions are needed; how a response to immediate needs must also contribute to long-term solutions; and why the immediate gratification of resolving a symptom must nurture persistence in addressing the root causes of social injustice."
The Centro de Educación para la Salud Integral (CESI or Misión ILAC), Creighton's partner in the Dominican Republic, is a nonprofit organization that serves rural communities, especially in the area of health care where it promotes the physical, emotional and spiritual health of participants through preventative health programs, education, agriculture, and surgical assistance to individuals of limited economic resources. It was founded in 1973 by two young Jesuit priests.
The ILAC curriculum and program are specifically designed to make it easy for students of all majors and all colleges to participate. Program offerings range from service and immersion experiences to international health care rotations, to a full semester academic service-learning program, and other opportunities.