Featured Testimonial About Creighton University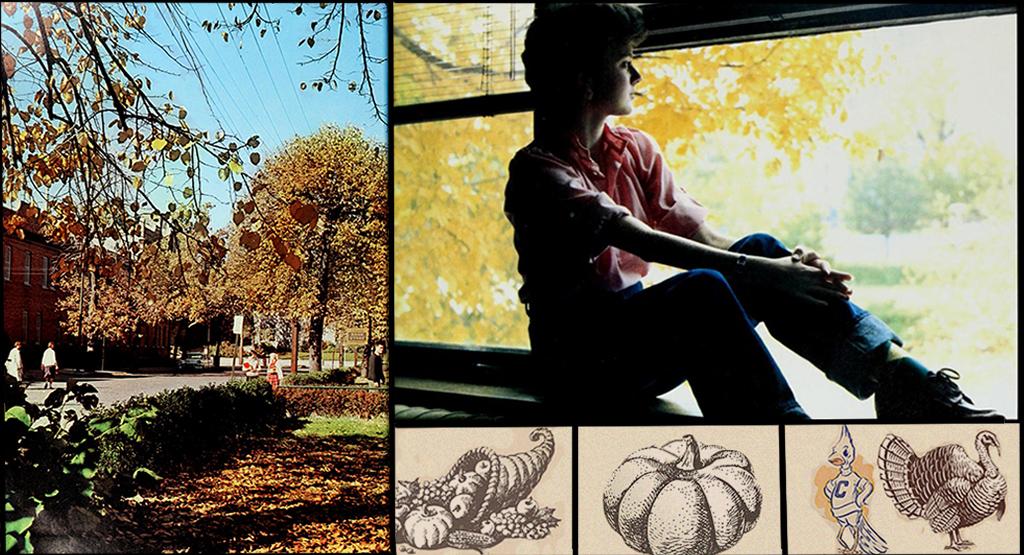 I look back on my time at Creighton with nothing but gratitude.
Sarah Turner Pietruszka, MD'18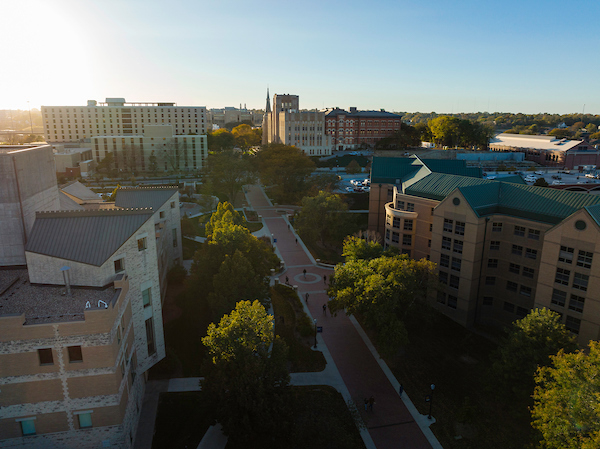 Talk to most alumni about their Creighton experience, and one of the themes that will emerge again and again is — thankfully — gratitude.
Alumni are grateful for their Creighton friends, their mentors, the professor who went the extra mile, the class that showed them a different way of seeing the world.
They're grateful for the service opportunities that Creighton presented to them, the values it instilled in them, the memories it's given them — all those moments and places and people that make up the fabric of who they are.
Ahead of this Thanksgiving, we asked alumni (and faculty and staff) to share the reasons they're grateful for Creighton. ("Creight-ful?" We're still workshopping that one.)
Read on to see the lovely messages they shared with us. And, as always, thank you for reading.
Do you want to share why you're grateful for Creighton? Send your message of gratitude to micahmertes@creighton.edu, and we'll add it to this article.
* * *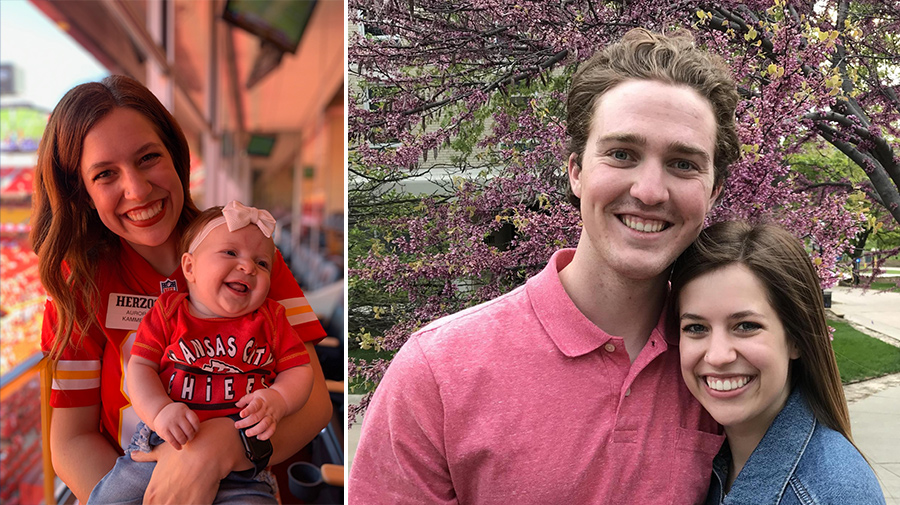 Jacob Kammerer, BS'19, is grateful for his wife — Aurora (Kuhn) Kammerer, BS'19 — and their beautiful new baby daughter, Callahan. He says he wouldn't have either of them without Creighton.
"I met Aurora as a resident advisor during the fall of our senior year, and we just clicked," Jacob says. "She's my soulmate, and I love her so much and love Creighton so much for allowing me to meet her (and for the millions of other things that make Creighton such an amazing place)."
Jacob and Aurora first met in the Kiewit Hall "Fishbowl" during a resident advisor program. Their meet-cute involved a mixed-up Panera Bread order and a last-minute run to Pickleman's to make sure the RAs didn't go hungry.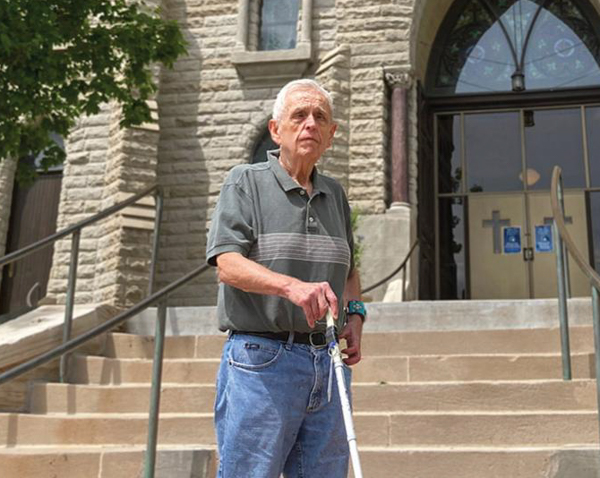 * * *
Father Larry Gillick, SJ, Director of Deglman Center for Ignatian Spirituality: "Of all the various aspects of Creighton University, I find myself this year most grateful for the 'greats' whose lives and gifts have prepared this place and this mission into our hands for our times.
"Some have buildings and chairs named for them, and some we carry in our memories and in our hearts, and so many we never knew but revere.
"I am grateful as well that I take my place 'passing it ahead.'"
* * *
Editor's note: I am grateful for Father Larry Gillick, who is, without question, one of Creighton's greats.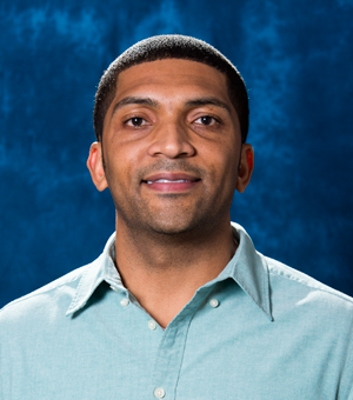 * * *
Kayode Oshin, PhD, associate professor, chair of the department of chemistry and biochemistry: "I am thankful for the amazing and supportive colleagues I get to work with every day in my department.
"I am equally thankful for the opportunity to mentor talented and passionate undergraduate students in chemistry research work."
* * *
Sarah Turner Pietruszka, MD'18: "I look back on my time at Creighton with nothing but gratitude.
"I am thankful for professors who were generous with their time, creative in their teaching, passionate about the material and endlessly encouraging.
"I am grateful for the secretaries, assistants, coordinators and all the helpers who asked about my child, directed me to the right person or the right form, reminded those in high positions not to forget me and supported me as I navigated medical school as a non-traditional student with a husband who was often gone for work.
"I am thankful for the mentors who have become friends — guides for a lifetime — and folks who will always respond when I need a hand or a hug.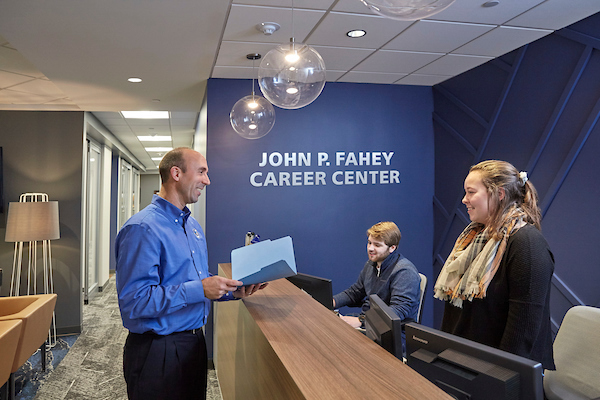 "Creighton, your endless faith in me, your encouragement to maintain my empathy and desire to serve as my cornerstone, and your emboldening me to water my thirst for learning are gifts that have changed the trajectory of my life. Thank you, Creighton.
* * *
Jeremy Fisher, MBA'09, director of the John P. Fahey Career Center: "As I enter and reflect on my 20th year working at Creighton, I am grateful to work in a position that directly impacts our students' success, which has been super fulfilling to me personally and professionally in my career.
"I have had the opportunity to meet so many wonderful students, faculty, staff, leaders and employers throughout the years. I feel truly blessed to be a part of the Creighton community and to work every day on such a beautiful campus."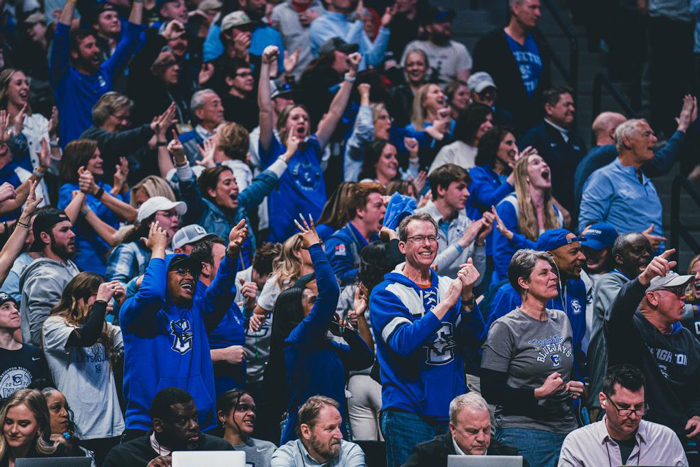 * * *
April Shaughnessy, BSPHA'81: "I am most grateful and thankful for those I have met through Jays athletic events and who have become my Creighton family. We cheer at games, celebrate at events, travel to tournaments and spend holidays together.
"Some think the idea of the Creighton family is a cliché. It's not. Little did I know that choosing Creighton for my education would bring so many wonderful people into my life."
* * *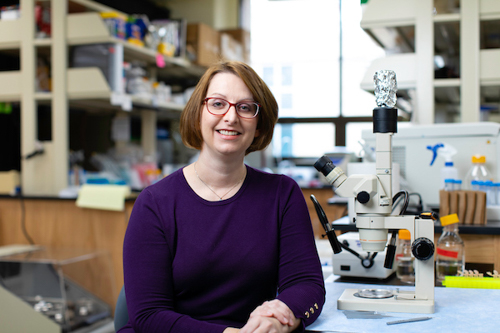 Gwendalyn King, PhD, associate professor in the biology department: "In the intensity of the fall semester, when the weariness is setting in, I am thankful for all the small moments when I see 'the spark.'
"The spark comes in many ways. It can be as simple as a moment of sharing the burdens of life when I feel a human connection.
"The spark is very clear when a student struggling in class finds the path forward. It flashes crazy bright when a lab member completes an experiment and reveals something brand new, known only to us, and for the first time feels the magic of discovery.
And the spark is a truly sustaining ember when a former student writes to let me know that while they may or may not have loved class in the moment, they are seeing the fruit of knowledge from that class, at their next step in life."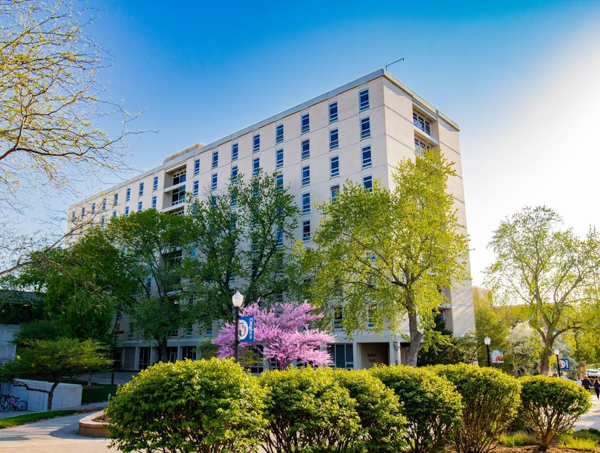 * * *
Judy Miller Siel, BSN'80: "I'm thankful for my 7th-floor Kiewit Hall friends who welcomed me to Creighton when I transferred in 1977.
"We still get together to celebrate our friendship and love. What a wonderful, welcoming group of gals!"
* * *
Cathie Pajnigar, BSN'99: "I am thankful for the Creighton medical residency program, where I met my husband — Arman Pajnigar, MD — after I graduated from Creighton nursing school.
"I am also thankful for our three sons who are now in school together at Creighton. Two sophomores and a freshman! James, Thomas and Benjamin Pajnigar. Go Jays!"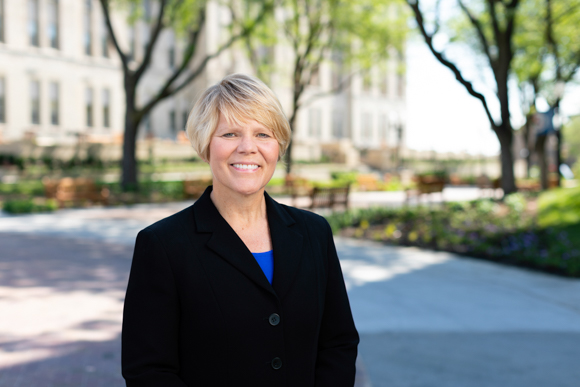 * * *
Mary Chase, EdD, Vice Provost for Enrollment: "There are so many things I am grateful for this Thanksgiving!
"I feel incredibly blessed by a campus community that embraces the intentionality required when shaping and forming students, faculty, staff and administrators. So many of my enrollment colleagues around the country must explain the importance of recruiting the student body, but at Creighton, we come together to select mission-focused students who are committed to changing the world.
"Creighton is a community of learners who share a common calling, and I feel incredibly blessed to serve and be a part of this group. The passion of our faculty, staff, current students and donors in supporting enrollment efforts is unique, and I will never take that for granted. Thank you!"
* * *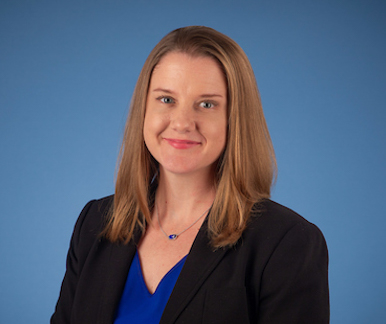 Heather Doering, associate director, Business Career Programs: "I am most grateful for the supportive and tight-knit community at Creighton University. Whether it be a student stopping by to tell me about landing their dream job, a staff member asking about my family or my supervisor genuinely caring about my well-being, I always feel at home on campus.
"Compared to my time at larger schools, it's so wonderful walking the halls of the Harper Center and being able to say 'hello' to so many familiar faces.
"It also doesn't hurt that there is a Starbucks in my building."
* * *
Joan M. Saniuk, BSMTH'76: "I'm thankful that Creighton supports its women athletes!"
* * *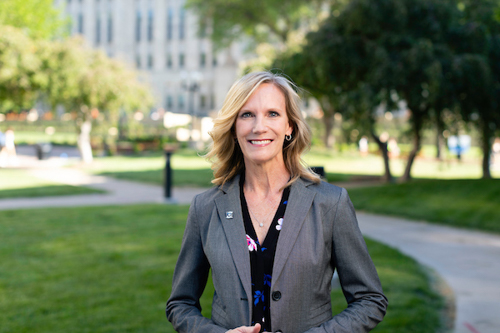 Mardell A. Wilson, EdD, Provost: "I am most thankful to be a part of the community at Creighton because our faculty and staff are not only committed to educating, inspiring, supporting and forming the minds of our students. We also embody and demonstrate the values of care and compassion.
"Our dedication to the welfare of our students, and to one another as colleagues, is something truly extraordinary. This unique blend of academic excellence and heartfelt encouragement sets our university apart."
* * *
Jessica Wentworth, MS'22: "I'm thankful for all the events planned for alumni! I had an awesome time visiting campus during Creighton Days, and I'm looking forward to seeing a Creighton basketball game and attending an event in Kansas City.
"I'm also thankful for the friends I made during my time as the Online Student Representative for Graduate Student Government, for the flexibility of my graduate program — Organizational Leadership — and for the incredible faculty I was able to work with!"
* * *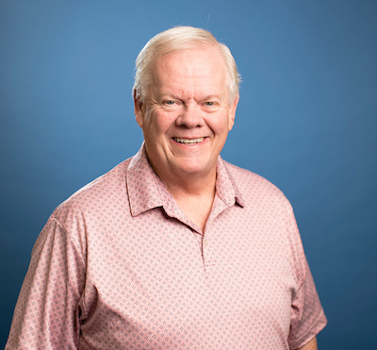 Tim P. McMahon, PhD, associate professor of practice, Heider College of Business: "My friend and teacher during my PhD studies was the Jesuit John Navone, SJ, a noted scholar on many subjects, including beauty.
"He would say, 'God intended creation to be delightful.' I am grateful to live and work on a beautiful campus that inspires us to leave our nastiness and ugliness behind. Our community is nurtured by beauty — both physical and spiritual — especially present during this time of year."
* * *
Cynthia M. Schmersal, EdD, Vice President, Mission and Ministry:
"In Ignatian Spirituality, it is common to allow gratitude to serve as one's starting (and ending!) point. In the Examen, after intentionally placing ourselves in God's presence, we allow that for which we are grateful to surface, thanking God for the gifts – perceptively large and seemingly small – evident in our day.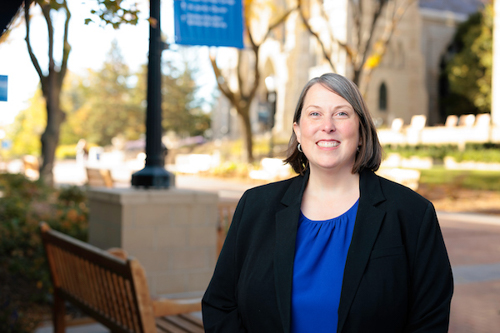 "In the Spiritual Exercises of St. Ignatius of Loyola, the first phase is praying over one's graced history, recognizing God's blessings abundantly evident in the texture and reality of our lives. A longtime student of Ignatian spirituality, I find myself drawn often to begin in gratitude, opening meetings or emails or presentations or even simple conversations with an expression of gratitude.
"So, this Thanksgiving — my second as an employee at Creighton University — for what am I expressly grateful? The blessings feel too abundant to name with the specificity each grace merits. I am grateful (period)!
"Grateful for a mission worth investing in – something infinitely more than any one of us. Grateful for a God who lavishes us with love, sustaining each of us moment by moment and inviting our ever-greater collaboration for the good.
"Grateful for our students, who are living evidence of hope for the future. Grateful for my colleagues – faculty, staff and administrators – who collectively and individually embrace and embody our shared mission in ways too varied and numerous to name.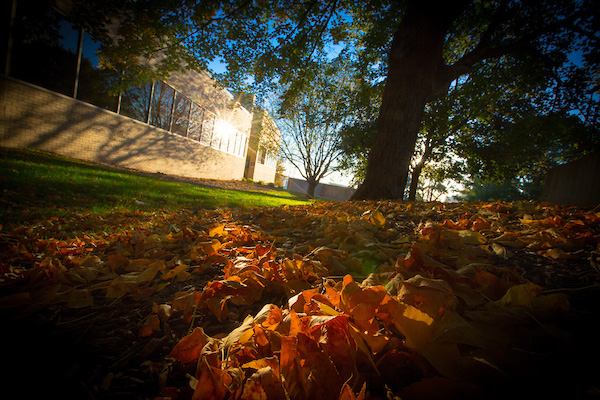 "I am grateful for God's generosity and goodness mirrored in the generosity and goodness of alumni, benefactors and friends. I am grateful for the texture of the daily, for the strikingly beautiful sunrises glimpsed from my office window, for the warmth of smiles and greetings extended in passing, for the innumerable prayers this community offers with regularity and sincerity, for tears born of folks' care and investment, for challenges and opportunities that drive us to lean into Magis' summons.
"I am grateful for the shared connection and collective application of our individual gifts in this common enterprise.
"To paraphrase and echo the words of St. Ignatius, 'You have given all to us, God. May we (in gratitude and love, continue to) return it.'"
* * *
Want to share why you're grateful for Creighton? Send your message of gratitude to micahmertes@creighton.edu, and we'll add it to this article.