Featured Testimonial About Creighton University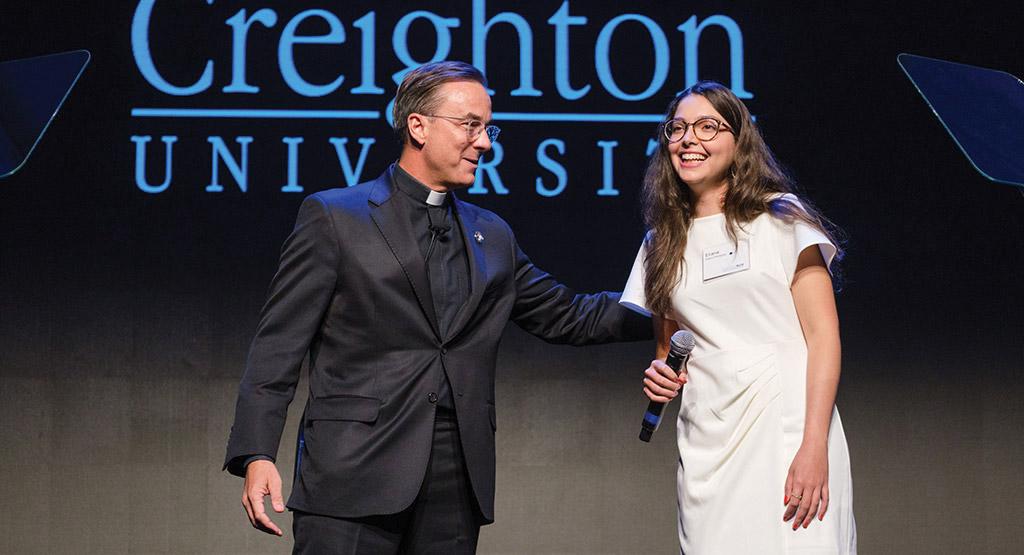 Pictured above: Creighton President the Rev. Daniel S. Hendrickson, SJ, PhD, talks with student Eliana Rodriguez at the Forward Blue launch event.

Learn more about how you can support the Forward Blue campaign.
* * *
By Micah Mertes
Saturday night outside the Hixson-Lied Science Building, Creighton President the Rev. Daniel S. Hendrickson, SJ, PhD, publicly launched Forward Blue — the largest and most comprehensive fundraising campaign in the University's 143-year history.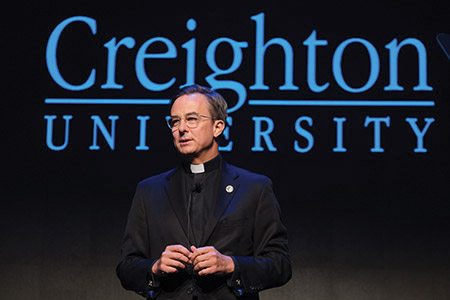 "With the launch of this campaign, Creighton moves forward with bold determination," Father Hendrickson told a crowd of hundreds of donors, alumni, friends, faculty, staff and students. "There are young people who, like you, want to make the world a better place, and I'm convinced that the world needs more of what Creighton has to offer."
Fr. Hendrickson also announced the fundraising goal for Forward Blue — $650 million — and the news that Creighton has raised enough money to build a new residence for the Jesuits.
Fr. Hendrickson said he has many dreams for the Forward Blue campaign — which has already raised $450 million thanks to many of the donors in attendance Saturday night. Priorities include campus improvements, school and college funds, faculty and staff development, mission, academics, programs and much more.
But the campaign's No. 1 priority, the greatest need, is scholarships.
"That is how we move forward. The students of today and those of tomorrow, they are the face of this campaign."
One student — Eliana Rodriguez, a senior in the Heider College of Business and College of Arts and Sciences — joined Fr. Hendrickson on stage to talk about her Creighton experience.
Rodriguez, who is from the Dominican Republic, came to Creighton with the help of scholarships. She spoke about how the University and the generosity of its donors have transformed her life.
"Today, I have a much better idea of where I want to go and what I want to do. I want to go back and give back to my country. I will always be thankful to Creighton for giving me this opportunity."
The campaign launch event was made possible by Scott and Cindy Heider and the Heider Family Foundation. The Heider family has left an indelible mark on Creighton. In 2013, the Heider College of Business became the University's first named school or college, in honor of Scott's parents — the late Charles Heider, BSC'49, Hon'10, and Mary Heider, Hon'10.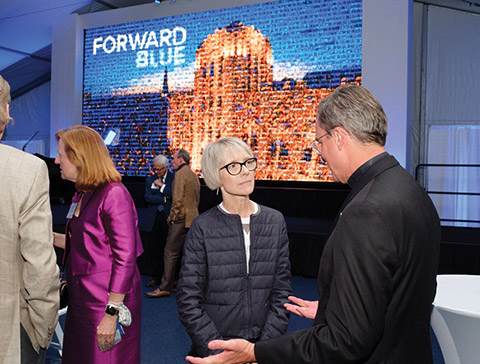 "My father always said to me that what's good for Creighton is good for Omaha and what's good for Omaha is good for Creighton," Scott Heider said. "That's true for the world at large. To echo Father Hendrickson's words tonight, we need more people coming to Creighton, and we need more Creighton graduates in the world."
Heider said his family is honored to be a part of this historic moment and to help "shine a light on everything that makes this University special."
Because there's so much that makes Creighton special, said Cindy Heider.
"Look at what's happening in the business school, in the nursing college, at the health sciences campus in Phoenix," she said. "I always say, 'Figure out what you do well and do it amazingly.' Creighton has been able to do that in so many ways, and this campaign puts an exclamation point on it. A place that has always dreamed big is now dreaming bigger than ever."
Throughout the evening, many alumni and campus leaders shared what they're most excited for about the Forward Blue campaign and what inspired them to be a part of it. Time and time again, they underlined a simple but powerful theme, the theme of the evening:
Creighton changed my life. Now, I want to do everything I can to share that experience with as many people as possible.
"Of the many things I've done and the many places I've been, when I think back on my life, the years I spent at Creighton are one of the great highlights," said Nizar Ghoussaini, BS'75, MS'76, Creighton's Board of Trustees chair.
Ghoussaini came to Creighton as an international student. With the caring faculty and staff and the close-knit community, it didn't take long for campus to feel like home. The Forward Blue campaign, he said, is about continuing that experience for many more students, through the opportunity of scholarships.
"I am very excited about how, through scholarships, Creighton is marrying a long-term view of addressing future challenges with the Jesuit mission of helping others, with increasing inclusivity for families in need, for first-generation students and for students from underrepresented backgrounds."
A few of Ghoussaini's fellow trustees echoed the need for greater opportunity.
"We work on many things in the Board of Trustees," said Tom Barry, BSBA'88. "But it always comes back to one thing. It comes back to scholarships. It comes back to students. It comes back to making a better experience here and to reaching out to as many people as we can. Creighton is investing in its future by investing in our students."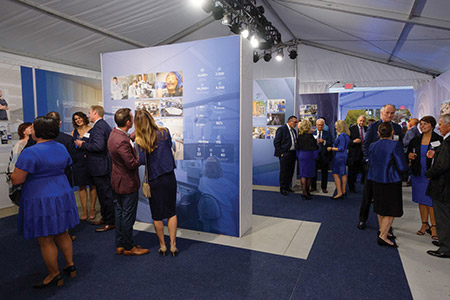 Trustee Bill Fox, BA'84, JD'87, said that Forward Blue is "absolutely focusing on the right thing: making sure that people who want to come to Creighton can come to Creighton.
"I was fortunate," he said. "My father could afford to send me to Creighton in the '80s. But there are so many students who can't come here as easily. Giving them that opportunity is a big deal. And it's so central to our mission as a Jesuit, Catholic university."
Shortly before the Forward Blue campaign officially launched Saturday night, Paula Lavigne, MBA'09 — a Peabody Award-winning investigative reporter for ESPN — took the stage and asked the audience to think of a person …
"That one person at Creighton who invested in you, who inspired you, who moved your ideas from thought to action, who provided the spark.
"My Creighton education is more than a degree," she said. "This campaign is our chance to ensure that many more students have access to the mentors, the experiences, the opportunities, the 'more than,' that they will always value.
"This is our chance to ensure that future generations will also go forth and set the world on fire."